EN
Hi guys, Today I present you the peacock.

DE
Hallo Leute, Heute präsentiere ich euch das Pfaffenhütchen.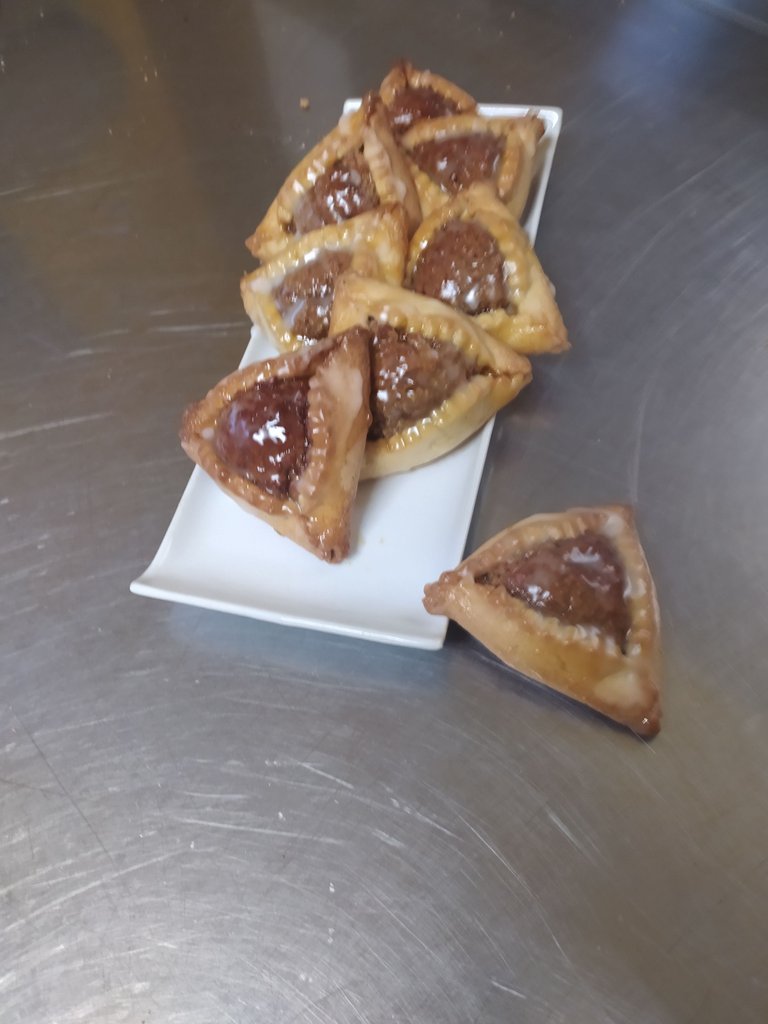 Peony Cap / Pfaffenhütchen
---
The Peony Capis a long-lasting Shortbread Pastry. Quick to make, quick to eat.
Here is the Recipe:
Shortcrust:
160g Sugar
320g Butter or Margarine
480g Wheat Flour 405 or 550
1 Egg
1 Eggyolk
Pinch of Salt
( Lemon) / Vanilla )
Nut filling:
160g Nuts roasted and ground
100g sweet Breadcrumbs
(Brumbs from sweet baked goods)
33g Marzipan
100g Sugar
3 Eggs
a sip of Milk
pinch of Salt
Pinch of Cinnamon
Glaze:
70g powdered Sugar
35g Lemon Juice
Flatten the short pastry to about 4 mm and cut out round (10 cm-12 cm). Then, using an Ice Cream Spoon, place the Nut Filling in the Center. After baking, brush with heated Apricot Jam and then with the glaze.Brush with beaten egg and bake at 160°° oven (convection oven) for about 16min-18min. After baking, brush with heated apricot jam and then with the glaze.
Das Pfaffenhütchen ist ein lang haltbares Mürbteig Gebäck. Schnell gemacht, schnell verzehrt.
Hier das Rezept:
Mürbteig:
160g Zucker
320g Butter oder Margarine
480g Weizenmehl 405 oder 550
1 Ei
1 Eigelb
Priese Salz
( Zitrone / Vanille )
Nussfüllung:
160g Nüsse geröstet und gemahlen
100g süße Brösel
(Brösel aus Süßen Backwaren)
33g Marzipan
100g Zucker
3 Eier
ein schluck Milch
Priese Salz
Priese Zimt
Glasur:
70g Puderzucker
35g Zitronensaft
Mürbteig auf etwa 4 mm auswellen und rund ausstechen oder ausschneiden (10 cm-12 cm). Anschließend mit einem Eislöffel die Nussfüllung in die Mitte platzieren. Dann drei Seiten nach innen falten und an den Ecken festdrücken.
Mit einem verquirltem ei einstreichen und bei 160°° Ofen (Umluft) etwa 16min-18min backen. Nachdem backen, mit erhitzter Aprikosenmarmelade bestreichen und anschließend mit der Glasur.
---
If you have any Questions about Baking feel free to contact me, see you soon your ischmieregal.🖖
Wen ihr Fragen habt rund ums Backen schreibt mich gerne an, bis bald euer ischmieregal.✌️