Asado Argentino
Argentinean Barbecue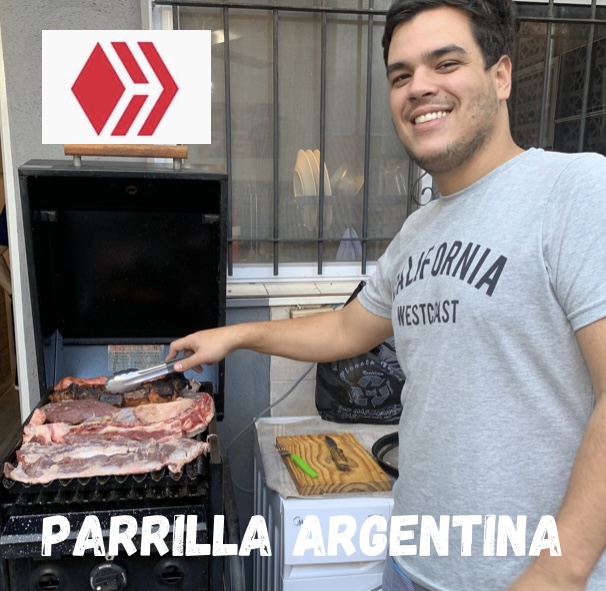 Hola amigos de la comunidad FoodiesBeeHive, espero que se encuentren muy bien, el dia de hoy quería compartir con ustedes una parrilla argentina que prepare hace unos días. En Argentina la parrilla o asado es un tema cultural bastante arraigado, es una práctica muy común disfrutar de un domingo o de un día especial acompañado de una parrilla, el asado o parrilla es un tema bastante importante para las personas acá en Argentina, deja de ser un tema gastronómico y se convierte en una especie de ritual que las personas aprovechan para reunirse en familia o con amigos para compartir y además comer una muy buena carne. Existen muchísimos tipos de corte y quizás una pueda llegar a ser abrumador el escoger el tipo de corte más adecuado para realizar una rica parrilla argentina. Por eso quería compartir con ustedes mi manera favorita de realizar una deliciosa Parrilla Argentina.
Hello friends of the FoodiesBeeHive community, I hope you are very well, today I wanted to share with you an Argentinean barbecue that I prepared a few days ago. In Argentina the barbecue is a deeply rooted cultural theme, it is a very common practice to enjoy a Sunday or a special day accompanied by a barbecue, the barbecue is a very important topic for people here in Argentina, it is no longer a gastronomic issue but a kind of ritual that people take advantage of to get together with family or friends to share and also eat a very good meat. There are many types of cuts and perhaps it can be overwhelming to choose the most appropriate type of cut to make a delicious Argentinean barbecue. That is why I wanted to share with you my favorite way to prepare a delicious Argentinean Parrilla.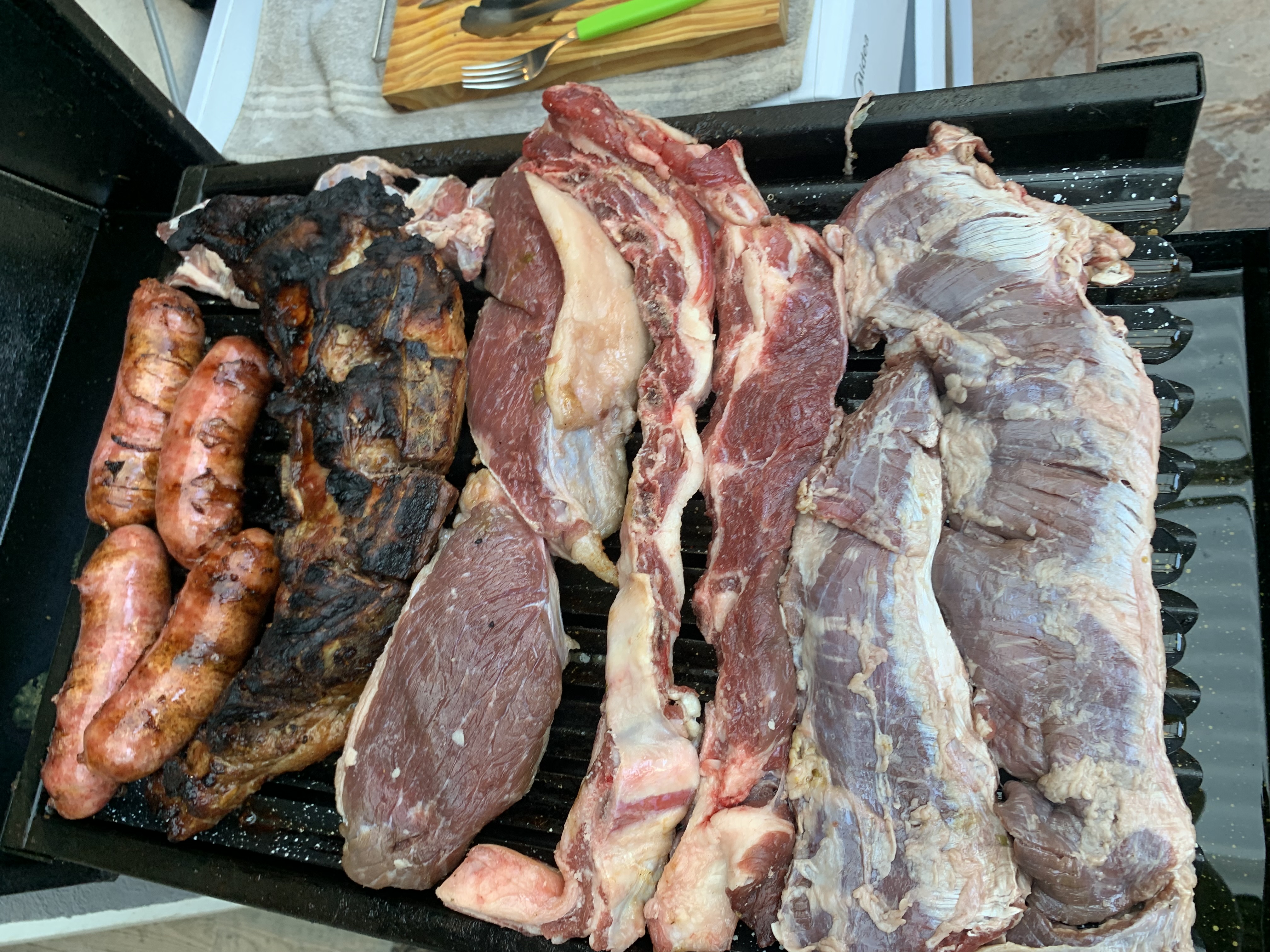 INGREDIENTES:
INGREDIENTS:
Para La Parrilla:
Chorizo: 4 unidades
Entraña o Falda (SkirtSteak): 2kg
Costillas de Cerdo:1.5kg
Tira de Asado o Costilla en Tira (Short Ribs):1.5kg
Lomo (Sirloin):1kg
Morcilla: 4 unidades
Sal y Pimienta Al gusto
Mostaza
Ajo
Oregano
Salsa Barbecue
For The Barbecue:

Sausage: 4 units
Skirt Steak: 2kg
Pork Ribs:1.5kg
Short Ribs:1.5kg
Sirloin:1kg
Blood sausage: 4 units
Salt and pepper to taste
Mustard
Garlic
Oregano
Barbecue Sauce.
Para la Ensalada:
Repollo
Zanahoria
Aguacate o Palta
1/2 taza de mayonesa
2 cucharadas de mostaza Dijon
Pimienta y Sal al gusto.
1 cucharadita de Vinagre
For the Salad:

Cabbage
Carrot
Avocado or avocado
1/2 cup mayonnaise
2 tablespoons Dijon mustard
Pepper and salt to taste.
1 teaspoon of vinegar
Para el Chimichurri:
Sal gruesa al gusto
Ajo pelado (2 dientes)
1 Cebolla pequeña
1 Pimiento Verde
1 Cucharada de Perejil
1 Pimiento Rojo
1 tomate sin semilla
1/2 Taza de Aceite
1/4 Taza de Vinagre
For the Chimichurri:

Salt to taste
Peeled garlic (2 cloves)
1 Small onion
1 Green bell pepper
1 tablespoon of parsley
1 Red bell pepper
1 Seedless tomato
1/2 cup oil
1/4 cup vinegar
PREPARACION:
PREPARATION:
Primero debemos sazonar nuestras costillas de cerdo por lo menos unas 3 o 4 horas antes de cocinarlas, para ello utilizaremos: mostaza 1 cucharada, 1 cucharada de salsa barbecue, sal al gusto, pimienta al gusto, 1 cucharadita orégano y 2 dientes de ajo machacados con un poco de aceite de oliva, distribuimos bien los condimentos por todas nuestras costillas de cerdo, luego dejamos reposar en la nevera por unas 3 o 4 horas.
First we must season our pork ribs at least 3 or 4 hours before cooking them, for this we will use: 1 tablespoon mustard, 1 tablespoon barbecue sauce, salt to taste, pepper to taste, 1 teaspoon oregano and 2 cloves of garlic crushed with a little olive oil, we distribute the seasonings well all over our pork ribs, then we let them rest in the refrigerator for about 3 or 4 hours.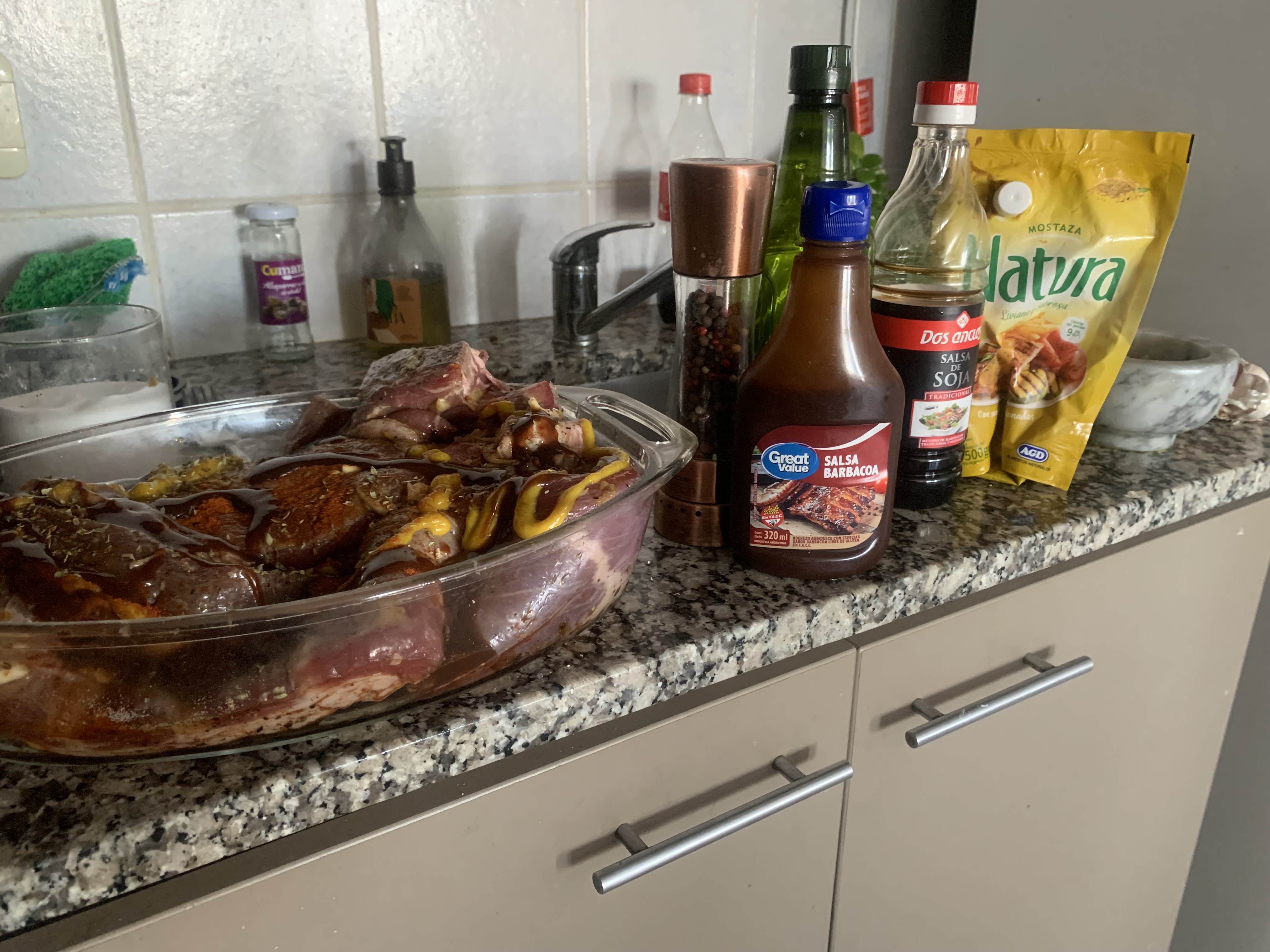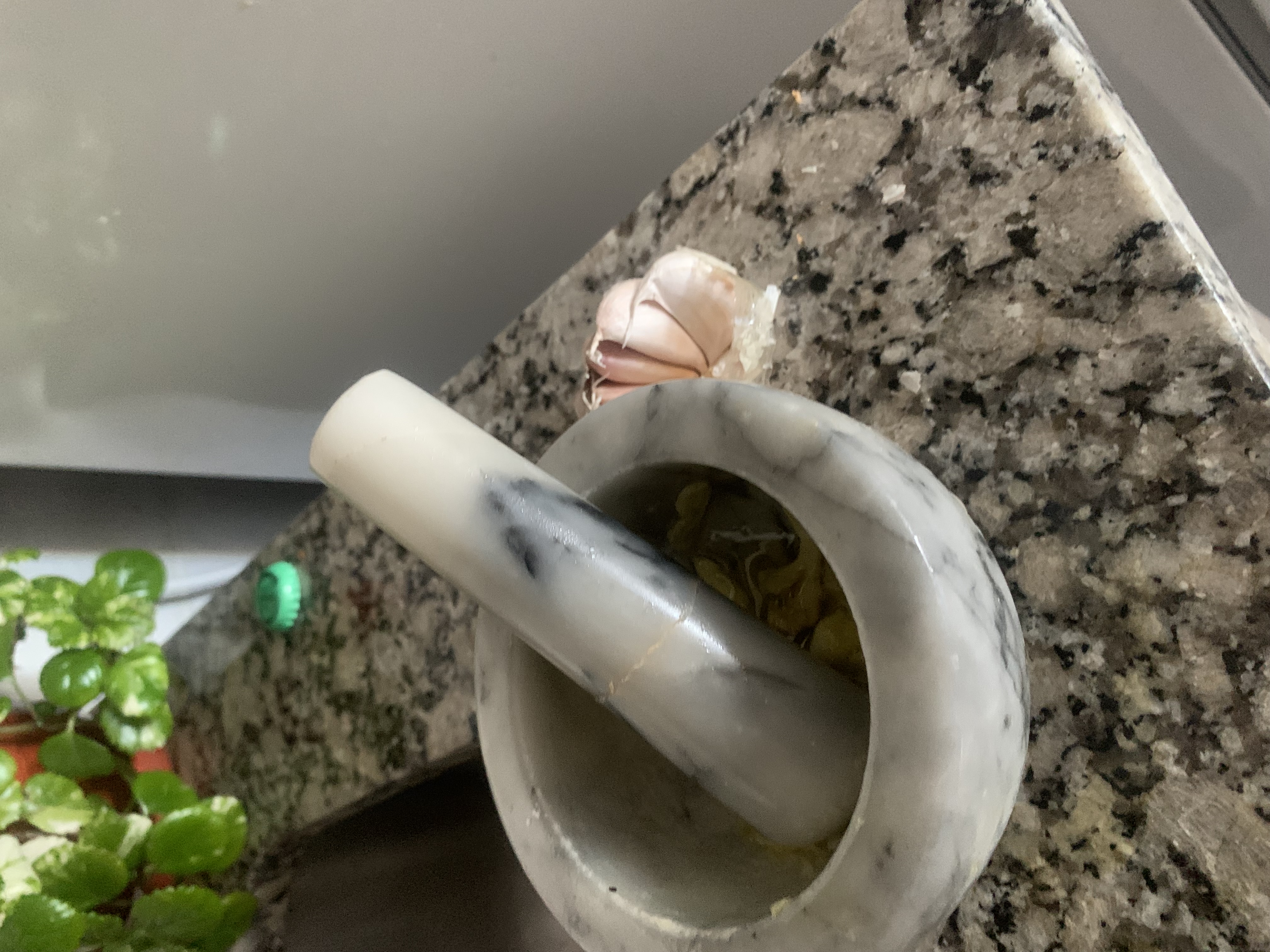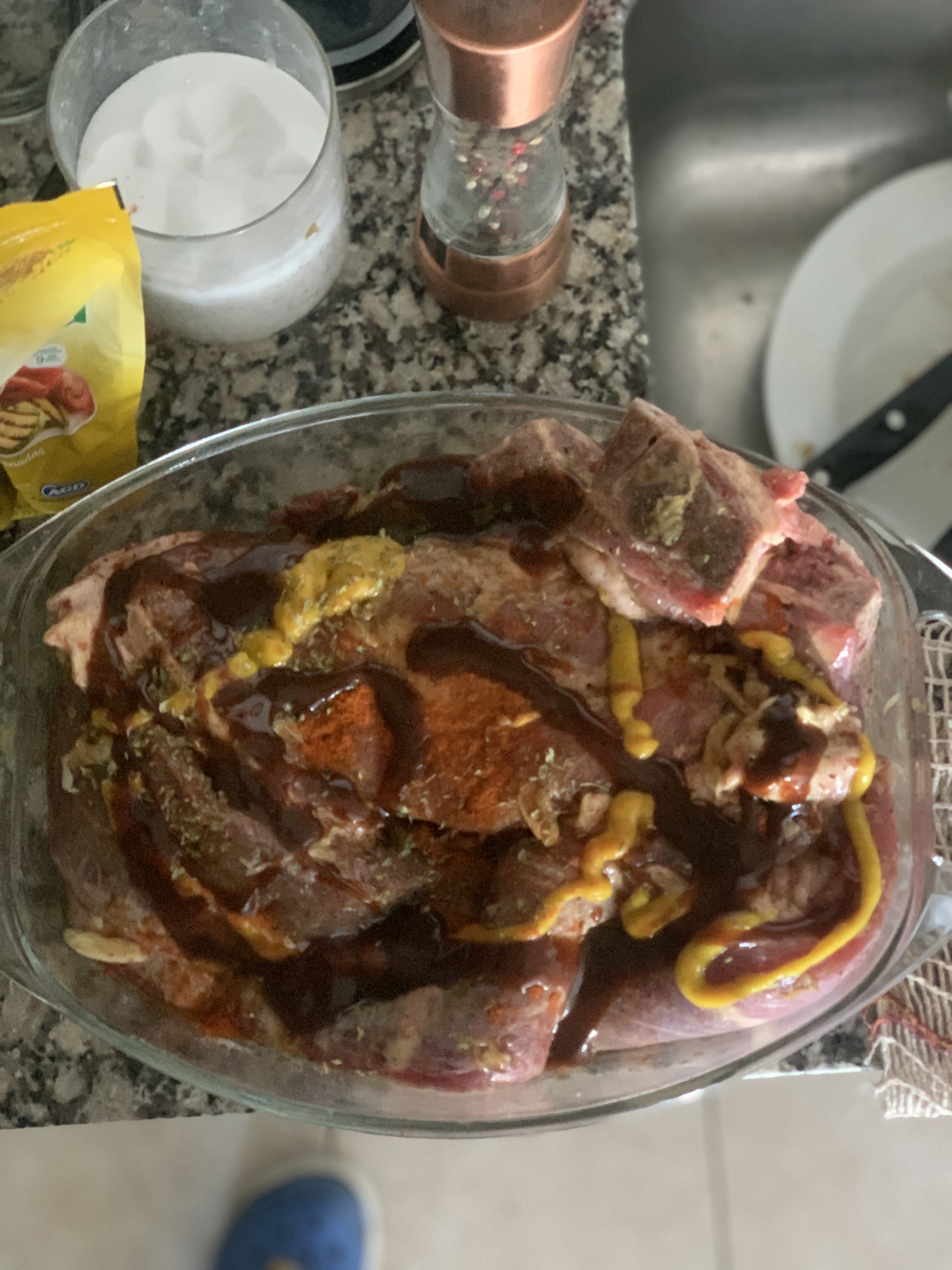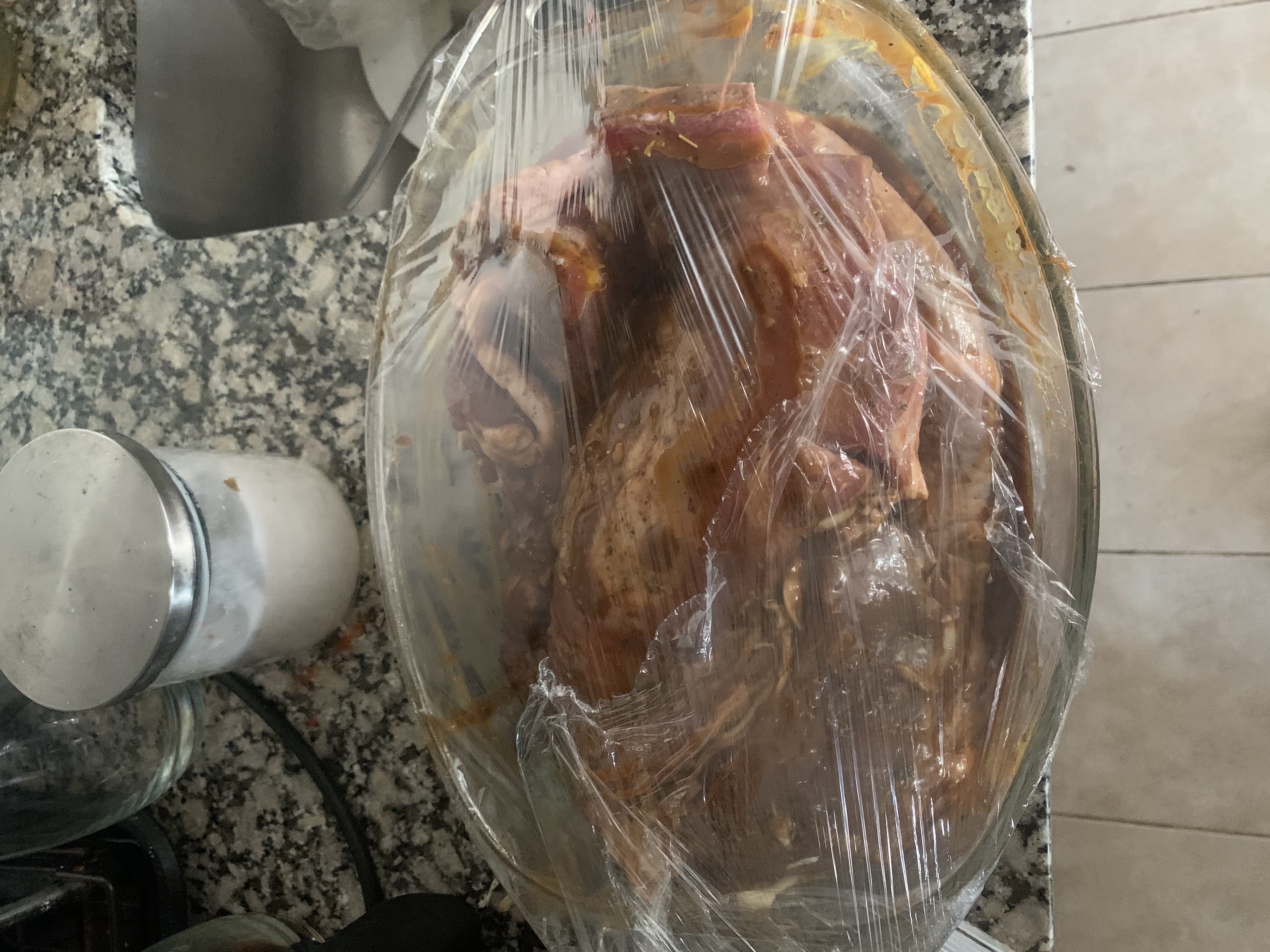 Una vez pasadas las 4 horas debemos entonces calentar nuestra parrillera y mientras esta caliente debemos sazonar nuestra carne: la entraña, la tira de asado y el lomo, para ello utilizaremos solo sal gruesa y un toque de pimienta al gusto, con esto será suficiente para llevarla a la parrila. Una vez que nuestra parrilla está bien caliente colocamos primero las costillas de cerdo que son las que más tardaran en alcanzar la cocción ideal, conjuto agregamos los chorizos y la morcilla, luego agregamos a la brasa nuestra carne, colocamos la entraña, la tira de asado y el lomo, debemos cocinar nuestra carne a la temperatura adecuada para así evitar que quede dura o quede muy seca por eso debemos mantener la temperatura de nuestra parrillera entre 200 - 250 °C, el tiempo que debe duras nuestra carne a la parrilla va a variar de acuerdo a su tamaño pero podríamos generalizar diciendo que toma unos 40 minutos antes de darlo vuelta y unos 60-70 minutos de cocción en total.
Once the 4 hours have passed we must then heat our grill and while it is hot we must season our meat: the skirt,the short ribs and the sirloin, for this we will use only sea salt and a touch of pepper to taste, with this it will be enough to take it to the grill. Once our grill is very hot we place first the pork ribs that are the ones that will take the longest to reach the ideal cooking, together we add the sausages and the black sausage, then we add to the grill our meat, we place the skirt, the short ribs and the loin, we must cook our meat at the right temperature to avoid it to be hard or too dry, that is why we must maintain the temperature of our grill between 200 - 250 °C, the time that our grilled meat should last will vary according to its size but we could generalize saying that it takes about 40 minutes before turning it over and about 60-70 minutes of cooking in total.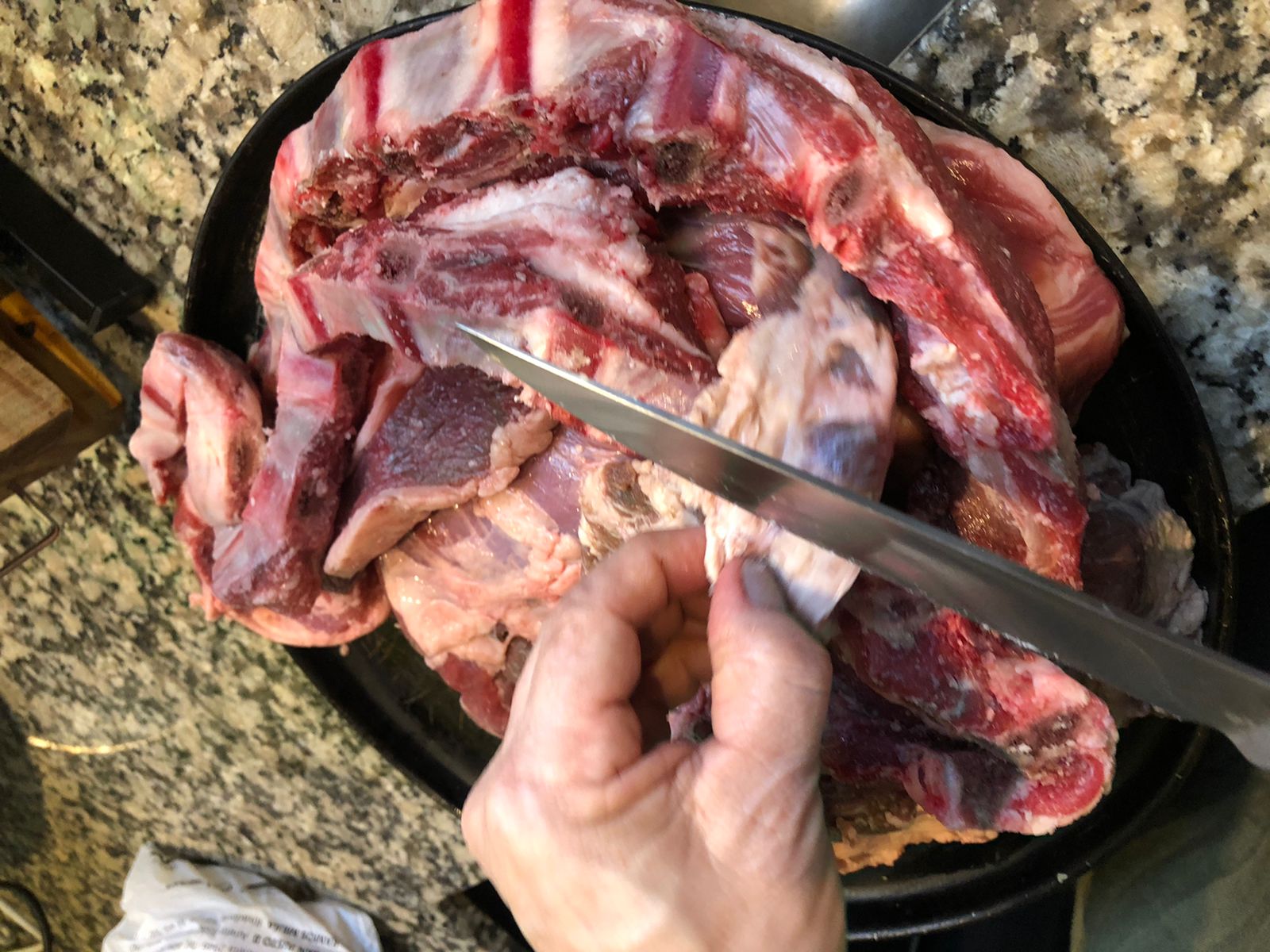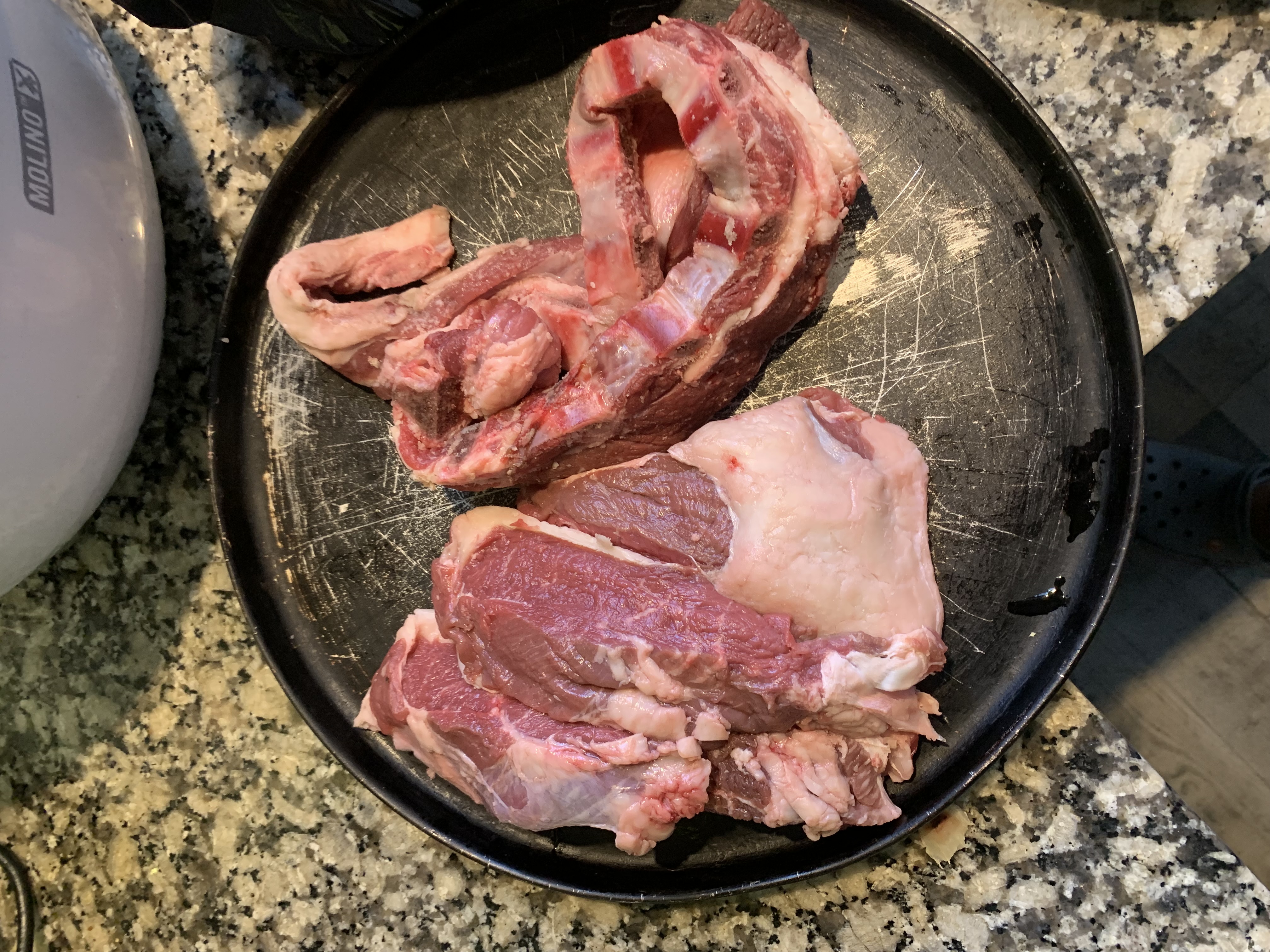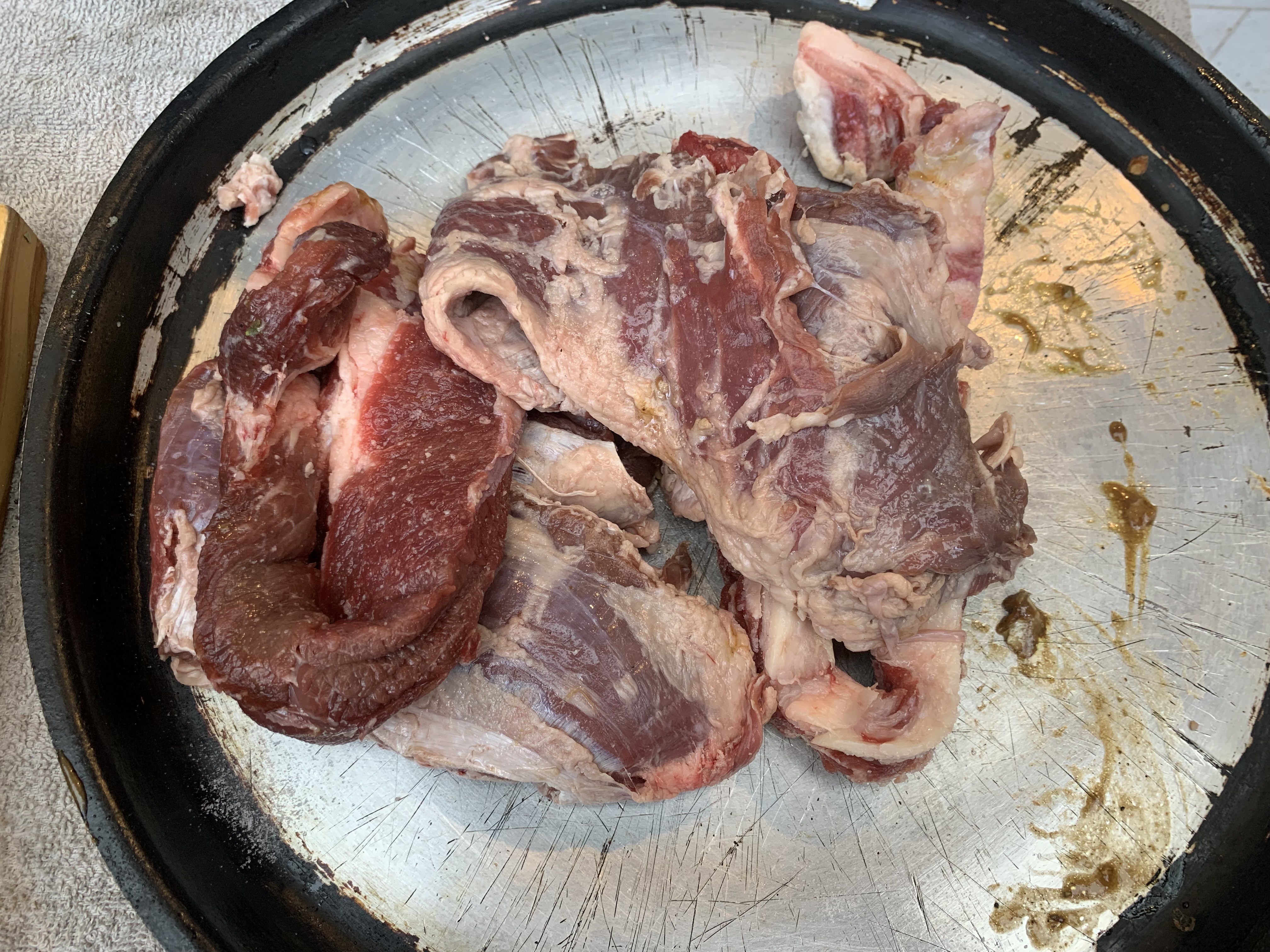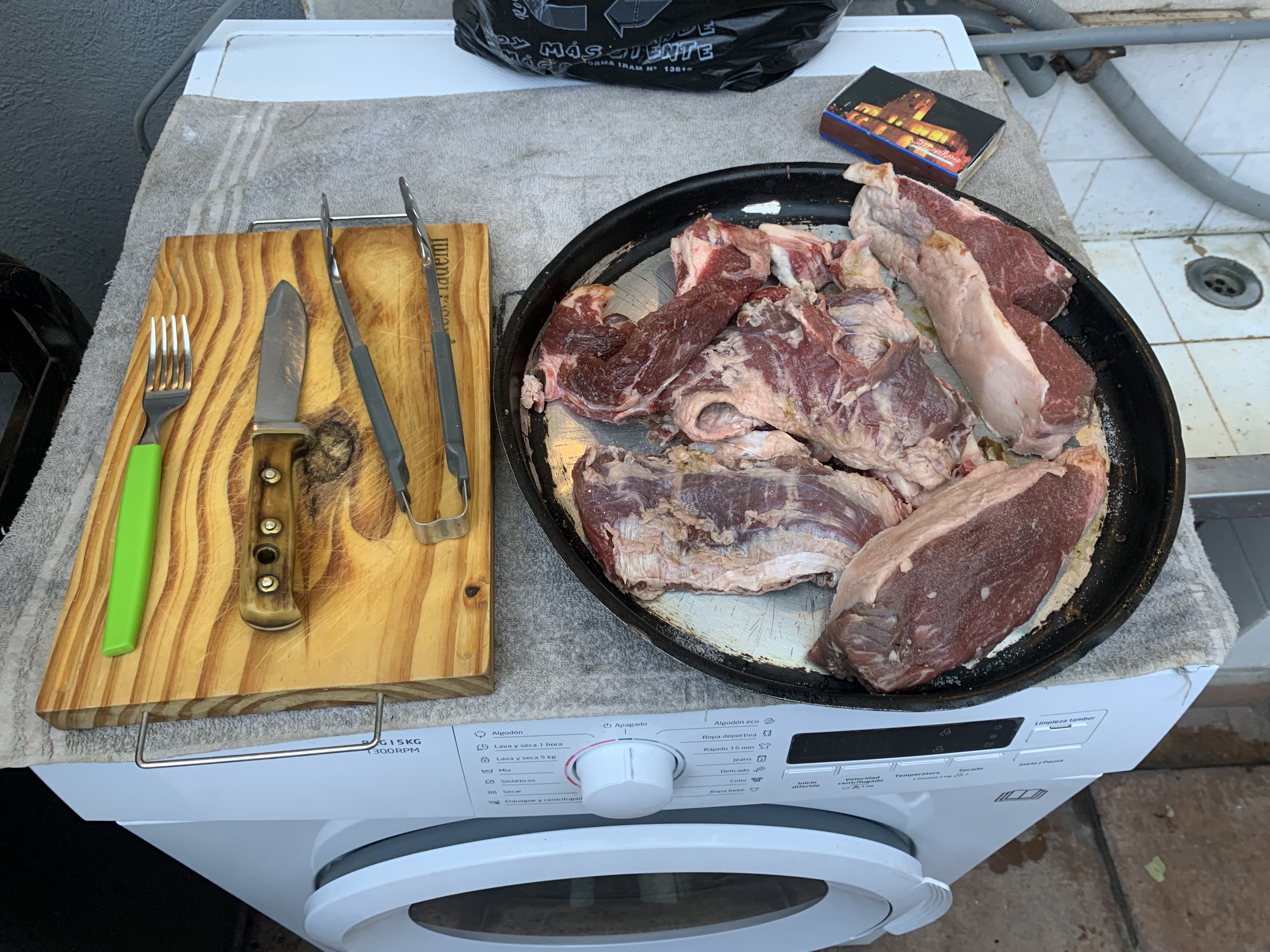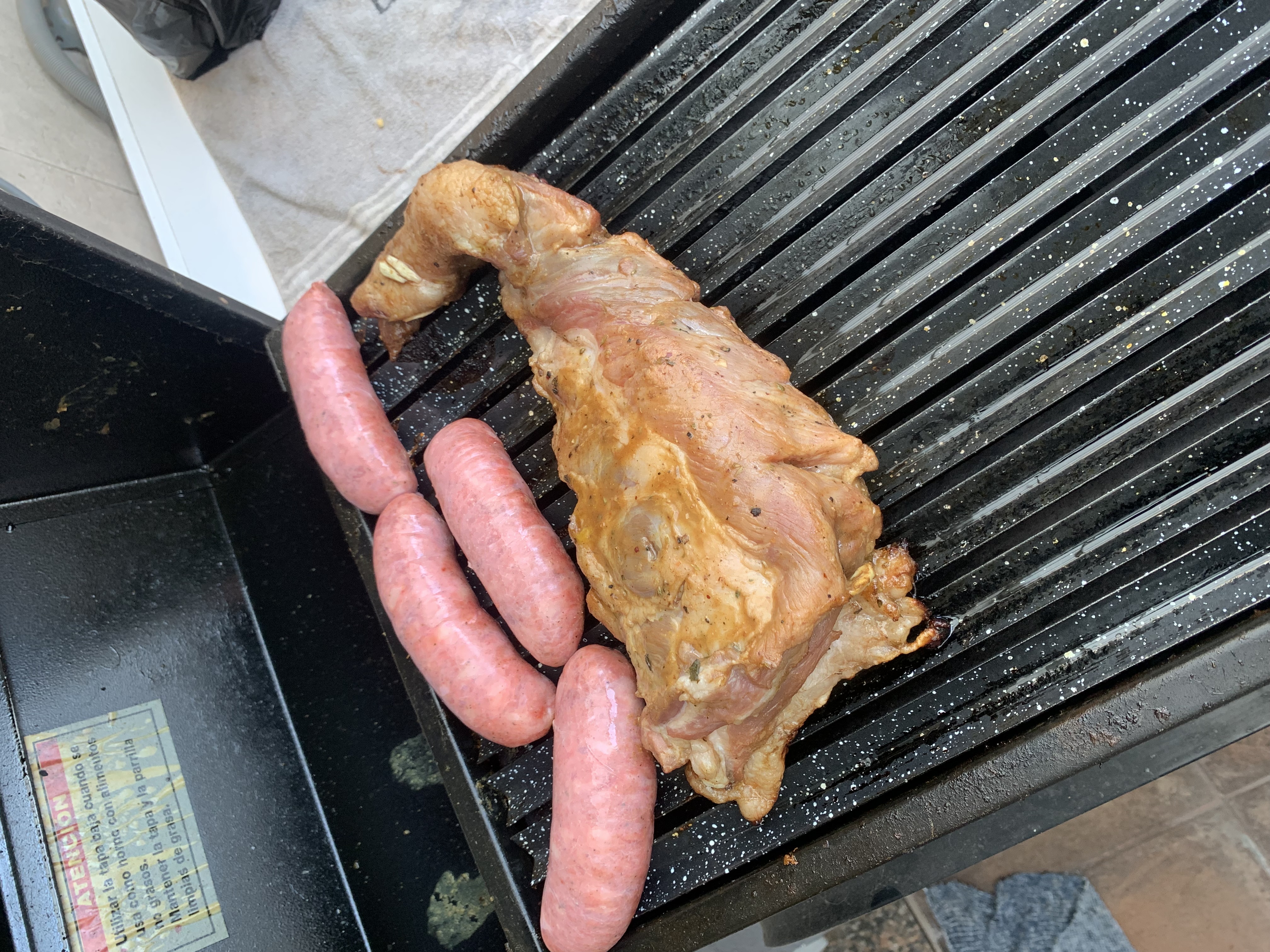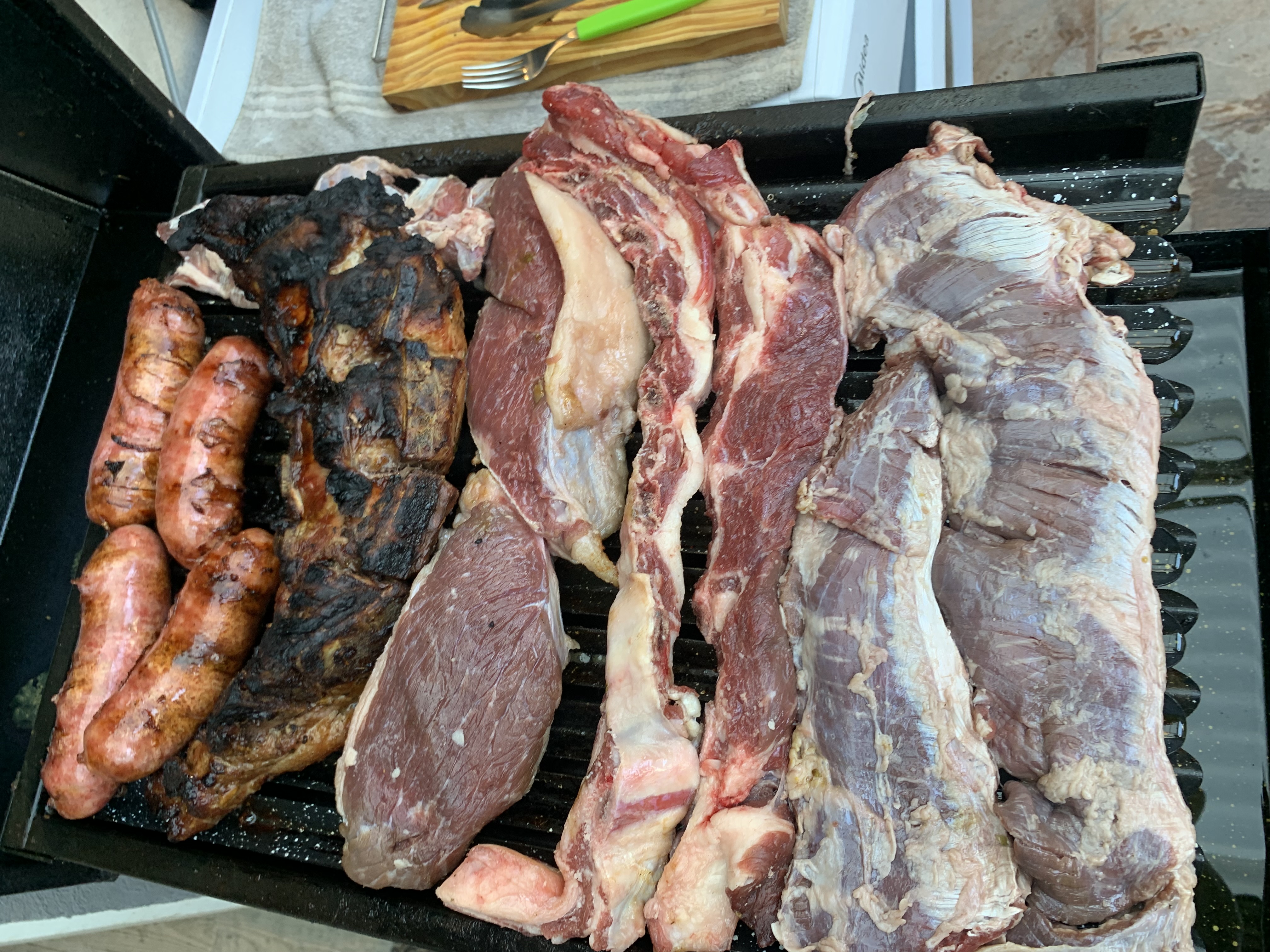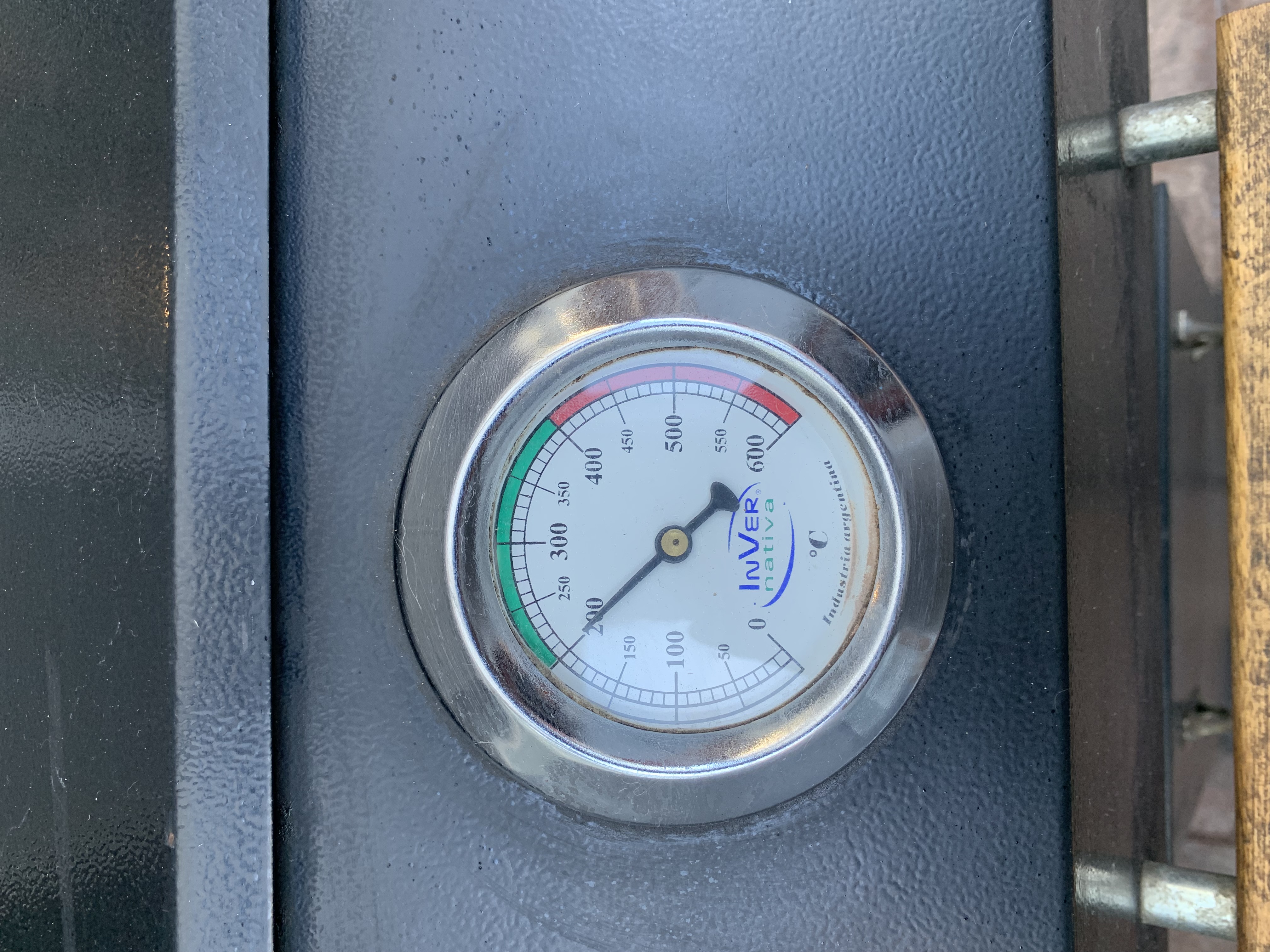 Una vez tengamos nuestra carne, el cerdo, los chorizos y la morcilla debemos hacer nuestra ensalada, para esta ocasión decidi acompañar la parrilla con una ensalada mixta o coleslaw, para ello utilizamos 1 repollo picado y 1 zanahoria grande rayada, debemos picar en brunoise nuestra cebolla, agregamos todo en un bowl y aparte preparamos nuestro aderezo, agregamos la mostaza, la mayonesa el vinagre, sal y pimienta al gusto, mezclamos y luego agregamos a nuestro bowl y mezclamos bien.
Once we have our meat, pork, sausages and blood sausage we must make our salad, for this occasion I decided to accompany the barbecue with a mixed salad or coleslaw, for this we use 1 chopped cabbage and 1 large grated carrot, we must chop in brunoise our onion, add everything in a bowl and separately prepare our dressing, add the mustard, mayonnaise, vinegar, salt and pepper to taste, mix and then add to our bowl and mix well.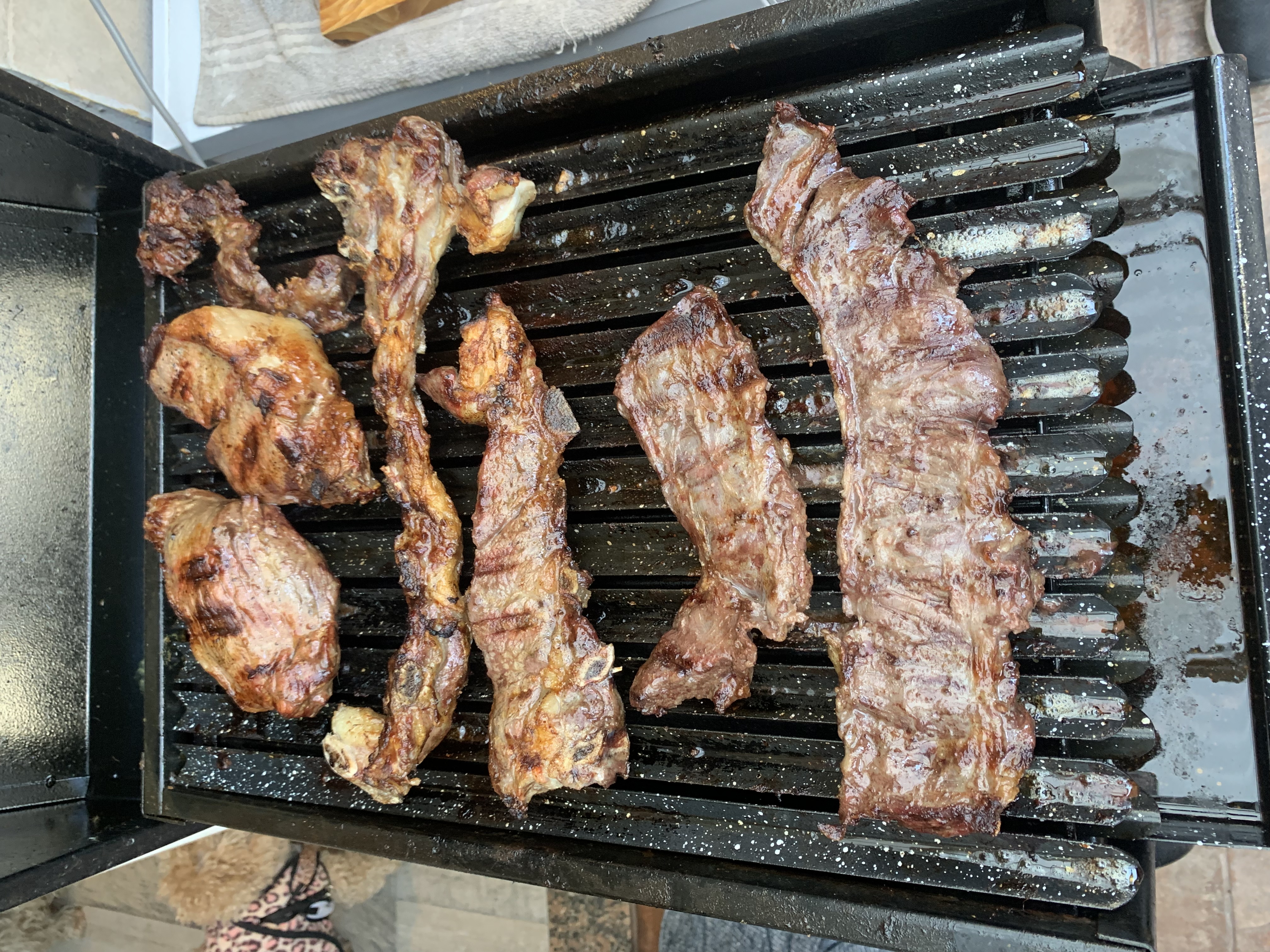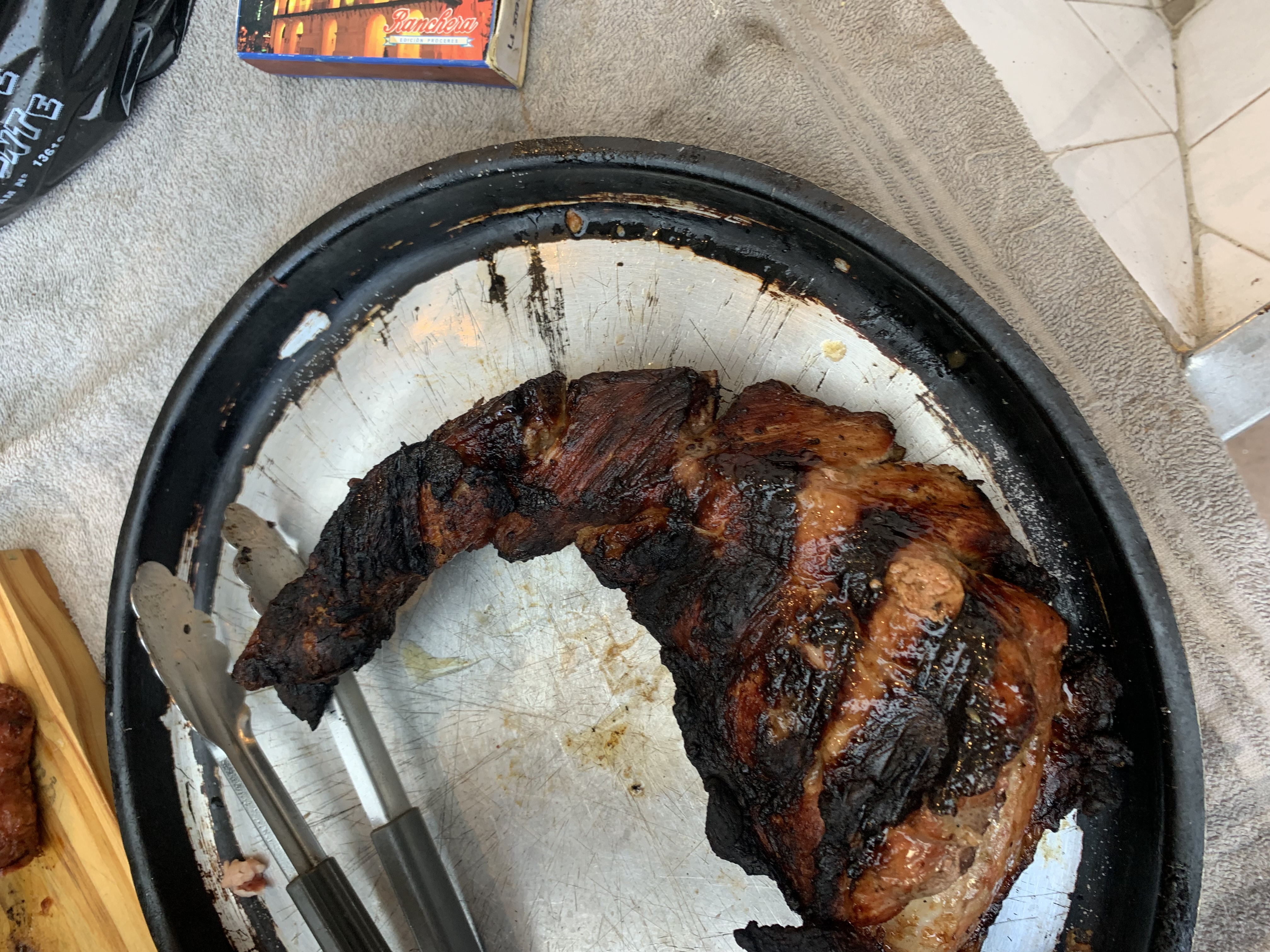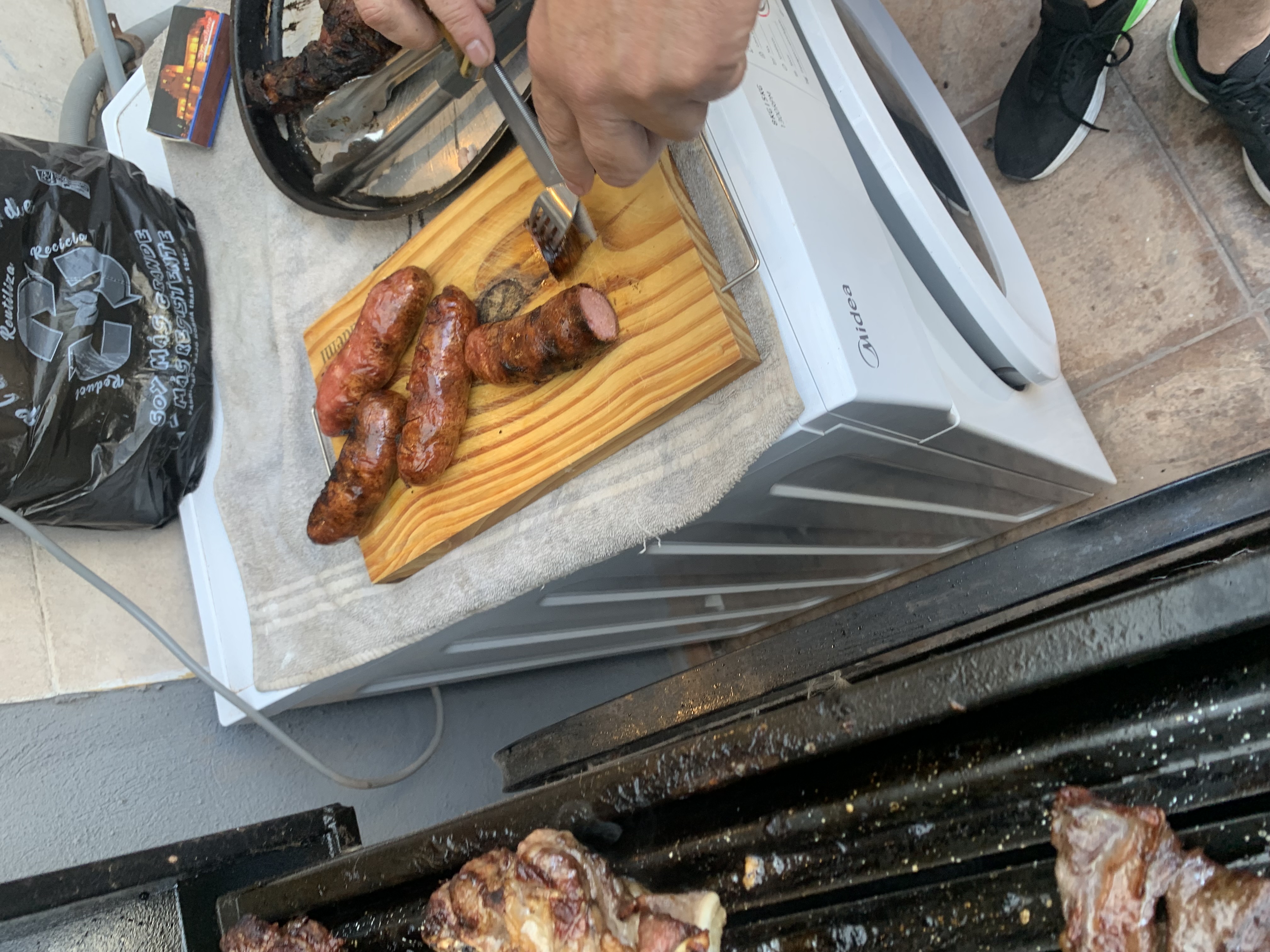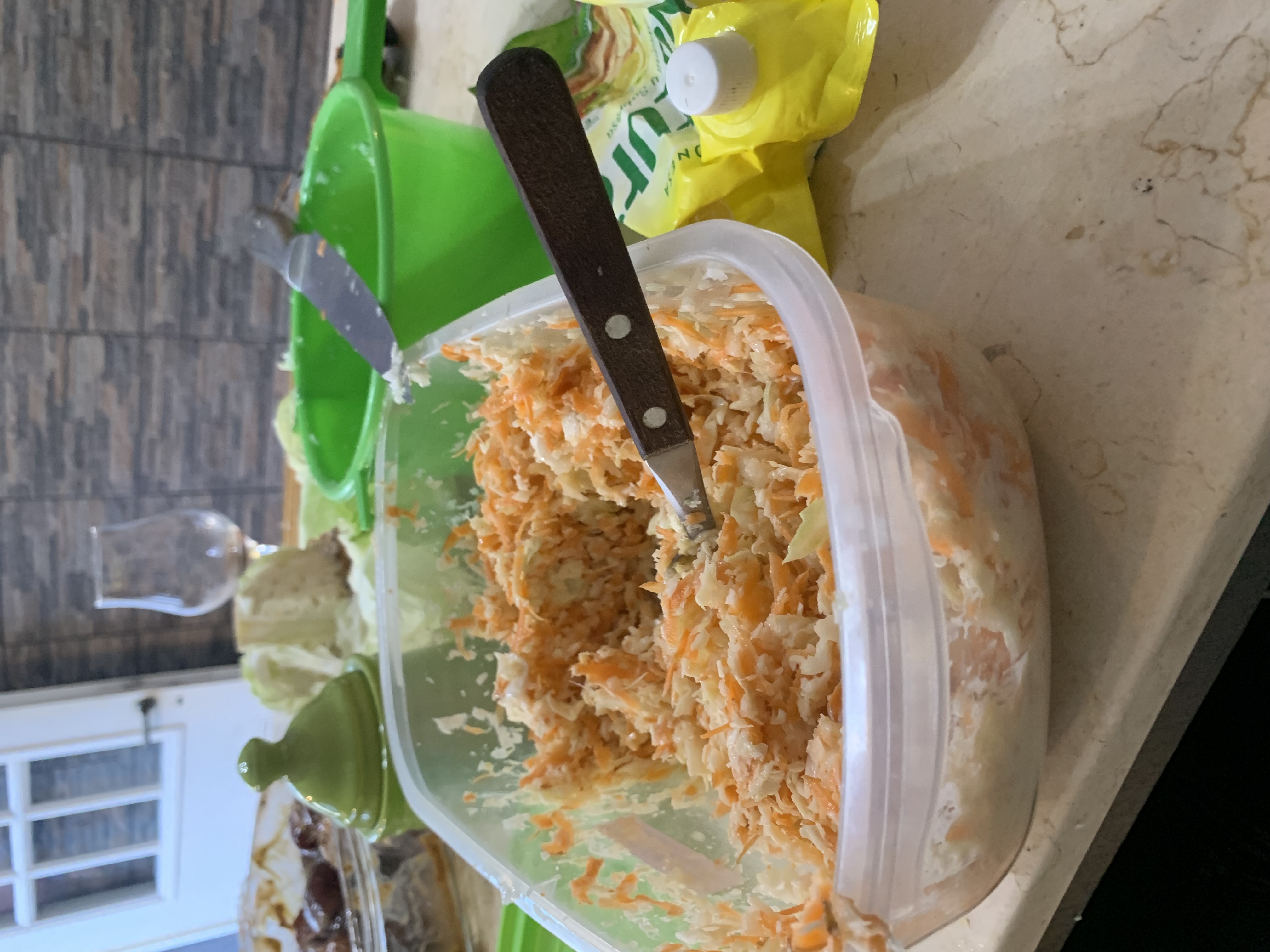 Por ultimo preparamos el Chimichurri que será nuestro aderezo o salsa para la carne, para ello debemos sofreír nuestra cebolla con el ajo y perejil y agregamos sal al gusto, luego debemos mezclarlo con el vinagre y el aceite, picamos en trozos muy pequeños nuestros pimientos y el tomate y lo mezclamos con lo demás.
Finally we prepare the Chimichurri that will be our dressing or sauce for the meat, for it we must fry our onion with the garlic and parsley and add salt to taste, then we must mix it with the vinegar and the oil, we chop in very small pieces our peppers and the tomato and we mix it with the rest.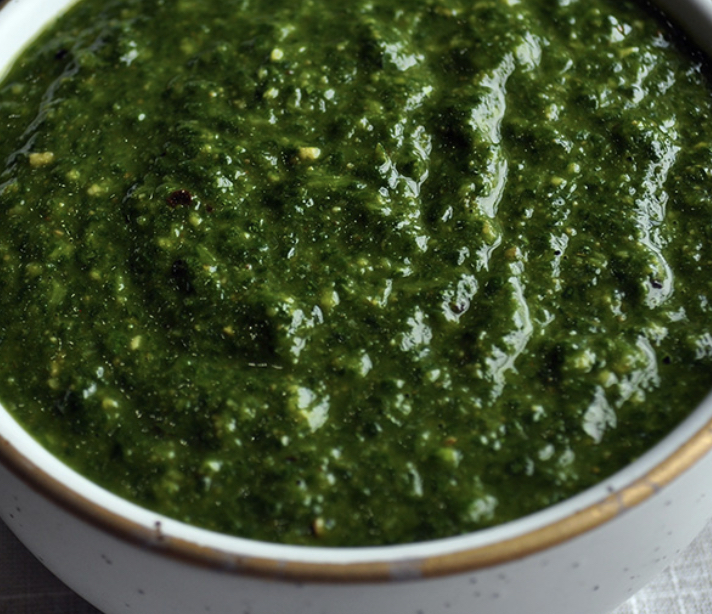 Esto es todo por esta oportunidad amigos, espero que les haya gustado, dejame saber si te gusto y que le agregarías a esta receta.
That's all for this opportunity friends, I hope you liked it, let me know if you liked it and what you would add to this recipe.