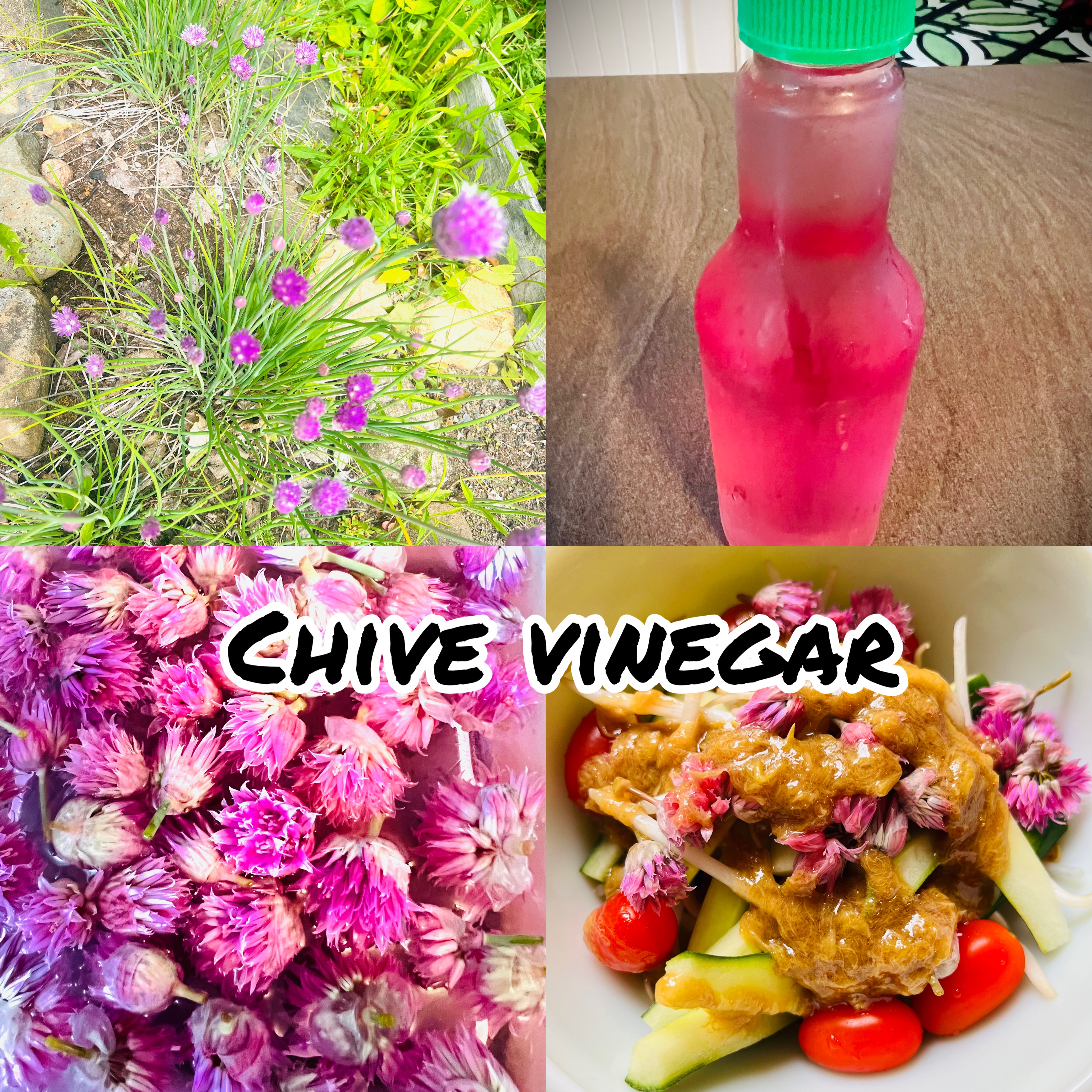 Chive Vinegar"
Chives are doing very well this year as well. They are tough for cold winter survival. They always come back with pretty flowers. After flowers bloom entirely, I have to chop some of them to eat the green parts otherwise the green parts get too tough to eat. I decided to leave some flowers for some chives as usual.
I usually hang some to get seeds for the next season, enjoy some flowers near the window, and make chive vinegar. Dried flowers are also yummy to eat with salad. The dried green stems are also good with pot meals. Chive vinegar is very easy to make. It smells like an Asian vinegar smell. It's good for making Asian-style cooking. I often make salad dressing or stir-fries with this chive vinegar. Also, after making chive vinegar, the flowers are so yummy to eat with salad. Nothing to waste!
"チャイブビネガー"
チャイブが例年通り元気よく育っています。寒い冬も乗り越えて春にはかわいい花を咲かせ戻ってきます。花が完全に開花したら、緑の部分を食べるために花を摘まなければなりません。花を残しておくと、緑の部分が硬くなって食べれなくなってしまいます。いつものように花を残しておくチャイブと花を摘むチャイブにわけました。
花を摘んだら来年の種を取る用に干して置くもの、単純に窓辺に飾って花を楽しむもの、それからチャイブビネガーを作る用にわけます。乾燥させた花はサラダのトッピングにしてふりかけて食べても美味しいです。茎の部分は鍋に入れてもいいです。チャイブビネガーは簡単に作れます。においがアジア風なので、よく中華に使ったりアジア料理に合うと思います。サラダのドレッシングにしたり、炒め物に使います。チャイブビネガーを作るときにつけた花の部分はとても美味しいのでサラダにのせて食べます。捨てる部分はありません!
Chive Vinegar Ingredients
・Chive flowers as many as you have
・White vinegar 1-2 cups (soak flowers well)
チャイブビネガー材料
・チャイブの花 あるだけ
・ホワイトビネガー 1−2カップ(花がひたるだけ)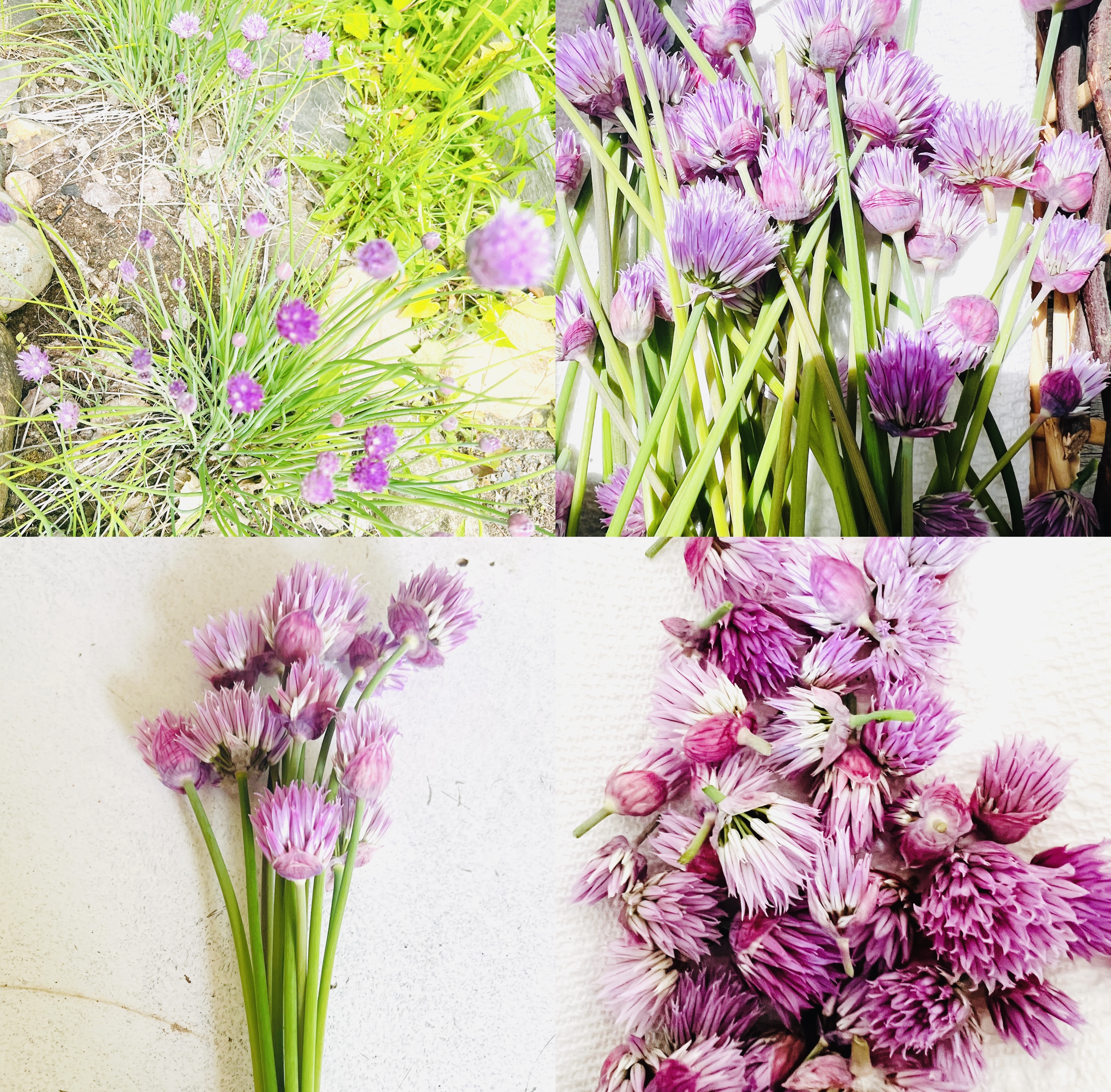 Pick chives from your garden.
Chop flowers.
1、チャイブの花を庭から摘む。
2、花の部分を切る。
Wash well.
Put them into a container (Note: do not use jars or bottles with metallic lids to avoid rusting them with vinegar).
3, Pour white vinegar.
1、よく洗う。
2、容器に入れる。(注:酢で錆びるのを防ぐため、金属製のジャーやボトルなどには入れない方が良い)
3、ホワイトビネガーを注ぎ入れる。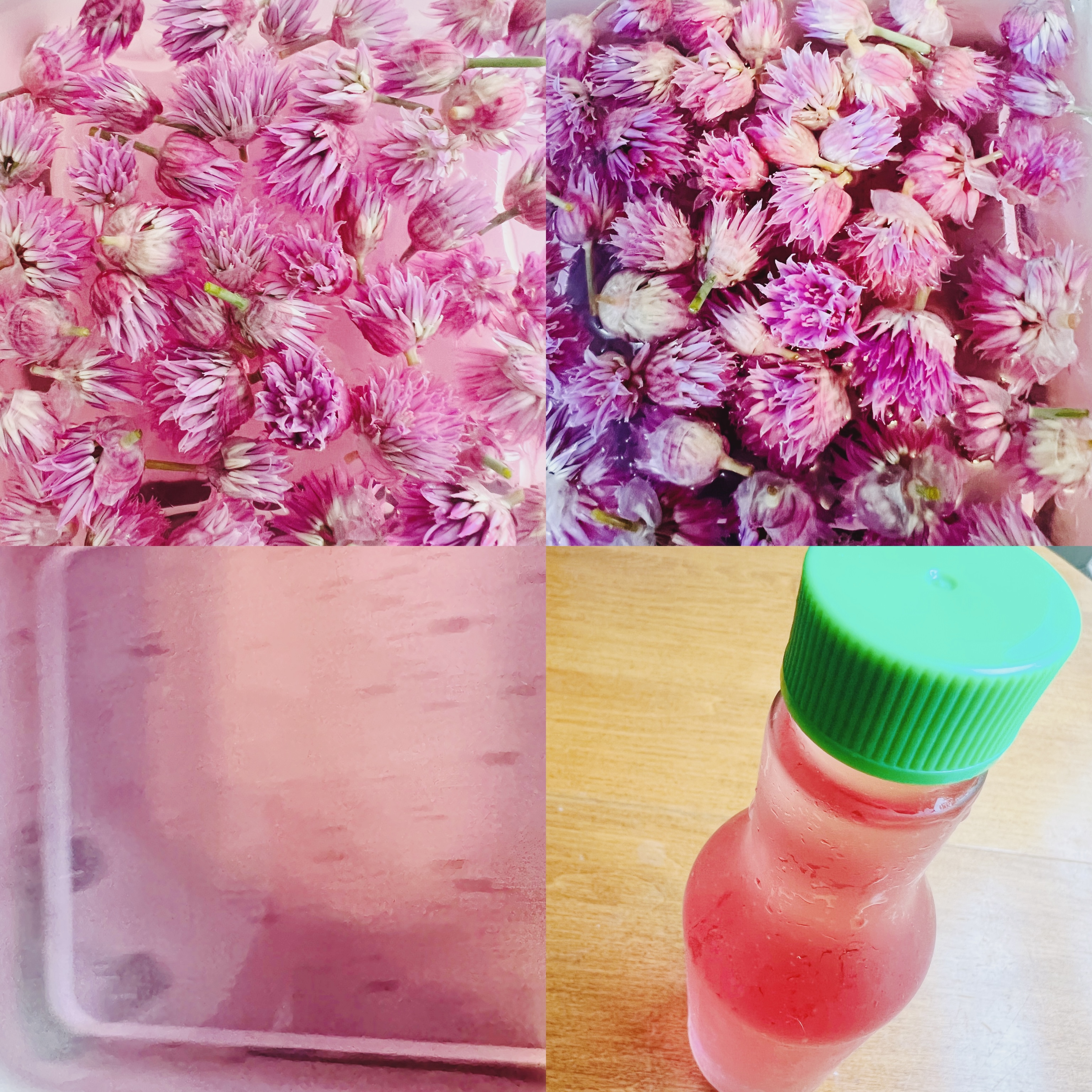 Leave it in the fridge for a few days.
It will be a clear vivid pink.
After making chive vinegar, pour it into the bottle (again, do not use jars with metallic lids otherwise you can't open the lid easily because of rusting).
1、冷蔵庫に数日置く。
2、鮮やかなピンク色になります。
3、チャイブビネガーができたら、ボトルに移す。(上記のように金属製の蓋付き瓶などに入れてしまうと錆びて開かなくなるので注意してください。)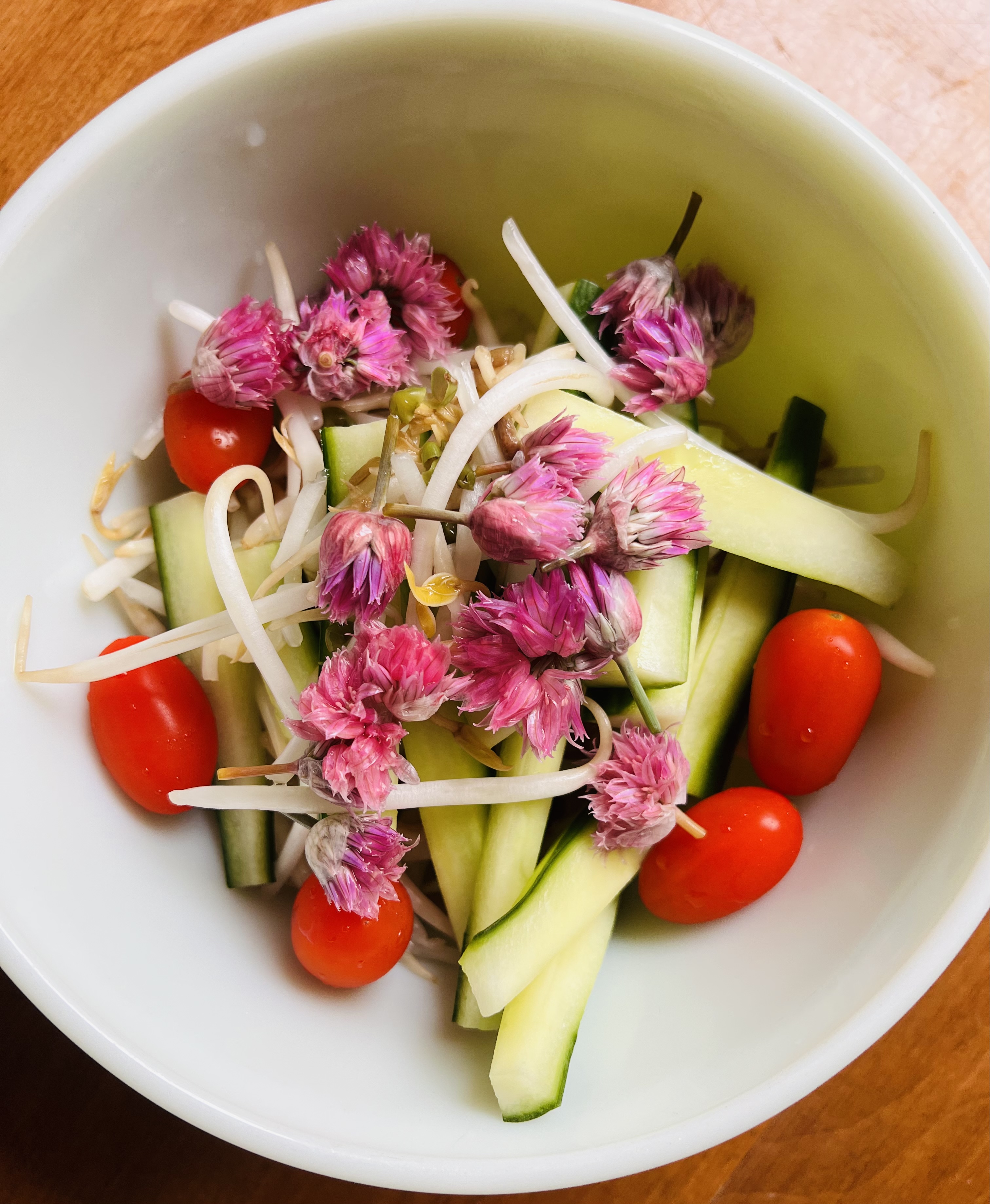 After taking out the pickled flowers from the chive vinegar, eat them with salad or tofu as toppings. It tastes very oriental and tasty!
チャイブビネガーを作り終わった後の酢漬けの花は、サラダや豆腐などにのせてトッピングとして食べると、アジア風の味付けでとても美味しいです!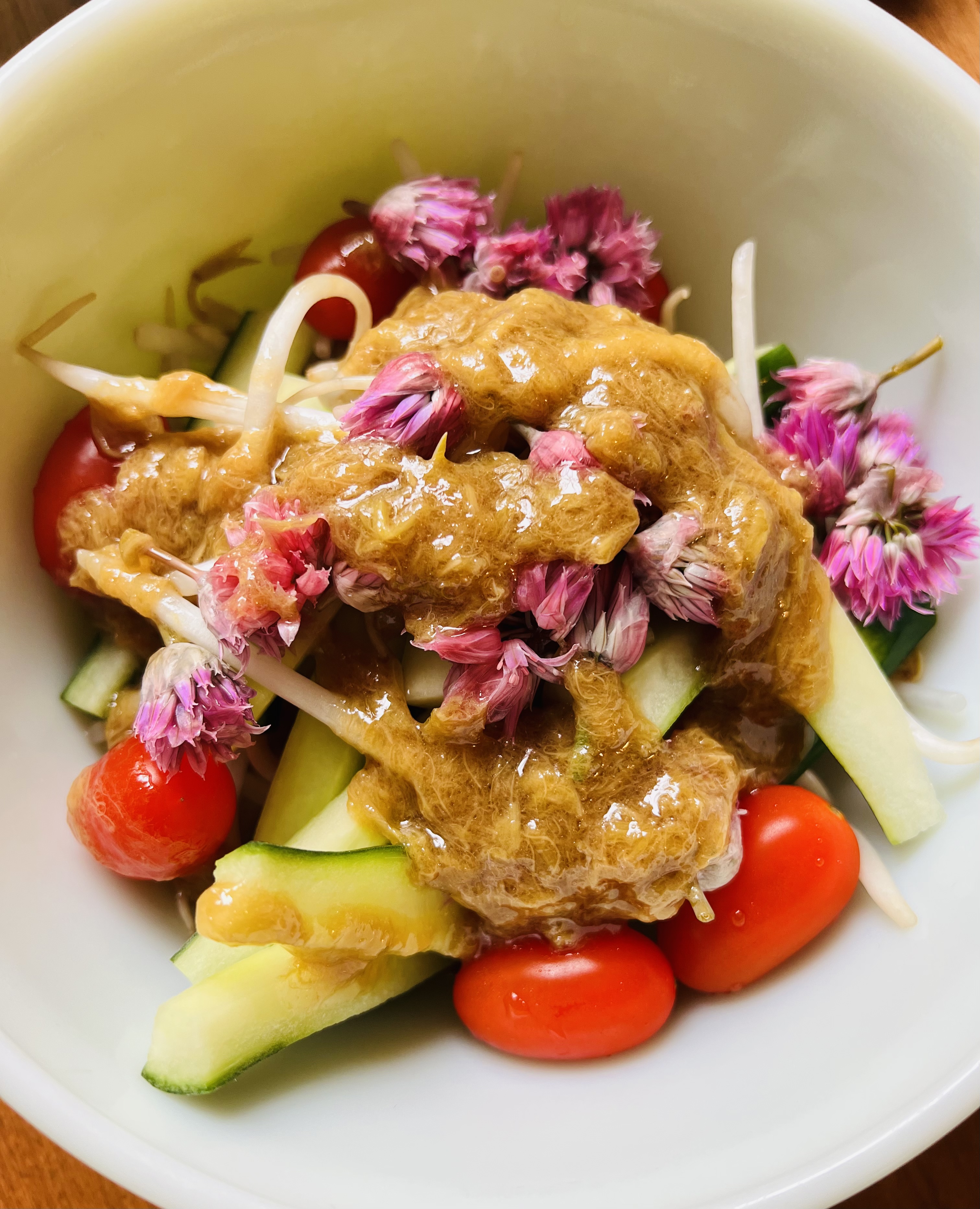 I made rhubarb ume paste and sesame oil dressing for pickled chive flower toppings salad.
ルバーブ梅干しペーストとごま油のドレッシングをかけてチャイブの酢漬けトッピングをしたサラダを食べました。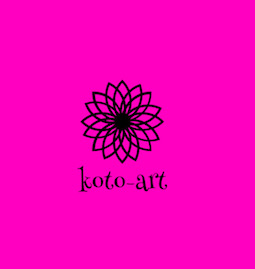 My Site: https://koto-art.wixsite.com/mysite-1