Today's Dinner Idea From Mac's Cooking Lab
Linguine aglio e olio
🕑 about 45 to 50 min | 🍴 3-4 Persons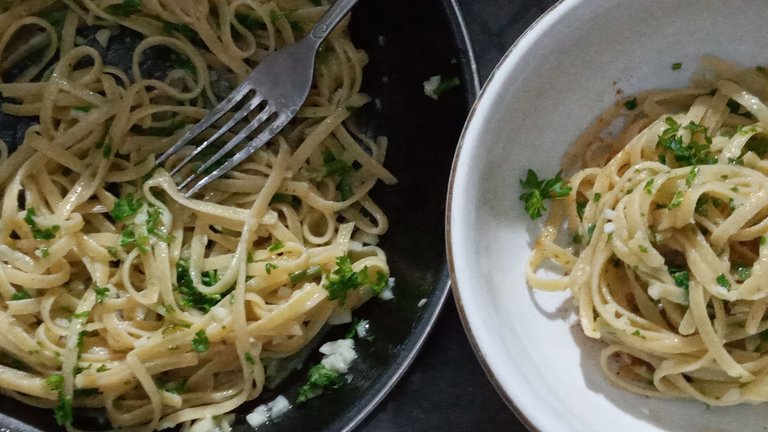 Three ingredients, hassle-free yet delicious pasta. This recipe is made for people who don't want to make a mess but want to impress their guess. But before I get into the nitty-gritty of this recipe, I will show you the ingredients and the instruction.

---
---
Linguine Aglio e Olio
Ingredients
200 gr linguine
5 cloves of garlic
3 tablespoons of olive oil
Generous amount of parsley 
Salt 
Chili flakes (optional)

Instructions
   Boil the water for the linguine and put 200gr of it into the bowl until it cooks. Don't forget to season it with salt. 
   Heat up the skillet and put olive oil. Then put the garlic and the chopped parsley stalk for more flavor. 
   Add the pasta water slowly into the skillet. This pasta water makes the linguine creamy. 
   Stir the linguine until creamy and make sure it's not dry by giving the pasta water. 
   Add parsley into the mixture and enjoy.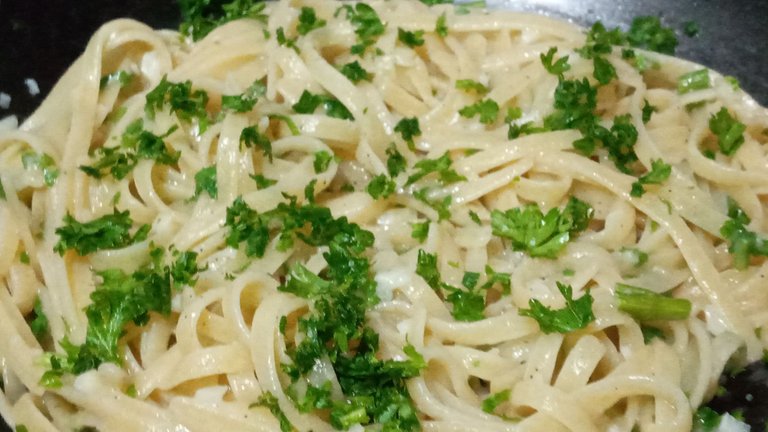 This recipe is one of the easiest and basic Italian recipe. The traditional recipe is very simple and according to an Italian chef Vincenzo, this recipe was not something fancy. It was the poor people's meal. So if you are adding more ingredients then you should not call it Aglio e Oilo but call it something else. Also according to Vincenzo, you should not be adding parmesan or cheddar cheese in this recipe.
I used to think this pasta was a fancy one before I dived into Italian cuisine. It was my very first meal that I ordered from a fancy restaurant. Then, I learned that this was actually the very basic pasta compared to the bolognese which is more popular here. I thought making it was complicated. But after learning how to make it, Aglio e Olio is the simplest, easiest, and fastest pasta yet tastes yummy and looks fancy.

Let me know in the comment section if you tried making this recipe before!

~ Mac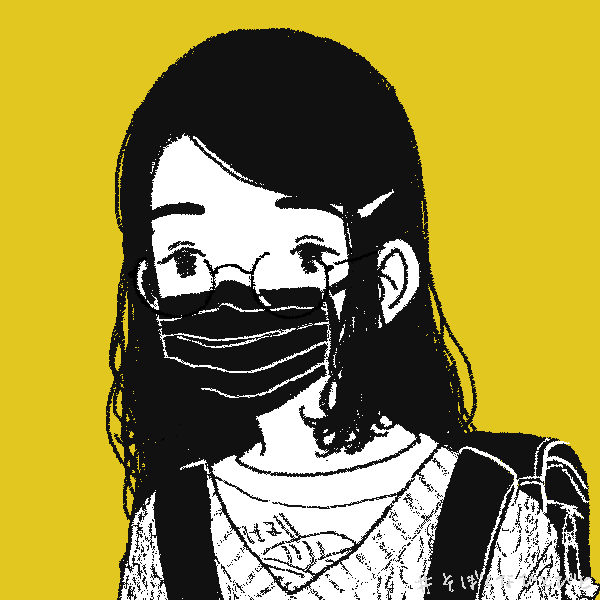 Mac covers technology, philosophy, nootropics, books, productivity, minimalist lifestyle, cybersecurity, and languages. Other than those, she is passionate about cooking and travel. In her free time, Mac enjoys learning art and exploring new hobbies.