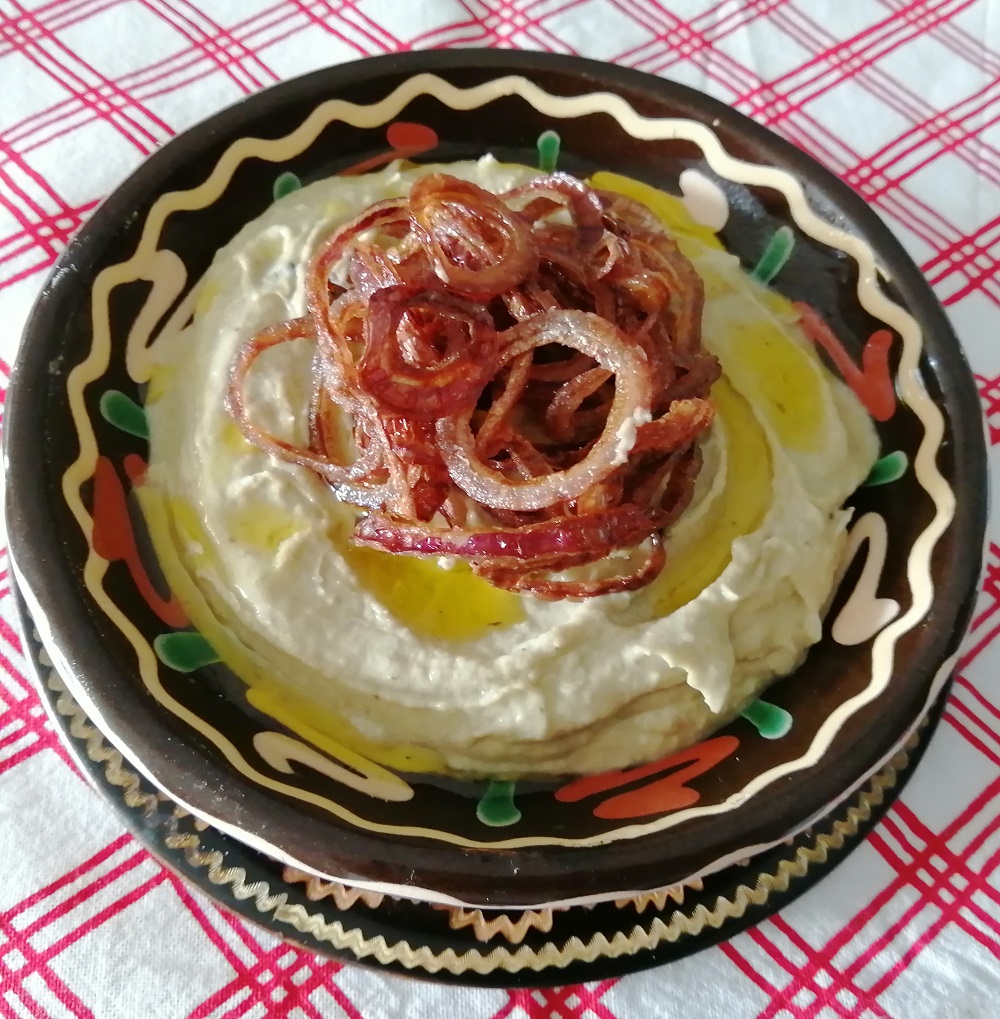 Hello Foodies and Hivers!
You must have heard about Baba Ganoush... it´s an oriental dish known in the Arab world and it´s mainly made of eggplants or Aubergine as they call it here in Europe. Tahini or the sesam paste can be obtained in supermarkets and if this is not available, replace it with olive oil. This is a favorite in my household as we enjoy it for our snack. I serve this with the flat Arabic bread .
I first tasted this in a restaurant in Africa when we lived in Lagos , Nigeria for a couple of years. I met a lady from Lebanon who owned a bakery in our area and she gave to me her recipe. Since then after a couple of decades, I still prepare this dip or dish (can also be a main dish) and serve this too when entertaining visitors. I hope that you would try this at home and enjoy doing this. I am sure your friends will ask how this is prepared. This is my own version.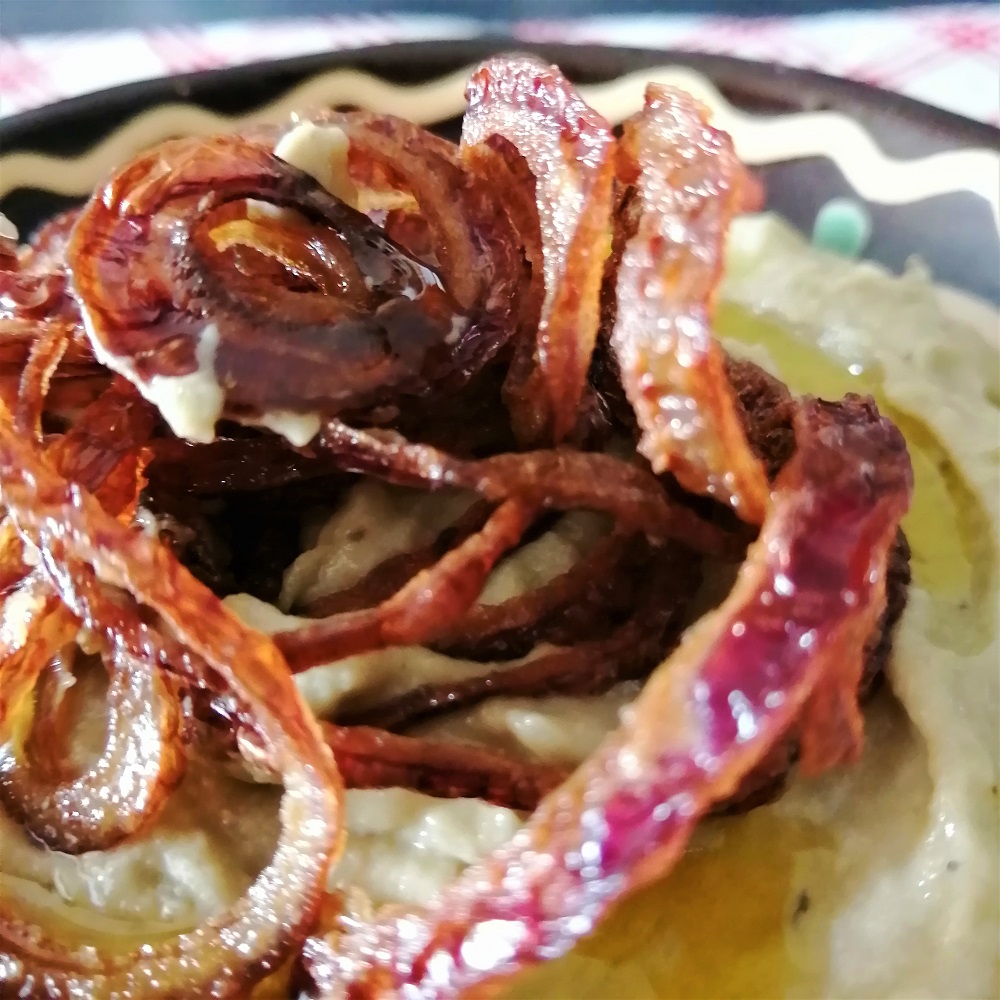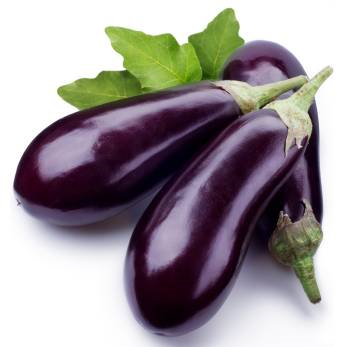 Source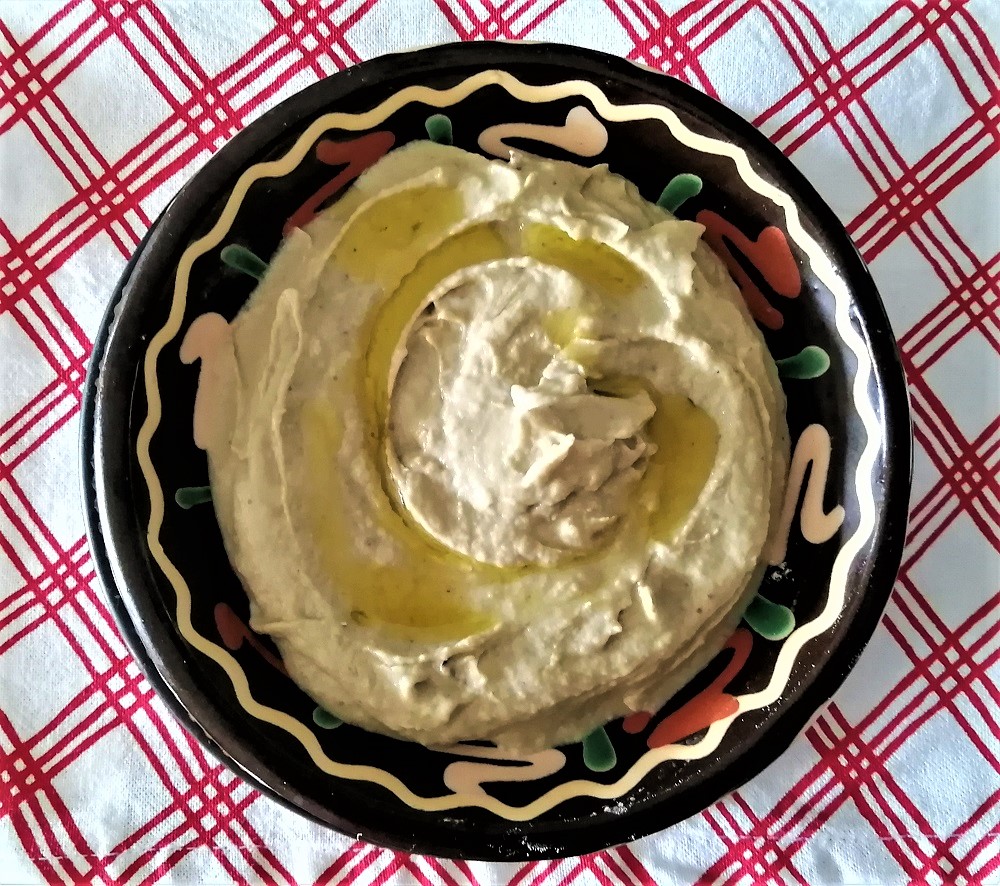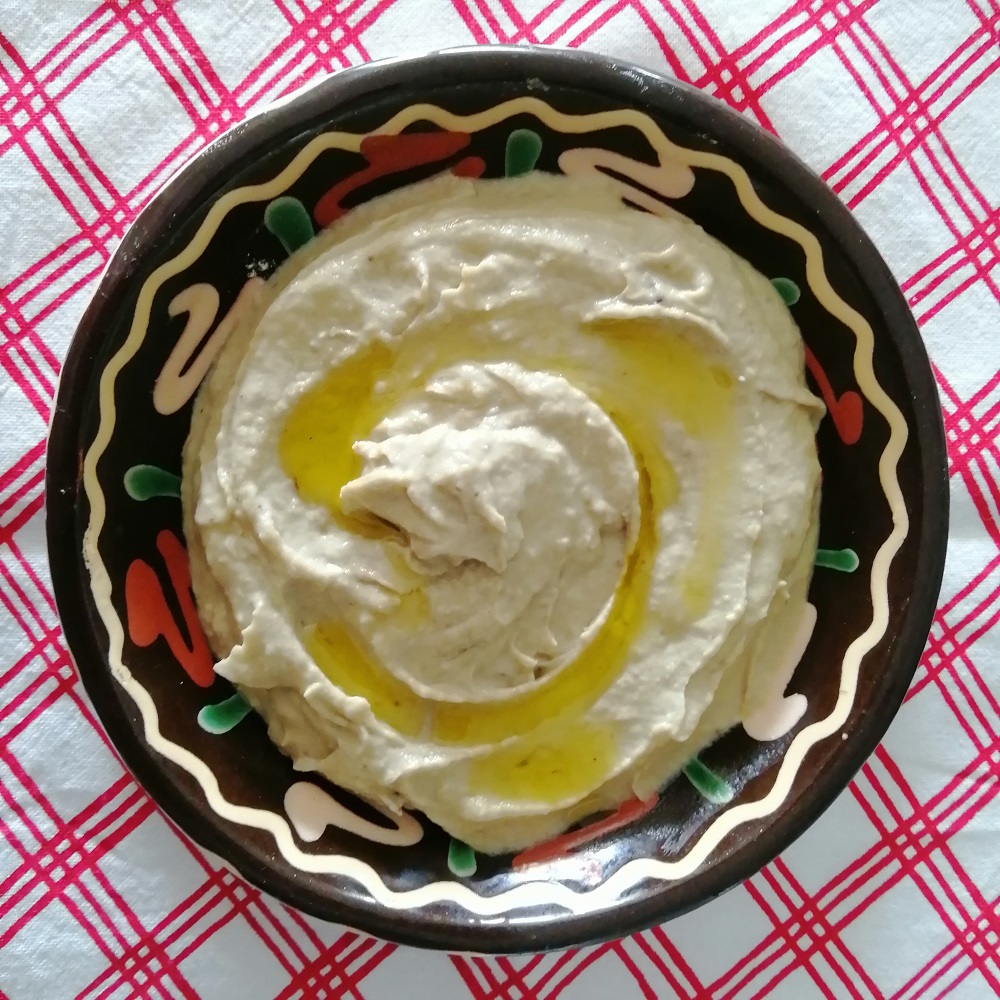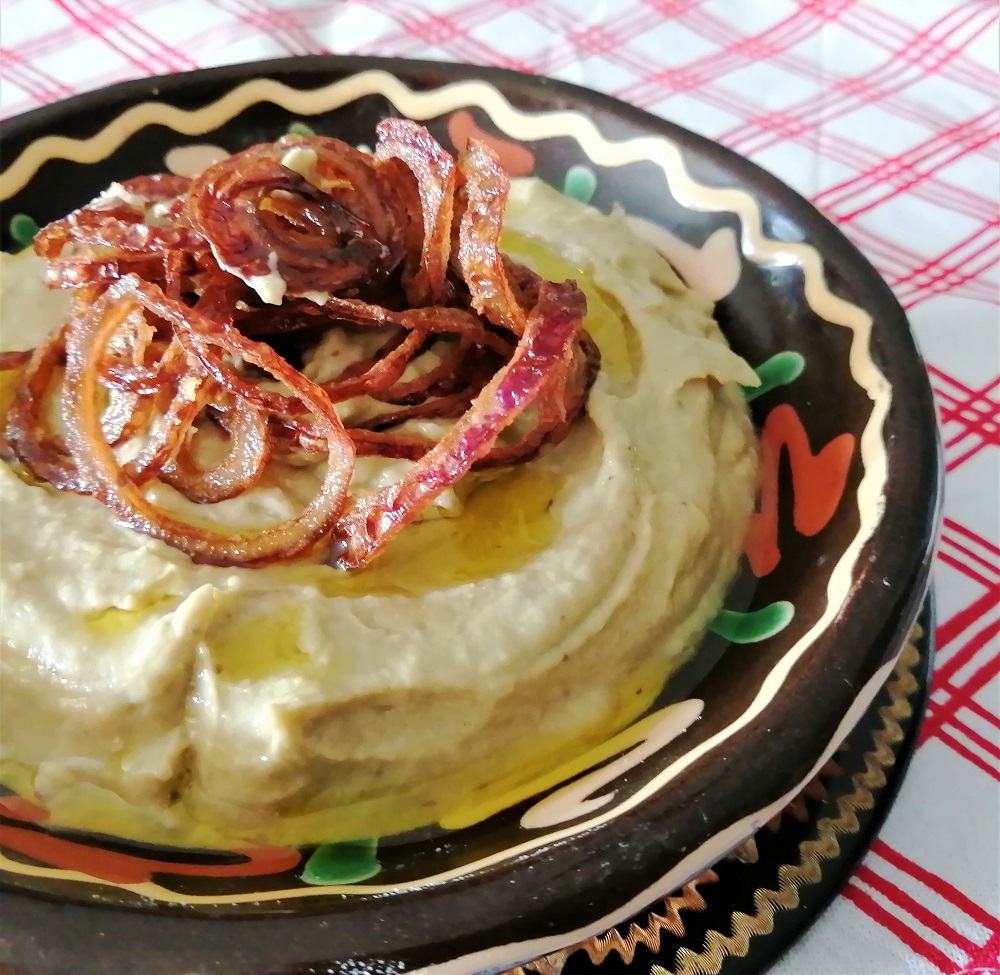 Baba Ganoush
Ingredients:
2 Aubergines
1/2 cup tahini (Sesame paste)
3 garlic cloves, crushed
Juice of 1/2 lemon
1 tsp cumin powder (optional)
salt
ground black pepper
Ingredients for the Toppings:
Fried Onion rings
flour
cooking oil
Preparation:
1... Preheat the oven at 170°C/338°F ... Place the eggplants in an oven pan and grill for about 30-40 minutes turning sides until the skin gets a bit crispy or brown or until each becomes soft.
2... Remove eggplants from the oven and peel the skin eventually cutting off the stem. Place in a food processor, add the tahini, crushed garlic, lemon juice and the cumin powder (optional).
3... Pulse the mixer for seconds over and over again until the eggplants becomes smooth, add salt, pepper. Pulse the mixer again for seconds to combine the spices evenly , adjust the spices by and by until you get your taste preference.
4... Transfer the Baba Ganoush in a deeper plate, sprinkle about 2 tablespoons olive oil on its top and set aside.
Meanwhile, in a casserole with hot cooking oil , add the onion rings and fry for a minute or two stirring always until the onions get brown and crispy. Remove from oil and transfer to a plate line with a paper roll to absorb the excess oil. Then use the crispy onion rings to garnish the top of the Baba Ganoush. You can serve this as appetizer or as dip for fresh veggies such as fresh carrots, cucumber, or celery stalks. Take note, you can also serve this warm or cold with pita or Arabic bread.
ENJOY!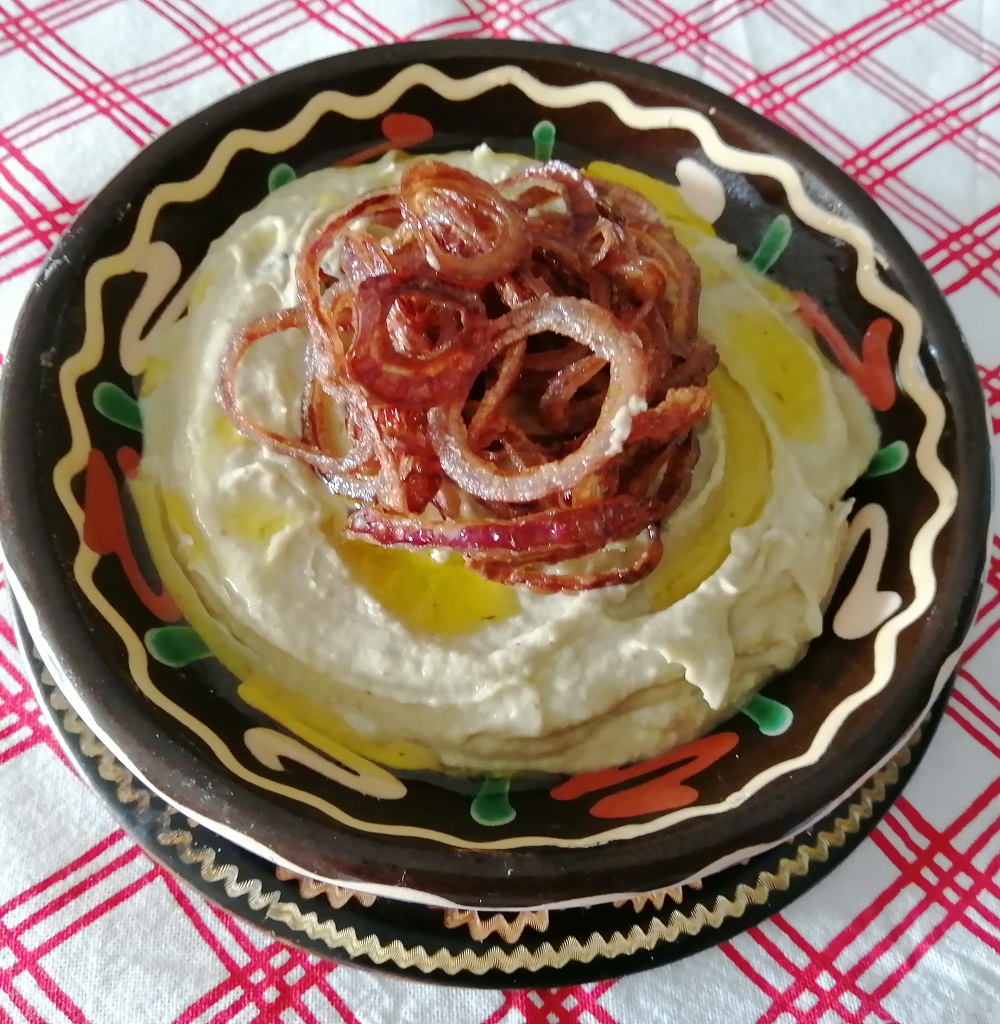 All images in this post were photographed and owned by @mers using Huawei Pro Lite.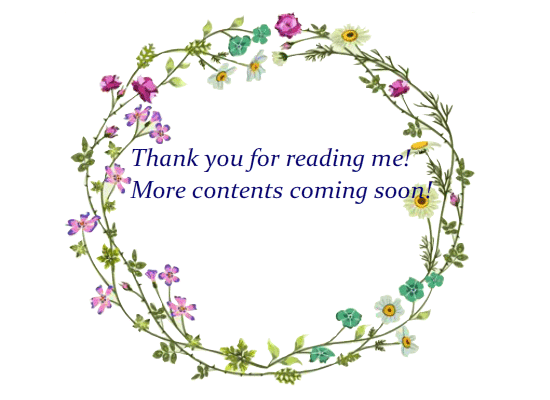 GIF by @gremayo