Hola a todos, como se encuentran? Hoy quiero compartir con ustedes una receta muy sencilla para hacer un chop suey vegetariano, muy sencillo de hacer y puede servir como un acompañante para muchas otras comidas.
Hello everyone, how are you? Today I want to share with you a very simple recipe to make a vegetarian chop suey, very simple to make and can serve as a side for many other meals.
Este plato nació porque tenía unas raíces chinas y pues no sabía que podía hacer con ella, así que intente hacer una ensalada y como a medio camino fue que pensé que lo mejor sería un Chop Suey, por lo que al presentar el plato no sabía con que acompañarlo, y por eso es que está esa rodaja de pan, jajaja.
This dish was born because it had Chinese roots and I didn't know what I could do with it, so I tried to make a salad and halfway through I thought the best would be a Chop Suey, so when I presented the dish I didn't know what to accompany it, and that is why there is that slice of bread, jajaja.
Ingredientes / Ingredients:
1 Zanahoria Mediana / 1 Medium Carrot
1 Calabacín Pequeño / 1 Small Zucchini
1 Repollo Pequeño / 1 Small Cabbage
1 Cebolla Blanca Pequeña / 1 Small White Onion
1 Pimentón Verde Pequeño / 1 Small Green Pepper
50 gr de Raíces Chinas o Germinados de Soya / 50 gr of Chinese Roots or Soy Sprouts
50 ml de Salsa de Soja / 50 ml of Soy Sauce
Sal y Pimienta, al gusto / Salt and Pepper, to taste
Un Chorrito de Aceite / A Splash of Oil
Jengibre, al gusto / Ginger, to taste
Preparación / Preparation:
1- Comenzamos picando todos los ingredientes / We start by chopping all the ingredients.
Empezamos lavando y pelando la zanahoria y el calabacín. Después de esto lo pasaremos por el rayador para que queden trozos pequeños, para que al cocinarlos queden tiernos rápidamente.
We start by washing and peeling the carrot and zucchini. After this we will pass it through the grater so that there are small pieces, so that when they are cooked they are tender quickly.
Seguimos limpiando y lavando la cebolla y el pimentón verde. Estos vegetales los vamos a cortar en bastones pequeños, ya que serán los primeros en ir al sartén.
We continue cleaning and washing the onion and green pepper. We are going to cut these vegetables into small sticks, since they will be the first to go to the pan.
Luego limpiamos y cortamos el repollo. Después de eso lo dejamos en agua con un poco de vinagre, tal vez no sea necesario esto último, pues cocinaremos todos los vegetales, pero es mejor prevenir que lamentar.
Then we clean and cut the cabbage. After that we leave it in water with a little vinegar, perhaps the latter is not necessary, since we will cook all the vegetables, but it is better to be safe than sorry.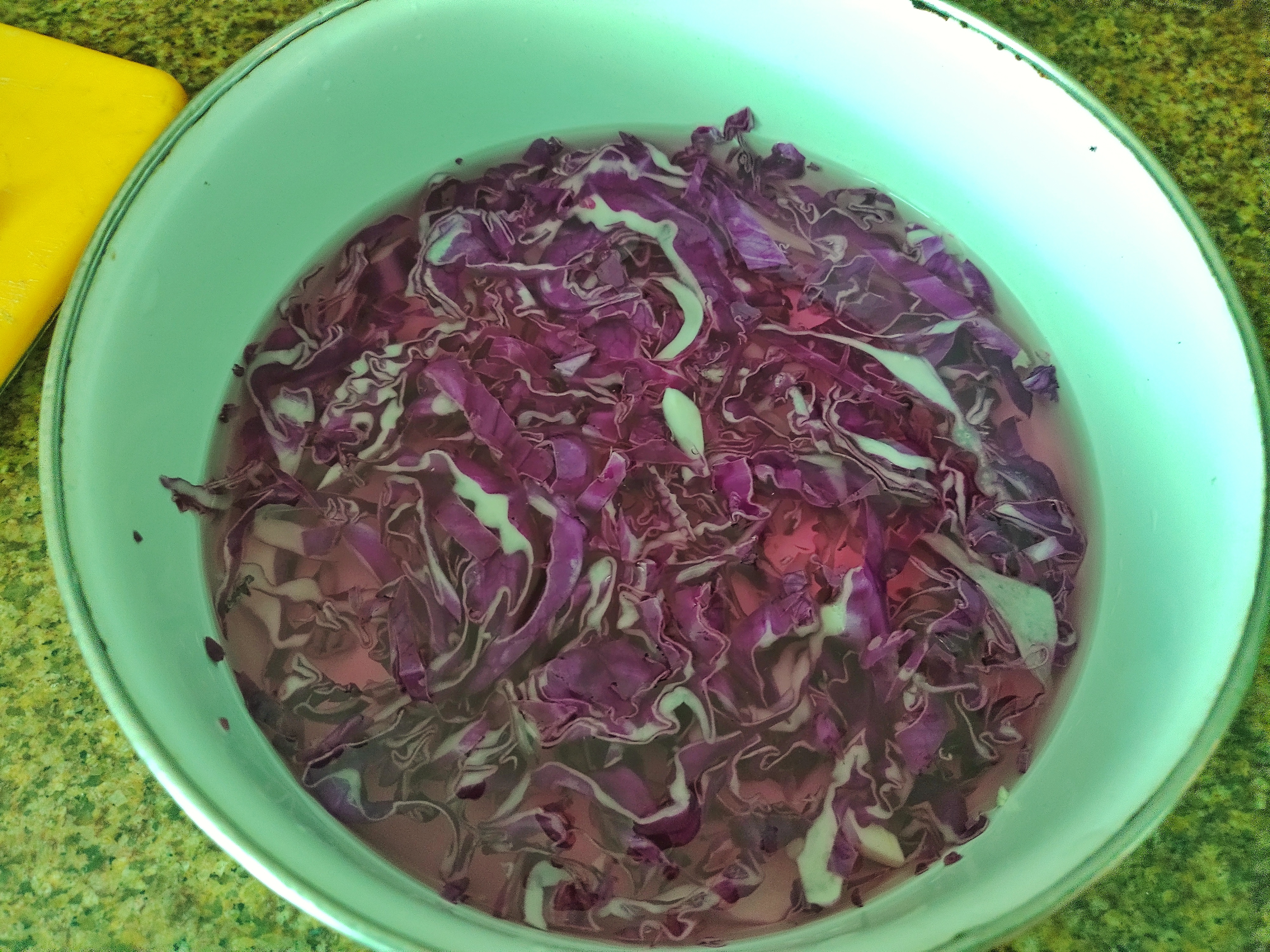 La raíces solo las lavaremos con un poquito de agua, sin dejarlas remojar, ya que quiero que estás le den el crunch a la ensalada.
We will only wash the roots with a little water, without letting them soak, since I want it to give the salad the crunch.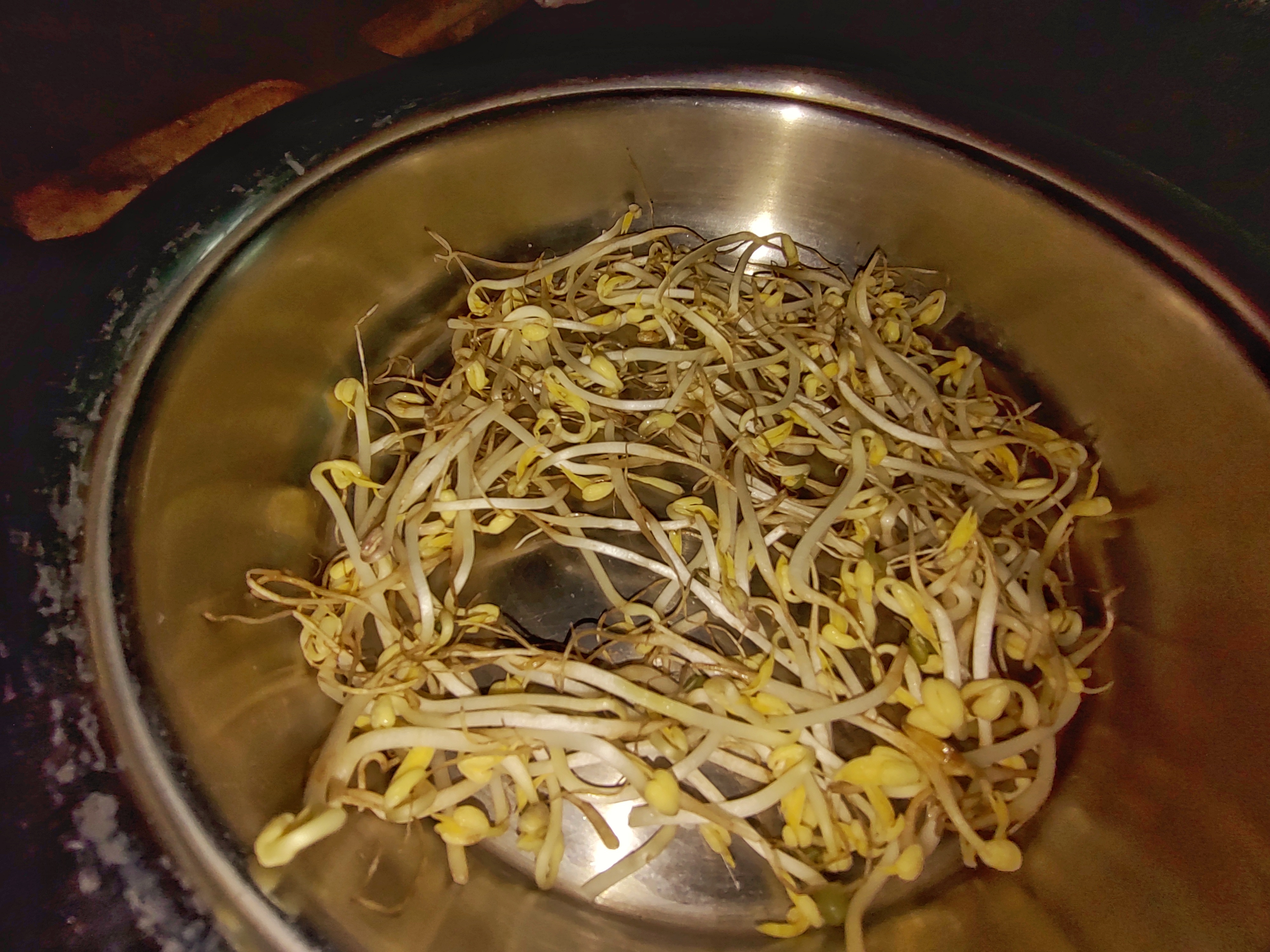 2- Ahora a cocinar todos los ingredientes / Now to cook all the ingredients.
En un sartén agregamos el aceite y agregamos los primeros vegetales, el pimentón verde y la cebolla.
In a frying pan add the oil and add the first vegetables, the green pepper and the onion.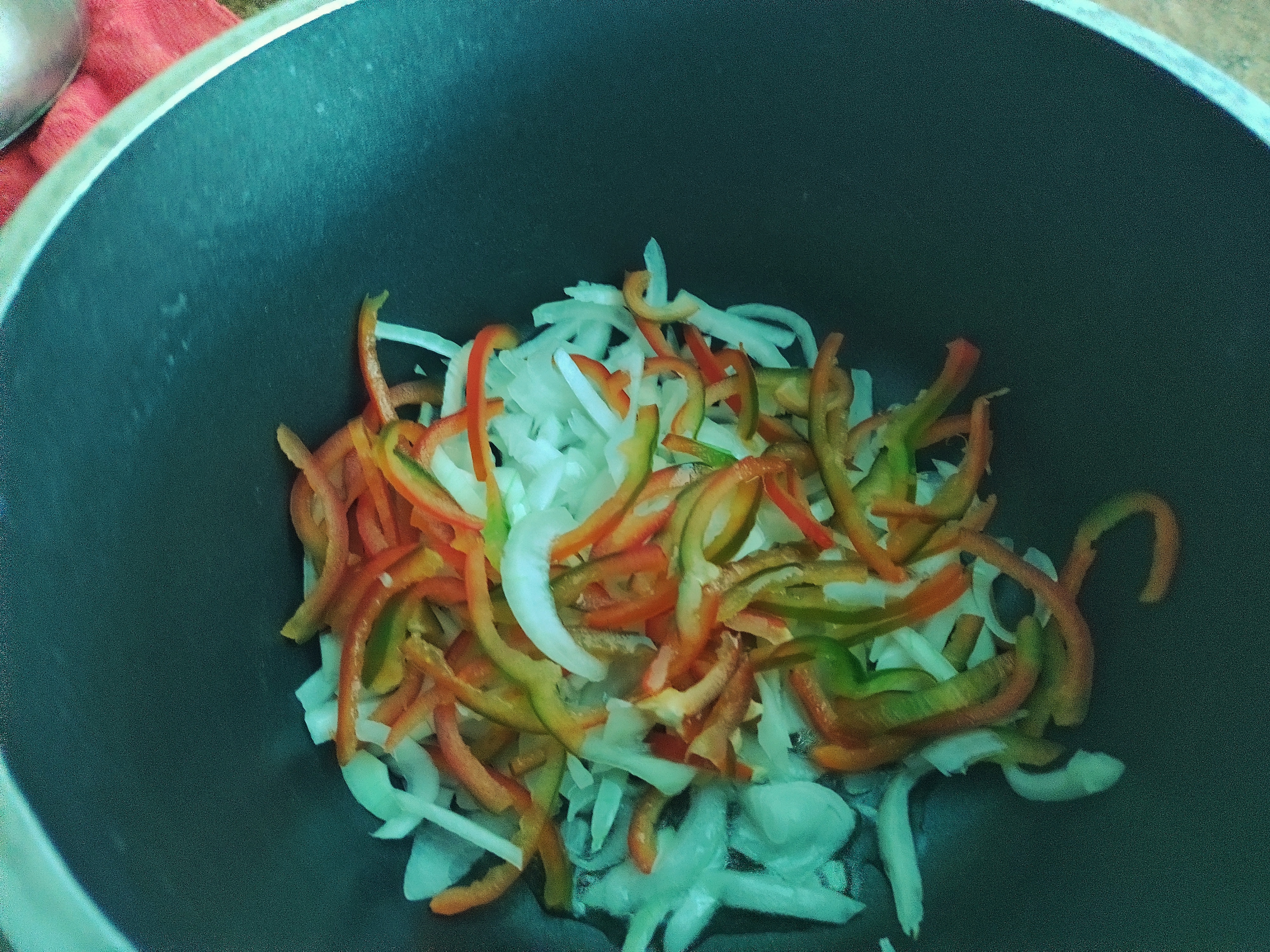 Luego agregamos el restos de vegetales, menos los brotes de soja. Aquí agregaremos la salsa de soya, el jengibre y salpimentamos.
Then we add the vegetable scraps, minus the bean sprouts. Here we will add the soy sauce, ginger and salt and pepper.
Ya para terminar agregamos las raíces chinas y dejamos cocinar por poco minutos para que no pierdan su crunch. Si lo ves necesario aquí puedes agregar un poco más de soja, ya que como no tiene proteína, hay que darle un poco más sabor.
To finish we add the chinese roots and let it cook for a few minutes so that they do not lose their crunch. If you see it necessary here you can add a little more soybeans, since as it does not have protein, you have to give it a little more flavor.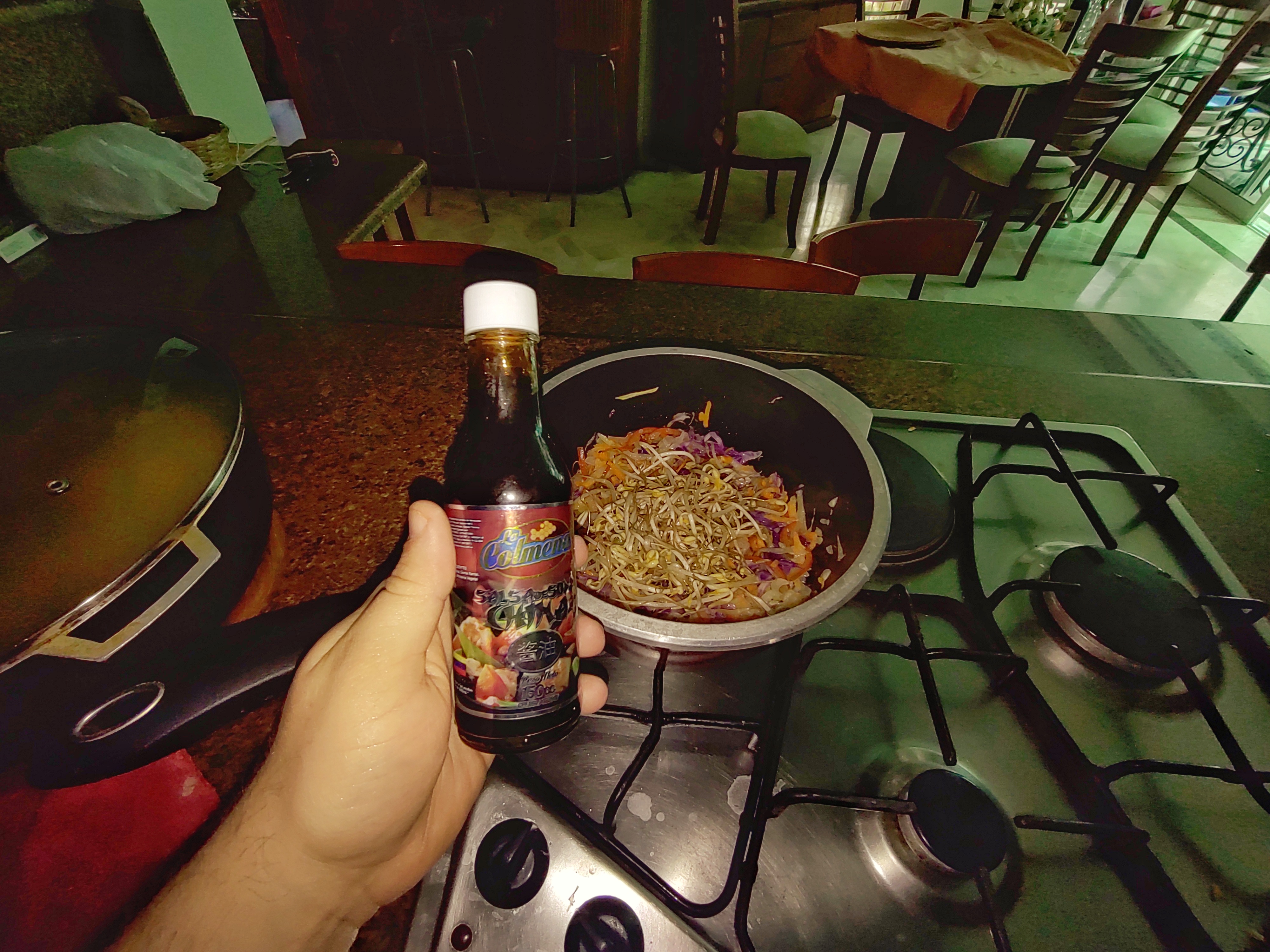 Puedes acompañar este plato con un pollo y un arroz, haciendo buen contraste, aunque no te mates tanto la cabeza como que yo, que solo lo hice con pan, jajaja. Para servir pueden agregar cebollín y semillas de ajonjolí.
You can accompany this dish with a chicken and a rice, making a good contrast, even if you don't kill your head as much as I did, I only made it with bread, hahaha. To serve you can add chives and sesame seeds.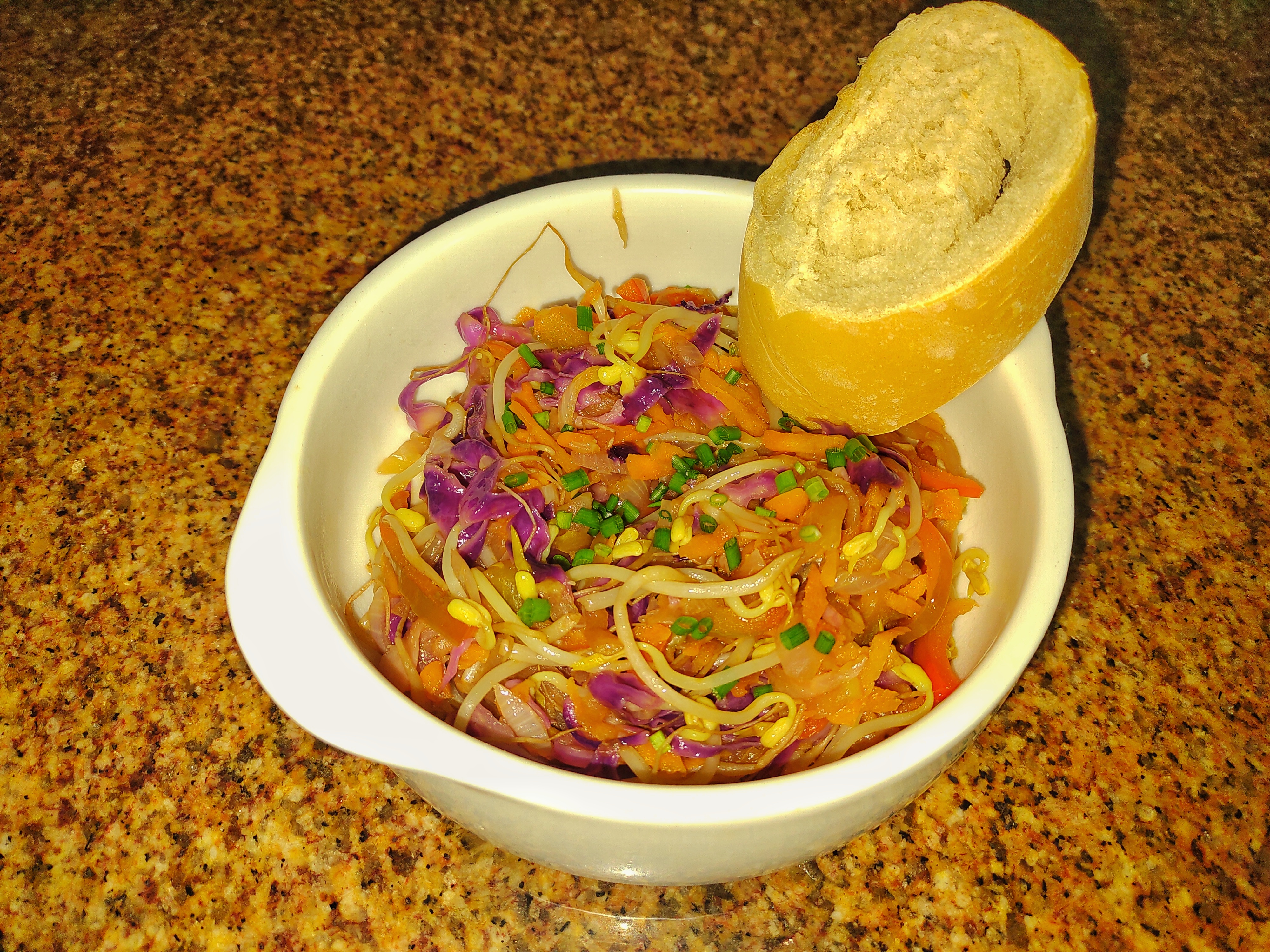 Buen provecho! / Bon appetit!