Hola a todos, como se encuentran? Hoy quiero compartir una receta muy sencilla, pero que llama la atención desde el momento que la ves. Este wrap de tortilla, pero con el relleno de una pizza de pepperoni, es una opción genial para una cena, además de cambiar un poco el menú de una forma muy sencilla y divertida.
Hello everyone, how are you? Today I want to share a very simple recipe, but one that draws attention from the moment you see it. This tortilla wrap, but with the filling of a pepperoni pizza, is a great option for a dinner, as well as changing the menu a bit in a very simple and fun way.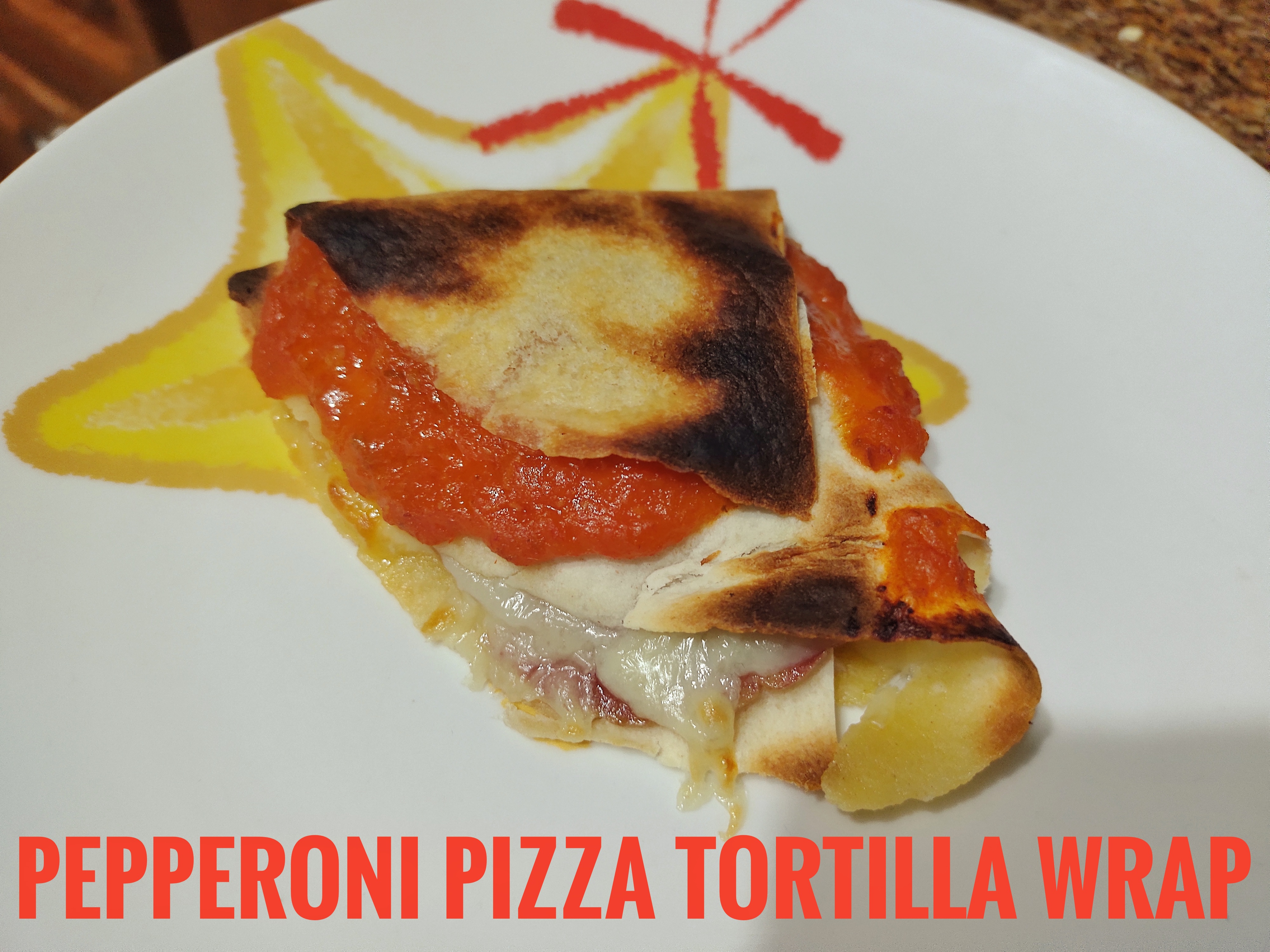 Si son como yo, que a veces podemos pasar unas cuantas horas en redes sociales, sabrán que allí hay demasiadas recetas que se ven muy interesante, y esta es una versión más personal de una de las recetas que un día ví por Instagram.
If you are like me, who can sometimes spend a few hours on social networks, you will know that there are too many recipes that look very interesting, and this is a more personal version of one of the recipes that one day I saw on Instagram.
Ingredientes / Ingredients
1 Paquete de Tortillas Bimbo / 1 Pack of Bimbo Tortillas
150 gr de Queso Mozzarella Rallado / Grated Mozzarella Cheese
150 gr de Pepperoni Picante / 150 gr of Spicy Pepperoni
Salsa para Pizza o Pasta / Pizza or Pasta Sauce
1 Tomate / 1 Tomato
1 Cebolla / 1 Onion
2 Ajíes Dulces / 2 Sweet Peppers
Sal y Pimienta, al gusto / Salt and Pepper, to taste
Orégano, opcional / Oregano, optional
Preparación / Preparation:
1- Empezamos con la tortilla / We start with the tortilla.
Lo primero es hacer un corte en la tortilla, desde la mitad hasta uno de los bordes. No hagas el corte más allá de la mitad, ya que puede romperse la tortilla al momento de doblarla.
The first thing is to make a cut in the tortilla, from the middle to one of the edges. Don't cut past the middle, as the tortilla may break when you fold it.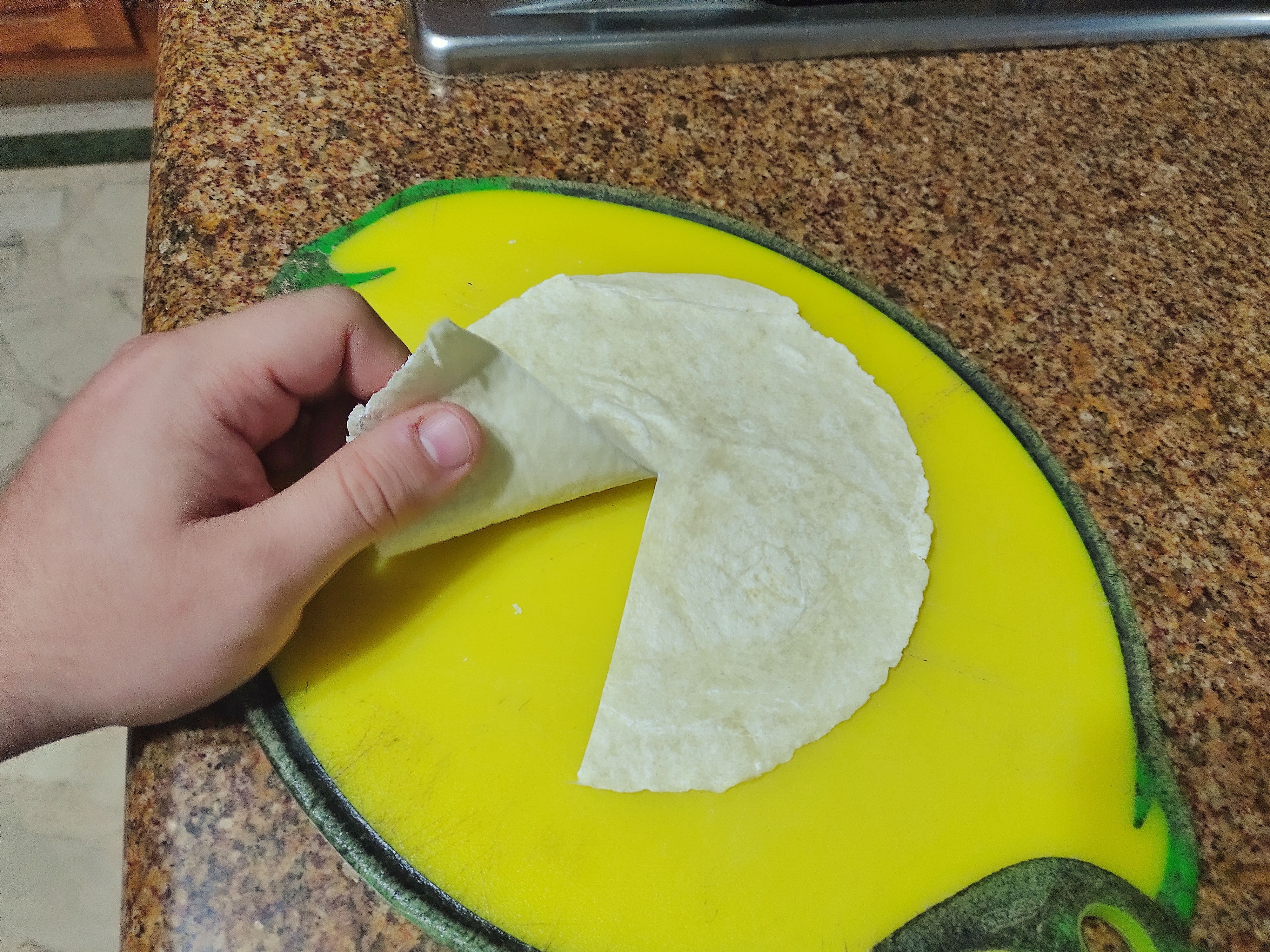 La tortilla la debemos separar en 4 porciones iguales, en cada una de ella colocaremos un ingrediente diferente. En el primero colocaremos 2 o 3 rodajas de pepperoni, en la siguiente un poquito de queso rallado y en la tercera los vegetales picados en trozos pequeños.
The tortilla must be separated into 4 equal portions, in each of them we will place a different ingredient. In the first we will place 2 or 3 pepperoni slices, in the next a little grated cheese and in the third the vegetables chopped into small pieces.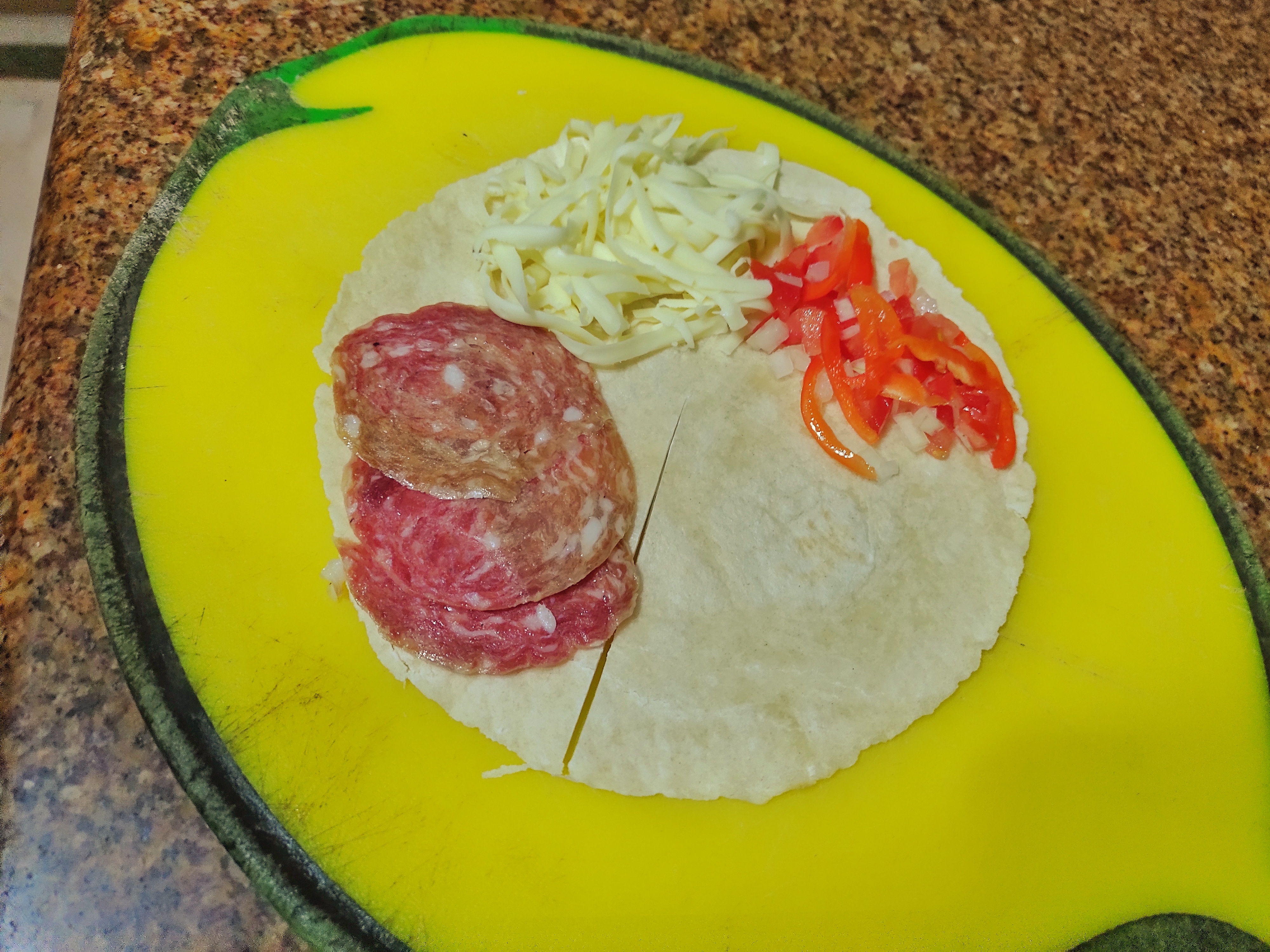 La última esquina debe ser dónde coloques la salsa, para que al doblar la tortilla, la mantenga unida. Yo utilice salsa bolognesa, aunque si tienes otra funciona muy bien, aunque si te soy sincero yo hubiera preferido una salsa putanesca o alguna otra un arrabiata.
The last corner should be where you put the sauce, so that when you fold the tortilla, it will hold it together. I use bolognese sauce, although if you have another it works very well, although if I'm honest I would have preferred a putanesca sauce or some other an arrabiata.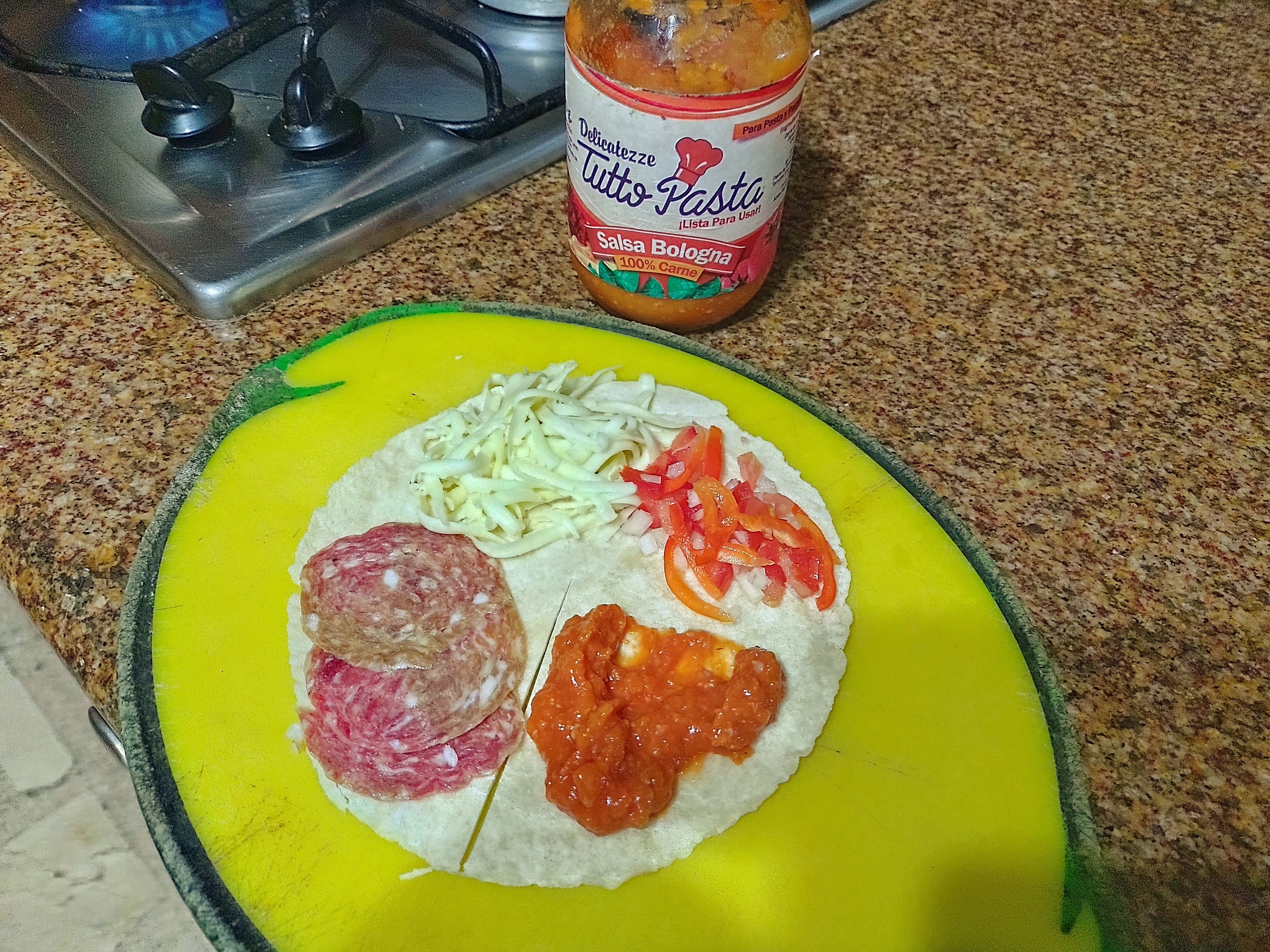 También puedes hacer tu propia salsa, quedando más saludable y sabroso.
You can also make your own sauce, being healthier and more tasty.
2- Es hora de envolver la tortilla y cocinamos en el horno / It's time to wrap the omelette and cook in the oven.
Para envolver la tortilla y lograr esa forma triangular, primero vamos a doblar la primera esquina, sin hacer mucha presión para evitar romperla.
To wrap the tortilla and achieve that triangular shape, first we are going to turn the first corner, without applying too much pressure to avoid breaking it.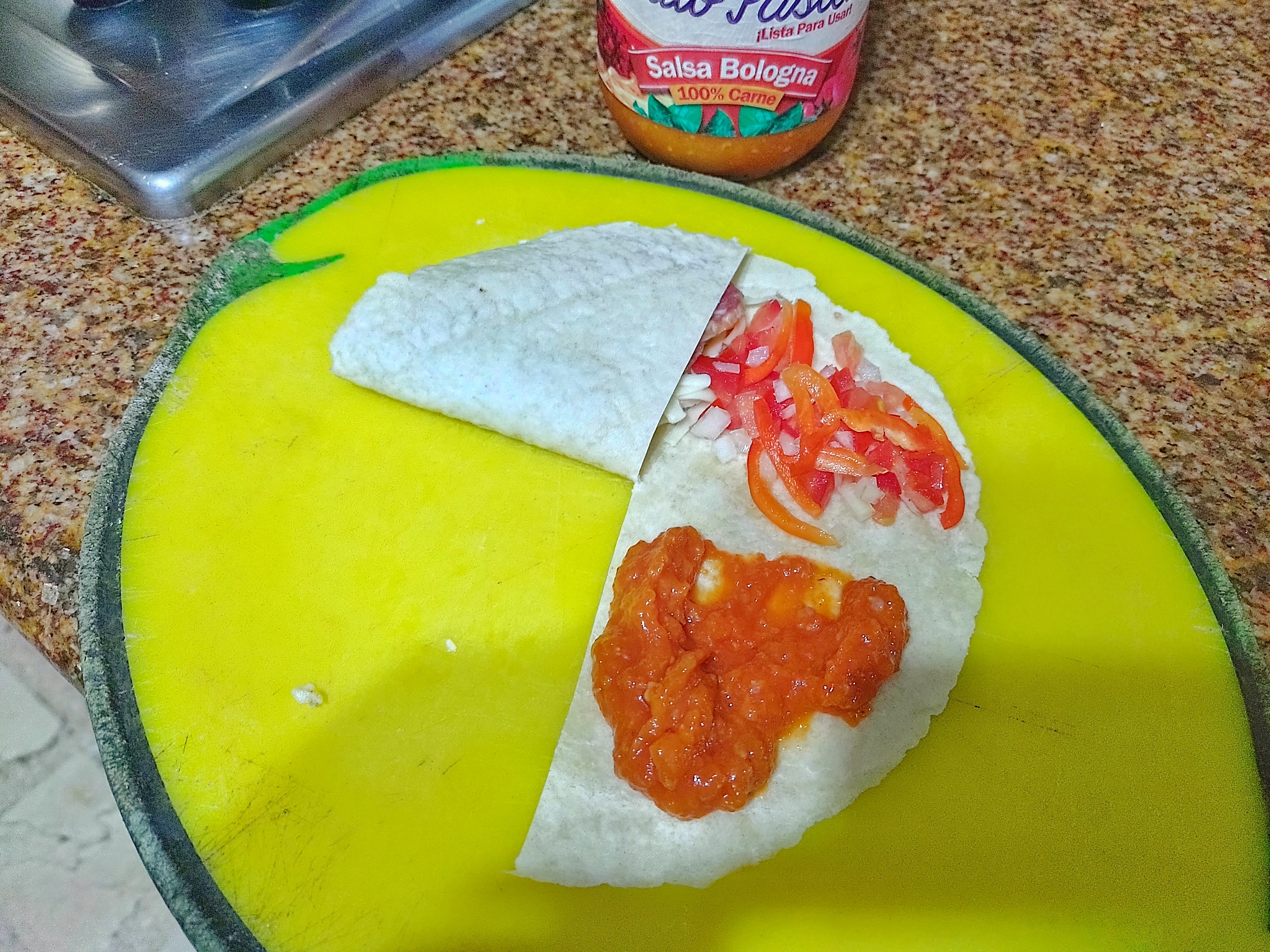 Seguimos doblando el siguiente cuarto de la tortilla, evitando romperla.
We continue folding the next quarter of the tortilla, avoiding breaking it.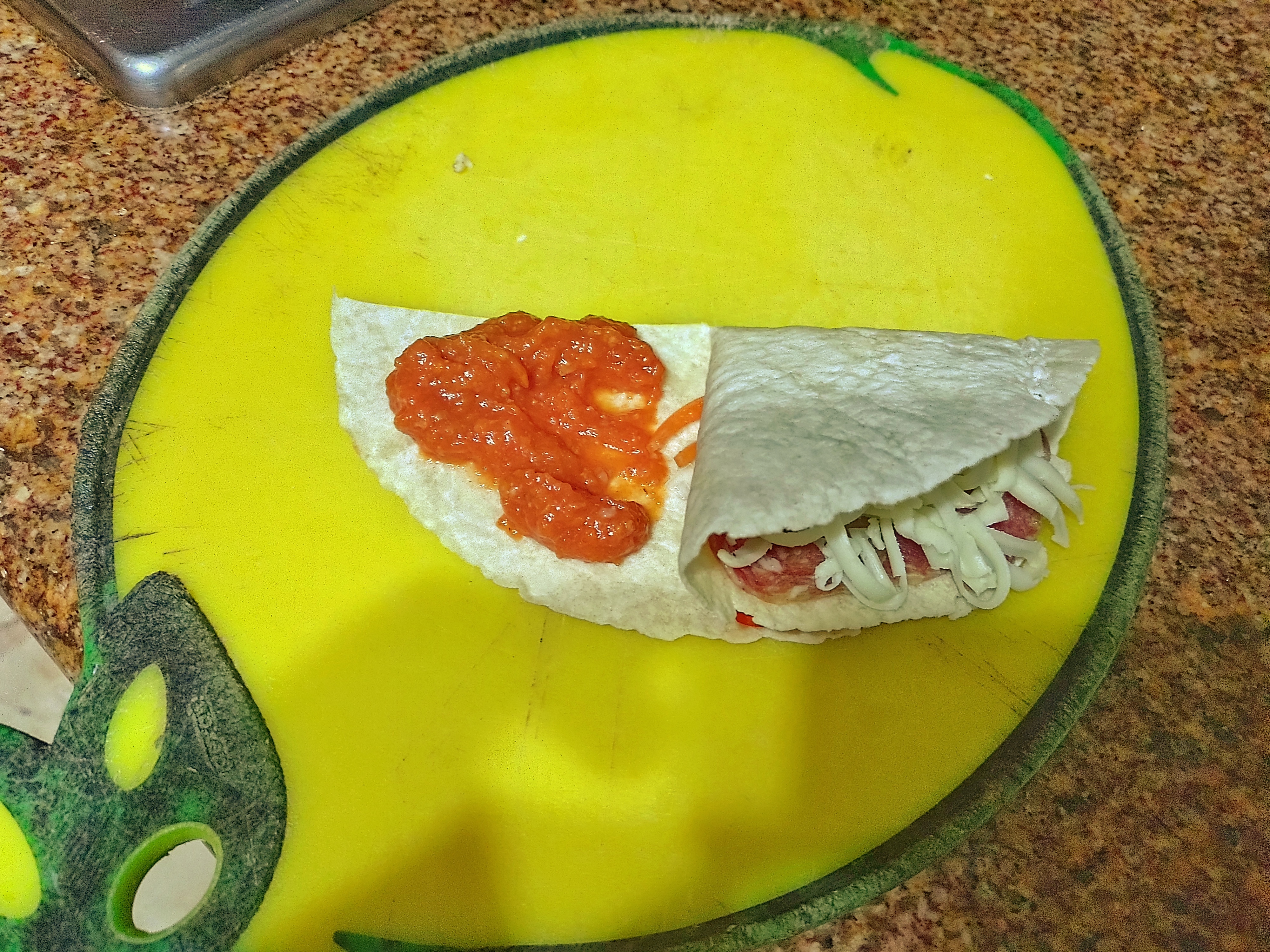 Y por último será la porción con la salsa bolognesa, ya que está es la que logrará mantener "el wrap" en su posición.
And finally, it will be the portion with the bolognese sauce, since this is the one that will keep the "wrap" in position.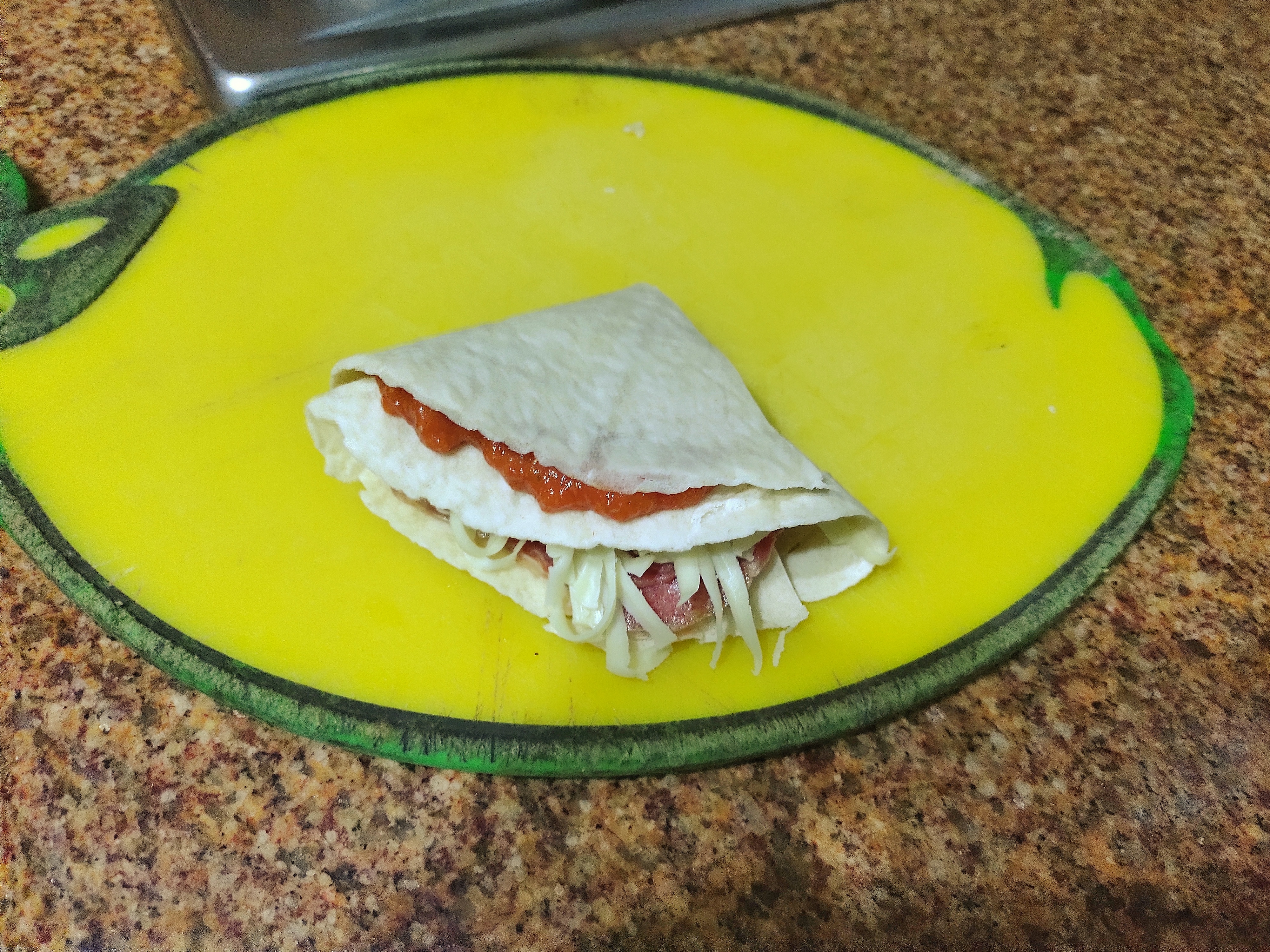 No seas como yo y coloca el wrap en un molde que soporte el calor del horno, yo hice el de prueba en una de porcelana y termino rompiéndose.
Don't be like me and place the wrap in a mold that supports the heat of the oven, I did the test one in a porcelain one and it ended up breaking.
Al llevarlo al horno, deja que se cocine por unos 5 a 10 minutos o hasta que tome un tono doradito y crocante. La temporada depende de ti, yo utilice fue el gratinador del horno.
When you take it to the oven, let it cook for about 5 to 10 minutes or until it takes a golden and crisp tone. The season depends on you, I used was the oven grill.
¡Ya está listo para comer! / You are ready to eat!
Una vez salga de horno, déjalo reposar y ya estará listo para comer, puedes acompañarlo con un poquito de salsa en otro envase para untar y quedarán muy bien!
Once it comes out of the oven, let it rest and it will be ready to eat, you can accompany it with a little sauce in another container to spread and they will be very good!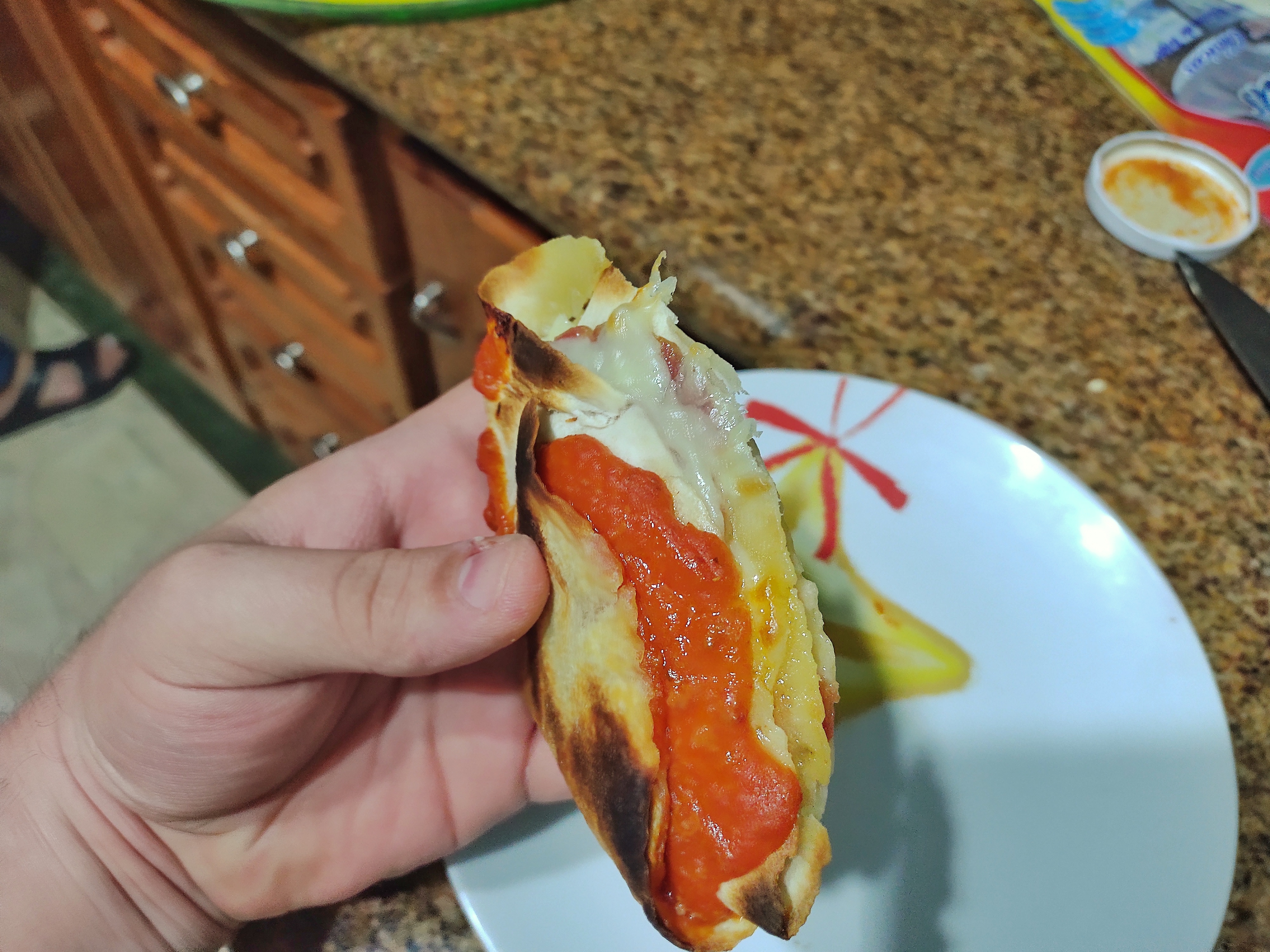 Buen provecho! / Bon appetit!