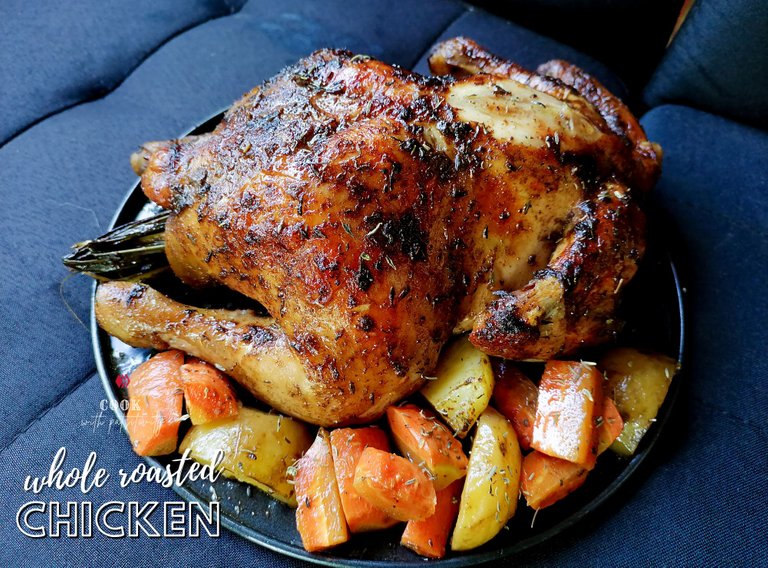 ---
Almost two (2) years ago, I gave in to the itch of buying a range for our house in Carcar. 2020 was the year I finally decided I'd be giving baking a try and lo and behold, I started loving it and up until today, it's one of the hobbies that keep my sanity as high as it should be. When you work in a demanding job, you'll probably need a day or two to do the things you love and for me, that's baking and cooking. In fact, I'm very excited to go home later because I have the entire weekend to bake and cook all new recipes!
Earlier in July, I saw @eatslance posted his version of roasted whole chicken which his whole family enjoyed eating. Roasting a whole chicken in my oven had never crossed my mind before since a few meters away from our house, there are about five (5) chicken stalls selling roasted whole chicken for as low as Php 150.00 ($3). On weekends, we end up buying one or two for lunch or dinner in one of those stalls. It's convenient and cheap. Besides, I've always cooked something that couldn't be found in my hometown to offer variety to my parents such as Pad Thai, Batchoy and Seafood Boil in Cajun Sauce. But that day, I felt like giving it a try and so I did!
I'll be sharing another simple roasted whole chicken recipe that you could try at home. Are you excited? 😁
---
What will you need for this recipe?
Any chicken dish especially roasted chicken is my 9-year-old nephew's favorite viand. So it's a bit challenging to cook one at home where the kids will also eat because as you may have heard "Kids don't lie" I wanted to hear a resounded "This is the best chicken I've eaten, Tita Pat!"
Let's see if Joaquin indeed said those when he tried this dish.
On that note, I went to my usual routine of searching for recipes on Youtube but all I came across were pretty simple for me. High standards! Lol! That's when I decided that instead of looking for a recipe, why don't I come up with my own?
To start you'll need the basics:
Magnolia Whole chicken, about one and a half kgs
Onion, one whole, cut into strips
Garlic, one whole bulb, peeled
Oyster sauce, 60g
lemongrass
| Onion | Garlic |
| --- | --- |
| | |
| Oyster Sauce | Lemongrass |
| | |
Cajun Seasoning
In my recent Seafood Boil Recipe, I expressed my bias towards cajun seasoning. It won my heart over the plain garlic butter which used to be my favorite.
2 tbsp. paprika
2 tbsp. garlic powder
2 tbsp. dried oregano
1 tbsp. kosher salt or rock salt
1 tbsp. onion powder
2 tsp. freshly ground black pepper
2 tsp. cayenne
I got this recipe for Cajun Seasoning here.

You may use the full cajun recipe but in my case, I had to consider that kids will be eating my creation. I adjusted the paprika and cayenne to make it less spicy and bearable for kids to eat.
---
Easy as 1, 2, 3
Mix all the spices needed for the cajun seasoning and set aside. Stuff the onion, garlic, and lemongrass inside the whole chicken. Add half of the cajun seasoning and half of the oyster sauce inside the chicken as well. Make sure you spread the season evenly inside the chicken.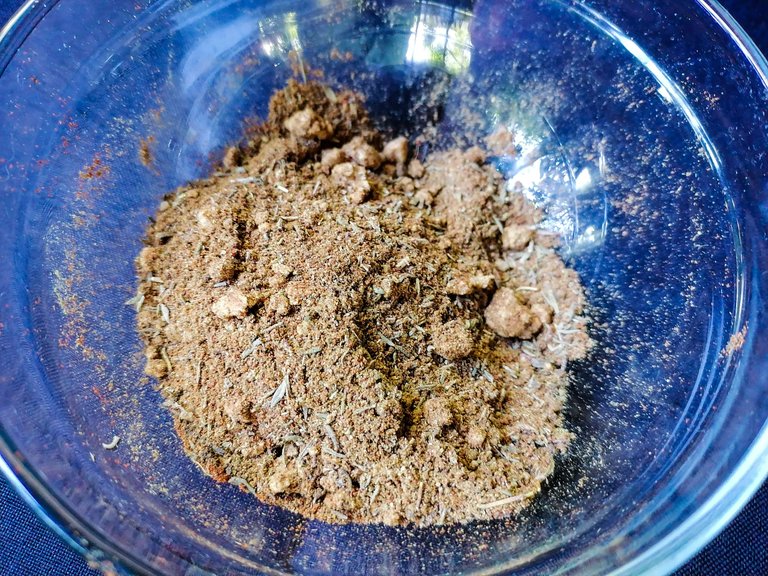 Use the remaining cajun seasoning and oyster sauce in the chicken's outer layer, making sure all parts are generously covered with the seasoning.
Optional: You may also add vegetables of your choice and season them with thyme, salt and olive oil. Put them on the chicken side, ready for baking!
Now, you are ready for baking! There's a famous technique for baking cheesecake called water bath. I used the same technique in this recipe. What you need to do is cover the baking pan containing the chicken and vegetables with foil. Look for another baking pan big enough for the first pan to be inserted inside. Put water on the big pan and put it inside the preheated oven.
In total, I baked the whole chicken for two hours of which the first hour I used a water bath to make sure the chicken remains juicy, not dry. I removed the water bath after and bake it again for another hour. And it worked, the chicken was juicy and oozing with flavors.
---
How things ended up?
Well, I heard a resounding "This is the best chicken ever!" from my 9-year-old nephew who ate more than a quarter of the entire roasted chicken. It turned out spicier than what 9-year-olds could take but he loved it spicy this time. Well, that only proves that he loves the chicken so much. He couldn't even stop talking about it the entire weekend and kept asking when will I cook it again. 🤣

Here a few snaps of the roasted chicken before it was devoured by everyone in the family for lunch.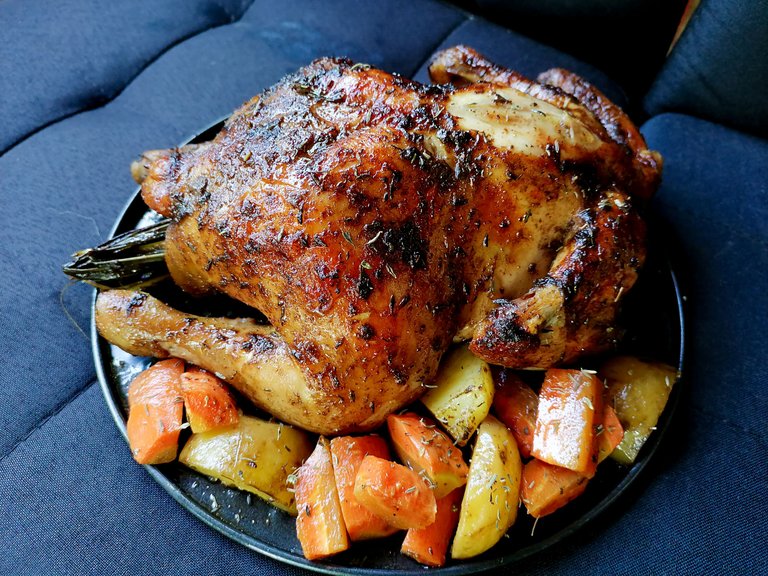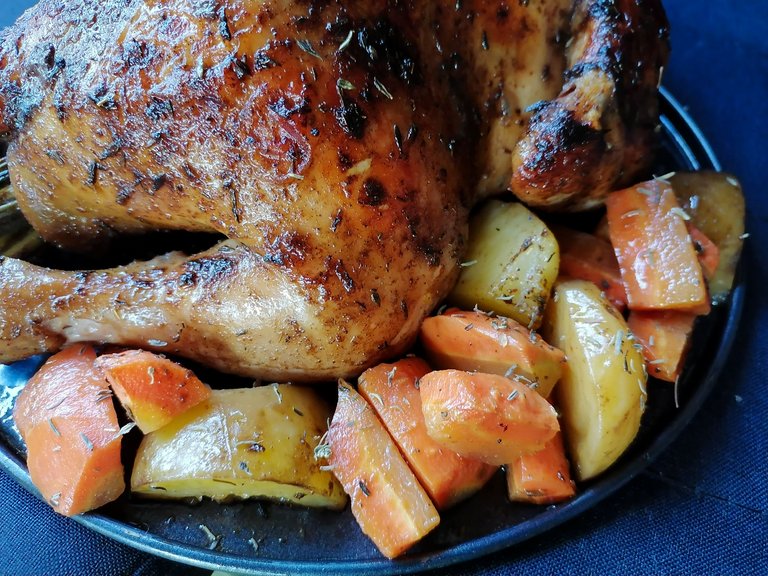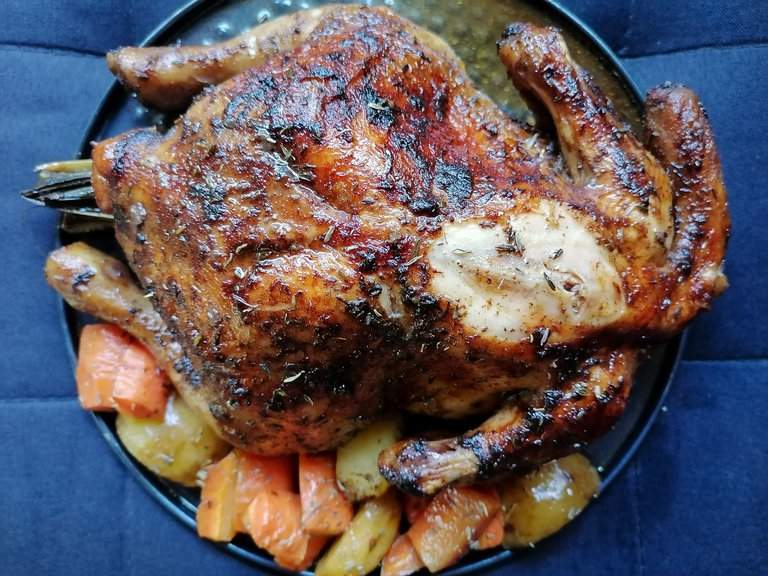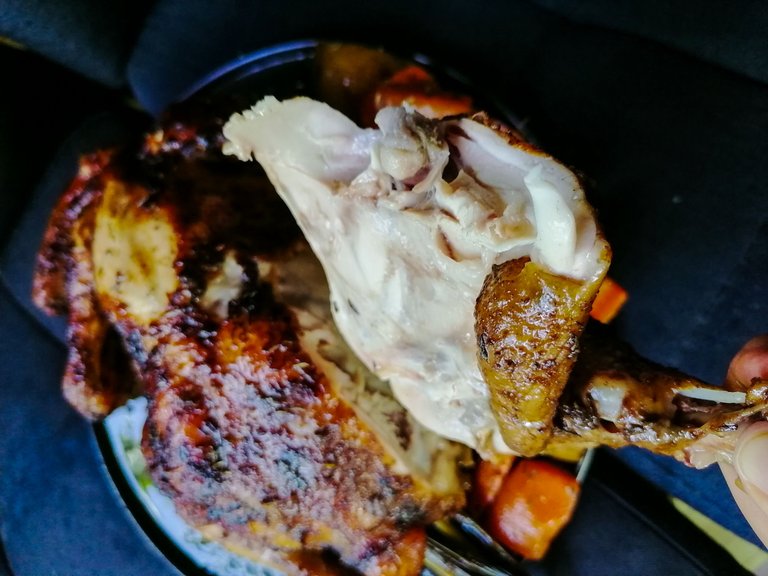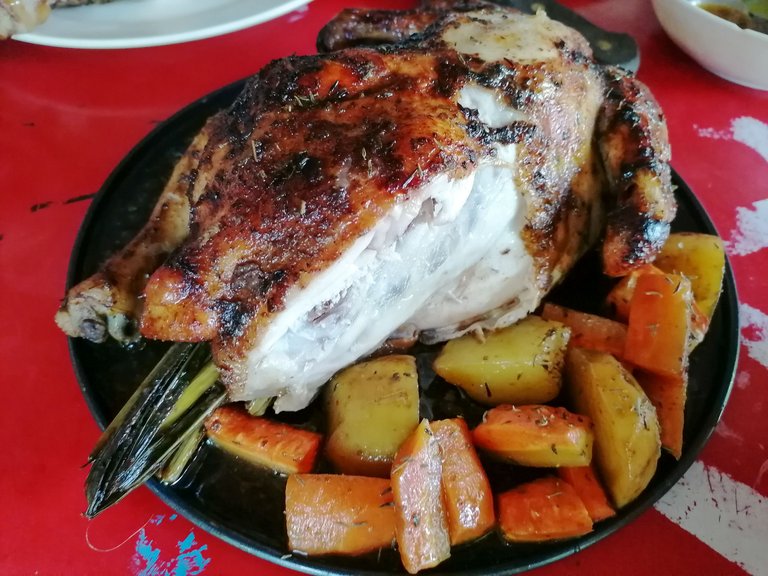 ---
Patsitivity


Living life intentionally every single day, she believes that there's no limit to one's potentials. Right now, she's on the loose for the pursuit of endless holistic self-growth and development. She wants to light the way for others. She believes there's no better way to leave a legacy than to pay it forward.

Her ultimate goal in life is to reach the state of enlightenment where there's nothing but peace, love, happiness, and contentment - nothing more, nothing less.

If you are captivated by what this girl just wrote here, an upvote is pretty appreciated. Follow her as she tells her stories full of positivities. The next story might be for you! ❤️