My kitchen.
Homemade Serrated French Fries.🍟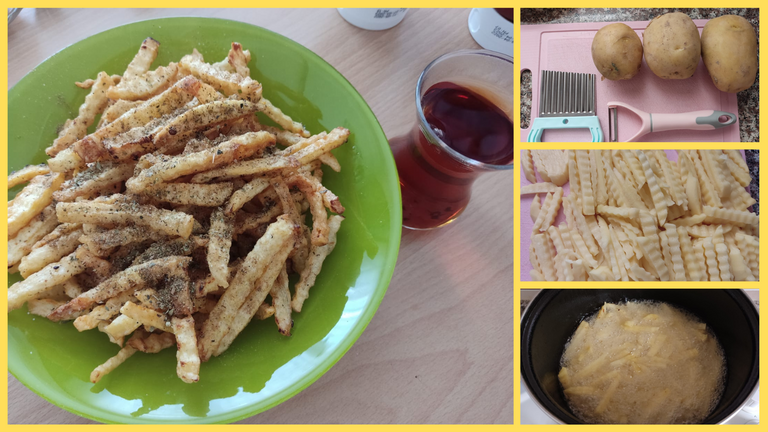 Hello to everyone who loves to eat french fries,
As a non-celebrity chef, today I'm going to make serrated french fries. I'm not famous, but I can say that I cook delicious food. I will tell you how the french fries, which many of us love to eat for breakfast, are made crispy on the outside and soft on the inside. Let's go to our kitchen.
I have been eating french fries since I was little. Also, french fries shouldn't be out of the ordinary for me. It should be prepared carefully. That's why I usually make the french fries I'm going to eat. 😊
Patates kızartması yemeyi seven herkese merhaba,
Ünlü olmayan bir şef olarak bugün tırtıklı patates kızartması yapacağım. Ünlü değilim ama lezzetli yemekler yaptığımı söyleyebilirim. Kahvaltıda bir çoğumuzun severek yediği patates kızartmasının dışını çıtır içini yumuşak nasıl yapıldığını sizlere anlatacağım. Hadi mutfağımıza geçelim.
Küçüklüğümden beri patates kızartmasını çok severek yerim. Ayrıca patates kızartması benim için sıradan şekilde olmamalıdır. Özenle hazırlanmalıdır. Bu yüzden yiyeceğim patates kızartmasını genelde ben yaparım. 😊
Directions & ingredients - Yapılışı & Malzemeler
I will use 3 potato to make french fries. I am telling you step by step how I came up with this delicious taste.
Patates kızartması yapmak için 3 adet kızartmalık patates kullanacağım. Sizlere adım adım bu enfes lezzeti nasıl ortaya çıkardığımı anlatıyorum.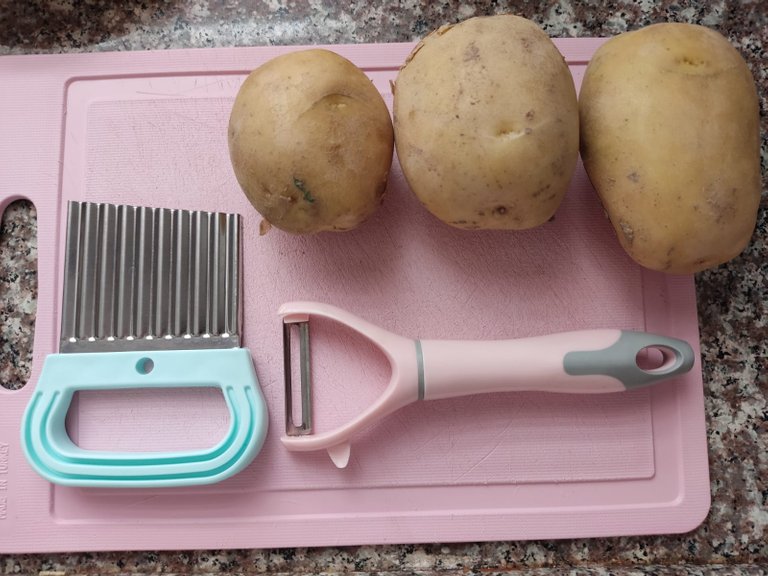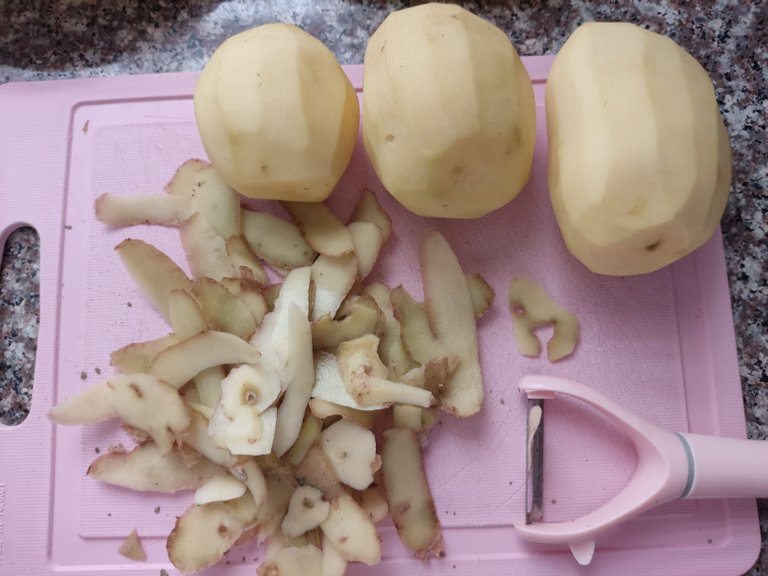 I separate my potatoes from their skins with a potato peeler. I wash the potatoes in water and dry.

I use this knife, which I love so much, for the potatoes to be serrated. Thanks to this knife, I can easily cut the potatoes in the size and thickness I want.
Patates soyacağı ile patateslerimi kabuklarından ayırıyorum. Patatesleri suda yıkıyor ve kuruluyorum.
Patateslerin tırtıklı olması için çok sevdiğim bu bıçağı kullanıyorum. Bu bıçak sayesinde patatesleri istediğim büyüklükte ve incelikte rahatlıkla kesiyorum.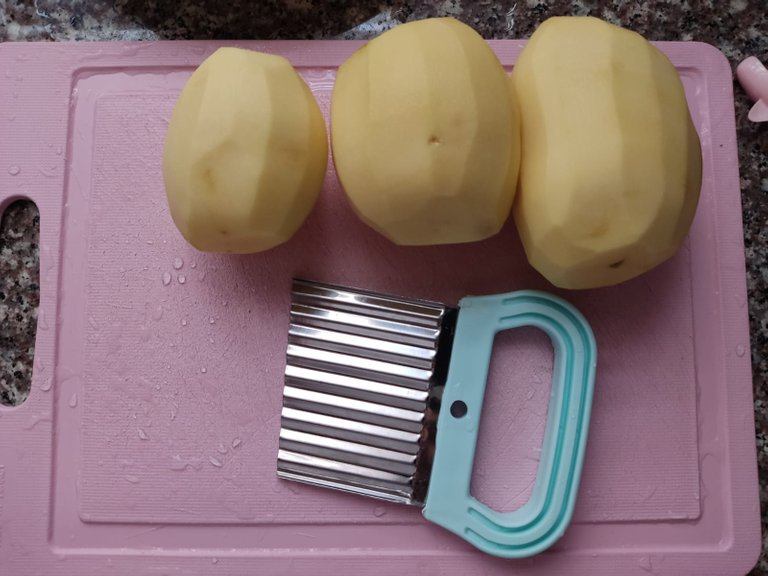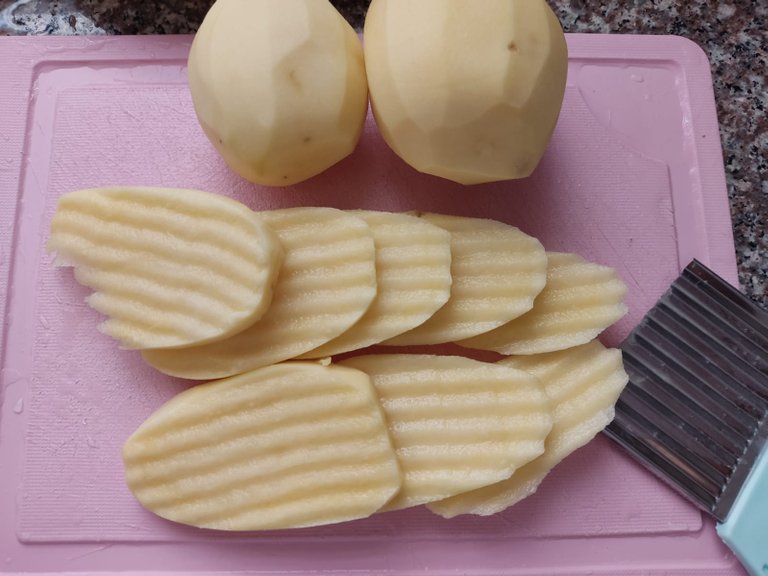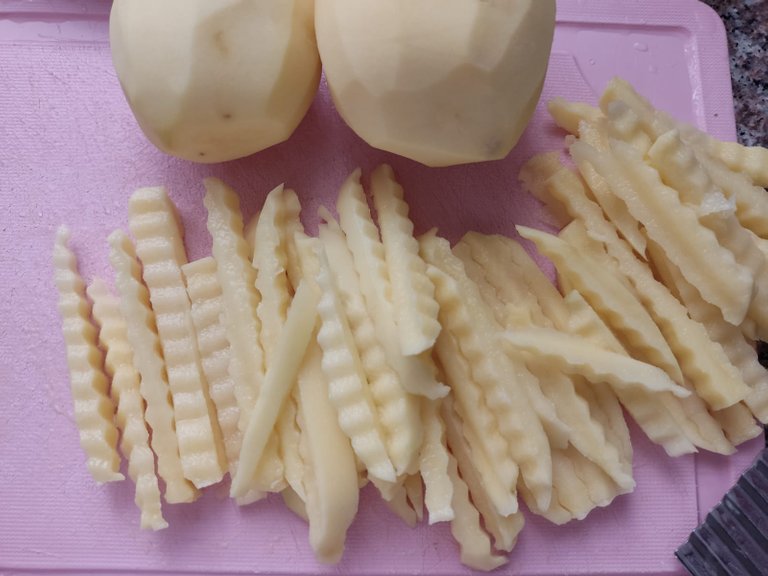 After I cut all the potatoes to the thickness I want, I put them on the plate. Here I will give you a good tip.

We put the plate in the freezer section of the refrigerator. In this way, the potatoes freeze a little and become drier. It makes it more crispy when thrown into hot oil.
Tüm patatesleri istediğim incelikte kestikten sonra tabağa koyuyorum. Burada sizlere güzel bir püf noktası vereceğim.
Tabağı buzdolabının dondurucu kısmına koyuyoruz. Bu sayede patatesler biraz donuyor ve daha kuru oluyor. Kızgın yağa atıldığında daha çıtır olmasını sağlıyor.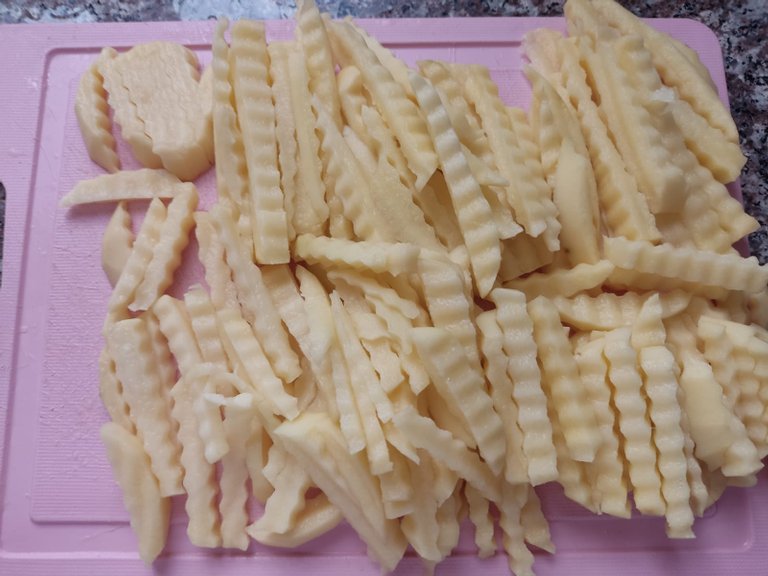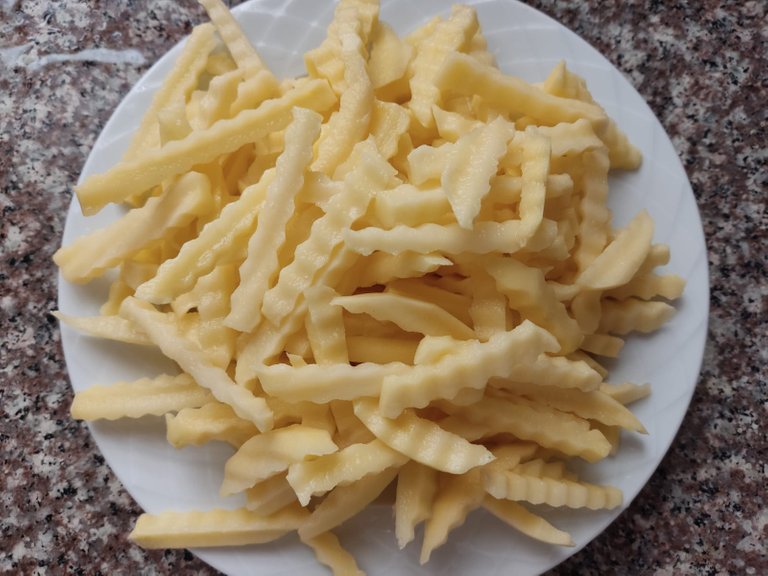 Remove the potatoes after 5 minutes in the refrigerator. Slowly add the potatoes to the hot oil. If we throw them all at once, the potatoes will stick together and become like dough. That's why we don't rush.
Patatesleri buzdolabında 5 dakika beklettikten sonra çıkarıyoruz. Kızgın yağın içine patatesleri yavaş yavaş ekliyoruz. Bir anda hepsini atarsak patatesler birbirine yapışır ve hamur gibi olur. Bu yüzden acele etmiyoruz.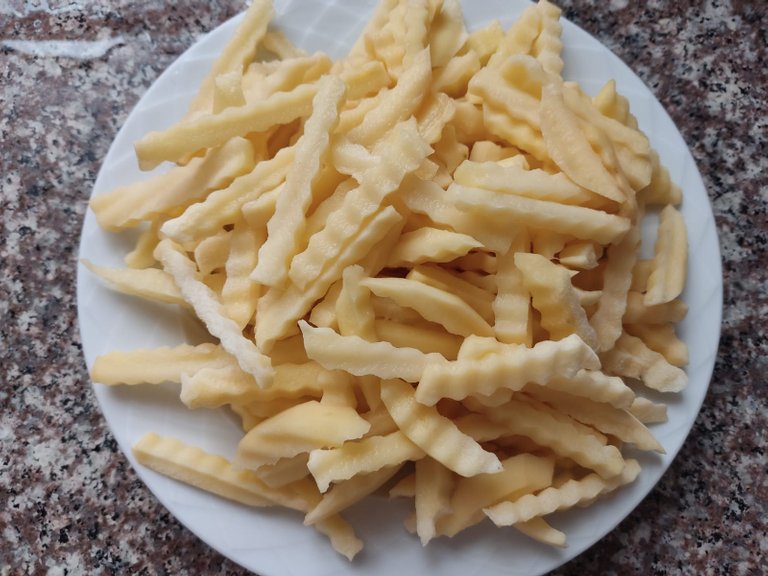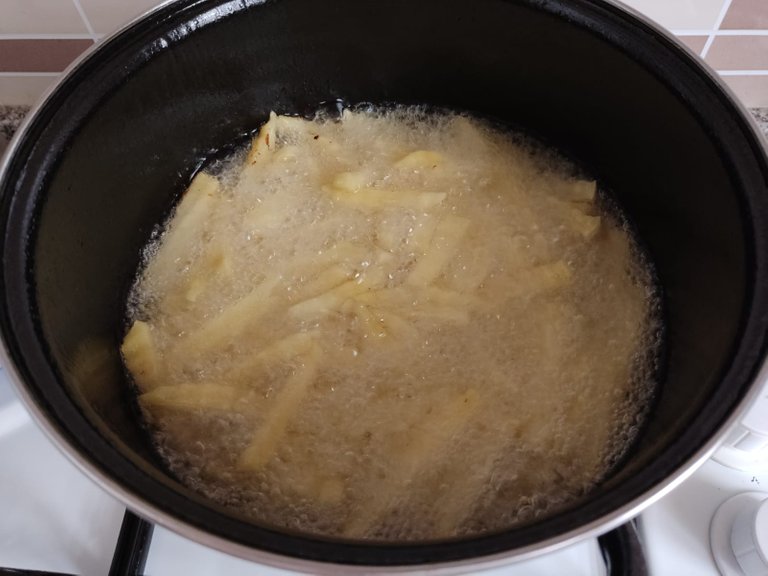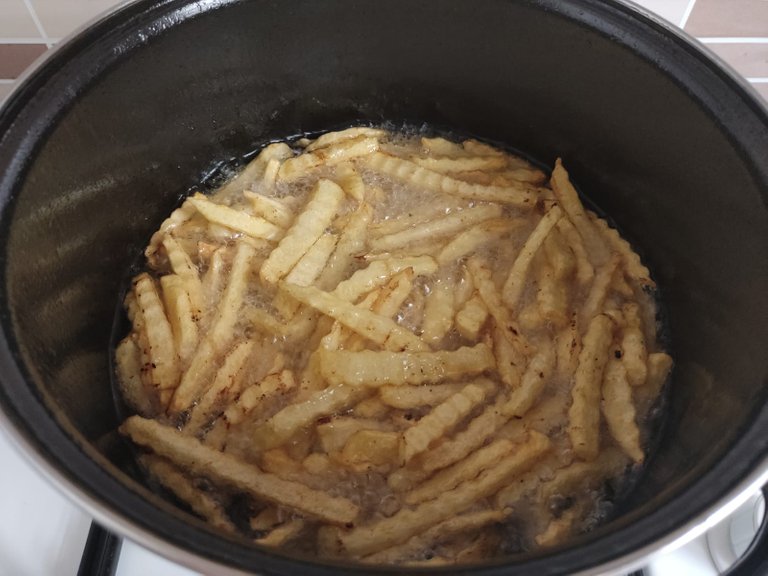 Don't mix the potatoes all the time. After waiting for a while on its own, you should mix it slowly and let it go.

Since I like it soft on the inside and crispy on the outside, I keep it in a little more hot oil.
Patatesleri sürekli karıştırmamak gerekiyor. Kendi halinde biraz bekledikten sonra yavaşça karıştırıp bırakmalısınız.
Ben içi yumuşak ve dışı çıtır sevdiğim için biraz daha kızgın yağda bekletiyorum.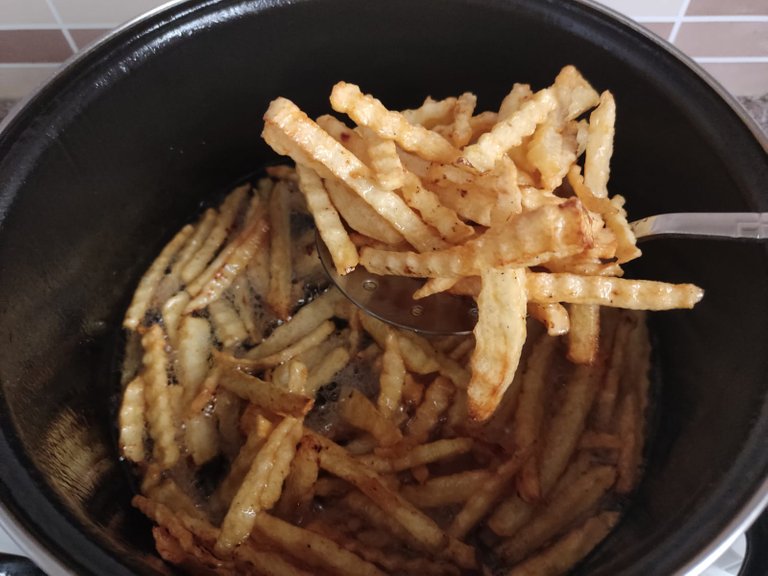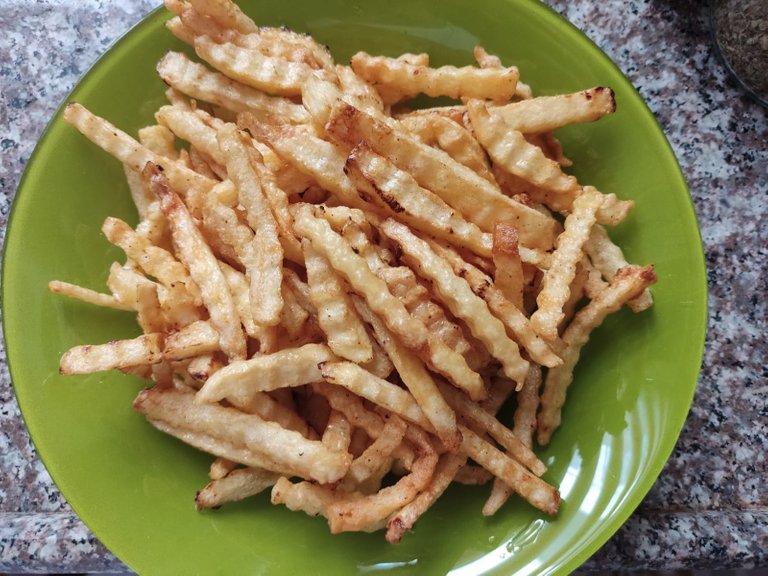 My fries came to the consistency I wanted. I strain the potatoes into a large bowl.

As a spice, I try many different spices. The spices I use in these fries are the Indian spice Garam masala and thyme. Sure, some salt.
Patates kızartmalarım istediğim kıvama geldi. Geniş bir kap içine patatesleri süzerek alıyorum.
Ben baharat olarak çok farklı baharatlar deniyorum. Bu patates kızartmasında kullandığım baharatlar Hint baharatı Garam masala ve kekik. Tabi birazda tuz.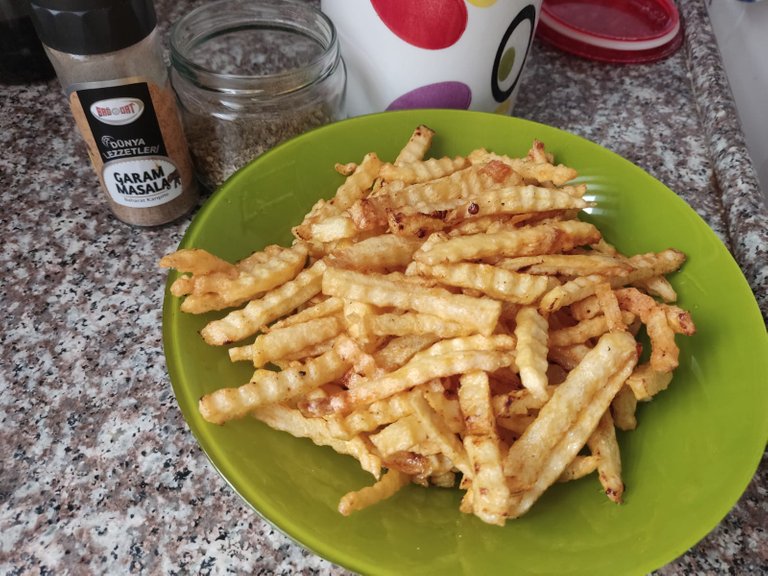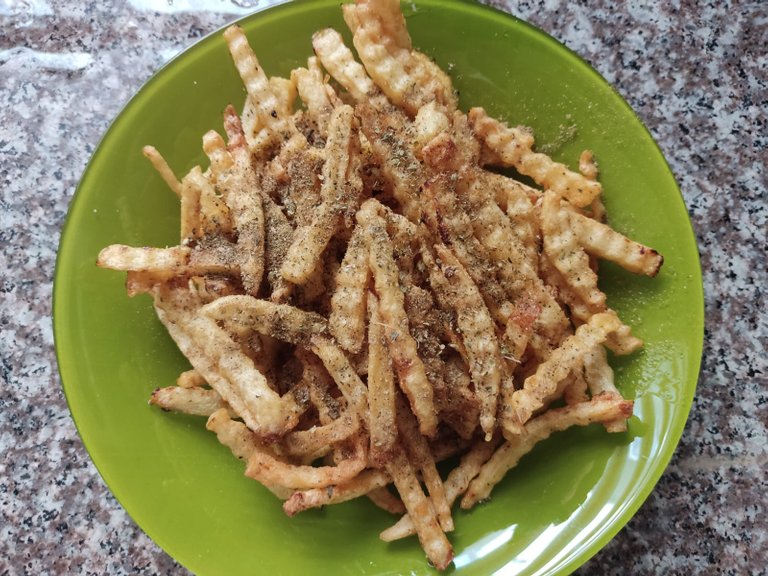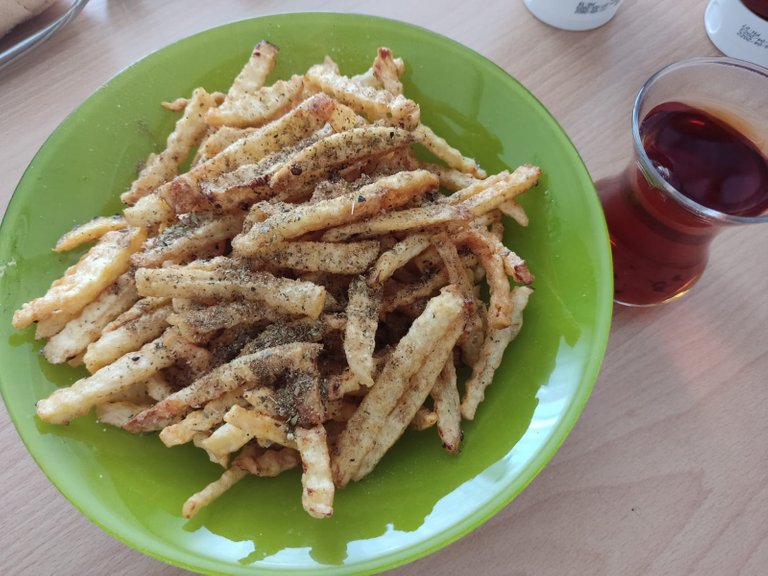 My fries were exactly what I wanted. You can apply this very practical recipe and taste the delicious french fries. I hope you enjoyed the french fries I made and my sharing. Thanks for your visit. See you in the next recipes, in my kitchen.
Patates kızartmam tam istediğim gibi oldu. Sizde bu oldukça pratik tarifi uygulayabilir ve lezzetli patates kızartmalarının tadına bakabilirsiniz. Umarım yaptığım patates kızartmasını ve paylaşımımı beğenmişsinizdir. Ziyaretiniz için teşekkürler. Bir sonraki tariflerde, mutfağımda görüşürüz.
Stay Healthy. Goodbye.