---
DANCE COVER - SNEAKERS / ITZY by D-Rock - INSPIRACIÓN
Hola amigos de hive! Por fin uno de mis grupos favoritos sacó una nueva canción y estoy muy emocionado, de poder mostrarsela, este coreografía lleva mucha energía y a pesar de que no sea tan complicada, pues se le tiene que poner la actitud y el corazón para sentir la música, eso siempre intento hacerlo de la mejor manera cuando grabo un video para ustedes, espero les guste mucho, ya que me esforzaré siempre para demostrar todo el amor que tengo por el baile, y jamás me rendiré para convertirme en un profesional algún día.
Hello hive friends! Finally one of my favorite bands released a new song and I am very excited to show it to you, this choreography has a lot of energy and even though it is not so complicated, you have to put the attitude and heart to feel the music, I always try to do it in the best way when I record a video for you, I hope you like it a lot, because I will always strive to show all the love I have for dancing, and I will never give up to become a professional someday.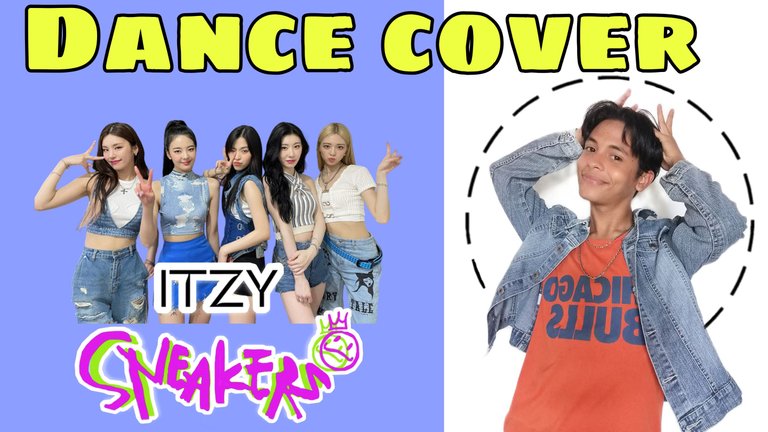 ---
SNEAKERS, fue co-escrito por friday, OGI del grupo de producción musical GALACTIKA, que produjo varios de los éxitos anteriores de ITZY, incluidos 'Dalla Dalla', 'Wannabe' y 'Loco'.El grupo de chicas de K-pop ITZY son miembros de la realeza en el video musical de su nuevo sencillo 'Sneakers', que se lanzó hoy (15 de julio) junto con su quinto mini-álbum 'Checkmate'.En el nuevo clip, los cinco miembros de la realeza están adornados con joyas mientras descansan en un lujoso palacio, sentados en tronos, estatuas y candelabros. Posteriormente, el grupo asume el mando de un centro de control de misiones militares y una tienda de zapatillas en el espacio exterior.Aparte de 'Sneakers', 'Checkmate' incluye las canciones 'Rac3r', 'What I Want', 'Free Fall', '365' y 'Domino'. El álbum también incluye una versión en inglés de 'Sneakers'.
POP! is their infectious lead single, it has a catchy melody that is sure to make ONCE dance. "This heart beating feeling, I wanna make it pop pop pop pop," sings Nayeon during the chorus. "Pop pop pop pop, I want to make you mine." TWICE's Nayeon made his long-awaited solo debut with his first mini-album, IM NAYEON . The new album features five tracks, just days before the big day, the 26-year-old singer shared a preview of her EP on June 20. She released a preview of the album on YouTube. The nearly three-minute video showed a few seconds of each song on IM NAYEON . "POP!" served as a perfect introduction to the EP thanks to its catchy lyrics and chorus. Aside from "POP!" standout tracks include "NO PROBLEM" featuring Felix from Stray Kids and "LOVE COUNTDOWN" featuring Korean rapper and singer Wonstein.
---
Coreografía original :

---

---
Las fotos son de mi autoría y son editadas por picsart.
The photos are of my authorship and are edited by picsart.
---
▶️ 3Speak