Wenn man z.B. wie ich gerade mal wieder mit dem Zug unterwegs ist, packt man ja gerne seinen Laptop aus. Leider habe ich schon eine lange Zeit das Problem, das ich im Discord und in diversen anderen Anwendungen mit dem Touchpad von meinem Lenovo Laptop nicht vernünftig scrollen kann.
Symptom im Discord auf der Desktop-Anwendung ist z.B. das wenn ich Scrollen möchte, mein zu letzt geschriebener Beitrag auf einem Server in den Editierungsmodus geht... Sehr lästig, da die herkömmliche Scrollbar dann doch etwas zu klein ist, um diese mit dem Touchpad zu erwischen. Auch die Serverliste auf der linken Seite lässt sich nicht scrollen und bewegen... Bei knapp 70 Discord Server ist das schon echt nervig.
Ich hab das Problem kurzum einmal in die Suchmaschine meines Vertrauens geworfen und schwuppdiwupp auch schon einen passenden Eintrag gefunden. Das Problem ist wohl schon länger bekannt und tritt wohl nur bei Notebooks auf, die die Software ELAN verwenden.
Hier die Lösung, die für mich auf Anhieb geklappt hat: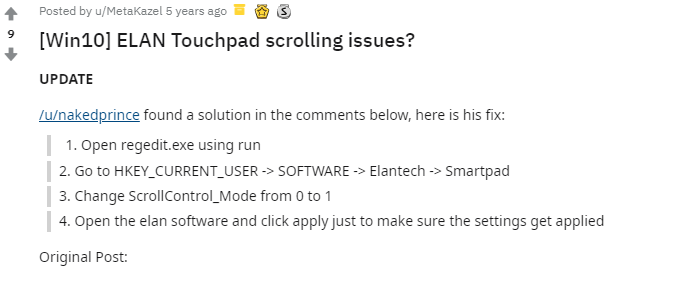 Open regedit.exe using run

Go to HKEY_CURRENT_USER -> SOFTWARE -> Elantech -> Smartpad

Change ScrollControl_Mode from 0 to 1

Open the elan software and click apply just to make sure the settings get applied

Original ANtwort habe ich bei Reddit gefunden:
https://www.reddit.com/r/techsupport/comments/3lhmhq/win10_elan_touchpad_scrolling_issues/
Nun kann ich endlich wieder vernünftig von unterwegs arbeiten, ohne das ich lästige Scroll-Probleme habe.
LG
~louis