haha, die Seuchenschutzbehörde ECDC der EU hat eine negative Anzahl an aktiven Corona-Fällen für das nicht EU-Mitglied UK veröffentlicht 😂
Der Fehler wurde in der Zwischenzeit behoben, war aber mehrere Tage online.
Überhaupt ist es seltsam, dass die EU-Behörde die Zahlen für ein Land veröffentlicht, das nicht einmal Mitglied der EU ist.
UK wird nach wie vor zur EU gezählt, obwohl UK Anfang 2020 ausgetreten ist. Die kumulativen Zahlen der aktiven EU-Mitglieder (EU-27) sucht man auf der Website allerdings vergeblich.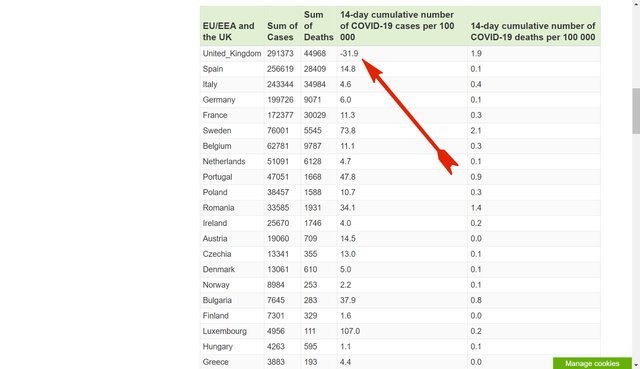 https://www.ecdc.europa.eu/en/cases-2019-ncov-eueea
The CDC of the European Union (ECDC) reported a negative number of active Corona cases for non-EU member state UK (accessed 2020-07-15)
English
lol, the EU's disease control agency ECDC has published a negative number of active corona cases for non-EU member state UK 😂
The bug has been fixed in the meantime, but was online for several days.
In general it is strange that the EU authority publishes the figures for a state that is not even a member state of the EU any more.
UK is still counted to the EU, although UK left the EU at the beginning of 2020. The cumulative figures of the active EU members (EU-27) are however not published on the website.
Sources
[1] https://www.ecdc.europa.eu/en/cases-2019-ncov-eueea
[2] https://peakd.com/hive-121566/@vikisecrets/coronavirus-shutdown-and-reopening-i-finally-found-the-official-corona-numbers-of-the-european-union-eu-vs-u-s-numbers-june-18th
Live your Secrets and Hive Prosper 🍯
xx Viki @vikisecrets