---
Greetings friends from CineTV, I am pleased to be participating in another of your wonderful contests. Perhaps what I am about to say sounds clichéd, "to remember is to live", and I say this because of this series that I have chosen for the contest, I consider it an all-time classic.
---
If I'm honest, I'm not one of those who likes to watch series, a movie catches me more. If you ask me now, I can mention many series, but I haven't seen any, sometimes I've seen one or another chapter of one out there, but I don't follow the sequence and I get lost. Now with this contest, I have remembered a series that I watched for a long time, "The X Files", it is a series that had its premiere just on my birthday, although not in my year of birth, 10 September 1993.
---
The series was super long, with 11 seasons, the last of which premiered in 2018, on January 3. I saw several seasons, not all of them, because the plot was very similar, two agents who were in charge of investigating unsolved cases with a very particular nuance.
---
Each chapter was interesting, sometimes some more than others. I remember that they ended with a great mystery that left me very intrigued, that's why I wanted to not miss any chapter. However, some of those eagerly awaited discoveries were somewhat tabloid in my opinion, because then they had a somewhat puzzling explanation. From this I can say that it did not always happen, but frequently.
---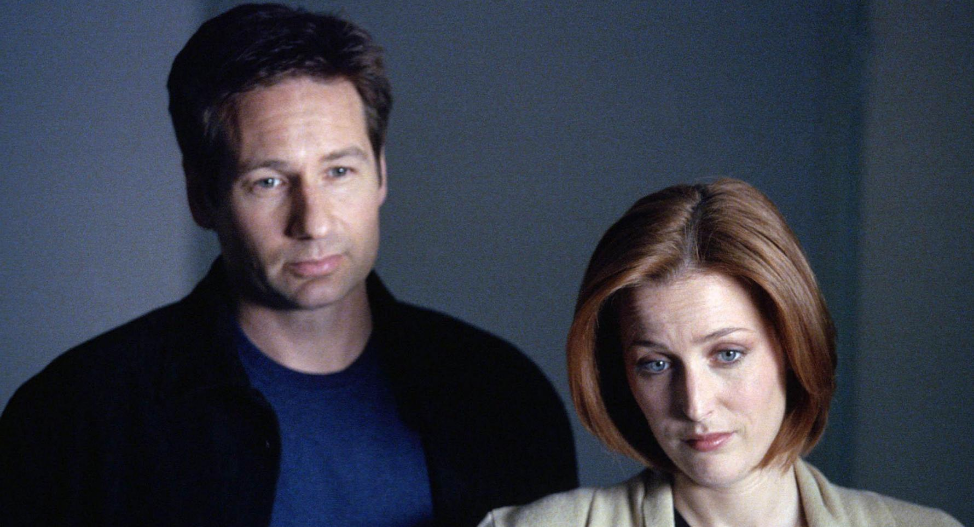 Agents Fox Mulder and Dana Scully, Source
---
At this point I can emphasize a scene that I remember clearly and that awakened my impatience to see the next chapter, the agents had to appear in one of the forensic rooms where a decapitated man was lying. Naturally, the man's eyes were closed and suddenly he opened them. This episode for me was surprising and being science fiction I was expecting a rather transcendental explanation. However, in the next chapter they explained that it was a reflex action, some brain activity, something like that.
---
Synopsis
---
The Secret X Files is a series that very well combines science fiction with mystery and other phenomena. It was a solid idea from its creator Chris Carter for this American series to become so successful and win more than 50 awards.
---
Two FBI agents were in charge of investigating the most controversial cases we could ever imagine, from common murders, to paranormal events, extraterrestrials and other phenomena related to otherworldly creatures.
---
It all begins with Agent Fox Mulder (David Duchovny), who experienced an event that marked him for life in his teenage years the disappearance of his sister when she was just a girl. From then on, he developed a sort of obsession for paranormal cases and extraterrestrial adductions. He never knew what happened to his sister's whereabouts, but in his mind there was a fixed idea, she could have been abducted by UFOs. Years later, he managed to join the FBI, although he first did a university degree in psychology, something somewhat contradictory.
---
Already in his new job, this agent focused on studying unsolved and perhaps forgotten cases in some X-Files that he found at his work site as an FBI investigator. In them there were all kinds of cases framed in the grotesque and inexplicable context, where the paranormal, disappearances and strange creatures became the main theme.
---
Agent Mulder could handle the cases by himself, but later he is assigned a partner, Dr. Dana Scully (Gillian Anderson), a very attractive woman with a promising scientific career, she is a forensic doctor and has nothing to do with the phenomena found in the X-Files.
---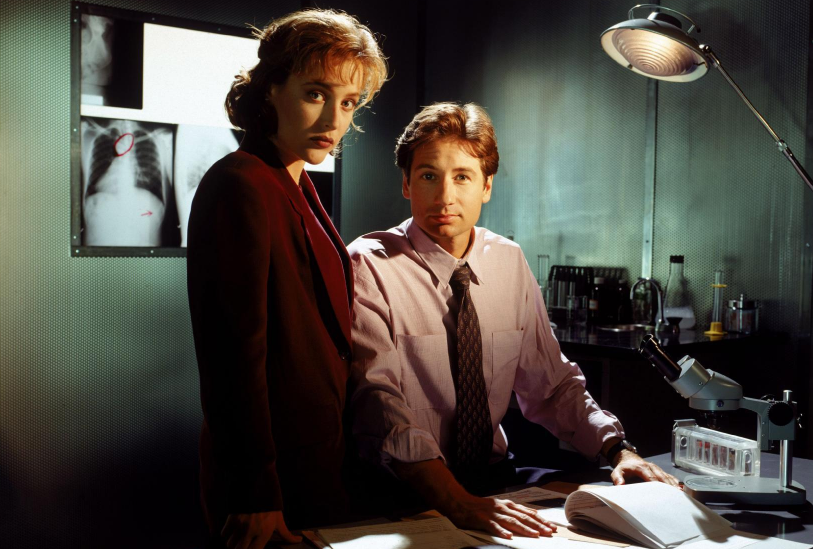 Agents Fox Mulder and Dana Scully,, Source
---
While Fox Molder was more impulsive and superstitious despite his psychology studies, Agent Scully was in charge of giving form and logic to these cases plagued by mystery with a view to the paranormal and the inexplicable. Undoubtedly, a hard task because of the contradiction that exists between both aspects.
---
This contradiction brought friction between the agents, but as the story progressed, Mulder became attached to Scully's logical theories, while the agent began to believe in the paranormal events and views of his partner. This fusion achieved a clear objective, a great work team that little by little solved each one of the cases filed and forgotten in the so-called X-Files.
---
The characters
---
At first they could not get along given the difference of convictions of each one of them. But when they cross each other's line, they form a great working team that motivates them to move forward, and there is a slight attraction between them that never materialized. Despite this platonic love, the focus of their professional relationships was not affected.
---
I have nothing negative to say about the actors, both David Duchovny and Gillian Anderson, embodied their leading roles very well and kept the essence of the series during the seasons, at least the ones you can see.
---
What I liked most about this series
---
I like the mystery theme, the paranormal and that was just the fascinating part of the series. The cases were not the typical unsolved murders and nothing more. I assume that if it had been like that, it would have been a very monotonous series. Instead, all the episodes had different themes, sometimes paranormal phenomena, sometimes mysterious disappearances, murders, UFO sightings and even the insertion of quite strange creatures.
---
On the other hand, they managed to hook the viewer with scenes that generated a lot of expectations because they were far from rational and logical. I always looked forward to the next episode, as well as seeing how Mulder and Scully closed the case.
---
What I hated about the X-Files
---
As much as I found the plot very interesting at first, I think the fact that it kept the same theme for many seasons bored me and I stopped watching it, because it was more of the same.
---
Generally, the chapter culminated with a scene that generated a lot of expectations and curiosity for the theme of fiction and the supernatural, in particular I expected an exceptional continuation that as I had already mentioned, in the next episode did not always seem to me the most successful and that disconcerted me a little. Maybe I'm someone very demanding and that's why I expected more. Maybe a new twist would have changed the outlook of the series.
---
Final Conclusions
---
This series has its foundations in fiction and mystery for which I don't find a sobering and forceful message as such. Perhaps it could be the fact that what is important in a work team is empathy and tolerance so that working relationships can be consolidated, as it happened to Mulder and Scully. And very important, not to involve emotions. As for the rest, I found the series quite entertaining and I really liked the fact that it dealt with themes that are one of my favorite genres, paranormal phenomena and mystery.
---
Movies
---
The success of the X-Files was such that its creator Chris Carter took the series to the big screen in two movies, The X-Files: Fight the Future, which was released in 1998 and The X-Files: I Want to Believe, in 2007. I saw The X-Files: Fight the Future, although at this point I don't remember the scenes, it's been too long, it would be interesting to watch it now, good memories no doubt.
---
---
---
Thank you for reading my post!