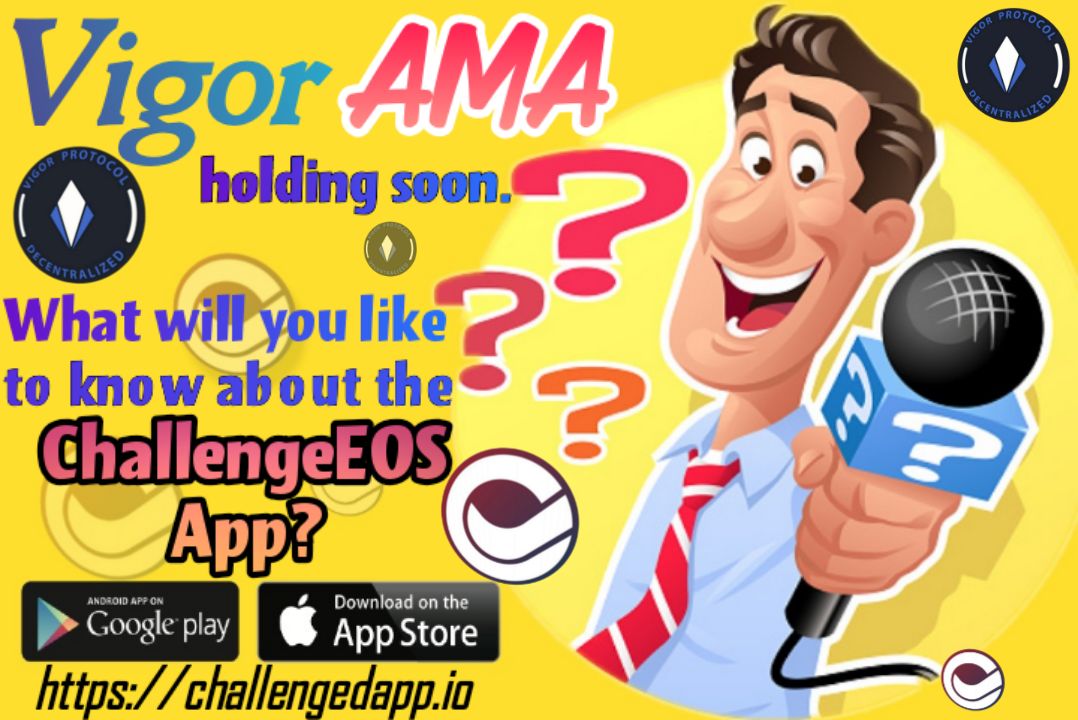 Good day Challengers,
A happy new month to you all and we hope you all are having a nice and friendly experience while using our application ChallengeEOS. There is good news we have to share to our community members and even those who are going to be able to join @challengedac community and also the @vigorprotocol community. The Vigor Protocol is a Decentralized finance (De-Fi) platform that allows users to Borrow, Lend and insure Crypto.
On Monday 7th June 2021, The Vigor Team will be hosting the ChallengeEOS App founder, Chace Eskam over at the Vigor general Telegram Community group. The Challenge App Boss will be answering questions which will be coming from the Vigor community members. Challenge community members will also be there present during the AMA and will also ask questions if they have any.
Hivers are urged to drop their questions on this post and the best ones which will also be rewarded will be used during the AMA.
The AMA event will be holding on Telegram https://t.me/vigorprotocol
DONT MISS THIS !!!
ChallengeEOS App is a tested and trusted Geo-fencing and task challenge app and has served digital challenge purposes in the terms of allowing users create challenges where the receiver/receivers have to be at a specified location to be able to unlock Crypto rewards. The other kind of challenge available on the app is the Task Challenge which a sender sets a challenge asking the receiver to carry out a task and post proof as screenshot in the comment section of the challenge to receive rewards. The ChallengeEOS App project headquarters is located in San Diego, California.
Download ChallengeEOS version 7.0 :)
Android Version: https://play.google.com/store/apps/details?id=challengedac.com.challenge_dac_app
iOS Version: https://apps.apple.com/us/app/challengeeos/id1478759780
Buy CHL via @newdex-io:
https://newdex.io/trade/challengedac-chl-eos
Join @challengedac Official Discord server here: https://discord.gg/hDeVsxcH
Telegram group:https://t.me/Challenge_DAC
Read more about our App here https://challengedapp.io