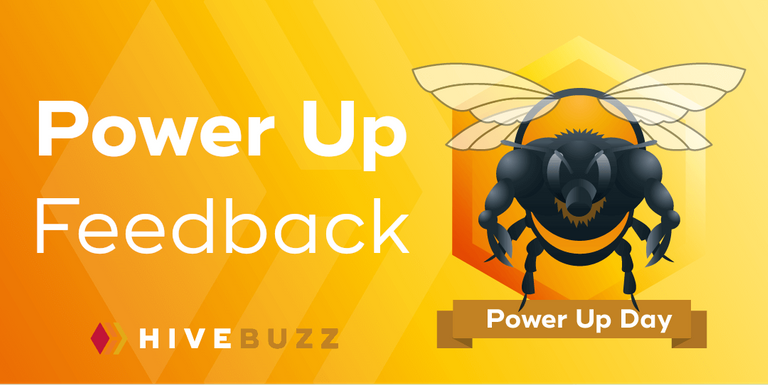 We are happy because we are back with an increase in the number of participants. Many have also told us how much fun they had to participate in the Hive PUD.
A few words from the PUD organizers

@traciyork
While the bear market doesn't seem to want to hibernate away from Hive anytime soon, the Hive community certainly seems to be wide awake and powering up!

Again this month, I saw lots of faces (new and old) in my feeds both on Hive and Twitter, talking about adding to their stack today. I will admit though, I might have been hoping for a bit more of a dip before the first, as I'd saved enough HBD to sell for (I think) my biggest Hive Power Up to date. However I don't doubt a year or two from now, we'll be amazed at the current low price of Hive, and wishing we could still buy it so cheap (and no, not financial advice...lol).

And I definitely wasn't alone - I noticed a few other good sized power ups happening over the course of the day. I don't think we broke any records (don't I say that every month?) but there was lots of excitement and chatter, which is what I always like to see, and is at the heart of what Power Up Day is all about.

As always, a big THANK YOU to everyone who participated in this Power Up Day by powering up, posting, and/or shouting out on all traditional web 2.0 social media. All of those things help shine a light on the blockchain, which in turn helps to grow our community. Special thanks to @hivebuzz for always BEEing such an incredible buzz-maker for Hive Power Up Day, and for continuing to add to the blockchain fun. And here's to all the Hiveans, new and old, who continue to increase their voting power and influence on the blockchain - congratulations to you all!
What are the PUD stats for this month?
As usual, let's start first with those who choose to help others grow, the Power Up Helpers, as those are the ones who deserve the most attention.
We have 11 users who have made a power-up to another account and have thus allowed 15 people to get their PUD badge.
Special kudos to @traciyork who helped 4 accounts to power up!
Together, the helpers gifted 194.702 HIVE!
Here is the complete list of helpers and their donations:
@traciyork (44.44), @hispabot (39), @browery (20), @dswigle (20), @elyelma (11), @ss-rentals (10.16), @djbagman (10.10), @chacald.dcymt (10), @dennnmarc (10), @jane1289 (10) and @justclickindiva (10).
A huge thank you to them all for their generosity! Show them some love by upvoting one of their recent posts.
As you know, the Power Up Helper badge is now a yearly thing, so we have reset our counter for January 2022. Here is the list of benefactors who got the so coveted Power Up Helper badge for 2022: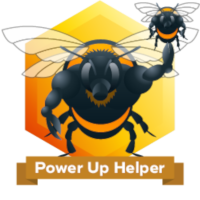 Congratulations to @traciyork (20), @reiseamateur (4), @richardslater (3), @digi-me (3), @ahmadmanga (3), @acgalarza (2), @jane1289 (2), @tanzil2024 (2), @veteranforcrypto (2), @madame-cyntaia (2), @tdctunes (2), @ifarmgirl (2), @blocktrades (2), @browery (2), @dswigle (2), @brittandjosie (2), @oliverschmid (2), @ksteem (2), @silversaver888 (2), @wolf-sl (1), @koussbar (1), @blackdaisyft (1), @blackzoda (1), @slhp (1), @elevator09 (1), @tipu (1), @thomas4711 (1), @kam5iz (1), @bananofarmer (1), @sabajfa (1), @beststart (1), @sodom-lv (1), @elyelma (1), @franky98 (1), @oaaguy (1), @dennnmarc (1), @djbagman (1), @jeffopenscards (1), @benbow2017 (1), @hispabot (1), @cryptochikkin (1), @ss-rentals (1), @mary-me (1), @kheldar1982 (1), @dizzyapple (1), @germangenius (1), @batshaw (1), @andrastia (1), @hamsterpoweriii (1), @darmst5339 (1), @herbacianymag (1), @buffalobison (1), @blitzzzz (1), @coquicoin (1), @bandogge (1), @synrg (1), @littlebee4 (1), @jfuji (1), @btcsam (1), @eddwood (1), @holos-lotus (1), @mightpossibly (1), @tengolotodo (1), @frittro (1), @trippymane (1), @ahmadmangazap (1), @chacald.dcymt (1), @darkflame (1), @podping (1), @oblivioncubed (1), @dawnoner (1), @flemingfarm (1), @hivebuzz (1), @miriannalis (1), @revisesociology (1), @arcange (1), @shanibeer (1), @forykw (1), @justclickindiva (1), @cmplxty (1), @jacobtothe (1), @straykat (1), @iamraincrystal (1) and @opinizeunltd (1).
(List by number of helpees)
This brings the number of helpers for this year to 84 users.
Remember that the number of people you are helping will significantly influence the delegation we will do to you.
Let's now take a look at how you did against the previous editions: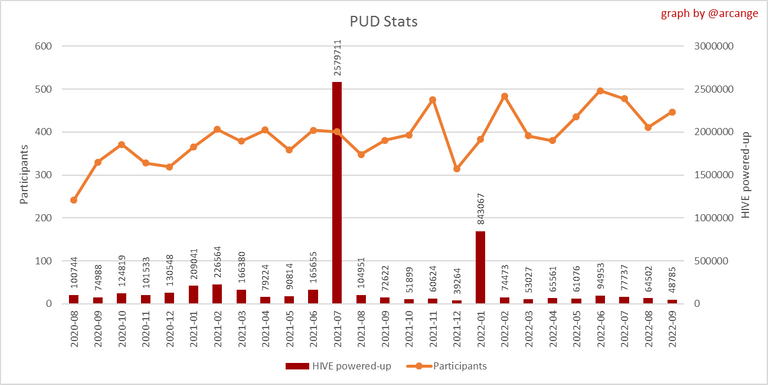 As mentioned at the beginning of this post, we had 447 participants.
who powered up 48785 HIVE. There is a slight dip compared to last month which we most likely attribute to the current bear market. Despite everything, it remains quite decent numbers.
Let's now look at what happened with the distribution of power-ups: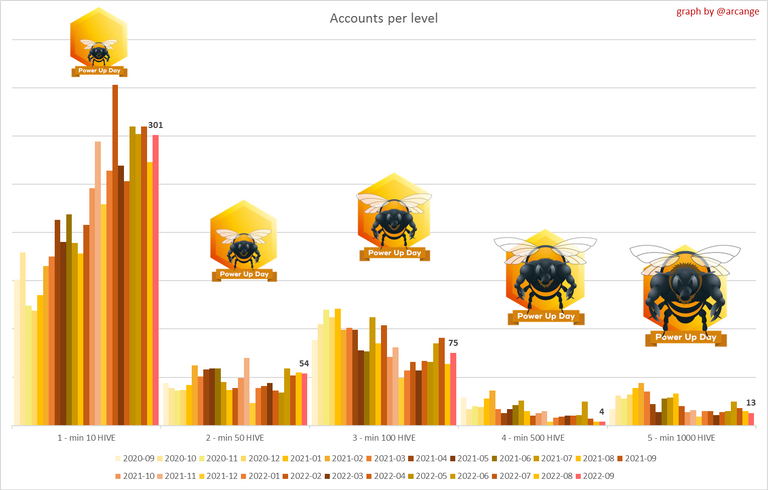 Congrats to @davidthompson57 (5900), @jeffjagoe (3732,312), @ksteem (2400), @sagarkothari88 (1750), @traciyork (1333,337), @buynano (1250), @ace108 (1234), @nainaztengra (1118,23), @setec-astronomy (1043,695), @dontcare89 (1001), @namelessnameless (1000), @kvinna (1000) and @ph1102 (1000).
They powered up at least 1000 HIVE and got the Jumbo-Bee badge.
Power Up Month is underway!
Don't forget that the Power Up Month challenge now takes place every month.
If you participated in the Power Up Day, you are automatically "registered" for the PUM and can be rewarded with a delegation of Hive Power at the end of it if you pass the challenge.
---
See you on September 1st for the next PUD!