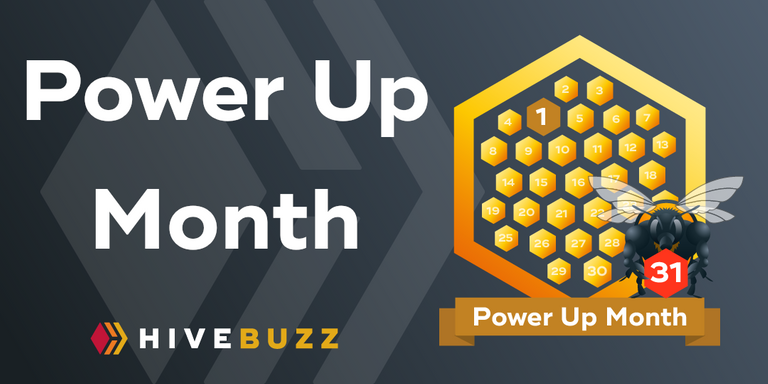 As you may know, Power Up Month now takes place every month of the year.
The January edition is coming to an end and, as you can read in our last post about the running challenge, only about fifty participants are about to receive their PUM badge.
The good news for them is that they will receive a Hive Power delegation of from us in addition to their PUM badge. This will be all the more deserved as many of the participants have admitted how difficult this challenge was.
As mentioned in our previous article, our goal is to reward those who do regular power-ups rather than a single power-up like many users do for Power Up Day for example.
Let's go for another month!
March 1st is not only be Hive Power Day but also the start of a new Hive Power Up Month!
How to get the Power Up Month badge?
This new PUM challenge will start on the first day of the month and will last all month. Here are the rules:
For each day of the month, you will have 2 options:
Option 1:
you publish a post and set the payout mode to 100% HIVE.
Your post must generate a payout to be eligible (i.e. get a few upvotes)
You cannot upvote yourself
Using this option is also a good way to get the Monthly Author badge as well. ;)
Option 2:
power up at least 1 HIVE.
You cannot start a powerdown during the month.
This option is useful if have no idea what to write about someday or just aren't a blogger at all.
You can use either option, or both, and can switch from one to the other as the days go by.
IMPORTANT:

HiveBuzz will use UTC date and time to validate post and powered-up dates. Therefore, check your timezone and convert your local time to UTC before doing so!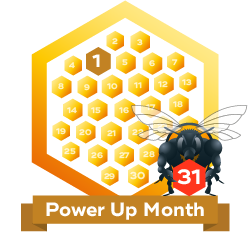 Strictly follow the above rules and this badge will be yours!
Additionally, you will also receive a Hive Power delegation upon successful completion of the challenge. The more badges you collect (Power Up Day, Power Up Helper and Power Up Month), the higher our delegation will be!
Both badges and delegations will be distributed after the end of the Power Up Month.
---
Bee ready to Power Up!
---
HiveBuzz is a project created by @arcange