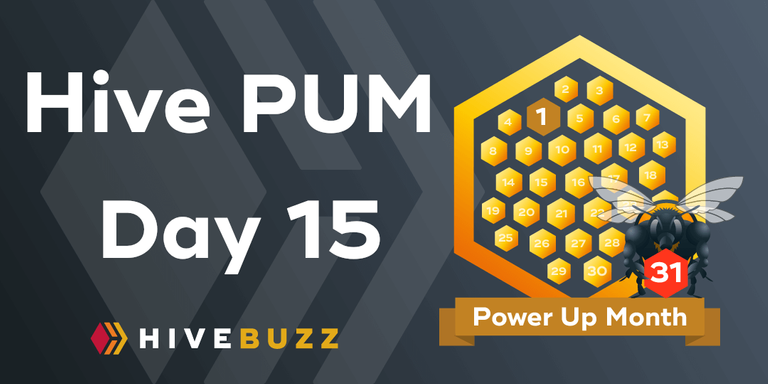 The Hive Power Up Month has now been running for 15 days. We are halfway through the challenge.
We first want to apologize to all of you for not posting about the PUM since the beginning of this month. Times are emotionally difficult for our team living in Europe with war raging in Ukraine only a thousand or two miles from our borders.
We did not stay idle, quite the contrary. We will tell you more about this very soontm.
Therefore, no blah blah in this post, just the results of the contest which continues its journey despite these events.
For those who missed it, you can read the challenge announcement here.
Number of participants
Let's see how things have been going so far with an updated graph: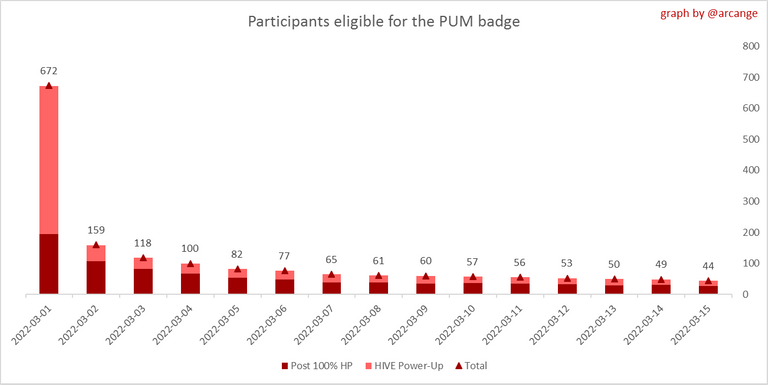 There are 44 participants still eligible for the PUM badge. We wish them to remain committed over the next two weeks.
List of eligible ones
Congratulations to @actifitmayer, @ahmadmanga, @ahmadmangazap, @amaari, @arcange, @awah, @blitzzzz, @borjan, @bradleyarrow, @coquicoin, @cryptokungfu, @cursephantom, @davidthompson57, @dbooster, @definethedollar, @dizzyapple, @eddwood, @femcy-willcy, @hivebuzz, @ifarmgirl, @iptrucs, @itsostylish, @jacobtothe, @kargul09, @kolbjorn, @kwilley, @malomi, @manuvert, @mein-senf-dazu, @mengao, @michelmake, @mightpossibly, @mmckinneyphoto13, @opinizeunltd, @orionvk, @papilloncharity, @risingstargame, @savvyplayer, @synrg, @taskmaster4450, @tengolotodo, @traciyork, @tydynrain and @ultratrain.
Good luck to everyone who is still in the race!
---
HiveBuzz is a project created by @arcange