A spreadsheet report of data from the UK's NHS puts some more context around alleged "COVID-19 deaths". As has been confirmed in Italy and even with the flu, those most affected and potentially die, are those with pre-existing medical conditions.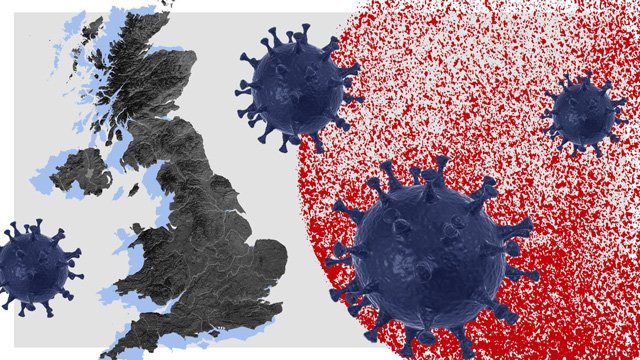 Source
The ethnicity/race most affected are the white British (19,465 out of 27,045) which is 72% of alleged COVID death cases. Looking at the deaths of those with pre-existing conditions in age groups, those 60 and above account for 87.5% of all COVID-19 attributed deaths, and 92% of those dead with pre-existing conditions. That means those less than 60 and with pre-existing conditions only account for 8% of the alleged COVID-19 deaths with pre-existing conditions, and 7.5% of all COVID-19 attributed deaths.
If you're unhealthy, you already have problems with your health, and a viral infection can make it worse. Your body is already in a battle, and the virus is another burden to deal with, for the body to battle. COVId-19 severity is correlated with the viral load. A body that can't deal with the virus and lets it propagate will have more severe symptoms.
But if your healthy, you are not very likely to succumb to the infection. With all age groups combined -- this includes the elderly -- it's only 4.8% of total alleged COVID-19 deaths.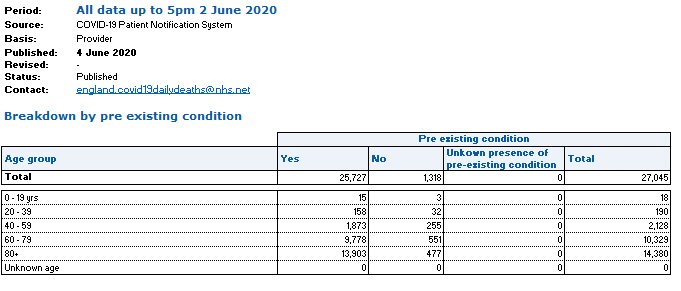 Looking at those less than 60 years old, they only make up 1% of all alleged COVID-19 deaths. Out of the whole UK population, the chance of dying from COVID-19 if you are healthy and below 60 years old is 0.000435%. That's a population survivability of 99.9995%.
When looking at Italy, they have the second oldest population worldwide. The elderly are those with the most medical conditions. Especially those in nursing homes who are being cared for until they die. The median expectancy in nursing home sis 2 years, with 32% dying each year.
According to Prof Walter Ricciardi, scientific adviser to Italy's minister of health, the country's mortality rate is far higher due to demographics – the nation has the second oldest population worldwide – and the manner in which hospitals record deaths.
Italy has admittedly been inflating the death counts, like the US, yet the media won't talk about this reality:
"The way in which we code deaths in our country is very generous in the sense that all the people who die in hospitals with the coronavirus are deemed to be dying of the coronavirus.
On March 20, Professor Walter Ricciardi, the scientific adviser to Roberto Speranza who is Italy's minister of health, even stated that the true deaths from COVID-19 was only 12% as determined by actual autopsies.
"On re-evaluation by the National Institute of Health, only 12 per cent of death certificates have shown a direct causality from coronavirus, while 88 per cent of patients who have died have at least one pre-morbidity – many had two or three,"
"99% who died had one pre-existing health condition): 49% had three or more health conditions; 26% had two other 'pathologies', and 25% had one."
If you look at total deaths in Italy and consider that only about 12% of the alleged COVID-19 deaths are actual COVID-19 deaths, you get 4,032 dead instead of 33,601. That's quite the difference.
How many of these deaths are truly from COVID-19? How many are from hospital neglect or incompetence? If you look at testimony from nurses in New York, you would see that many people are being killed by staff, not COVID-19. Many people were killed by forcing them onto ventilators which killed 9/10 people (and 97% of those older than 65) accoridng to a study:
Mortality rates for those who received mechanical ventilation in the 18-to-65 and older-than-65 age groups were 76.4% and 97.2%, respectively. Mortality rates for those in the 18-to-65 and older-than-65 age groups who did not receive mechanical ventilation were 19.8% and 26.6%, respectively.
Nurses are prevented from saving their patients lives. Patients without COVID-19 and put into areas with COVID-19 patients which gets them infected. Patients without COVID-19 in two tests are declared "COVID-19 positive" and given COVID by hospitals who then later help to kill them. Where else is this happening? I suspect there is a lot of whitewashing used to absolve people of accountability and liability across the planet. The deception is big, and it's deep. I doubt investigations will ever be done to find out the real numbers and hold people accountable.