Pfizer:
Here you go, inject this in your arm for protection against covid-19.
Me:
Ok, but what does it do?
Pfizer:
It protects you from covid-19!
Me:
Sorry, I mean how does it work?
Pfizer:
You wouldn't understand but because you asked. It has tiny genetically engineered nanoparticles inside it that will bypass your natural immune defences in order to transfect a brand new gene enzyme into your cells.
Me:
What does transfect mean?
Pfizer:
See, I said that you wouldn't understand. Look, the easiest way to describe transfect is to think of the word "infect", you know the way covid-19 infects your cells without my drug inside you.
Me:
Oh ok thanks so this drug will infect my cells with nanoparticles?
Pfizer:
No, the drug uses nanoparticles to infect your cell with a modified version of an encoded spike protein enzyme called mRNA.
Me:
What is the purpose of that?
Pfizer:
well see, we don't want your immune system to destroy the nanoparticles containing the mRNA enzyme so first we coat the particles in hydrogel which keeps the mRNA highly active and stable and then we use ionizable cationic lipids to blunt and deactivate your immune system so that it does not recognize the modified version of the spike protein enzyme called mRNA.
Me:
Oh that's interesting so you are injecting something in me that disables my adaptive innate immune system?
Pfizer:
Well yes.
Me:
Why? Is my immune system a bad thing?
Pfizer:
Because we have to, otherwise your natural immune system would destroy the newly modified mRNA encoded enzyme that we want your cells to start expressing. You don't need to know all the details of our drug do you??
Me:
I'm sorry if I upset you. I just really want to understand what your drug is all about and why you want me to inject it inside my body.
I have another question, why would my immune system destroy your modified mRNA enzyme?
Pfizer:
Because the protein we want your body to make is not natural, we modified the enzyme so your cell will make an abnormal and misfolded protein. If your immune system recognized the mRNA it would destroy it within nanoseconds.
Me:
Why do you need to make my cells make an abnormal protein?
Pfizer:
We believe if we can force your cells to make billions of these abnormal spike proteins then 2 things will happen.
These proteins will attach to all of your ace-2 receptors in your body which will prevent or block covid-19 virus organisms being able to inject its RNA inside your cells!

We believe your body will attack these misfolded proteins that are attached to your healthy cells and make antibodies for the covid-19 proteins at the same time.
We believe your immune system will remember these drug induced proteins so that if covid-19 comes inside your body your immune system will respond quicker and know how to get rid of it, because our drug already forced your cells to make spike proteins that are very similar to the ones expressed on covid-19 virus organisms.
Me:
Ok well I have some more questions because I don't believe your drug is able to do that nor do I believe that is how the human body functions.
Pfizer:
So you are anti vaxx?
Me:
Did I say I was anti vaxx? I just don't think it's actually safe to inject your drug inside my body.
Pfizer:
Oh so you are anti science and you want to put those who have injected my drug in their bodies at risk?
Me:
Actually I trust my immune system to protect me from natural environmental antigens and free radicals in my body.
Pfizer:
So you want to get the virus organism inside you and let it spread in your body and jump out of you to infect those who choose to inject themselves with my drug!!! How dare you!!
Me:
Well I trust my immune system is capable of protecting me and that's why I definitely don't want a drug that blunts and disables my immune system on purpose to allow for your harmful genetic enzymes to infect my healthy cells.
Pfizer:
You are misunderstanding how my drug works! My drug will safely and effectively prime your immune system by forcing your body to make the spike protein which ultimately relies on your own immune system to protect yourself from the virus organism without catching the virus organism. Surely that is better!!!
Me:
Listen, I don't want your drug to blunt or disable my immune system to allow for your drug to force my healthy cells to make an abnormal harmful and toxic protein inside my body! It's my body, my choice right?
Pfizer:
That's it I'm going to get you in trouble for not believing me, and convince people that those that don't take my drug will put those that do at risk!!
Me:
How are you going to do that?
Pfizer:
I have science on my side, look because my drug blunts the immune system of healthy people then anytime they come into contact with someone who hasn't taken my drug, I can claim that my drug does not work because of people like you as you will shed your natural body particles inside of those that had their immune system compromised by my drug!
Me:
No one will believe that…….. go away from me now!
Pfizer:
You'll be sorry that you refused my drug!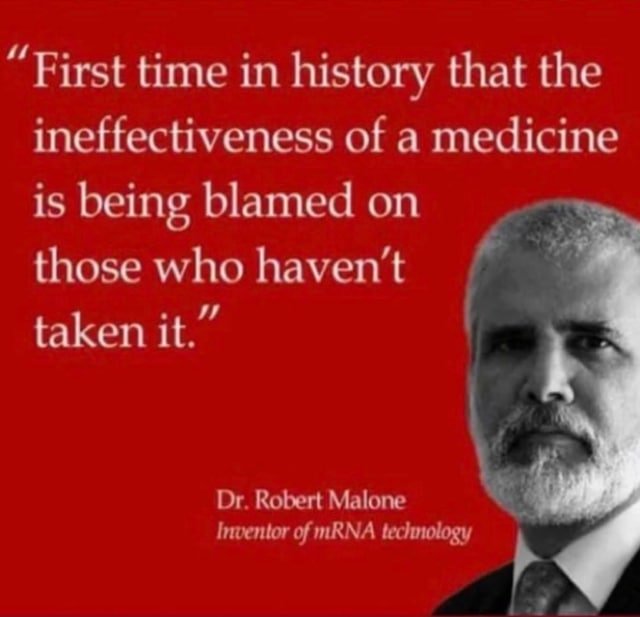 FYI This text bellow inspired me to write the text above.
Copied from Dr. Larry Palevsky
IMAGINE we were living in medieval times.... and you'd been invited to a royal banquet. 👑 🍷 🍲
The ones in charge were extremely keen to get you to drink the wine. They were very insistent. 👀
You'd probably assume the wine was poisoned.
"Drink this wonderful wine."
"No thank you."
"Be a good guest! Drink the wine. We uncorked it especially. It's a beautiful and rare vintage."
"No thank you. I appreciate the offer though."
"Drink the wine. It's very expensive but you can have a glass for free, and we'll give you an extra plate of supper."
"No I'm fine as I am."
"Drink the wine and we'll feed your entire village for a week and reduce your taxes."
"Wow all that for wine? What's in it? Still, no thank you."
"We'll make you a Duke."
"Very generous but no thanks I'm content in my home."
"You are not anti-wine are you????"
"No I just don't feel like drinking this wine this evening."
"Drink the damn wine or we'll stop you working."
"Eh?"
You notice they're getting desperate now.
"We'll ban you from markets."
"Wow your tone has changed."
"Now you need to drink 3 glasses or we'll stop you riding your horse or seeing your family for the next year."
"Wait, what? 3 glasses? Can't see my family?"
"Did we say 3 glasses? We meant 3 bottles."
"3 bottles?"
"Yes...every few months we want you to drink 3 bottles of this particular wine we've prepared indefinitely for the next years."
"Years??"
Yes, or we'll try you for treason."
"Ok what is IN this damn wine that you are trying SO HARD to get everyone to drink it?"
"We can't tell you. Trade secret."
"It's poisoned isn't it?"
"No..it's...ummm...it's just really really good for you. It's um, special healing wine."
"Then why all the threats?"
"We just need you to... I mean we strongly encourage you to drink the wine so you don't miss out."
"But the Earl drank a glass and collapsed."
"Unrelated."
"No...like he was fine then had a glass then keeled over...he's still on the floor writhing. Look at him! His face is blue and he's clawing at his chest."
"Coincidence. Guards...please escort the Earl to his chambers. He's had too much wine."
"I knew it was the wine! What about the rest of the court? Half of them also collapsed after the wine."
"Those guests got ill from something else. Probably the chicken."
"All at the same time?"
"You sure do ask a lot of questions! Guards! Guards... get this man his wine."
"I don't want it. What if something happens to me after drinking it?"
"We're not liable for that."
"Not liable for the wine you produce? I definitely don't want it."
"Drink your wine so everyone else doesn't get a hangover."
"Huh? That makes no sense. Maybe if they didn't keep DRINKING they wouldn't get HUNGOVER in the first place?"
"Look at these paintings of people drinking wine all over the gallery. Look how happy they look."
"Paintings? Look, I don't drink wine. I don't want the wine. Even the idea of drinking this wine leaves a bad taste in my mouth."
"Ah no matter if you don't want to drink it."
"Ok good. Let's drop the subject now"
"You don't have to drink it. We can pump it directly into your veins. You won't even have to taste it"
"Wait, into my veins? Are you serious? I don't want your damn wine!"
"TAKE THE DAMN WINE NOW! WE'VE ALREADY PAID FOR A WHOLE CRATE FOR EACH MEMBER OF YOUR FAMILY! WE'VE SIGNED AN ONGOING CONTRACT WITH THE DISTILLARY! ANYONE WHO TALKS BADLY ABOUT THIS WINE WILL HAVE THEIR TONGUES CUT OUT! PEOPLE WHO ARE NOW DRUNK ON THE LAST BATCH WILL BE RECLASSIFIED AS SOBER AND MUST DRINK THE NEW BATCH! AND WE WANT YOUR KIDS TO DRINK THE WINE TOO! EVEN YOUR BABY. SWAP HER MILK BOTTLE FOR WINE! SHE'S OLD ENOUGH FOR WINE NOW! AND YOUR PREGNANT WIFE! SHE NEEDS IT TO KEEP HER HEALTHY! EVERYONE DRINK THE WINE!"
THIS is how absurd the conversation is getting now.
Anytime anyone tries so hard to pressure you into something: it's rarely if EVER because it serves YOUR best interests or because its good for you. More likely it's in THEIR best interests.