The thing that got me started with cryptocurrencies was mining; after reading and learning about bitcoin, ethereum and other blockchain based money and smart contracts, I decided in 2017 to give gaming a rest and started to put my two Geforce GTX 1060 6GB graphics cards to work.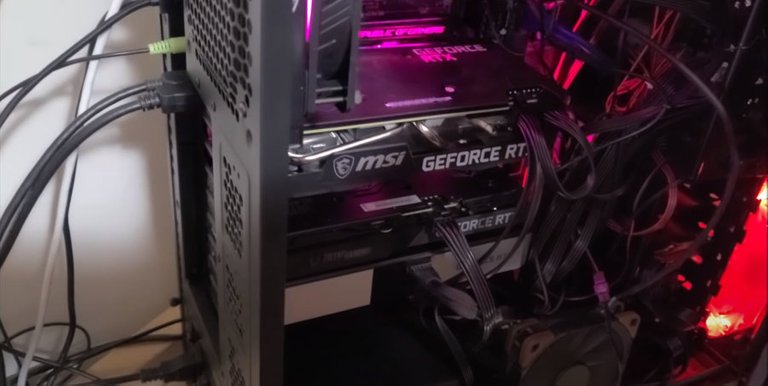 source: YouTube
That was very inefficient of course, as I ran two separate PC's for 24 hours, and the cards got very hot in their run of the mill PC cases. So after a month, just before graphics cards prices shot to the moon because of high demand from miners like myself, I bought an open frame, 5 additional 1060's and built a 6 card mining rig. I did all this together with a friend, so we shared the investment as well as the proceeds. This didn't last very long though because the price of electricity was rising and soon it just wasn't feasible anymore to keep on mining. So after we earned back the investment we just packed it up, sold the video-cards with a small profit and since then I've only bought bitcoin and some other tokens directly from exchanges with whatever money I had left at the end of the month, if any at all. Most months that's zero, but even if I had 10 or 20 euros left, it went straight into crypto.
Now, don't get me wrong: all this hasn't made me rich. I've managed to save around 10 to 12 thousand dollars that way, which is way more than I would have if I had put that small change into a bank account of course, but it's not like I or my friend have made "life changing" money. Maybe if I had believed in trading, I could have made much more, but I don't; in fact I detest trading, as it doesn't add any real value to the real world. I don't mind others trading though and I'm happy for any regular Joe if they can make some money that way; trading is a fact of life and we all have to survive in this broken economy after all. Mining on the other hand I can stand behind 100 percent. By providing some of the computing power that's necessary to secure the network, something of use is produced, and I don't mind earning an income by producing something of use.
Another friend of mine is in real estate; he builds homes, some of which remain empty for some time; that's infuriating for a someone like me, because this economy creates the paradoxical circumstance that there are more empty homes than there are people in need of one. Capitalism and the so called free markets don't provide what people need, only what's profitable and what people can afford; I only wish we had an economy that actually tends to people's needs... But hey, what I said about trading is valid here as well; we all must try and make the best of the garbage we have to work with. Well, this friend now only builds homes that are solar powered, which is a good thing in itself, but also provides us with relatively cheap energy for as long as these homes remain uninhabited. So, I called him up, and met with him several times to explain to him all the benefits and future promises of crypto currencies; it only took me a month or two to convince him that we need to place some mining rigs in those empty homes. And yesterday he agreed to start with one rig with 6 graphics cards, just to see how it goes.
This time I'm not going to build the rig myself, as graphics cards are sold at a premium still, and very hard to get as well. Right now you might as well buy a pre-built rig for two reasons: they cost about the same compared to a self made rig, because the companies that sell these rigs have good deals with video-card manufacturers and get them cheaper and faster than I could. And the second reason is that it saves me the trouble of building the thing myself, tuning the cards, installing Linux and mining software and so on. The only downside to this deal is that we'll have to move the rig as soon as a house is sold. My hope is of course that at some point my friend will see that he might as well just reserve one of the houses and stack it full with mining rigs :-) And we'll have to figure out all the "legalese" concerning this nascent project. But for now I'm just happy to get back into mining once again and to generate a small amount of almost passive income. Maybe this little report can inspire some of you to start mining as well, if electricity costs in your region permit it. For those among you who live in cold places, I've included the below linked video; it's about a miner who offsets his electricity costs by not having to heat the house as a side-effect to the excess heat generated by his mining rigs. Enjoy, and maybe.. happy mining!
$1000 a month Mining Bitcoin at home
---
Thanks so much for visiting my blog and reading my posts dear reader, I appreciate that a lot :-) If you like my content, please consider leaving a comment, upvote or resteem. I'll be back here tomorrow and sincerely hope you'll join me. Until then, keep safe, keep healthy!

Recent articles you might be interested in:





Thanks for stopping by and reading. If you really liked this content, if you disagree (or if you do agree), please leave a comment. Of course, upvotes, follows, resteems are all greatly appreciated, but nothing brings me and you more growth than sharing our ideas.