Spring is almost gone in the southern hemisphere and I'm pretty satisfied with all that I have sown through it. Right now I have to focus mainly on reinforcing my fences to avoid further attacks from the cows, but this is repetitive work and hardly provides anything interesting to share with the Hive community. I mean, imagine all my posts were about the new fence posts I placed. Posts about posts...
However, I still have some seeds lying around in a box, many of them from local production and thus, subject to decay. I've decided to open up two little spaces in the garden where I will sow them all mixed up and see what happens. Whatever the results I'm sure interesting things will occur.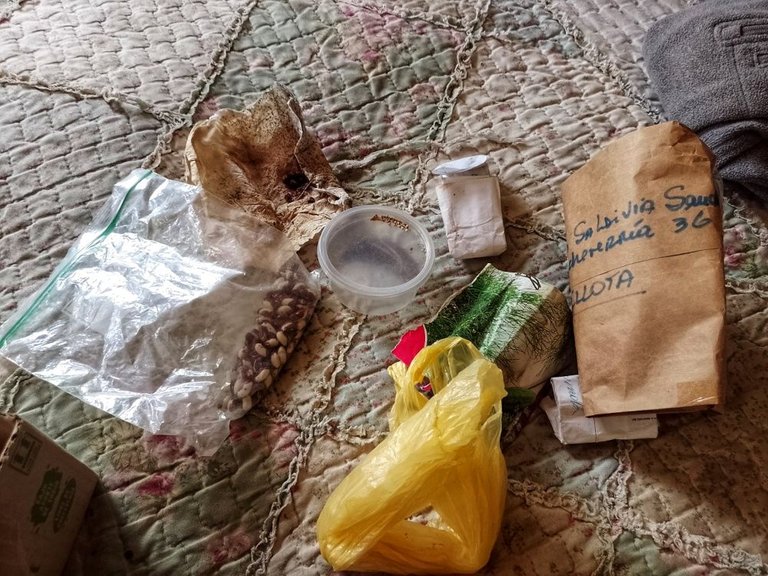 Chard, dill, redcurrant, kale, beans, amaranth, arugula, and tomatoes are in this selection. I also have some beet and carrots but I'll not include them since it's best to seed them on waning moon. All of these are meant for the crescent moon. I'll save some beans apart for an exclusive line as I'm interested in having as many legumes as possible, but I'll throw a few in the mix as well.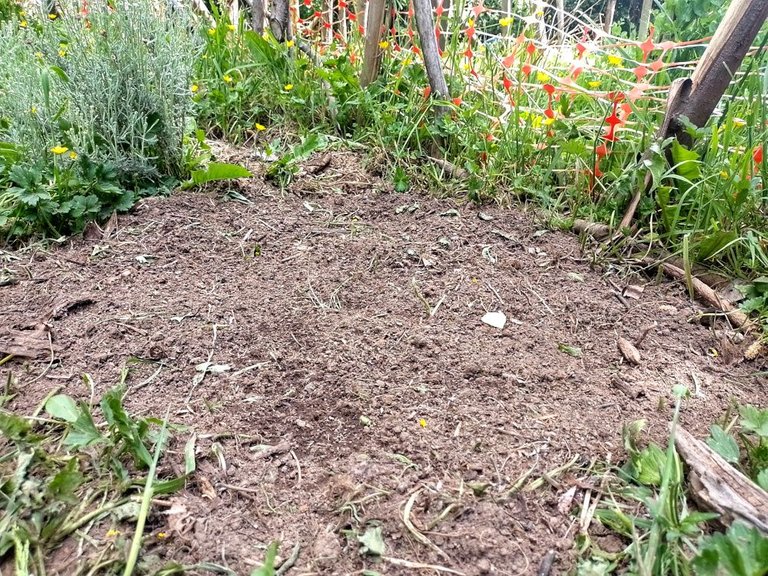 Here's one of the areas, this one is a bit more like a square to use up some space that's between a cotton-lavender and a currant plant.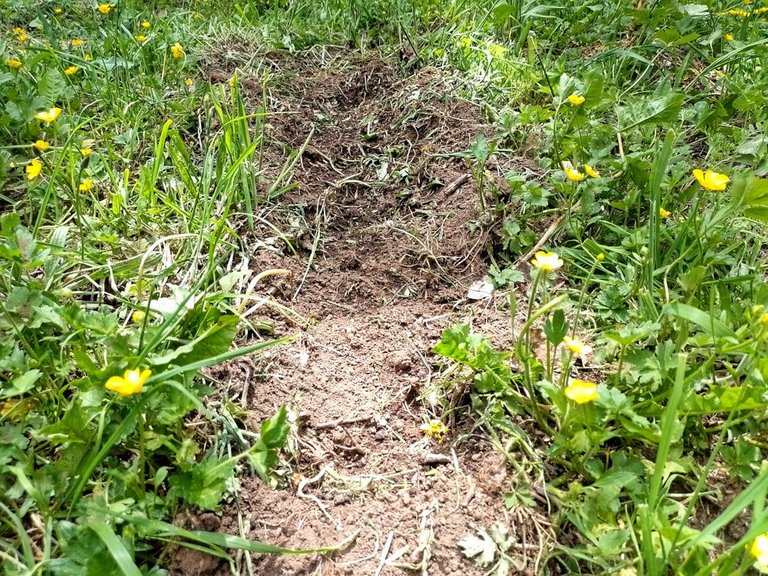 The other one is a line that was unused between two kale and carrot mixed patches.
I really hope to be able to document this process daily. I always try and start some kind of process that I intend to blog about daily but it seems I don't have that kind of mind. I'm more the disperse creative type and like to do different things every day. But I'll really put effort into this one, I'm making the commitment right here and right now. You don't believe me, do you? Just you wait and see when my post titled "Mixed Seed Patch Day 300" appears on your screen 😡
It's the first weeks of these kind of processes that are hard to keep up documenting as there will probably not be any significant changes. However, I'll do my best to keep it up, even if just to show the weeding and maybe I'll add stuff to the soil. Know any tips for making the soil a good place for germination? Please let me know in the comments.
Here is the seed mix ready, though I'll keep it in a bag for a few days because I really like to follow the Moon for gardening, and there are still a few days left for the crescent quarter. Meanwhile I intend to water the patches and keep loosening the soil, adding some good stuff from the forest as well.
I'm already excited to see what will come. I plan to treat these patches differently than what I do in the rest of the garden. Probably I'll weed them and try to give them lots of attention daily, just to see what happens. It's not that I don't give the rest of the garden attention but it's a different method that aims for the plants to become adapted to the weather and soil, rather than trying to make it so easy for them.