Ecencials, we have pushed another 2 updates to our mobile app. This update brings you better management of quick comments, caching improvements as well as transfer screens with simplified flow.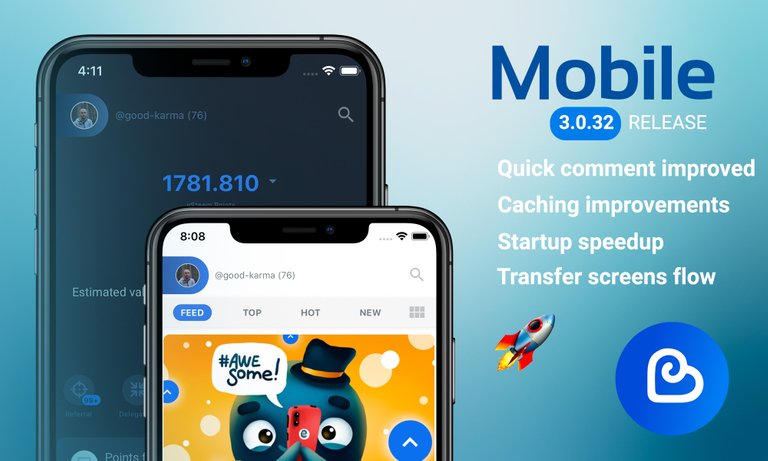 What's new
Quick commenting improvements, couple releases back we introduced quick commenting modal and although feedback was great, there were some issues on certain devices and reply caching was missing, so we replaced package/component with new, better and reliable one, caching fixed so it remembers half baked comments if you suddenly leave commenting.
Caching improvements, we have improved communities, subscriptions caching, drafts management and overall data flow between screens.
Startup speedup, better management of caching improved app speed but we wanted to do more, worked on app startup. Now logo animation is showed rarely and app starts swiftly. Try it out, close the app and start it again, you will notice, almost instant launch and you can start interacting.
Transfer screens, in last update we worked on delegation screen and somehow we liked simplicity and easy flow, so all other transfer operations also got same flow, simple and clear.
A lot of bug fixes
Language updates
If you are React Native developer, feel free to join and help developing features we all love using, our mobile application is opensource.
Join mobile translation team: https://translate-mobile.ecency.com
31 languages already enabled on Ecency mobile app, thanks to our awesome contributors.
Stay tuned, stay excited, stay united! Don't forget to share news with your friends.
Download
Ecency.com | Desktop app | iOS app | Android app | Direct Android APK and iOS IPA file
---
Support us
500 HP | 1000 HP | 5000 HP | 10K HP | 20K HP | 50K HP
Support our proposals