Hello Hello Everyone
It seems we are getting back into the groove for 2023!
So that means that Tuesday nights will see the return of Talk Time with Tengo ... shameless plug follows!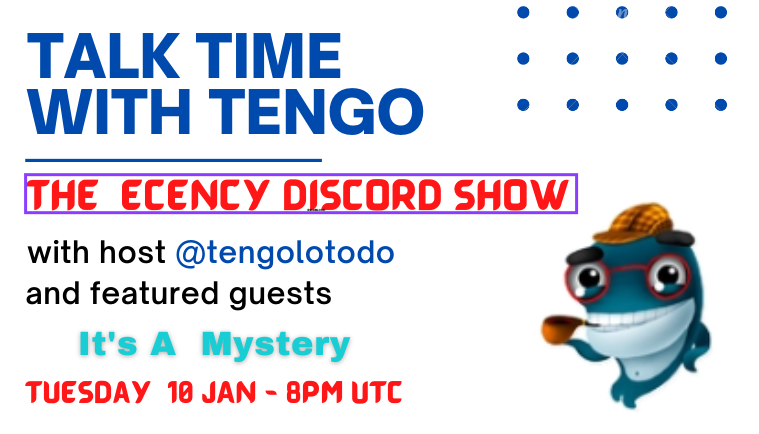 Join in here if you are not in the Ecency Discord Server.
Yes the third episode of the talk show with yours truly is being held in voice chat in The Ecency Discord Server tomorrow January the 10th at 8pm UTC
Not long after I joined Hive, I heard that alot of Hive was actually carried out offchain.
At first I could not wrap my tiny mind around that, but it is so true. There is discord, twitter telegram etc so much talk about Hive and networking is done off the chain itself!
Pretty funky huh.
There are a plethora of projects being run on Hive, often we are not aware of what is out there and how it can be benifical to us or how we can be a part of it.
Hive is not just about posting pretty photoessays to reap the rewards. Oh no, this to me is a Social platform so come on and let's be social!
---
The first episode was a blast and we heard all about @craftink from the three @hiq hivians @smooms @mary-me and @quekery
We also had some great $INK and $HIQS giveaways.
Do you know the first issue of 420,000 tokens of $INK sold out in 90 fluffing minutes!!!
We gave you all a headsup about the project on the show.
Did you know that the game is getting closer and closer?
In fact if you keep looking in the @hiq.magazine you might find a giveaway from time to time, and their @craftink keeps us uptodate with game developments.
I am a wee bit excited by it, can you tell!!
By the way, have you picked up some $INK yet, it will be the game of 2023! You have been told.
---
The second episode featured another project that I am so happy to be a part of and that was Dreemport, and yes for show number 2 we had as the featured guest the pirate queen herself @dreemsteem
The show was a heap of fun and we all go to know about the reasons for dreemport being, and did you know @dreemsteem was , well still is a published author!
How fluffing cool is that!
Dreemie also aired the breaking news that she will be coming to the UK in January, and along with @samsmith1971 and @penderis will be in Scotland for a few days.
FIngers crossed the weather will be good.
---
Who are the featured guest/s for tomorrow?
I shall leave you with this oldie from Toyah!
Enough from me... so come on and join us tomorrow at 8pm UTC
Scroll down in Ecency Discord to where you see VOICE. You can listen in at #chat-voice and use #event-chat to type comments.
Again the link is Ecency Discord link
If you have a project that you would like showcased or you would like to be a guest, do let us know in the comments below or in discord!
As this is the second week, we are still finding what times suit people best. Currently Tuesday at 8pm UTC works for the host, but we are open to suggestions!
I would like to say a big thank you to @good-karma for letting us host the show in the @ecency discover server and to @melinda010100 for distributing ecency points and @beeber for being such a star and helping me out🙏🙏🙏
Grab a drink and let's chat!