A story about bitcoin, crypto, blockchain, and life.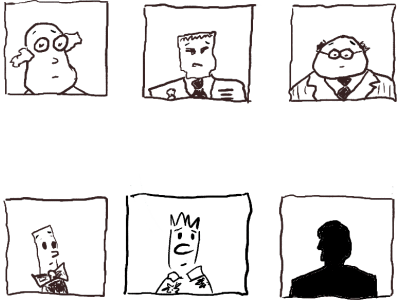 Bitkenstan has a running story line.
Earlier episodes can be viewed on the Hive blockchain at https://peakd.com/@bitkenstan

bitkenstan.com

Transcript
The Man: (on video conference) WTF. Who's This Fellow?
Stanley: Umm...
The Man: Pipe down, plebian! Analysis report! Haufenmist!
Dr. Haufenmist: Probably a radical.
The Man: General Kellimahl?
Gen. Kellimahl: Most likely a foreign hacker!
The Man: Dumas!
Mr. Dumas: Clearly desires to disrupt banks.
The Man: I've heard enough. Mr. Fitts will handle this.
Mr. Fitts: Fitts here.
The Man: Hacker in the Hawaiian suit...How did you hack in?
Stanley: I used the Master Tool.
The Man: The Master Tool?! Clearly, he has skills. Devious skills.
Creator: What The Skills
Originally posted April 23, 2020 at