A story about bitcoin, crypto, blockchain, and life.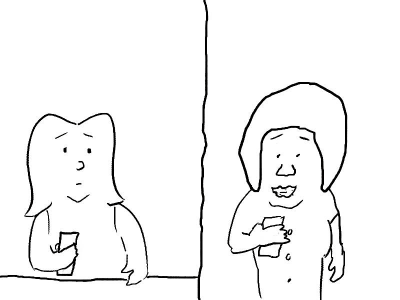 Bitkenstan has a running story line.
Earlier episodes can be viewed on the Hive blockchain at https://peakd.com/@bitkenstan

bitkenstan.com

Transcript
Tilly: (on the phone) So Stanley finally wised up? What's this about jewelry and a question?
Hilda: I don't know. He said it. What now?
Tilly: Hear him out. The boy must have some sense. You're pure gold. Believe that!
Hilda: (worried) I'm terrified.
Tilly: Just hear him out. You'll know.
Hilda: How did Cleve ask you?
Tilly: I had to beat him with a switch to get him to ask. (to the side) Cleve! Will you turn down that TV?!
Hilda: Can I talk to him?
Tilly: To Cleve? If you want to. (to the side) Cleve! Get your lazy self in here! Pronto!
Cleve: (appears on screen)
Hilda: Hi Cleve! Good to see you again.
Cleve: Hi! Good to see you, Hilda.
Hilda: So Cleve, when you popped the question to Tilly, how did that go?
Cleve: Great! I mean, I was real smooth about it. You know?
Tilly: Okay, you're done here. Scoot along. (scooches him away) Go back to watching Nickelodeon.
Cleve: What?! I'm watching the Flintstones! Only the classics for me! Bye Hilda! (exits)
Tilly: Lies and exaggerations. Except about the Flintstones.
Creator: So, Cleve...Fred or Barney?
Originally posted June 27, 2020 at
---
Official NFTs have arrived to Bitkenstan! It's possible to actually own each episode. View the NFTs at https://wax.atomichub.io/explorer/collection/bitkenstanxx
---
Bitkenstan is the webcomic that became the world's first NFTcomic on bitcoin, cryptocurrency, blockchain, and life.
It began with @bitkenstan on Twitter and is now upgrading over to the Hive blockchain. (join Hive)
Visit @bitkenstan on Twitter, @bitkenstan on Hive at https://peakd.com/@bitkenstan, or learn more and see the playlist at bitkenstan.com