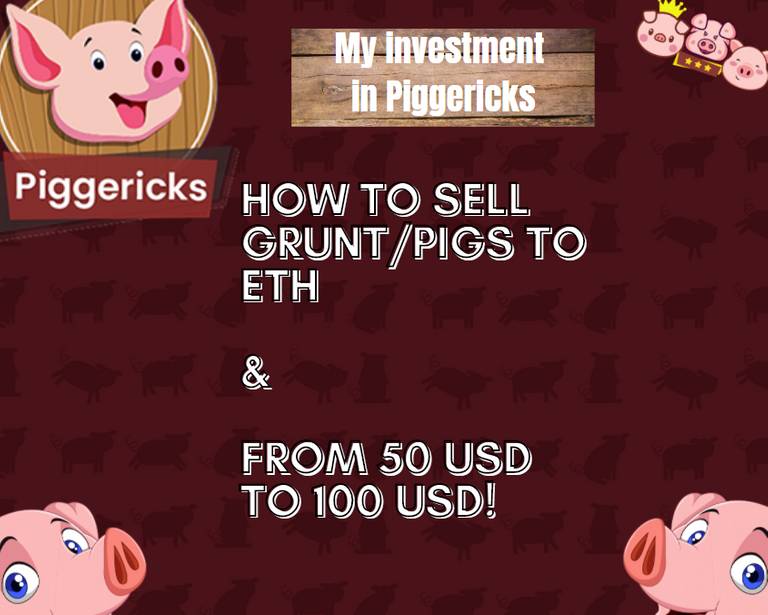 Yesterday was a big step in my journey with Piggericks.
First time I cash out some and sold at market to ETH
I went from minus to plus. No I am +100 % . That is pretty Good!
How to sell pigs/grunts to ETH
First - account and play
The most common question I have read is "how to sell pigs" - "how to make money of this game?". Here is the answer
An account
First of all you need a account at Piggericks. Of course. If you start one - contact team in Discord and you will get some free pigs. Use my name as refereal and I send you some too.

Play
Of course you need to play to level up your pigs

Invest 30 USD
Here is a crusial point. You need to spend 30 USD (in hive or eth) in the shop to be able to use withdraw function and be able to send pigs.

Kill your pigs
From level 4 you can kill your pigs and get grunts (in-game currencie) from it. You will get slightly under the value in the shop
So if you dont find any buyer of the pigs - just kill them and get grunts
Withdraw Grunt
Notice your ETH-adress
In settings you have to write your ETH-adress from metamask or web3 wallet i.e. ability to connect it the the piggericks app

Buy a withdraw pig for the grunts

I used 1 million Grunt and bought a Pig worth 505 USD. When buying that pig I payed 5USD (in grunt) as a withdraw fee.
After some minutes I could see them at Metamask ! Nice!

Sell at uniswap
https://uniswap.info/pair/0x04ea81733fc4adc251ed579d376028534d2f9e2a
Here you can choose how much you want to swap to ETH.
BUT....
I first wanted to know how much I could get for 1 million Grunt but Uniswap said NO NO - you can not swap so much

So Uniswap has a limit to prevent really big market differences.
100 000 Grunt show to be a good limit.
First Uniswap has to check the limit of Grunt in your wallet. It takes some minute. Then you can make the swap. I had to pay 8 USD in gas fee.
So for 100 000 Grunt I did get in total about 50 USD in ETH. That is pretty good.
So how is the market?



One is my transfer and just after me one other did a swap. Thats it - in the last 10 hours.
Does nobody knows that they can sell?
or
Do everyone hodl there Grunts and wish to sell in higher level?
We will see. I have more left than I have sold so far.
From 50 USD to 100 USD

I have blogged about my journey with Piggericks and last blogpost I was at 48 USD in and 50 USD out. No have I went over the magic limit and everything is plus.
I good feeling.
So in short - How do I earn money?
I was an early bird - Bought in presale
Played in some contest and won grunt
Join discord and sell some pigs that way
One of the first using uniswap to sell some (less than 10 % ) of my grunts
See you at the Pigge-Field.
And if you need a pig - just tell in comment - Three pigs are going to my readers today!
MINIMINING