I'm not active on Facebook nowadays and trying to quit the boring platform. Some months back, I got the invitation to test the private beta of TORUM, a new social media platform. The platform grew decently in the last couple of months. The interface resembles Facebook but it looks like a mild hybrid of Facebook and LinkedIn. TORUM is neither very social nor extremely professional. The whitepaper says that TORUM wants to be the de facto social media platform of the crypto and blockchain industry. So, their positioning is very clear. TORUM has clans or communities like Facebook and anybody can create clans. TORUM also allows businesses to open business accounts. From the invitation-only closed phase, the project has travelled a long way to offer many different propositions now after an initial successful fundraising.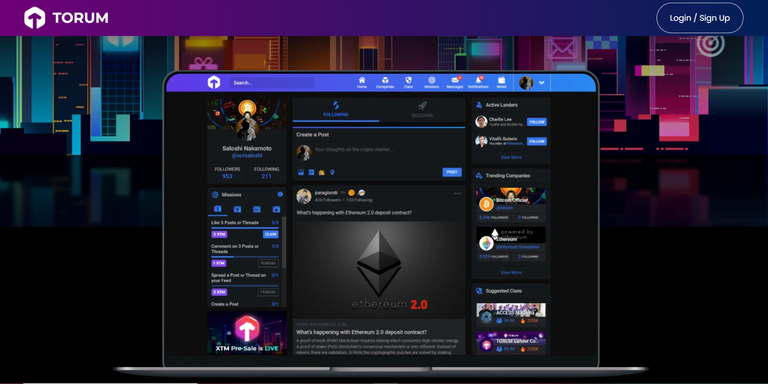 TORUM Homepage - Somehow, they've featured one of my post on their landing homepage
"TORUM is a project created exclusively for blockchain companies and cryptocurrency enthusiasts to establish and showcase their personalized cryptocurrency social profiles across the platform. Namely TORUM, the ecosystem consists of a set of comprehensive features and functionalities designed to provide every ecosystem participant the best social interaction and community building experience, such as Company Profile, Clan System, Support Feature, Cryptocurrency Marketplace, Token Depository System, and a Cryptocurrency Exchange." – TORUM whitepaper
TORUM ecosystem is powered by XTM, an ERC-20 token. XTM is the native currency of the social media ecosystem. XTM is used for all kinds of trades, donations and payments. This social media is designed to be integrated with an exchange called XTORUM. Both the platforms will provide mutual benefit to each other. A TORUM user automatically gets a XTORUM account. XTORUM will provide liquidity and value to XTM token. 40% of XTM supply will be supplied to the users of TORUM through its mission system i.e., the users of the platform can earn them free of cost. The circulating supply of XTM will be controlled by two methods – token depository and buyback-burn. The platform focused on innovative digital creatives since the beginning when the NFT mania didn't start properly. Now the project is bringing the world's first Initial Staking NFT Offering (ISNO), featuring 363 limited editions NFTs for public sale. They want to raise $243,000 from ISNO and have made a dedicated DeFi website too. There are 5 tiers of NFTs and those NFTs are also backed by a certain quantity of XTM. As per the project: "Each NFT issued under the ISNO comes with a permanent staking multiplier effect that increases the holders' liquidity farming reward. Upon staking the NFTs on Torum's DeFi platform - Torum Finance, NFT holders can multiply their liquidity provider stake and secure an upper advantage over ordinary liquidity farmers without ISNO NFT."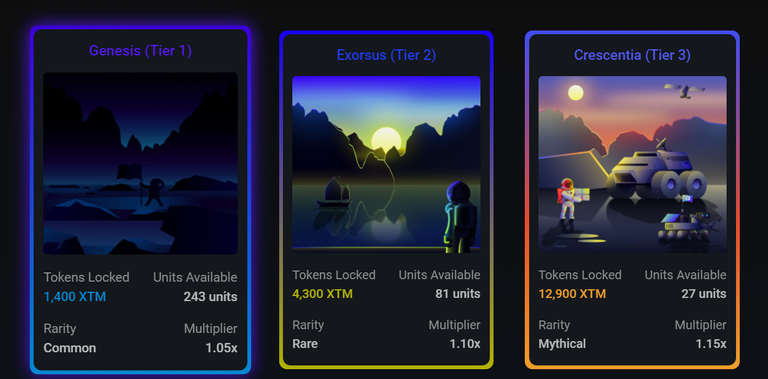 TORUM NFTs backed by XTM
TORUM is creating good buzz. Their novel idea of fundraising through NFTs is really exciting. A design-focused social media, NFTs, trading platform and DeFi – TORUM wants to combine everything. Blockchain-based social media platforms are rising with popularity nowadays. Steemit, Hive, Cents – all projects are creating a good impact. Will TORUM's interactive, light and decently social approach with both long and short text formats be successful? Only time can tell that but all experiments should be embraced with an open heart.
N.B: I joined TORUM as a Beta Lander. You can join with my invitation link. You also get 35 XTM as a reward. TORUM doesn't need your KYC. But it needs your email ID and phone number. You can earn rewards from the platform only if you've verified your email and phone number.
Sign up to TORUM