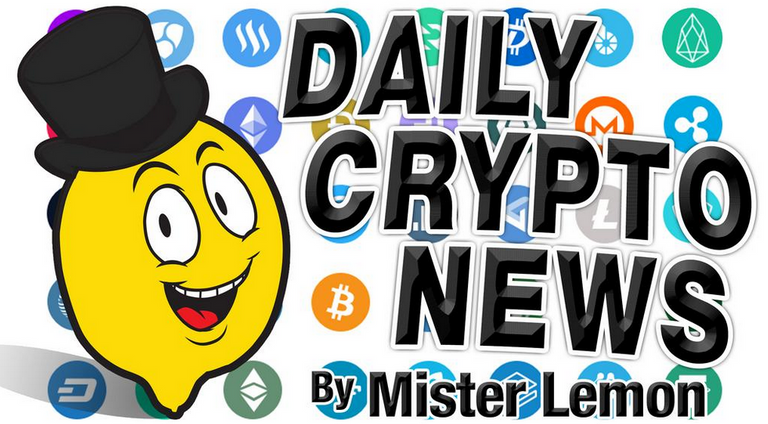 Bitcoin Price Above $11.5K as Key BTC Price Metric Suggests $12K Retest;
Decentralized Finance Frenzy Drives Ethereum Transaction Fees to All-Time Highs;
Down to the Wire: Yam Finance Saved at the Last Minute;
A Million South Koreans Now Using Blockchain-powered Driver's Licenses;
Boom! Kraken Predicts Imminent Bitcoin Price Rally of Up to 200%;
🗞 Daily Crypto Calendar, August, 13th 💰
Welcome to the Daily Crypto News: A complete Press Review, Coin Calendar and Trading Analysis. Enjoy!
Today Bitcoin (BTC) price rebounded from its recent low at $11,125 on Aug 11 to $11,617. This suggests traders are turning optimistic as key data show a significant amount of liquidity for BTC until $12,000.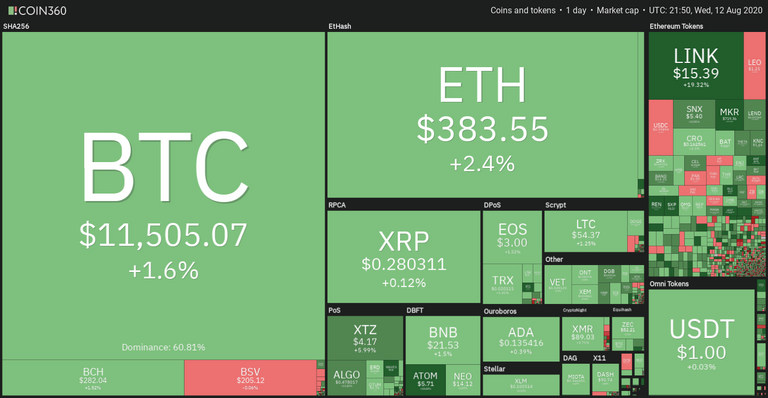 As BTC price rallied, many major altcoins surged in tandem. Chainlink (LINK), which has seen strong gains all week, recorded a 19.6%gain. Meanwhile DeFi-related tokens like including Compound (COMP), Maker (MKR), Aave (LEND), and Cosmos (ATOM), saw gains ranging between 20%-50%.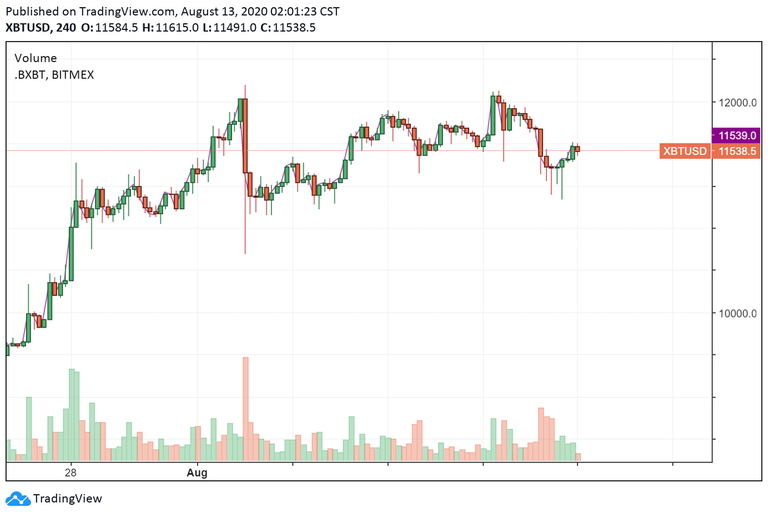 Reasons traders are still bullish on Bitcoin
Historically, the price of Bitcoin has moved toward areas that have the most liquidity and whales tend to target areas with a cluster of buy or sell orders to find sufficient liquidity.
"Green day today. Who could have possibly thought? Well except for me of course. Still a lot of liquidity above us. I say we keep going."

Median transaction fees, which have stayed just below historic highs of $3.03, currently sit at $3.00.
Fees hovered below $1 until mid July when transaction fees started to soar.
Fee increases coincide with surging activity on popular decentralized financial protocols like Uniswap.
At least three similar decentralized finance applications are included on a list of protocols with the highest levels of network utilization, curated by Etherscan.
While Ethereum developers have toyed with numerous technical options to reduce fees by scaling the network's transaction capacity, a possible fix remains months away.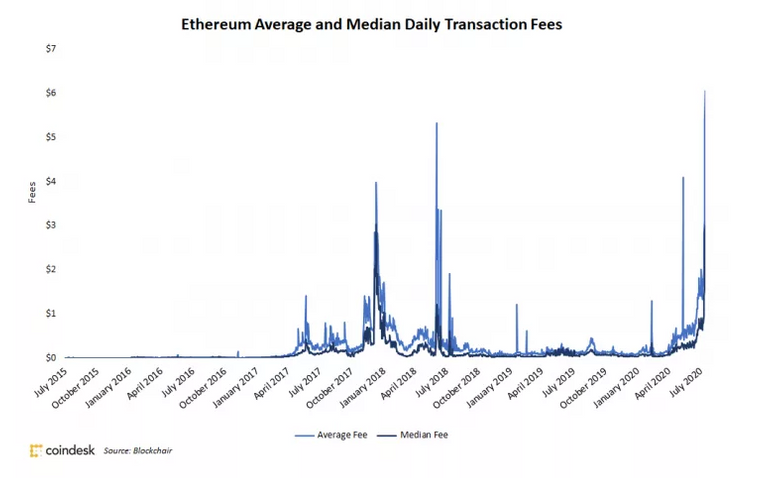 Catastrophe has been narrowly averted by YAM Finance after the DeFi community rallied in support of a campaign to recapture governance over the protocol.
After a tense day, the most talked about new decentralized finance (DeFi) protocol YAM Finance has overcome a near-catastrophic code error.
The future of Yam Finance was abruptly thrown into question earlier today when a bug in the protocol's code resulted in excessive YAM reserves being minted — rendering it "impossible to take any future governance actions."
Over 1 million South Koreans have traded in their plastic driver's licenses in favor of a blockchain-powered, police-issued smartphone-based digital alternative.
Per Daily Kyungjae, the initiative allows drivers to identify themselves to police using barcodes or QR codes, as well as the blockchain-powered PASS smartphone app.
The project won approval from the nation's Ministry of Science and ICT in September last year, but the uptake this year has been encouraging after a rollout in May.
The nation's Korea Road Traffic Authority has also taken part in the project, as have all three of South Korea's biggest mobile carriers: SK, KT and LG U+.
After record strength in the Bitcoin markets at the end of July, Kraken is predicting that BTC could see price gains of up to 200% over the coming weeks and months.
Major U.S.-based crypto exchange Kraken has released a report predicting that Bitcoin (BTC) will rally by between 50% and 200% in the coming months.
The report notes that Bitcoin posted a 21-month low for volatility on July 24 of just 23%, and stated that BTC's 12 historic volatility lows (of between 15% and 30%) have typically been followed by a rally of 140% on average.
With August usually the third-most volatile month for BTC price fluctuations, Kraken is predicting that upward momentum produced by Bitcoin at the end of July will continue for several months to come.
🗞 Daily Crypto Calendar, August, 13th💰

"Swipe is hosting a #Reddit AMA on Thursday August 13th."
"Not only will we be launching our biggest store yet on Thursday but we'll also release our updated roadmap for 2020 since we're ahead..."
"... We'll also release our updated roadmap for 2020 since we're ahead of schedule on progress."
"Community AMA with Vite leadership on Aug 13, 9am PDT (California)!"
Elite (1337), Blockstack (STX)
To kick off our partnership with DeSpread. We're doing an AMA for our community in Korea."
Avalanche IOU (AVAX), Cosmos (ATOM)
"Join us on Aug 13 at 9:30am PDT/ 12:30pm EST, for a live meetup with @chjango , @billyrennekamp , and @el33th4xor to discuss..."
Last Updates


➡️ Be paid daily to browse with Brave Internet Browser
➡️ A secure and easy wallet to use: Atomic Wallet
➡️ Youtube
➡️ LBRY
➡️ Publish0x
➡️ UpTrennd
➡️ Read.cash
➡️ Minds
➡️ Hive
➡️ Twitter
➡️ Facebook
Proud member of: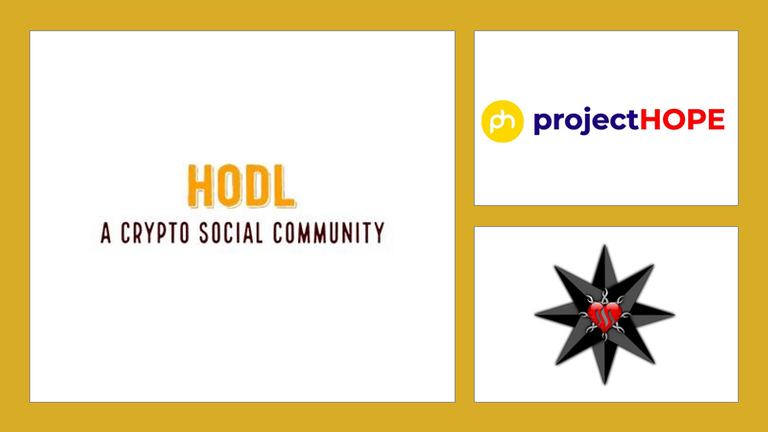 20% of this article rewards wil go to the @hodl-fund account in order to support HODL Community Initiatives.
Find out more about HODL Community: Crypto Social Community and by following our community account @hodlcommunity

If you would like to delegate some HP to our community and support us; we give you back 90% of the curation rewards on a daily basis ! APR > 13% !
500 HP - 1000 HP - 2500 HP - 5000 HP
Make a good APR Curation by following our HIVE trail here