Welcome to the Daily Crypto News: A complete News Review, Coin Calendar and Analysis. Enjoy!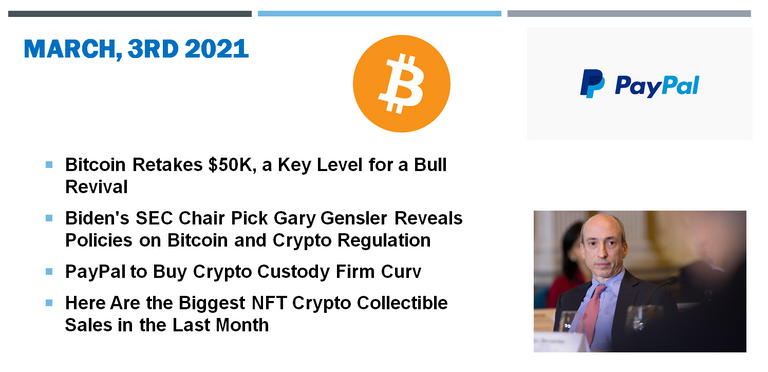 Bitcoin has once more crossed above $50,000, possibly marking an end to the recent price pullback and a revival of the broader uptrend.
The top cryptocurrency by market value is trading near $50,950 at press time – up 3.86% in 24 hours – having dropped from record highs above $58,000 to $43,000 in late February, according to CoinDesk 20 data.
"The correction looks to have ended with a move above $50,000," John Ng Pangilinan, managing partner at Singapore-based Signum Capital, told CoinDesk. Securing a foothold above that level is key to the resumption of the broader uptrend and a move toward new record highs, he said.
Bitcoin's latest break above the psychological hurdle looks sustainable because the futures market is in a far healthier state than in mid-February when excess bullish leverage was seen. Further, institutional demand remains strong, as highlighted by the recent outflows from cryptocurrency exchange Coinbase Pro.
Gary Gensler, President Joe Biden's pick to lead the U.S. Securities and Exchange Commission (SEC), has revealed his policies on bitcoin and other cryptocurrencies if confirmed as the SEC chairman. Gensler is a professor at MIT who teaches cryptocurrencies. He previously served as the chairman of the Commodity Futures Trading Commission (CFTC).
SEC Chair Nominee Gary Gensler Talks About Bitcoin Regulation
Professor Gary Gensler has spoken about what his focus will be regarding bitcoin and other cryptocurrencies if he is confirmed as chairman of the SEC. His statements were made during his confirmation hearing before the Senate Banking Committee on Tuesday.
Gensler is a professor at the MIT Sloan School of Management, where he is also co-director of [email protected] and senior advisor to the MIT Media Lab Digital Currency Initiative. He teaches blockchain technology, digital currencies, financial technology, and public policy. Gensler is also a former Goldman Sachs partner who served as the chairman of the CFTC during the Obama administration.
PayPal is said to be in the process of buying Curv, a technology firm that powers the secure storage of cryptocurrency, according to three sources familiar with the situation.
Israeli news outlet Calcalist reported Tuesday that Curv was being sold for between $200 million and $300 million, without naming the buyer.
"PayPal is buying Curv for $500 million," a source from within the digital asset custody space told CoinDesk on Monday. "From where I'm hearing it, I'm pretty sure it's true."
The prices of some non-fungible tokens have surged to over $1.5 million over the past month.
CryptoPunks and Hashmasks are still the most expensive NFTs in terms of per-item prices.
Over the past month, the top five biggest non-fungible token (NFTs) projects generated over $366 million in sales, with NBA Top Shots being responsible for the lion's share of that figure, according to metrics platform CryptoSlam. But while Top Shots took the majority of the volume, its biggest sales were dwarfed by one of Ethereum's earliest NFT projects.
The biggest crypto collectible sale last month (excluding one-off NFT sales), was $1.545 million—paid in cryptocurrency—for the CryptoPunk called "ape in a fedora." CryptoPunks are an NFT collection of "pixel-art" avatars, which have retained their status as some of the most expensive digital collectibles. They are mostly human faces but also include apes and zombies.
🗞 Daily Crypto Calendar, March, 3rd💰

"#PAID will team up with Unifarm's "Cohort 3" to deliver a group farming initiative... Cohort 3 will start on March 3rd, 2021 | 2.30 PM GMT"
Polkadot (DOT), Uniswap (UNI)
"The contracts will be launched in batches spaced out throughout March, with DOT and UNI listing at 04:00 UTC on 3 March."
"This beta [on Matic] will take place on Wednesday 3 March for a 7 days duration (save the date)."
Flow - Dapper Labs (FLOW)
"Veteran artist @BenMauro993 is bringing EVOLUTION... This epic NFT release is set to take place on 03.03.21, exclusively on @VIV3com"
Wabi founders answering your questions and sharing news, announcements in Wabi Telegram group.


➡️ Youtube
➡️ LBRY
➡️ Twitter
➡️ Hive
➡️ Publish0x
➡️ Den.Social
➡️ Torum
➡️ UpTrennd
➡️ Read.cash
➡️ Spotify
➡️ Be paid daily to browse with Brave Internet Browser
➡️ A secure and easy wallet to use: Atomic Wallet
➡️ Invest and Trade on Binance and get a % of fees back
➡️ Check out my video on Unstoppable Domains and get 10$ off a 40$ domain purchase
➡️ Get 25$ free by ordering a free Visa Card on Crypto.com using this link or using this code qs4ha45pvh


20% of this article rewards wil go to the @hodl-fund account in order to support HODL Community Initiatives.
Find out more about HODL Community: Crypto Social Community and by following our community account @hodlcommunity

If you would like to delegate some HP to our community and support us; we give you back 90% of the curation rewards on a daily basis ! APR > 12% !
500 HP - 1000 HP - 2500 HP - 5000 HP
Make a good APR Curation by following our HIVE trail here