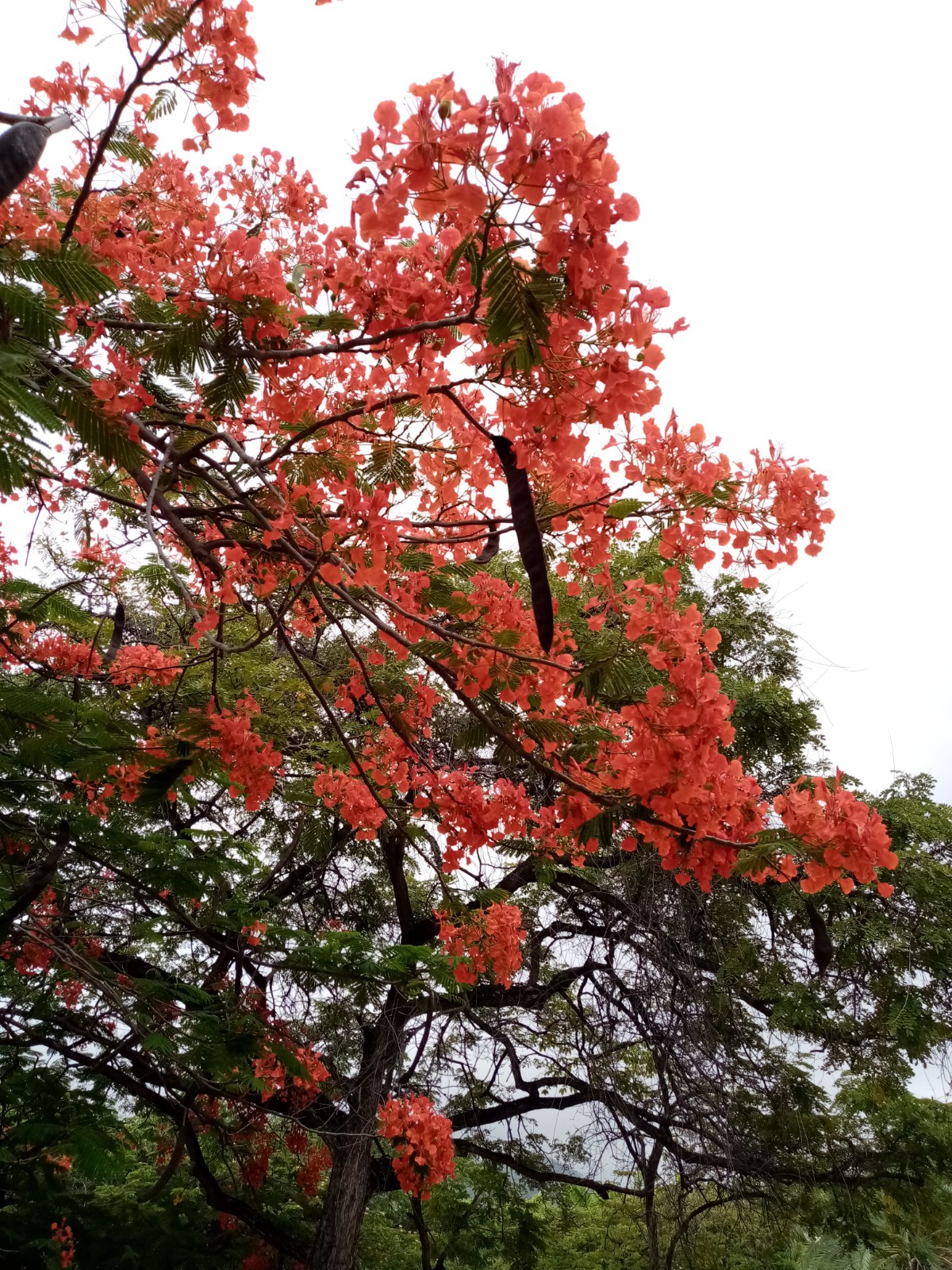 Hello friends of HIVE and AMAZIN NATURE:
Hola amigos de HIVE y AMAZIN NATURE:
---
This is my entry to the Amazing Nature Contest, June 2021-#02, to share content about amazing nature.
Esta es mi entrada al Concurso Amazing Nature, June 2021-#02, para compartir contenidos sobre la asombrosa naturaleza.
---
Thanks to this appreciated community, @adalger and curators for the call for proposals.
Gracias a esta apreciada comunidad, @adalger y curadores por la convocatoria.

This post is inspired by a beautiful ornamental tree, the Delonix regal , which is part of my fond memory.
It was located in the front garden of my home, and was one of my favorite areas for my childhood games. It is also a remembrance of the adjacent zones and green areas of the campus of my beloved Universidad de Oriente, Venezuela.
Este post está inspirado en un hermoso árbol ornamental el Delonix regal, que forma parte de mi memoria afectiva.
Se encontraba en el jardín frontal de mi hogar, y era una de las áreas preferida de mis juegos infantiles. Así como también es una remembranza de las zonas adyacentes y áreas verdes del campus de mí amada Universidad de Oriente, Venezuela.
---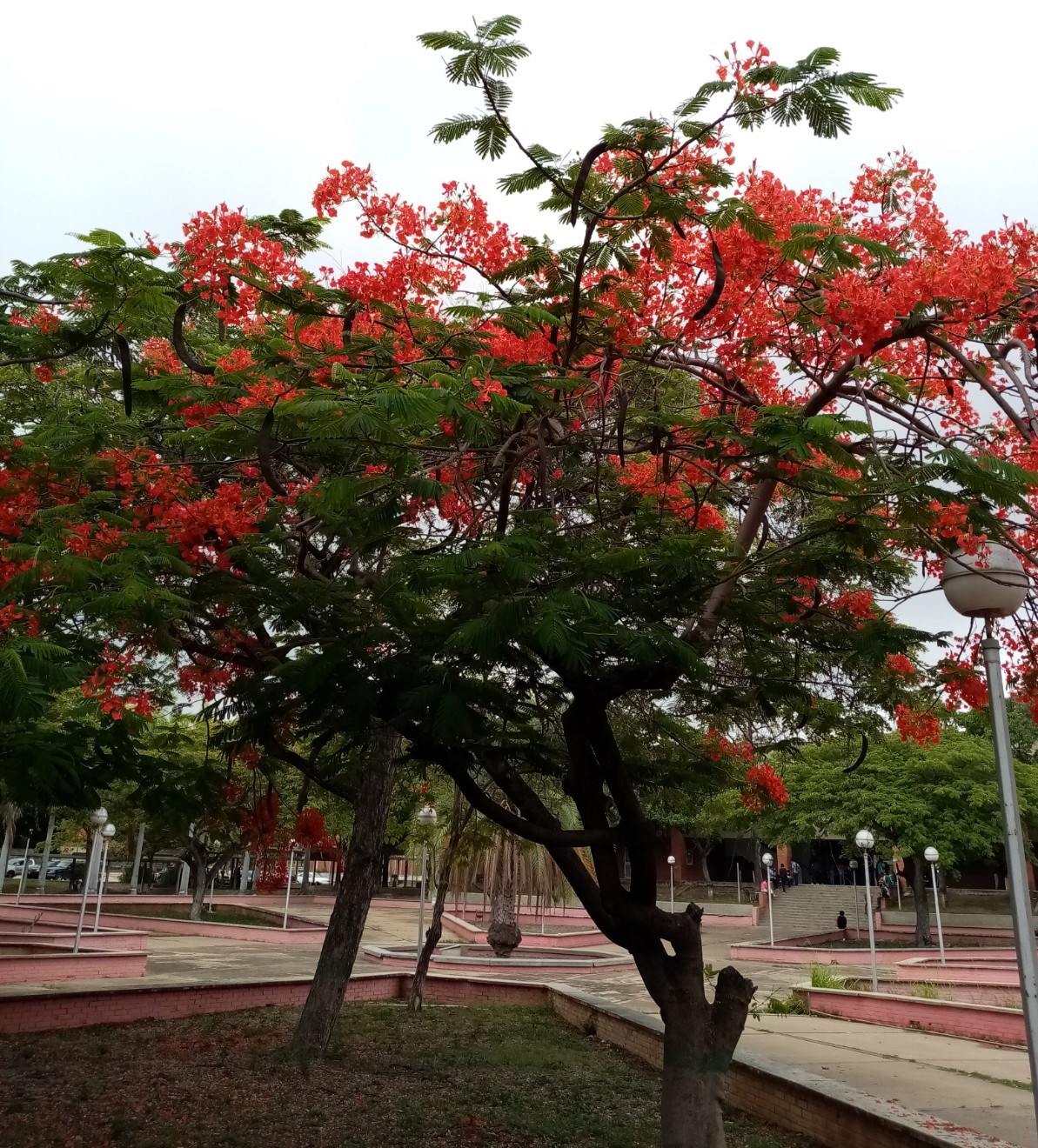 Since I was a child, majestic presence of of this plant with its thick, sloping trunk, leafy umbrella-shaped foliage and its deciduous cycle awakened my interest in discovering and enjoying the wonderful and surprising nature.
Desde niña la majestuosa presencia de esta planta, con su grueso e inclinado tronco, frondoso follaje en forma de paraguas y su ciclo caducifolio despertó mí interés por descubrir y disfrutar de la maravillosa y sorprendente naturaleza.
---
GENERAL CHARACTERISTICS
CARACTERÍSTICAS GENERALES
---
It is a tree of the Fabaceae family, genus: Delonix, its scientific name is Delonix regal, native of Madagascar, Africa.
Es un árbol de la familia de las fabáceas, género: Delonix, su nombre científico es Delonix regal, oriundo de Madagascar, África.
---
It has several popular names among them: Framboyan, Flamboyant, Malinche, Fire tree, Chivato, Red Acacia or Josefina in Venezuela, and in the state of Anzoátegui it is called gallito (little cockerel) because of the shape of its petals.
Tiene variados nombres populares entre ellos: Framboyán, Flamboyant, Malinche, Árbol de fuego, Chivato, Acacia roja o Josefina en Venezuela, y en el estado Anzoátegui se le denomina gallito por la forma de sus pétalos.
---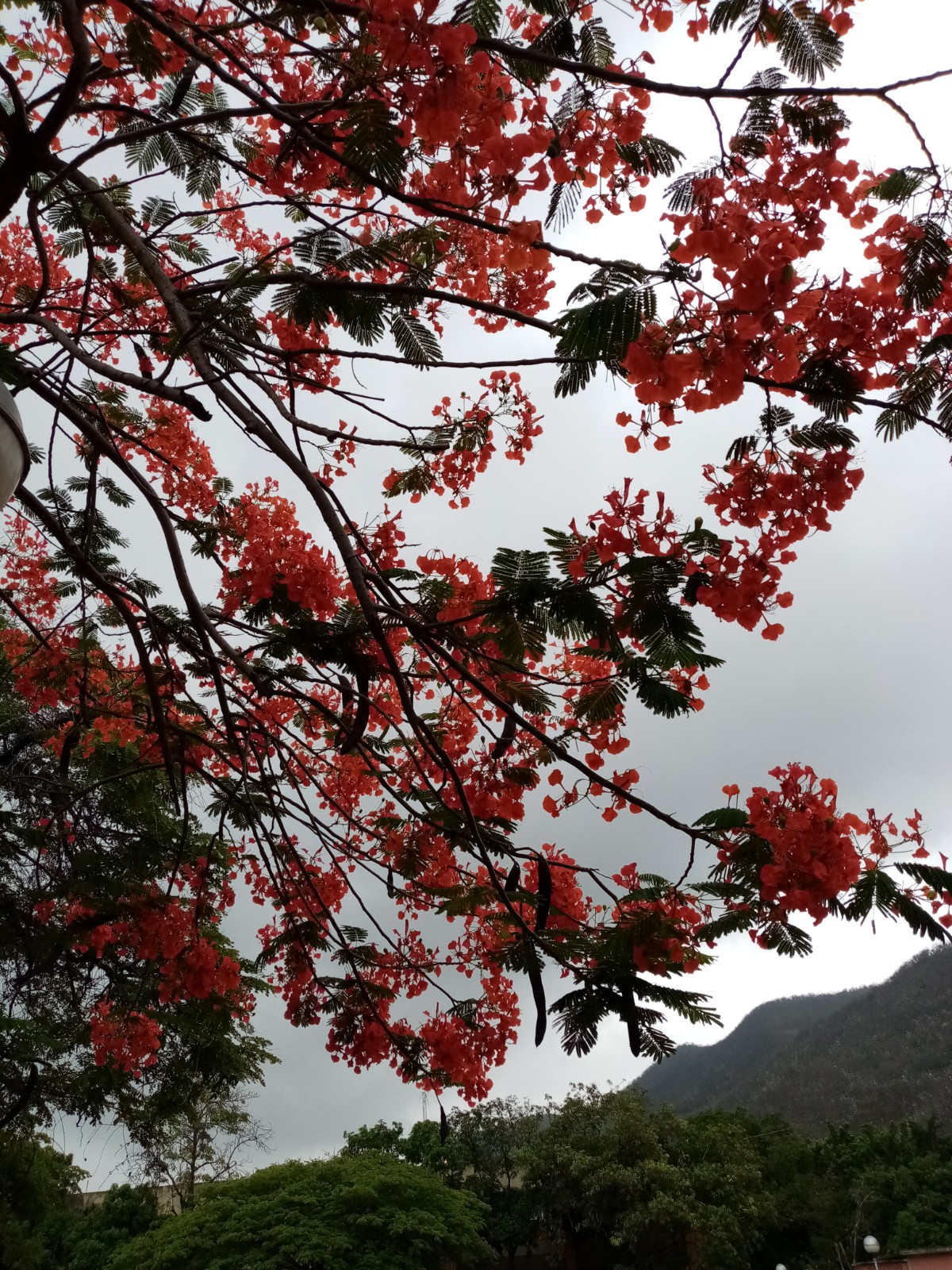 Its flowers are orange or red and stand out among the radiant green of its leaves, even on cloudy days.
Sus flores son anaranjadas o rojas y resaltan entre el verde radiante de sus hojas, aun en días nublados.
---
It is a tropical climate species, requires little care, withstands periods of drought and places near the sea.
Es una especie de clima tropical, requiere poco cuidado, soporta bien los periodos de sequías y lugares próximos al mar.
---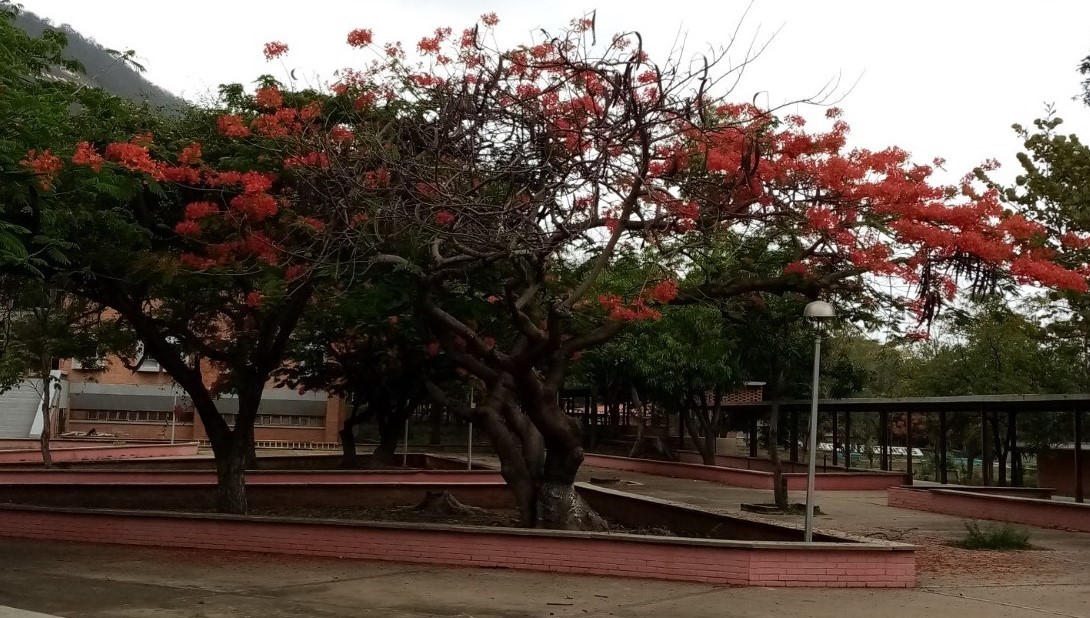 It is a deciduous plant, annually replaces its leaves with new ones showing the cycles of change and renewal of the wonderful nature, which gives us optimism and energy to enjoy the different phases of life.
Es una planta caducifolio, anualmente sustituye sus hojas con otras nuevas mostrando los ciclos de cambios y renovación de la maravillosa naturaleza, que nos brinda optimismo y energía para disfrutar las diferentes fases de la vida.
---
It can grow up to twelve meters (12 m) high. For this reason, and in addition to its leafy branches and strong invasive roots, it is important to provide sufficient area for its growth.
Puede crecer hasta doce metros (12 m) de altura. Por esta razón, y adicionalmente sus frondosas ramas y fuertes raíces invasivas es importante prever el área suficiente para su crecimiento.
---
FLOWERS
FLORES
---
One of its most striking features are its colorful flowers, which measure between 5 to 8 cm in length, growing in groups as an extension of the branches.
Una de sus características más llamativas son sus coloridas flores, las cuales miden entre 5 a 8 cm de longitud, crecen en grupos como prolongación de las ramas.
---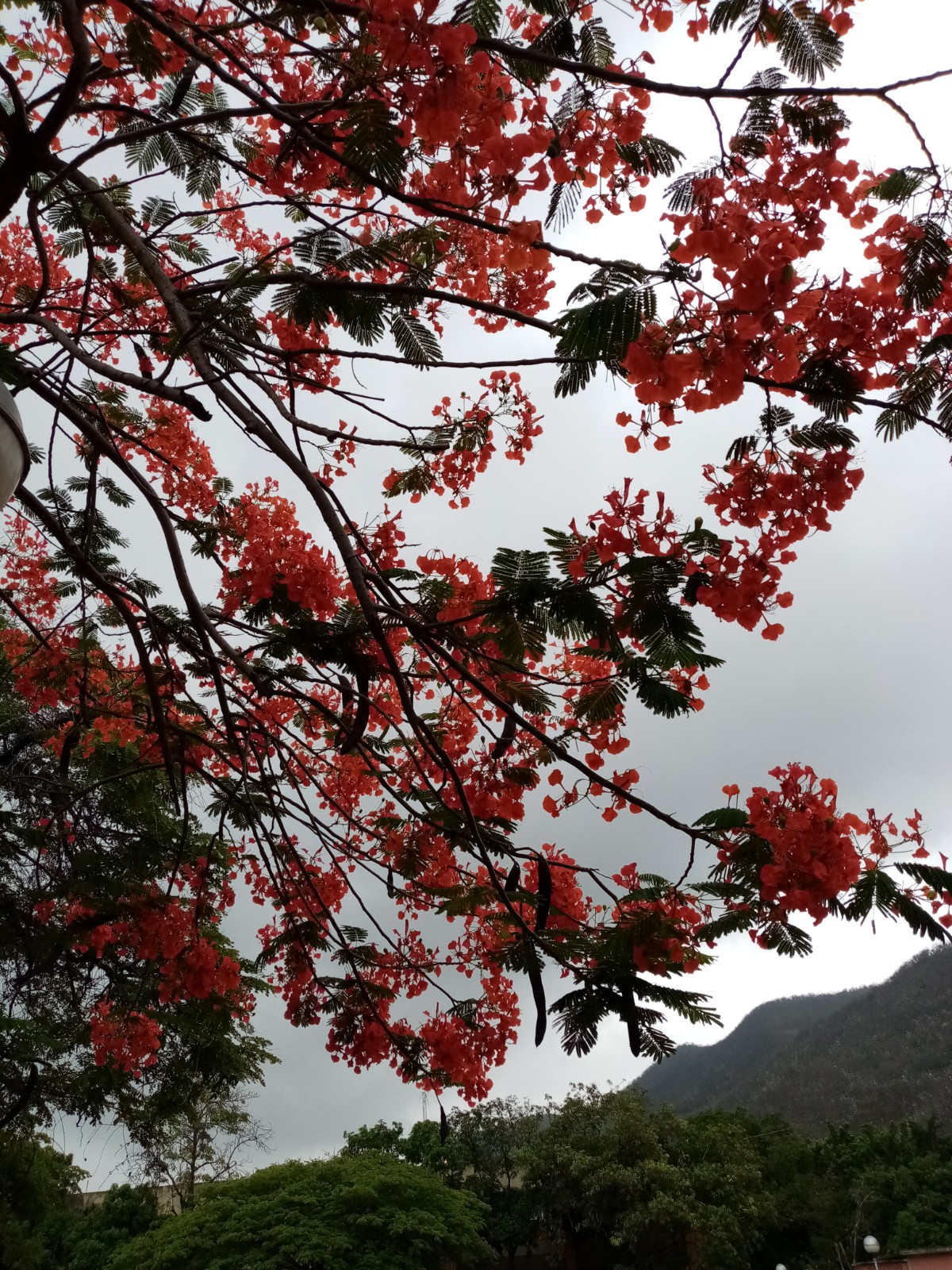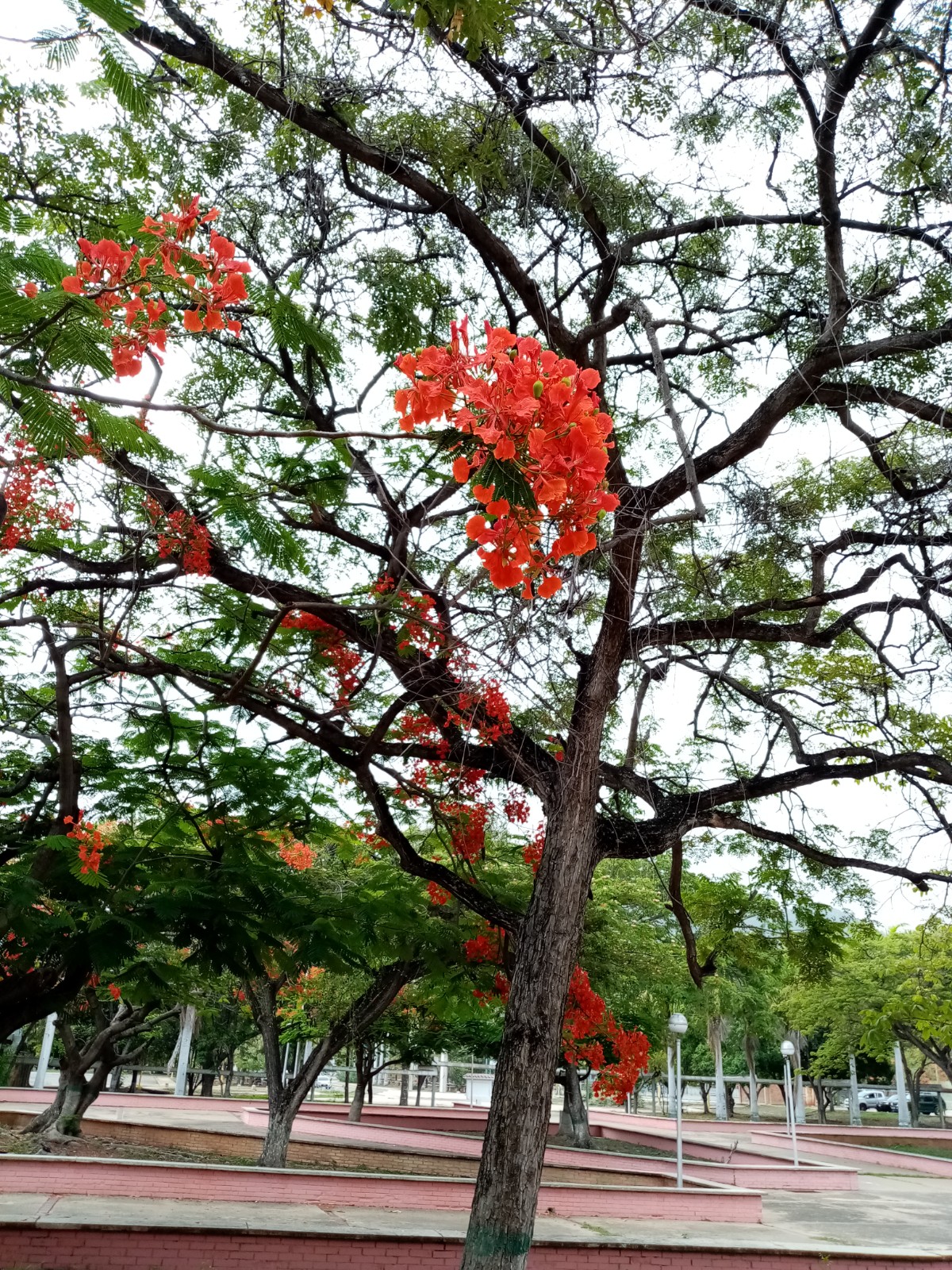 The petals are asymmetrical in the form of "claw", with irregularly shaped edge and separated from each other, its color captivates and delights the observer.
Los pétalos son asimétricos en forma de "garra", con borde de forma irregular y separados entre sí, su color cautiva y deleita al observador.
---
The flowering period is variable depending on the place and climate. In Venezuela it intensifies during the months of May to July, time of greater rainfall.
El periodo de floración es variable depende del lugar y clima. En Venezuela se intensifica durante los meses de Mayo a Julio, tiempo de mayor pluviosidad.
---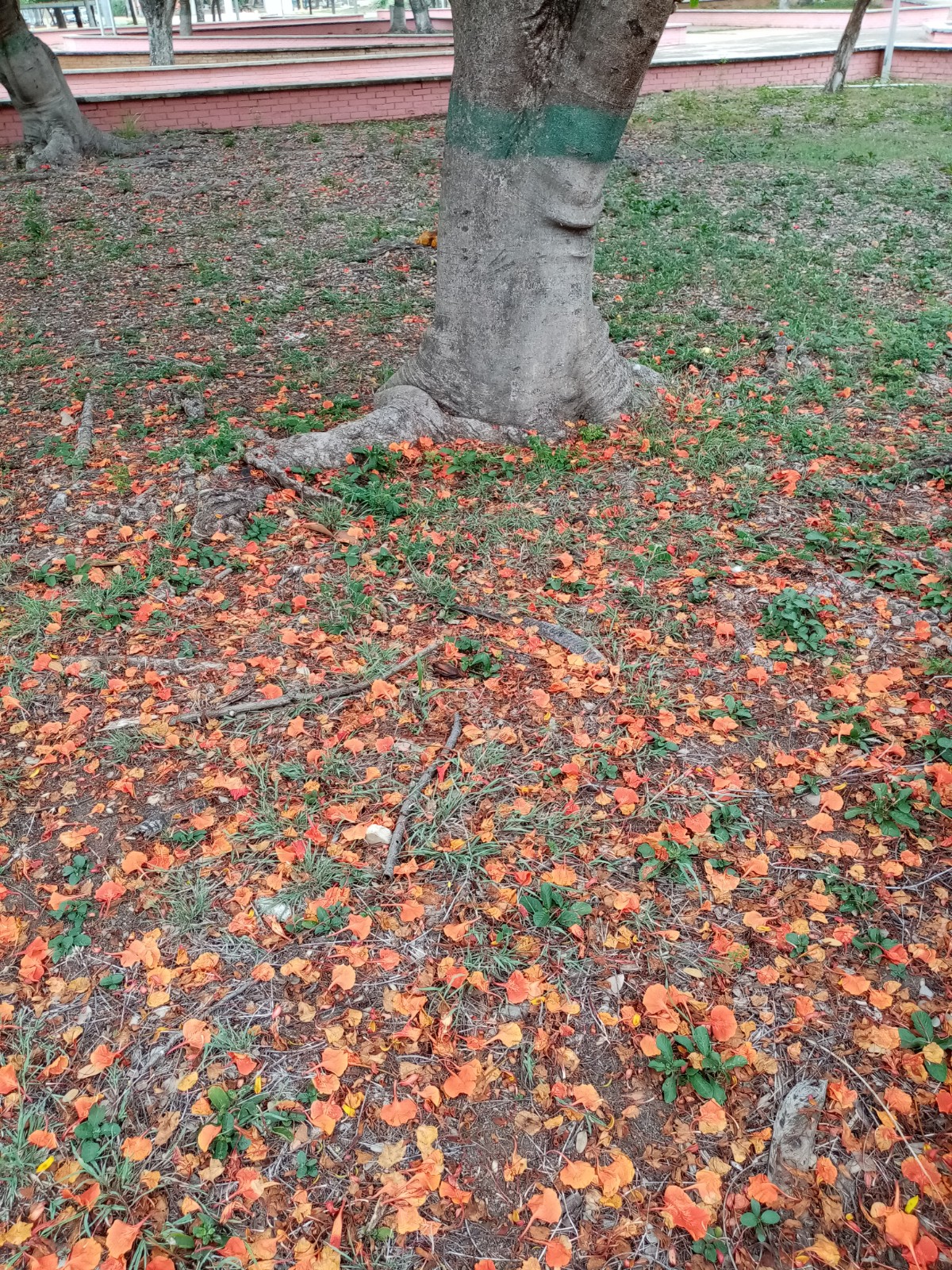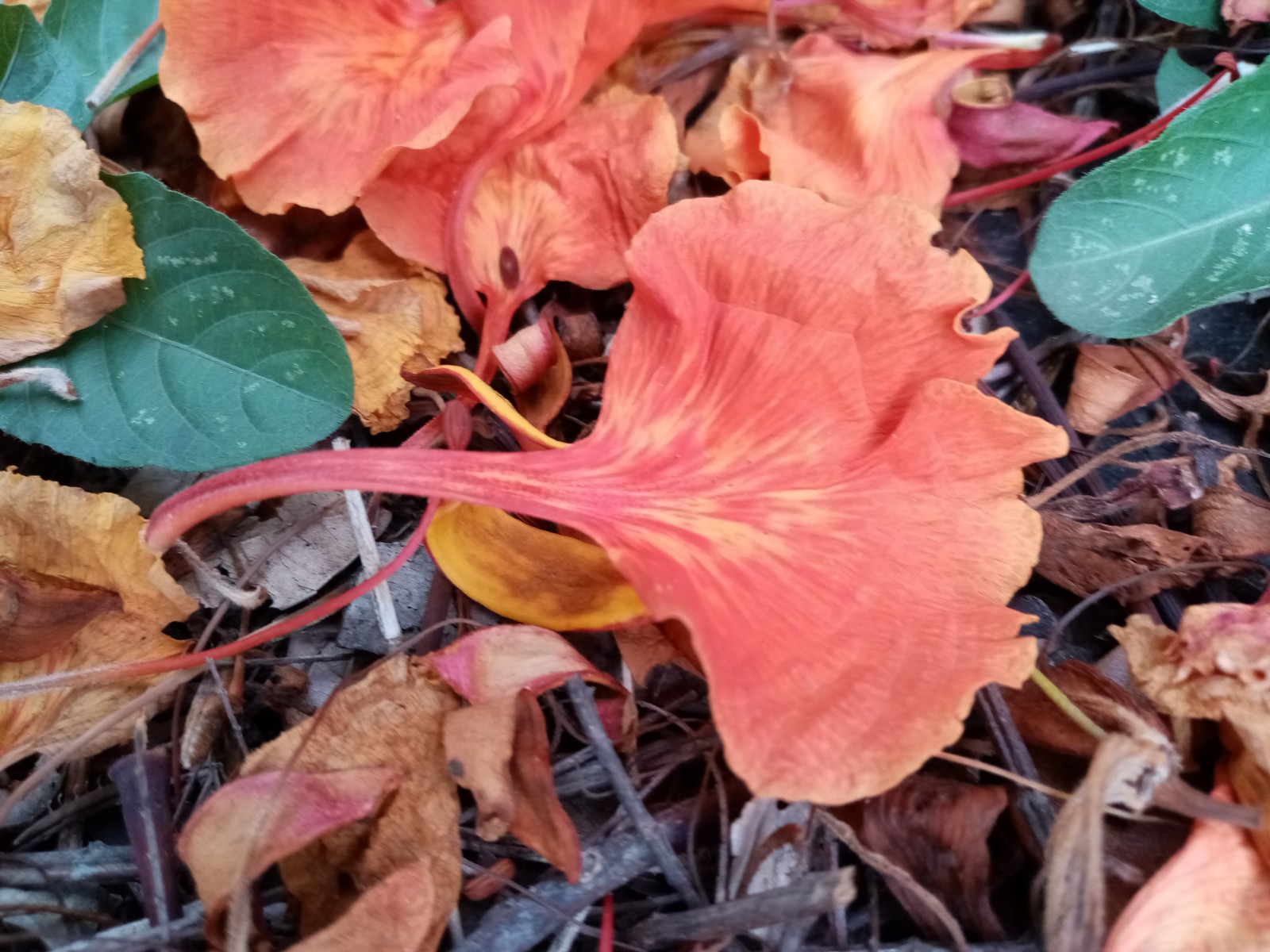 Today the wind is cold and humid, announcing rain, the branches of the trees move to the rhythm of the wind, the petals of the flowers fall and create a spectacular natural carpet of multiple colors and textures, great! .
Hoy el viento es frío y húmedo anunciando lluvias, las ramas de los árboles se mueven al ritmo del viento, los pétalos de las flores caen y crean una espectacular alfombra natural, de múltiples colores y texturas, grandioso!.
---
What do you think?, this spontaneous and artistic expression of nature.
Que te parece?,esta expresión espontanea artística de la naturaleza.
---
LEAVES AND FRUIT
HOJAS Y FRUTO
---
Delonix regal, has many branches and they are usually dense, generating shade, sheltering in it is a wonderful experience, a roof of natural leaves.
La Delonix regal, tiene muchas ramas y suelen ser densas, generando sombran, refugiarse en ella es una experiencia maravillosa, un techo de hojas naturales.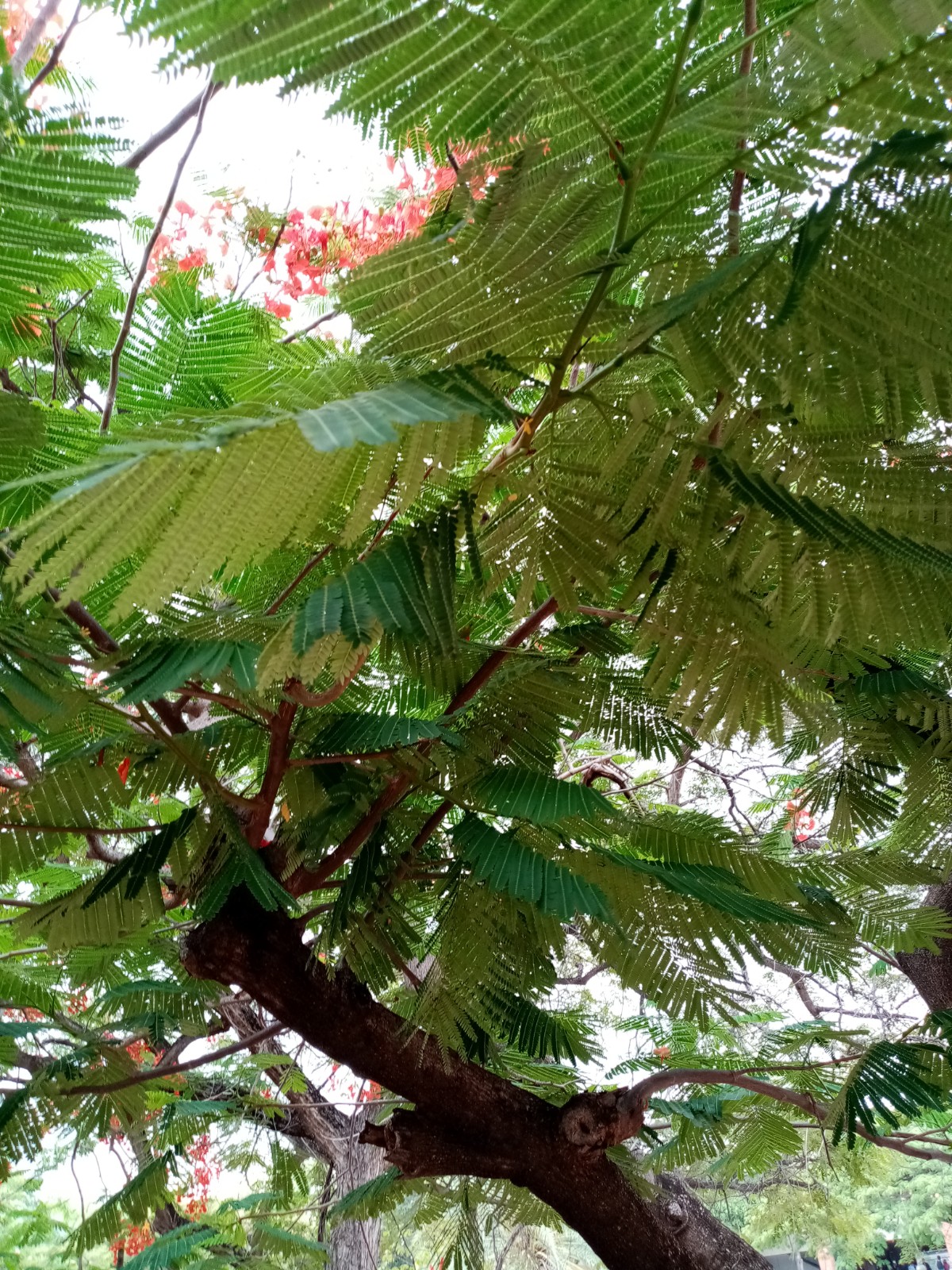 ---
The branches and leaves invite you to get closer to discover more details of its dense pattern, they are formed by bipinnate leaves, 30 to 50 cm long, which are divided into smaller oval leaves, formed by two rows of tiny leaves.
Las ramas y hojas invitan acercarse para descubrir más detalles de su tupido tramado, están formadas por hojas bipinnada, de 30 a 50 cm de largo, que se dividen en hojas ovaladas más pequeñas formada por dos hileras de diminutas hojas.
---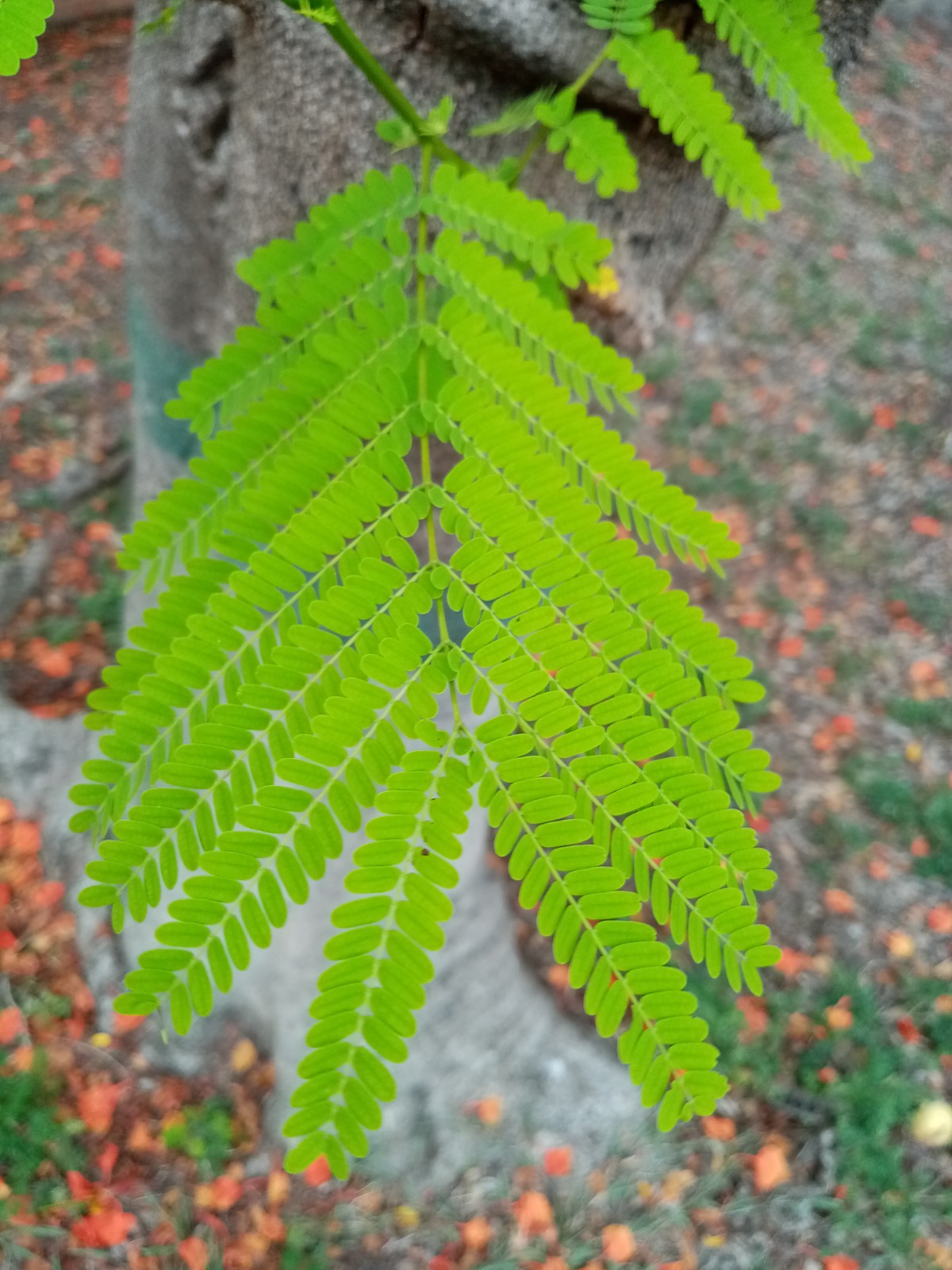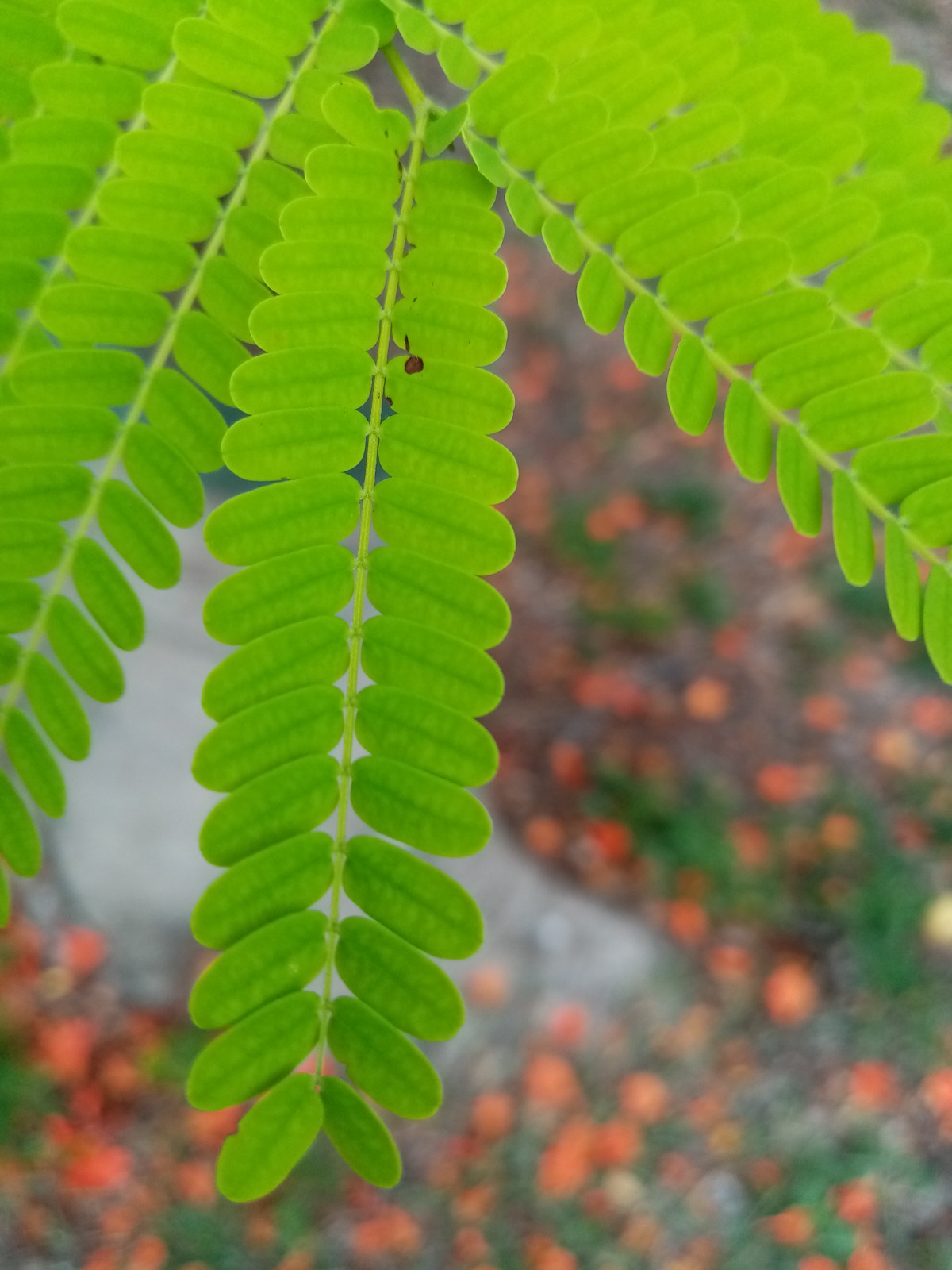 The leaves are fascinating for their intense and shiny green color, and the elliptical shape of their pinnae, how harmonious and perfect.
Las hojas son fascinantes por su color verde intenso y resplandeciente, y la forma elíptica de sus pinnas, cuanta armonía y perfección.
---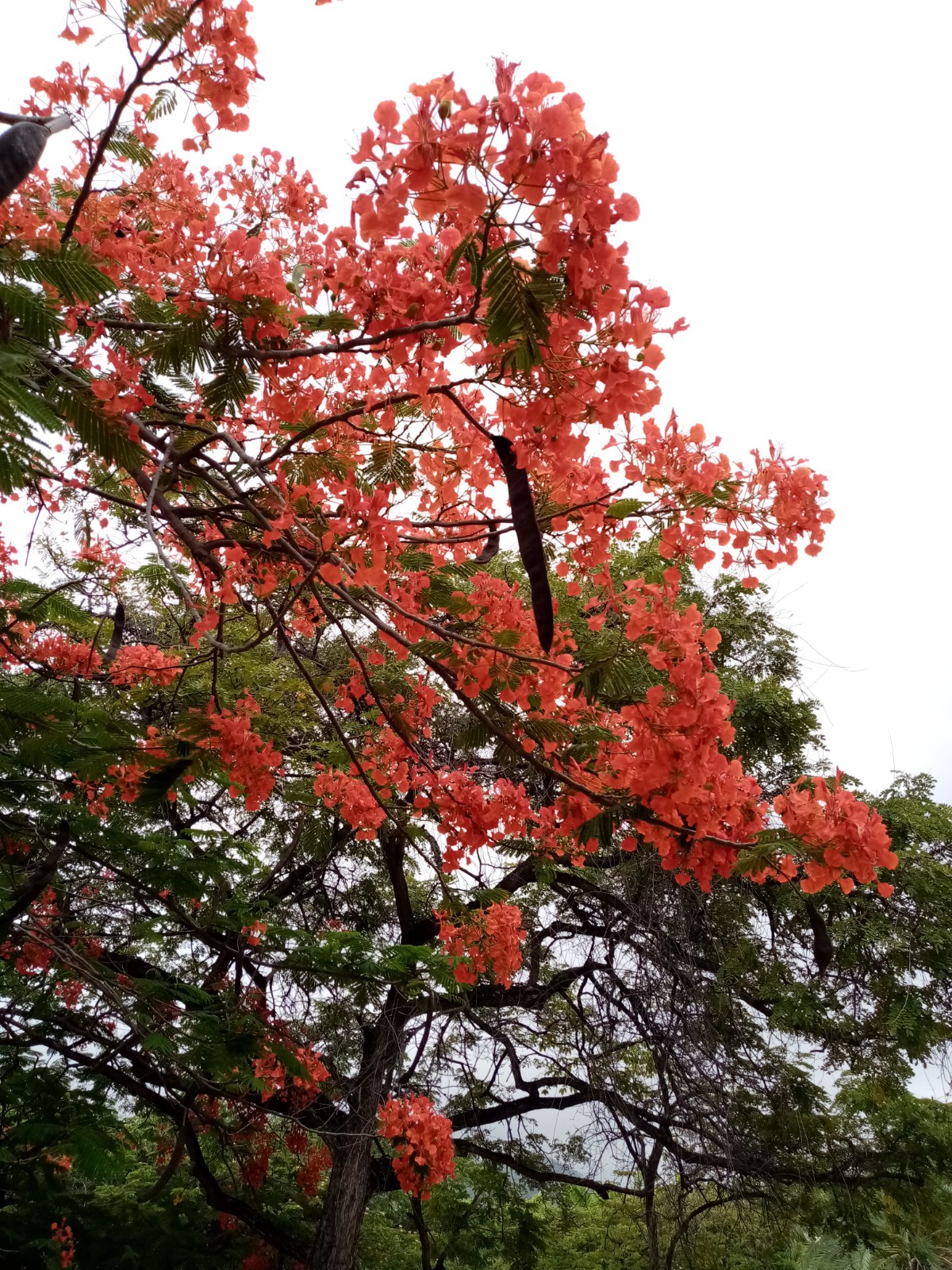 The fruit is a flat bean, approximately 5 cm wide and 40 to 50 cm long.
El fruto es una judía o habichuela plana mide aproximadamente 5 de cm de ancho y 40 a 50 cm de largo.
---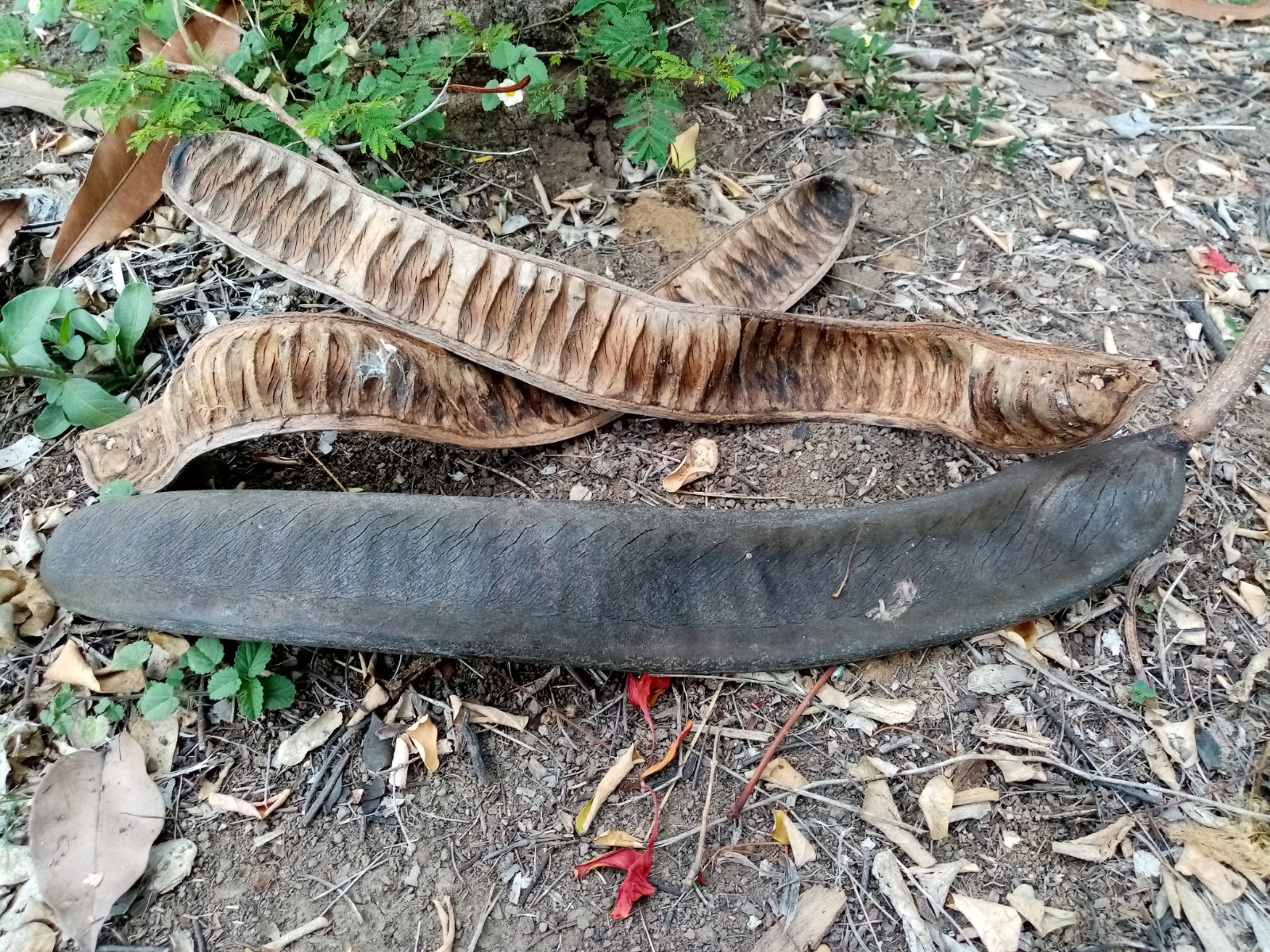 The fruit with hard, oval seeds that are used for the reproduction of the plant.
El fruto tiene semillas duras y ovaladas que son utilizadas para la reproducción de la planta.
---
USES
USOS
---
They are varied, among them in natural medicine, the flowers are used for respiratory ailments and the bark to reduce the pain of rheumatism and joints.
Son variados, entre ellos en la medicina natural, son utilizadas las flores para afecciones respiratorias y la corteza para disminuir el dolor del reuma y articulaciones
---
As animal feed the branches are used, and the pods with their seeds are used in handicrafts and percussion instruments, such as maracas called shak-shak.
Como alimento para animales se aprovechan las ramas, y las vainas con sus semillas son utilizadas en artesanías e instrumentos de percusión, como las maracas denominadas shak-shak.
---

The Delonix regal is a silent witness of several generations of children and university students, fortunate to have it in our environment.
La Delonix regal, es testigo silencioso de varias generaciones de niños y universitarios, afortunados de tenerla en nuestro entorno.
---

Thank you for reading my posts, thank you for your time.
Gracias por leer mis post, gracias por su tiempo
---

The surprising nature is very generous and offers us daily the opportunity to discover and enjoy its diversity.
La sorprende naturaleza es muy generosa y nos ofrece a diario la oportunidad de descubrir y disfrutar su diversidad.
---

Let's care of nature, it is wonderful.
Cuidemos la naturaleza, es maravillosa
---

---
Bibliographic Resources
Recursos Bibliográficos
---
Catalogo Virtual de Flora del Valle de Aburra
https://catalogofloravalleaburra.eia.edu.co/species/36
---
Delonix regia https://todoarboles.com/delonix-regia/
---
Flamboyán, Flamboyant, Árbol de la llama. Delonix regia (Bojer) Raf. https://fichas.infojardin.com/arboles/delonix-regia-flamboyan-arbol-llama.htm
---
Information Photos and source.
Información de las fotos y figuras.
---
All the imagen are de mi propiedad @raizayanez, Estado Anzoátegui, Venezuela.
---
The separator of Amazing Nature was used with permission
---
The good-bye banner was made with Power Point and free figures from pixabay.com.
Todas las fotos son de mi propiedad
@raizayanez
, Estado Anzoátegui, Venezuela.
---
El separador de Amazing Nature fue utilizado con su autorización.
---
El banner de despedida fue elaborado con Power Point y figuras libres de pixabay.com
---