Saludos querida comunidad finalmente he culminado el proyecto de ajedrez a crochet , desde que comencé a trabajar el 4 de agosto ha pasado tanto tiempo que me embarga la alegría de haber concluido, siento que sin el apoyo de ustedes no me habría sentido tan motivada, cada uno de sus comentarios los aprecio mucho, hoy les comparto como hacer el tablero y espero se sientan igual de felices que yo al ver todo el resultado.
Greetings, dear community, I have finally completed the crochet chess project, since I started working on August 4, so much time has passed that I am overwhelmed with joy at having finished, I feel that without your support I would not have felt so motivated, each I really appreciate one of your comments, today I share with you how to make the board and I hope you feel as happy as I do when you see the whole result.

Materiales / Materials
Para el tablero se necesita 65 gramos de hilo acrílico blanco y 65 gramos de negro, ganchillo # 3 y tijera.
For the board you will need 65 grams of white acrylic yarn and 65 grams of black acrylic yarn, #3 crochet hook and scissors.

Proceso / Process
---
Antes de comenzar sugiero tomar el hilo y hacer 8 ovillos de 15 gramos (4 por cada color).
Con hilo negro hacer 112 cadenas.
Hacer 14 puntos altos en color negro 14 puntos altos en color blanco, intercalar tomando una hebra de cada ovillo, de este modo cada cuadro de color tendrá un ovillo.
Sugiero colocar cada ovillo en un frasco para mantener el orden y evitar que las hebras se enreden.
Hacer 9 hileras con la misma secuencia.
Before starting, I suggest taking the thread and making 8 balls of 15 grams (4 for each color).
With black thread make 112 chains.
Make 14 treble crochets in black, 14 treble crochets in white, insert taking a thread from each ball, in this way each colored square will have a ball.
I suggest placing each skein in a jar to maintain order and prevent the strands from tangling.
Make 9 rows with the same sequence.
---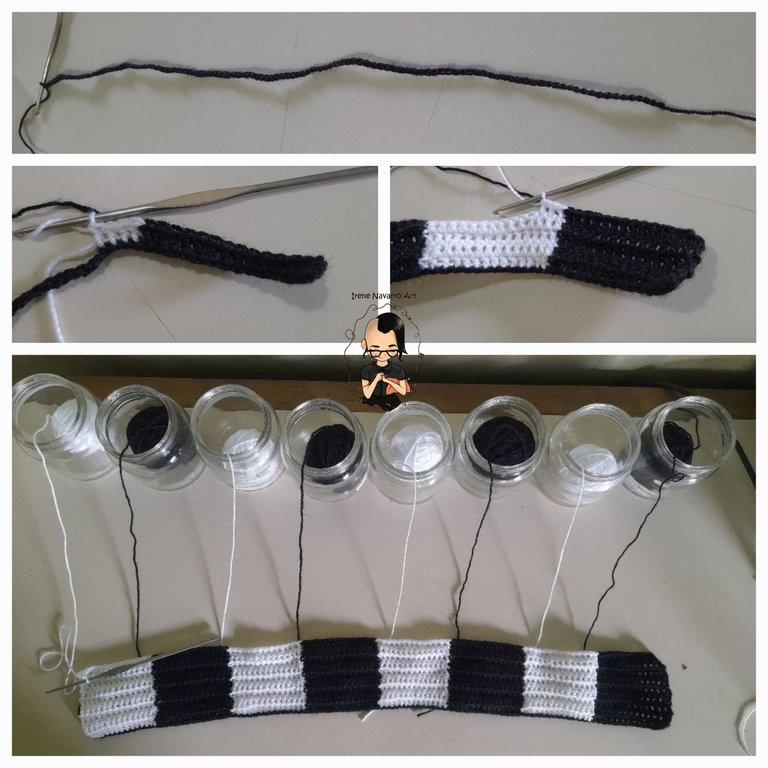 ---
En la décima hilera se tiene que intercambiar el color de los cuadros, para esto se toma la hebra negra más próxima y la blanca se va esconder por debajo de los 14 puntos altos negros, como se muestra en las flechas de la imagen.
Se intercambia el color cada 9 hileras.
In the tenth row you have to exchange the color of the squares, for this the closest black strand is taken and the white one is going to hide below the 14 black treble crochets, as shown by the arrows in the image.
The color is exchanged every 9 rows.
---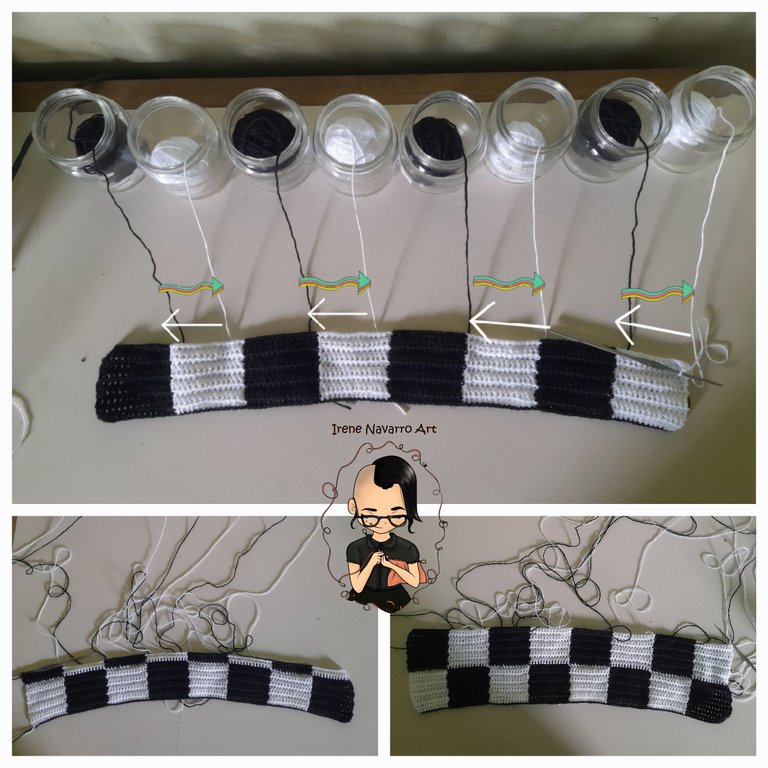 ---
Continuar con la secuencia hasta hacer 72 hileras, es decir que son 8 cuadros de color del lado vertical y del lado horizontal, como se observa en la imagen, dando un total de 64 cuadros.
Continue with the sequence until you make 72 rows, that is, there are 8 squares of color on the vertical side and on the horizontal side, as shown in the image, giving a total of 64 squares.
---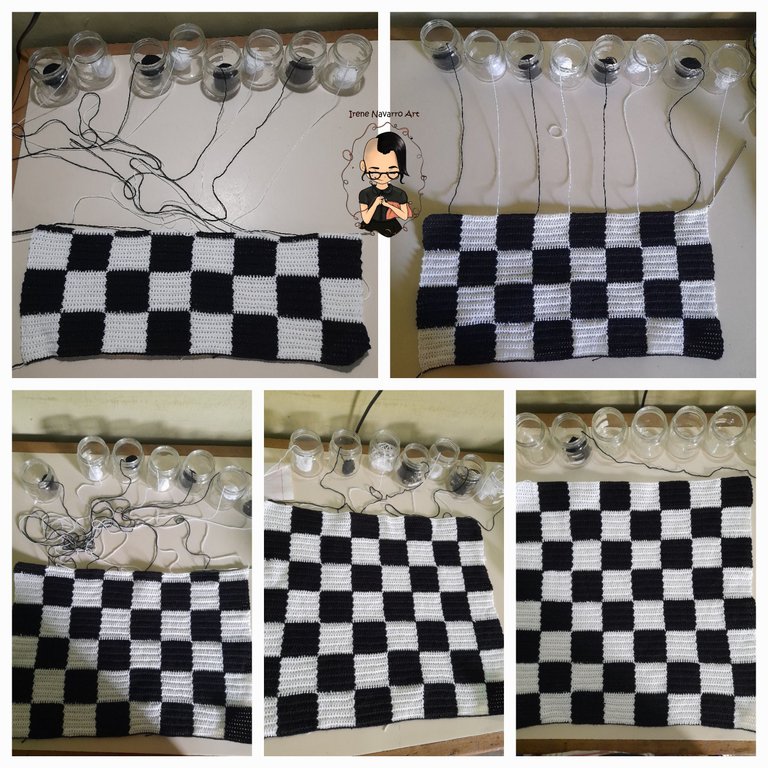 ---
Con hilo negro hacer una hilera de puntos bajos por todo el borde.
With black thread make a row of single crochets around the edge.
---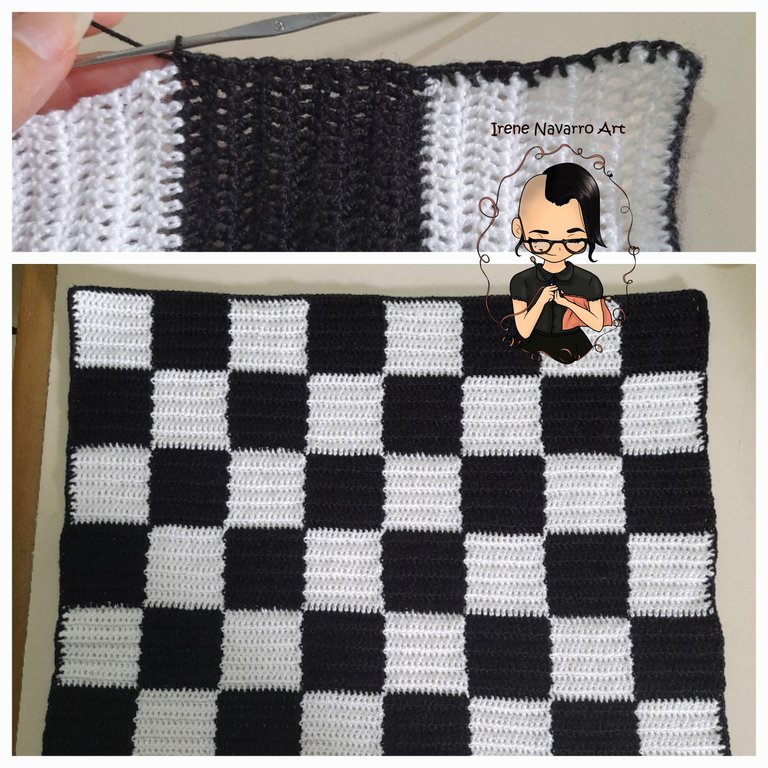 Resultado / Result
Con el tablero listo y las 32 piezas hechas anteriormente no queda más que ponerse a jugar y disfrutar de este ajedrez a crochet, espero les haya gustado y de nuevo gracias por acompañarme.
With the board ready and the 32 pieces made previously, there is nothing left to do but start playing and enjoy this crochet chess, I hope you liked it and thanks again for joining me.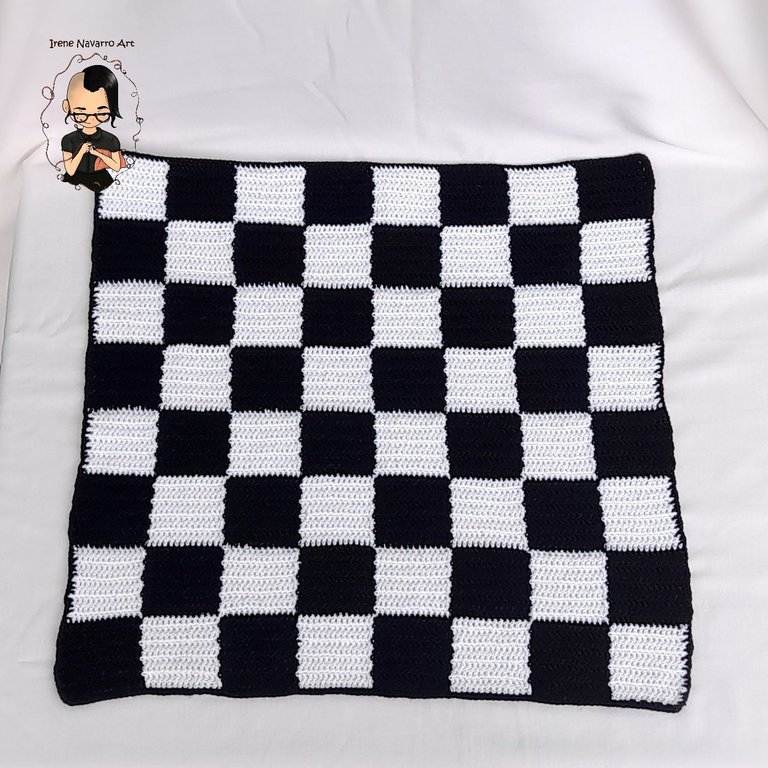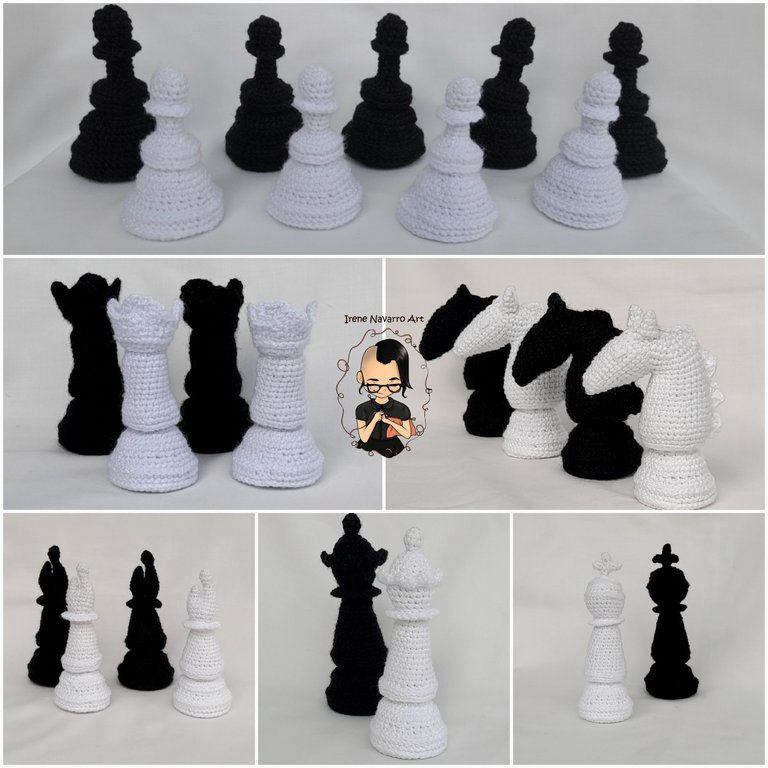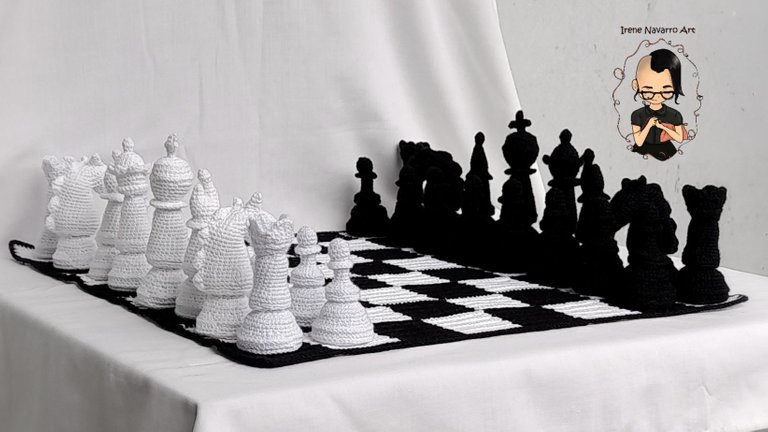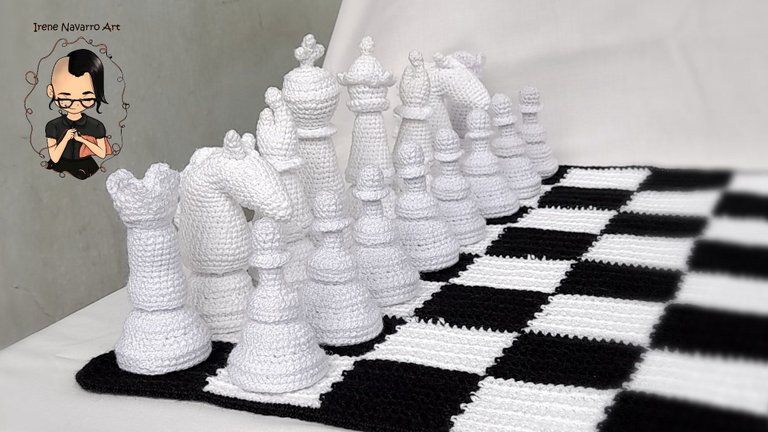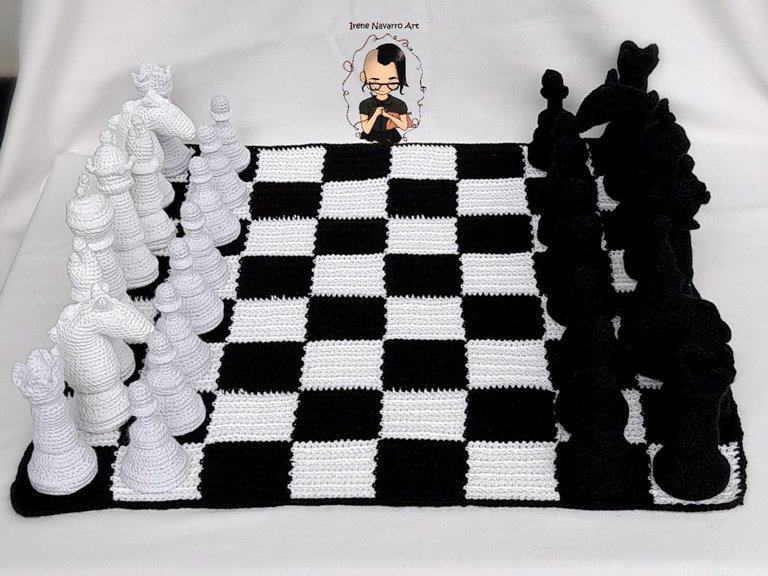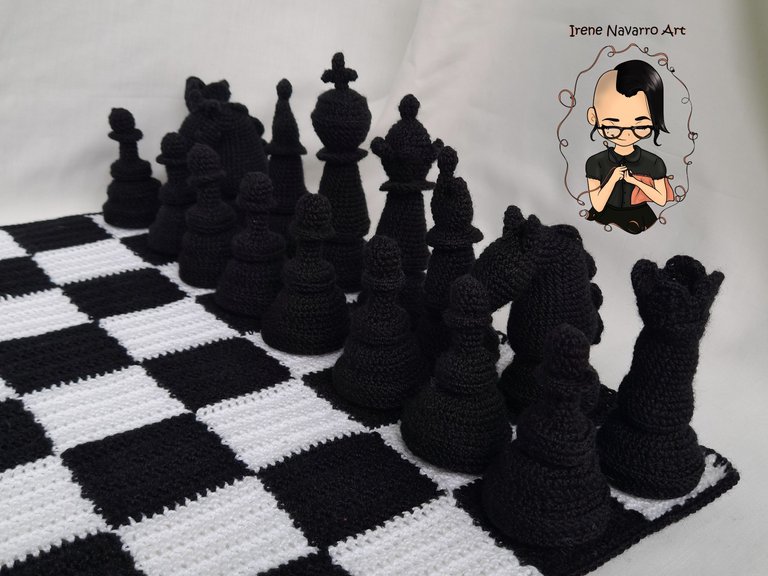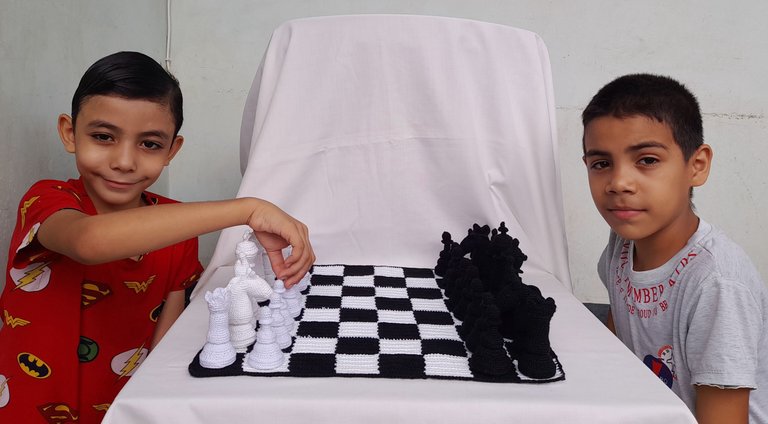 Ajedrez a crochet – Parte 1: Peón
Ajedrez a crochet – Parte 2: Torre
Ajedrez a crochet – Parte 3: Alfil
Ajedrez a crochet – Parte 4: Caballo
Ajedrez a crochet – Parte 5: Reina
Ajedrez a crochet- Parte 6: Rey
Imágenes tomadas con dispositivo Samsung A12.
Pictures taken with Samsung A12 device.
Invítenme un Café/Support Me on Ko-Fi


https://ko-fi.com/irenenavarroart

---
Si deseas apoyar mi contenido también puedes hacer donaciones por el valor de un café en Ko-Fi
If you want to support my art you can also make donations for the value of a coffee (Ko-Fi)
---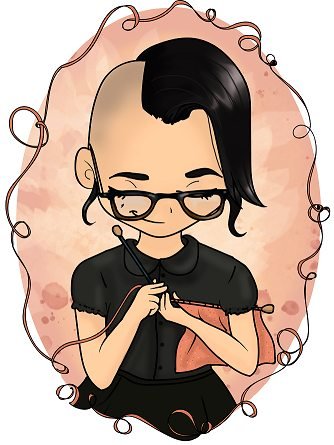 Espero les haya gustado. Les invito a leer mis próximas publicaciones y siempre estaré dispuesta a responder sus preguntas y comentarios, también pueden seguirme y contactarme en cualquiera de mis redes sociales. ¡Muchas gracias!
I hope you liked it. I invite you to read my next publications and I will always be willing to answer your questions and comments, you can also follow me and contact me on any of my social networks. Thank you!