It's time to begin our DREEMPORT BREAK WEEK, and I'm so glad that it's finally arrived! This was a nice long, full challenge that had a ton of heart! But now it's time to move to our next chapter and see what's in store for us to try in November!
As always, we love trying new things as a group!
It's not as scary.
We get to learn together
There is no more procrastinating! The challenge begins and you're invited! no more "maybe next week" just join in with the group and have a blast!
I'm super excited that for this challenge we have a PRO that actually BEGAN this movement 15 years ago! What movement?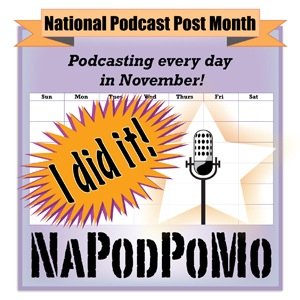 Image by Laura Ross
The NaPodPoMo ! That's right.... we are jumping into PODCASTING!!! and Jennifer Navarrete (@epodcaster on Hive) is the founder!
DO NOT WORRY! You're not alone and you will have TONS of fun and TONS of help!
During the break week, you're invited to an interview with Jennifer on the twitter Hive Space with @alessandrawhite and @shadowspub this coming Tuesday!
I would HIGHLY recommend that you join into that , follow these amazing ladies and ask questions! This will be a great opportunity to get to know people and start to mingle!
You will also get some amazing tips to start your first assignment - which is creating your preview for your podcast!
I'm SO looking forward to this month of November! I never considered podcasting but now is the BEST time to try it out with a bunch of dreemers and our PRO Jennifer Navarette leading the way!!! If you miss out on this month, you are absolutely going to be missing out on a wealth of knowledge and the opportunity to be working right alongside someone who can give you the BEST launch into this world. COME TRY!!!! Don't miss out!!! Don't let fear or nerves stop you - Just TRY IT!
Come join in!
SUPER IMPORTANT LINKS AND GROUPS TO JOIN!
NaPodPoMo Links:
Web http://napodpomo.org
FB Group https://www.facebook.com/groups/napodpomo
Twitter Hashtag https://twitter.com/search?q=%23napodpomo&src=typed_query&f=live
Hive Community https://peakd.com/c/hive-128305/created
Hive NaPodPoMo Account https://peakd.com/@hive-128305

Thanks to @shadowspub, @bluefinstudios, @kenechukwu97, @kemmyb, @jamerussell, @mypathtofire, @melinda010100, @samsmith1971 and @dreemsteem for making the @dreemport voting power go farther! ❤️
---