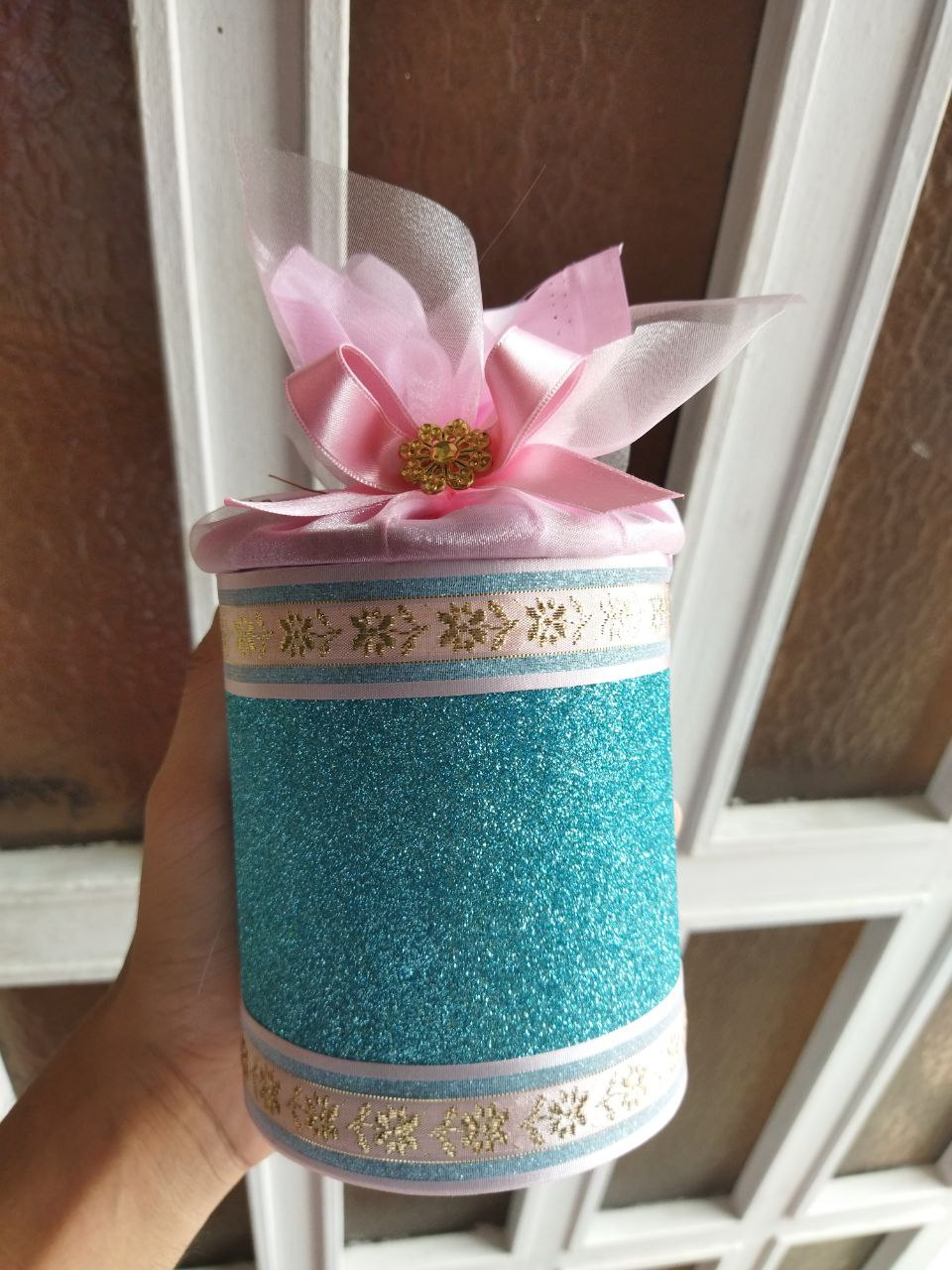 Feliz noche, querida comunidad, en esta oportunidad les traigo este maravilloso cotillón con una lata de lechea, realizada para una de mis clientas favoritas para el cumpleaños de su bebé. Luego de 1 año realizando hermosas creaciones para los cumple mes de la niña, llegó el fin con su primer añito
Happy evening, dear community, this time I bring you this wonderful party favors with a can of milk, made for one of my favorite clients for her baby's birthday. After 1 year making beautiful creations for the birthday of the girl, the end came with her first year
Los materiales son los siguientes:
Latas de leches
Foami escarchado del color de tu preferencia.
Encajes
Tela
Silicón frío
Silicón en barra.
Tijeras.
Regla.
Lapiz.
Milk cans
Frosted foam in the color of your choice.
Lace
Cloth
Cold sylicon
Stick silicone.
Pair of scissors.
Rule.
Pencil
El primer paso será marcar y recortar en el foami el espacio necesario para cubrir el borde de nuestra lata de leche. En mi casi fueron, 12 de alto y 23 cm de largo. Tuve que empatar los pedazos.
The first step will be to mark and cut the necessary space in the foam to cover the edge of our milk can. In me they were almost 12 high and 23 cm long. I had to match the pieces.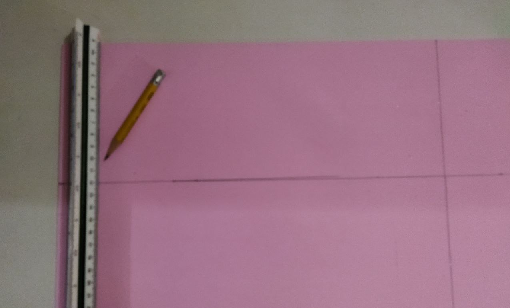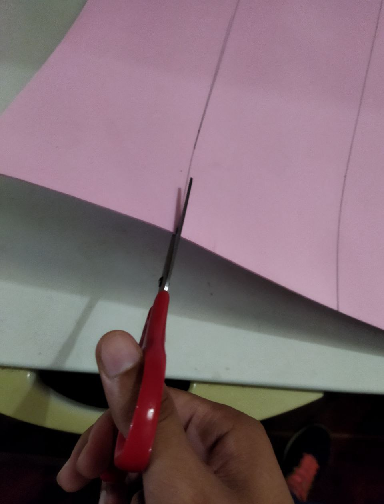 Lo que hemos recortado, lo vamos a pegar con silicón a nuestra lata hasta cubrirla por completa.
What we have cut out, we are going to glue it with silicone to our can until it is completely covered.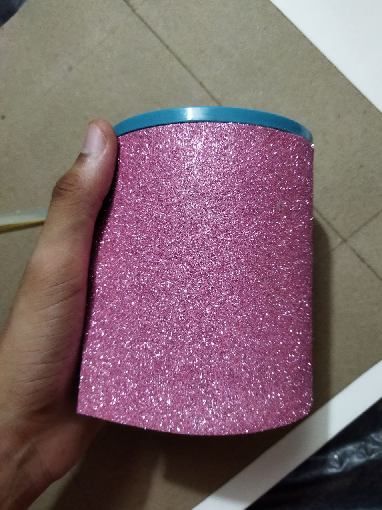 Por otra parte, vamos a forrar y cubrir la tapa de la lata de leche, para esto utilizaremos tela, en este caso utilicé de dos tipos para que quedara un acabado mejor, tela de tul y una sencilla. La recortamos de 20x20cm y vamos a cubrir toda la tapa de esta forma y apretamos con un hilo o alambre
On the other hand, we are going to line and cover the lid of the milk can, for this we will use fabric, in this case I used two types for a better finish, tulle fabric and a simple one. We cut it 20x20cm and we are going to cover the entire lid in this way and tighten with a thread or wire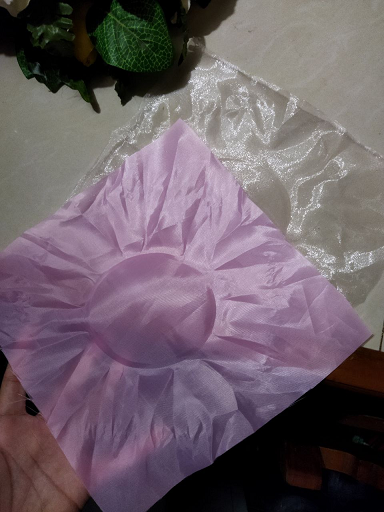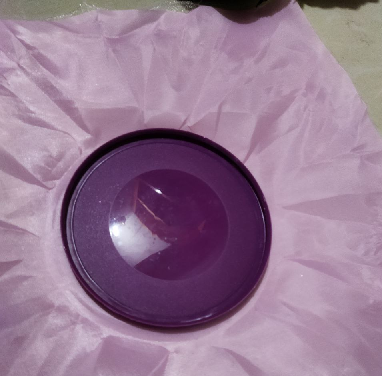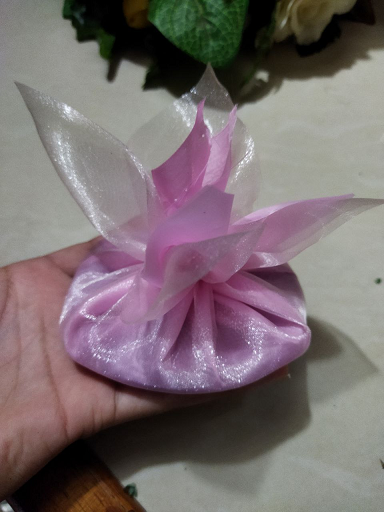 Luego de haber realizado la tapa, vamos a decorar la parte de afuera con unos hermosos encajes de tela brillante, ustedes pueden colocar las de su preferencia, pero sin duda alguna este tipo de encajes y cintas me pareció bellísimo y combinaban demasiado.
After having made the cover, we are going to decorate the outside with some beautiful shiny fabric lace, you can place the ones of your preference, but without a doubt this type of lace and ribbons seemed beautiful to me and they combined too much.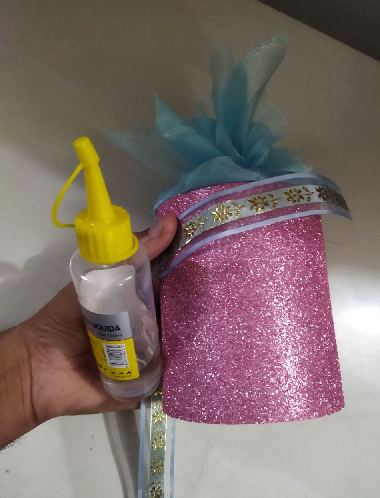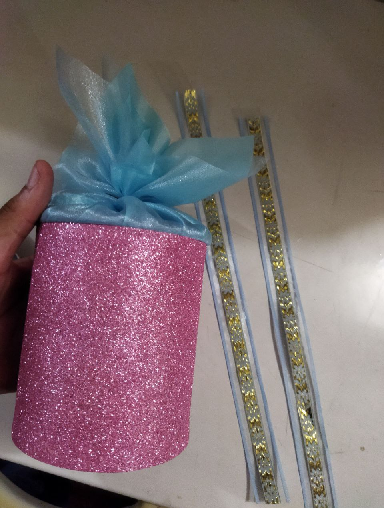 Podemos agregar etiquetas de carrusel u otro motivo que sea acorde con la temática que busquen. Personalizando aún más nuestra creación.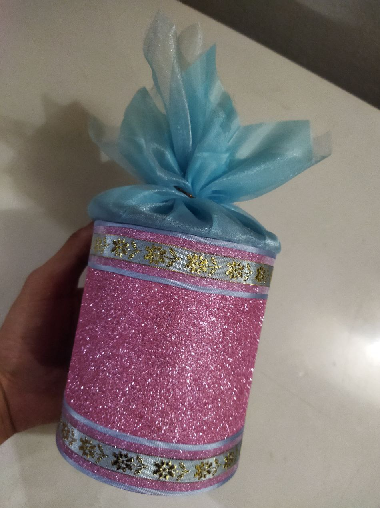 Hemos terminado nuestra lata decorada, que para nosotros ha sido uno de las más bonitas creaciones que hemos realizado. Acá donde ven, tuvimos que realizar muchísimas, de colores varios y acá comparto algunas de ellas. Es una idea única y bonita, y que pueden aprovechar las latas de leche de sus bebés y tener unos bonitos cotillones
We have finished our decorated tin, which for us has been one of the most beautiful creations we have made. Here where you can see, we had to do a lot, of various colors and here I share some of them. It is a unique and beautiful idea, and that they can take advantage of their babies' milk cans and have some nice party favors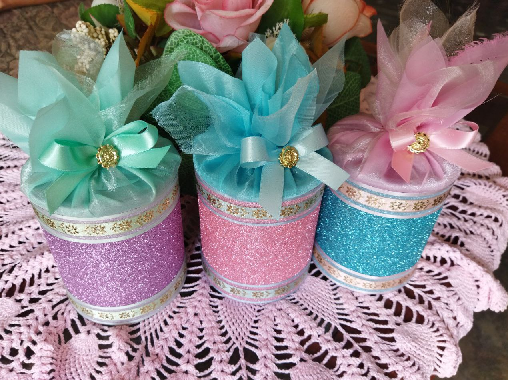 Fotos de mi autoría tomadas desde Redmi 9T.
Photos of my authorship taken from Redmi 9T.