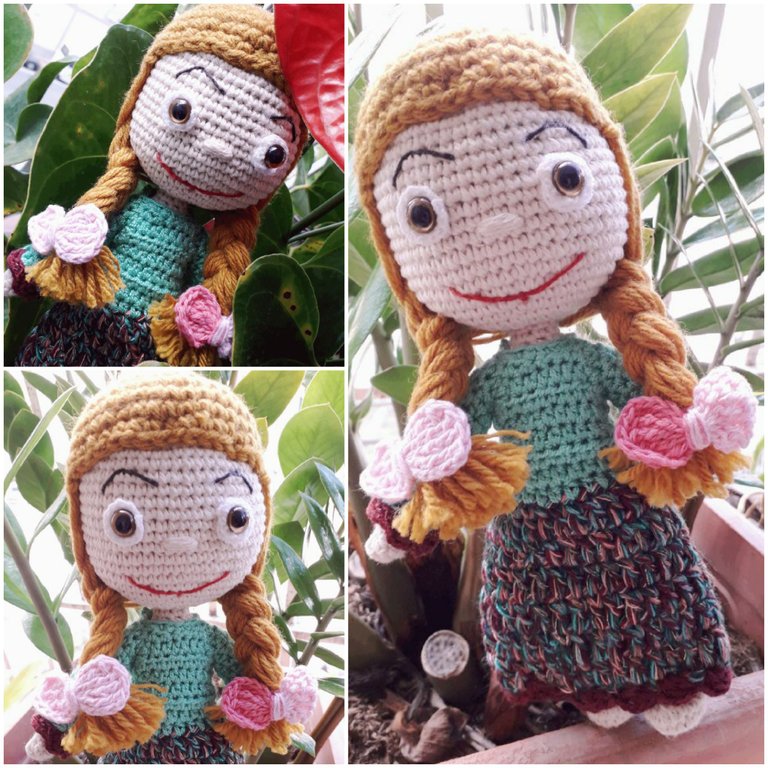 ---
Nuevamente yo por acá compartiendo mis mágicas y fascinantes creaciones, esta muñeca la hice hace dos meses, tenía pendiente de tejer el vestido de la muñeca. Hoy les muestro cómo hice el vestido de la muñeca.
El trabajo que les comparto lo he realizado en la técnica de tejido llamada Crochet, es en la técnica que más tejo, lo hago desde niña.
Again I'm here sharing my magical and fascinating creations, I made this doll two months ago, I had pending to knit the doll's dress. Today I show you how I made the doll's dress.
The work that I share with you I have made it in the technique of knitting called Crochet, it is the technique that I knit the most, I have been doing it since I was a child.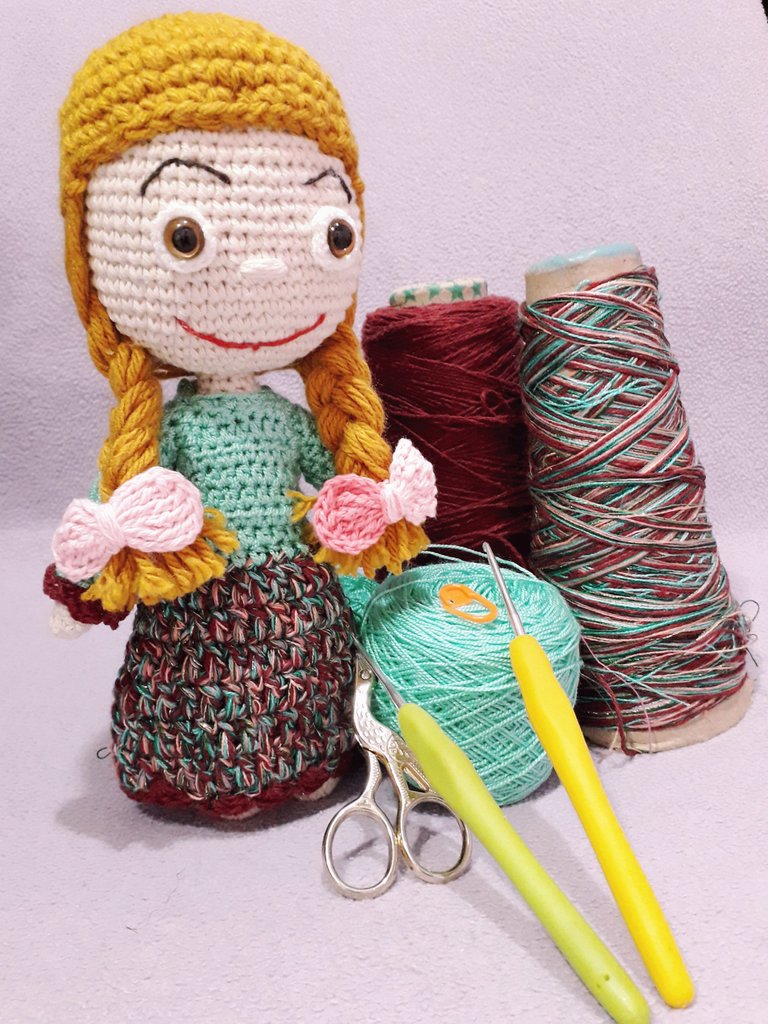 Los materiales
Para este proyecto usé tres tipos de hilos, para la blusa usé hilo acrílico en color verde menta, para la falda usé hilo multihebras, y para las terminaciones de las orillas de la falda y puños de las mangas usé hilo de algodón.
Les quiero comentar, que el hilo que usé para tejer la fala, al ser multihebras, es algo complicado de tejer por la cantidad de hebras, tiende a enredarse, se debe tejer con un ritmo algo lento.
También usé, tijeras, ganchillo 2.0, ganchillo 2.5, aguja lanera y tres botones.
The materials
For this project I used three types of yarn, for the blouse I used mint green acrylic yarn, for the skirt I used multi-strand yarn, and for the ends of the skirt edges and sleeve cuffs I used cotton yarn.
I want to tell you that the yarn I used to knit the skirt, being multi-stranded, is somewhat complicated to knit because of the number of strands, it tends to tangle, it should be knitted at a somewhat slow pace.
I also used scissors, crochet hook 2.0, crochet hook 2.5, blunt yarn needle and three buttons.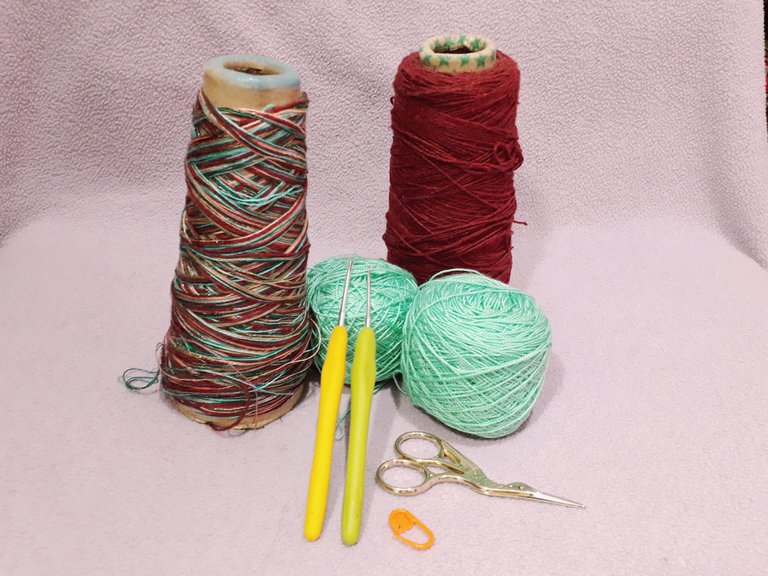 Instrucciones
Falda del vestido
Para tejer la falda, lo primero que realicé fue una cadeneta en el hilo multihebras. Medí la cadeneta en la cintura de la muñeca de tal forma asegurarme del ancho de la cintura. Luego uní los extremos de la cadeneta, y comencé a tejer en puntos altos en círculo hasta obtener el largo deseado de la falda, en este caso, quería que la falda del vestido fuese largo.
Instructions
Dress skirt
To knit the skirt, the first thing I did was a chain stitch in the multi-strand yarn. I measured the chain stitch at the waist of the wrist so that I could be sure of the width of the waist. Then I joined the ends of the chain stitch, and began to weave in double crochet in a circle until I got the desired length of the skirt, in this case, I wanted the skirt of the dress to be long.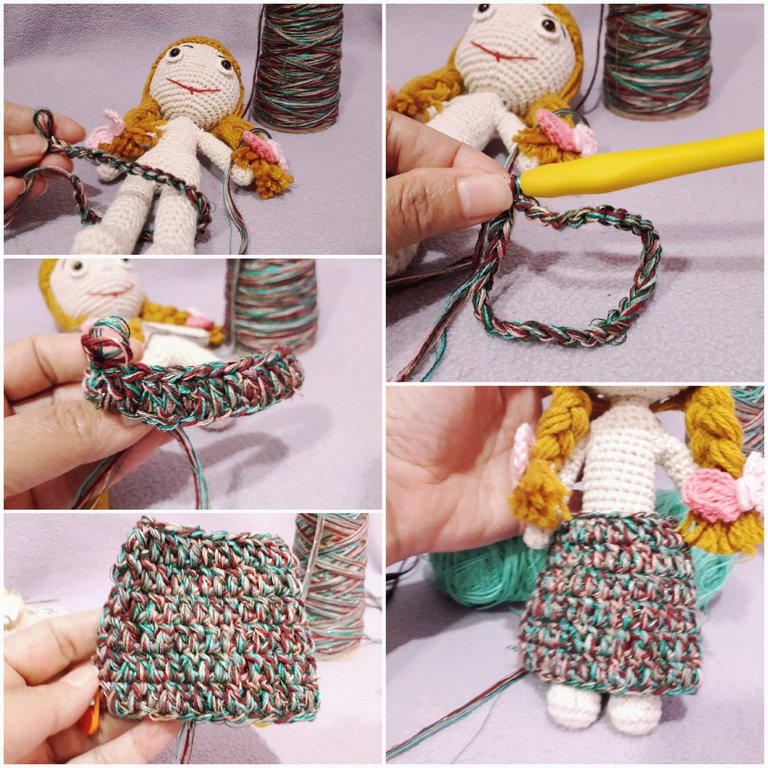 ---
Blusa del vestido
Para la blusa del tejido, comencé a tejer en color verde menta, para ello corté y escondí los hilos del hilo multihebras, y me uní con el hilo verde menta, para la blusa he tejido en el punto medio punto alto. Tejí en forma circular hasta llegar a la axila. Luego tejí la parte delantera haciendo disminuciones para armar sisa y cuello. Luego tejí la parte trasera, respetando el tamaño de las sisas y de alto de busto que tejí en la parte delantera.
Luego tejí las mangas, uniéndome a cada sisa. Las magas la tejí en circular en medio punto alto. Para embellecer, he tejido en hilo de algodón color vino las orillas de cada manga.
Para finalizar, coloqué tres botones en color vino, de tal forma combinen con las orillas. También corté y escondí todos los hilos.
Dress blouse
For the knitting blouse, I started knitting in mint green color, for this I cut and hid the threads of the multi-strand yarn, and joined with the mint green yarn, for the blouse I knitted in the half double crochet. I knitted in a circular pattern until I reached the armpit. Then I knitted the front part, making decreases to make armhole and neckline. Then I knitted the back part, respecting the size of the armholes and bust height that I knitted in the front part.
Then I knitted the sleeves, joining each armhole. The sleeves I knitted in circular knitting in half double crochet. To embellish, I knitted the edges of each sleeve in wine-colored cotton yarn.
To finish, I placed three wine-colored buttons to match the edges. I also cut and hid all the threads.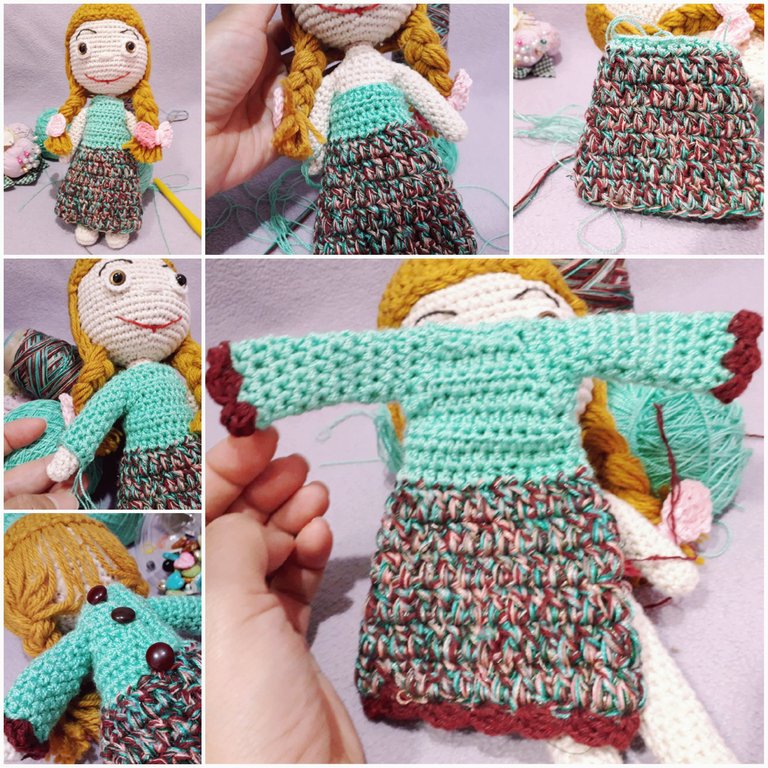 ---
Es maravilloso poder hacer muñecas, y es más maravilloso hacerle vestidos, para que la niña que juegue con la muñeca pueda cambiarle la ropa cada vez que quiera, este es el primer vestido de muchos que tendrá esta muñeca.
It is wonderful to be able to make dolls, and it is even more wonderful to make dresses for her, so that the girl who plays with the doll can change her clothes whenever she wants, this is the first dress of many that this doll will have.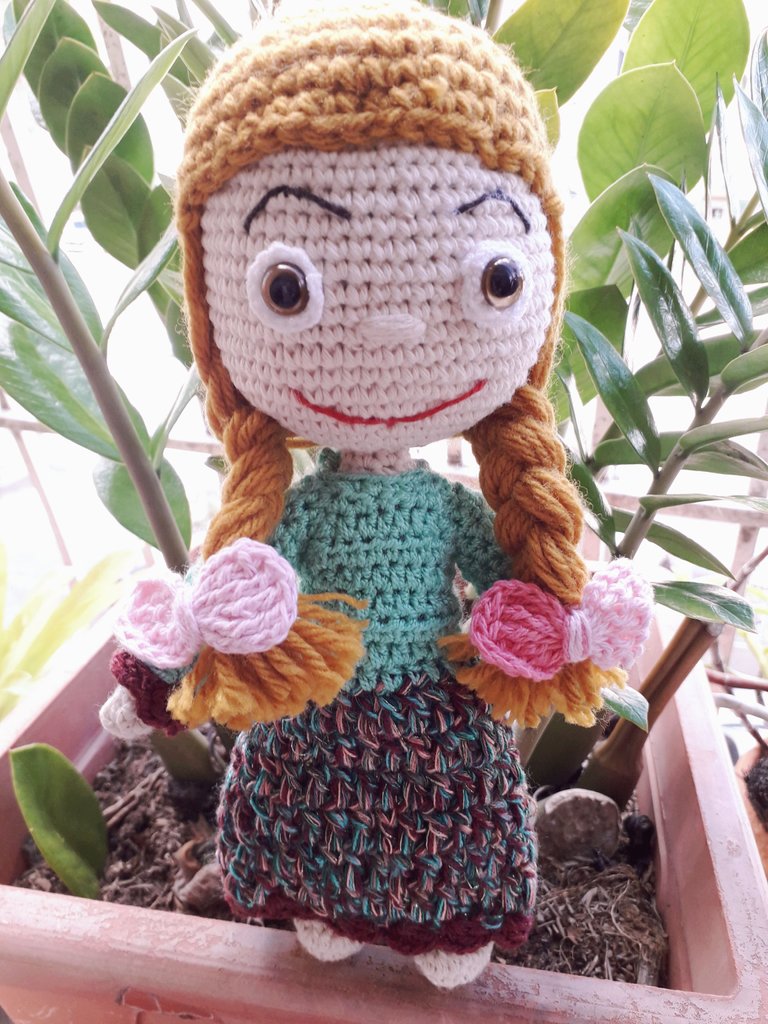 ---
Gracias por dedicar un espacio de su tiempo para leer la publicación. Si hay alguna pregunta, por favor pregúntame en la sección de comentarios a continuación.
Thank you for taking the time to read this publication. If there are any questions, please ask me in the comments section below.
Texto e imágenes: Por @jicrochet
Text and images: By @jicrochet