Hi, I'm a humanoid creature from the misty tropical planet called Triototh 3, in the faraway galaxy we call Dziriagus Mahinga, but is best known as Ghx37007 - 2 agggartccc01001001110 F, throughout the outer space.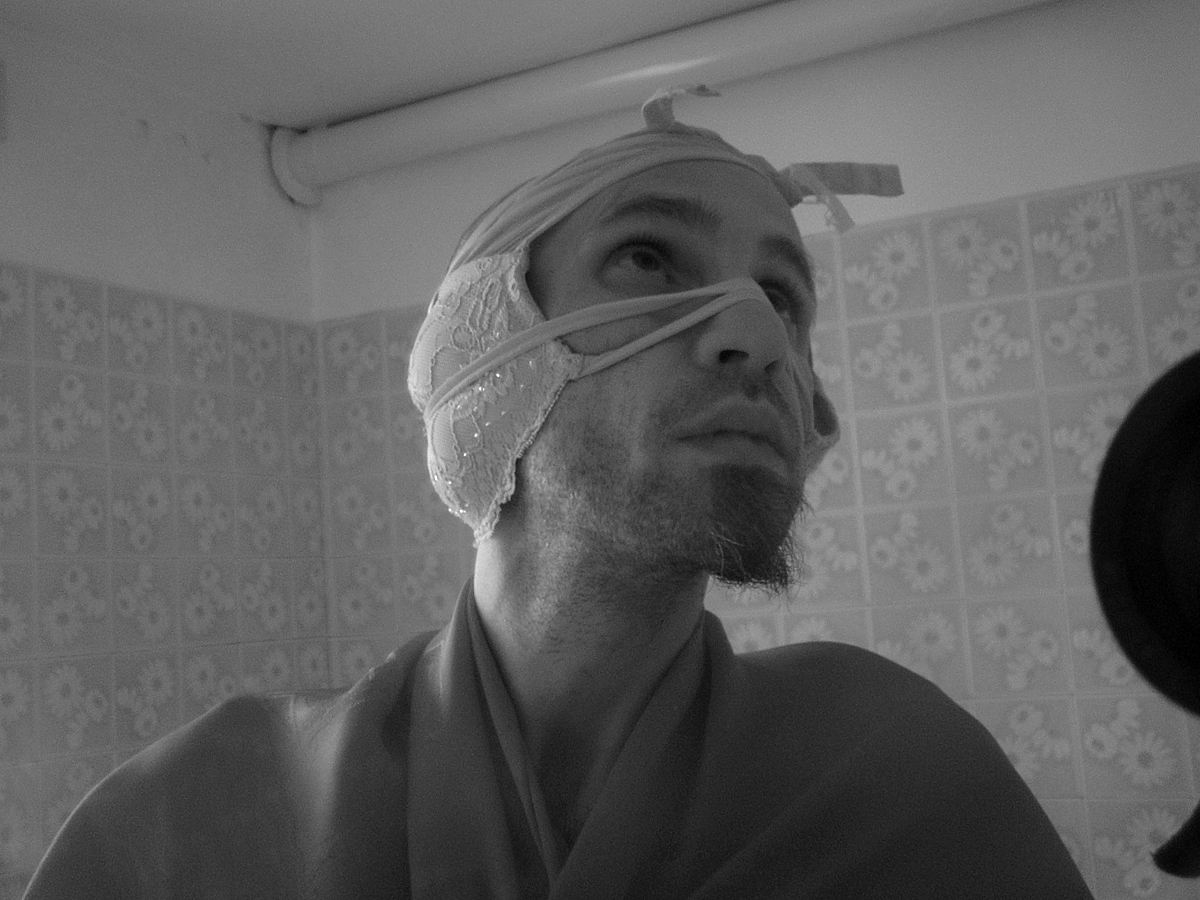 On this photograph I'm wearing our traditional clothing, the uniform we display only in special, highly ceremonious occasions, such as anti - gravitational dances or introductions to other intelligent species. Through the following set of photographs ...


(Enlargeable)
... I'll try to show you a fragment of the great, and from your prospective surely exotic, biodiversity of my homeworld ...


(Enlargeable)
... and some poetic, ethereal atmospheres you can encounter there.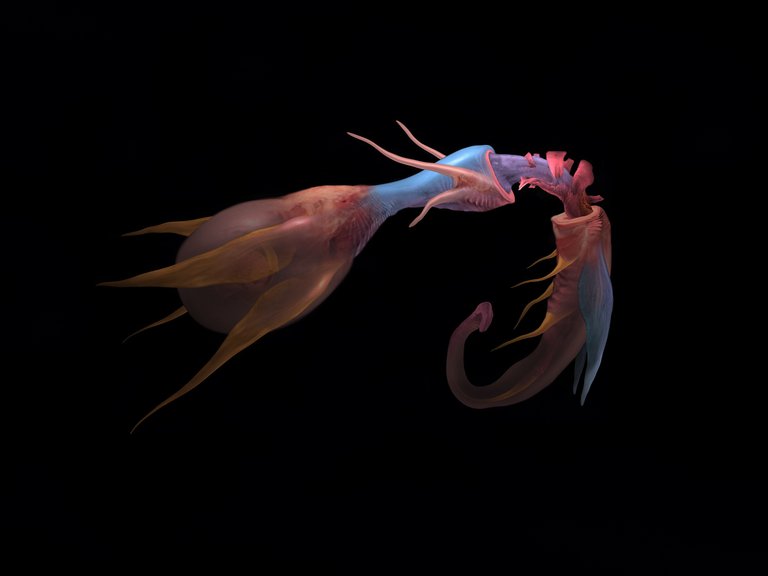 (Enlargeable)
We have deep and dark oceans too ... filled with mysteries ... on this picture you can take a glimpse of those depths.


(Enlargeable)
Worshiping the biodiversity is the only thing in our culture that kind of borders with religion.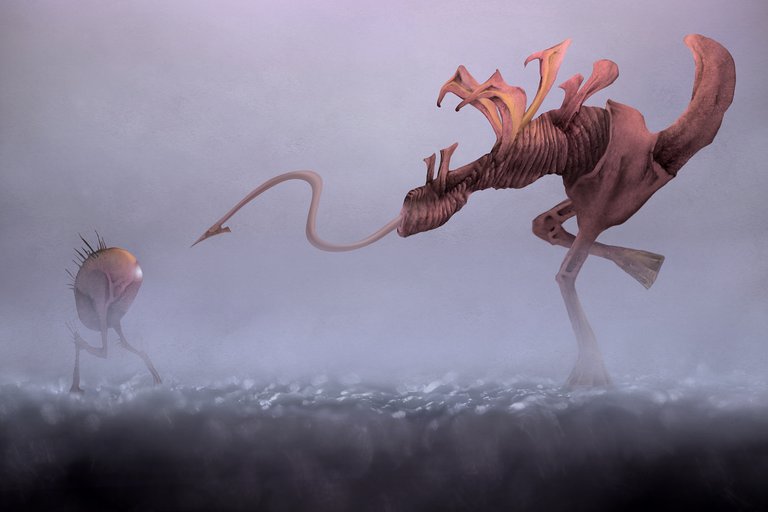 (Enlargeable)
And yes ... just like you :D we also like hallucinogenics. And now ...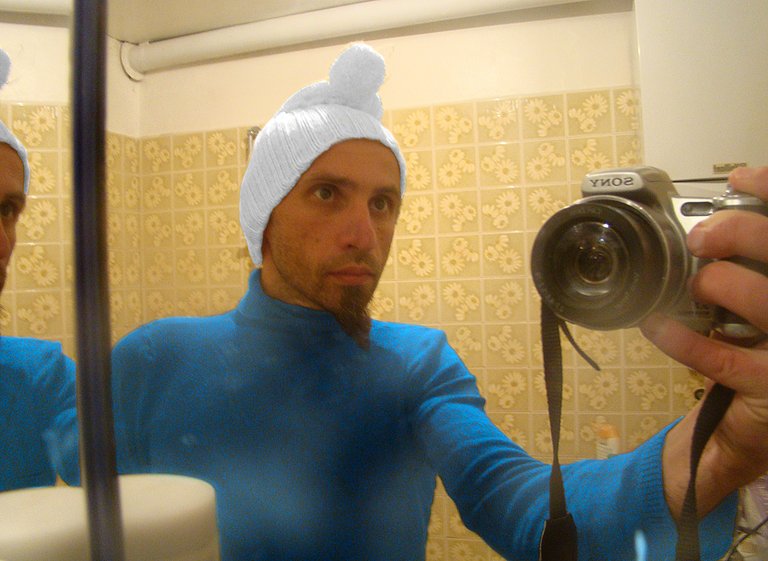 ... is time to confess that this is complete bullshit - I'm not an alien, I'm an ordinary Smurf, as you can see on this photograph.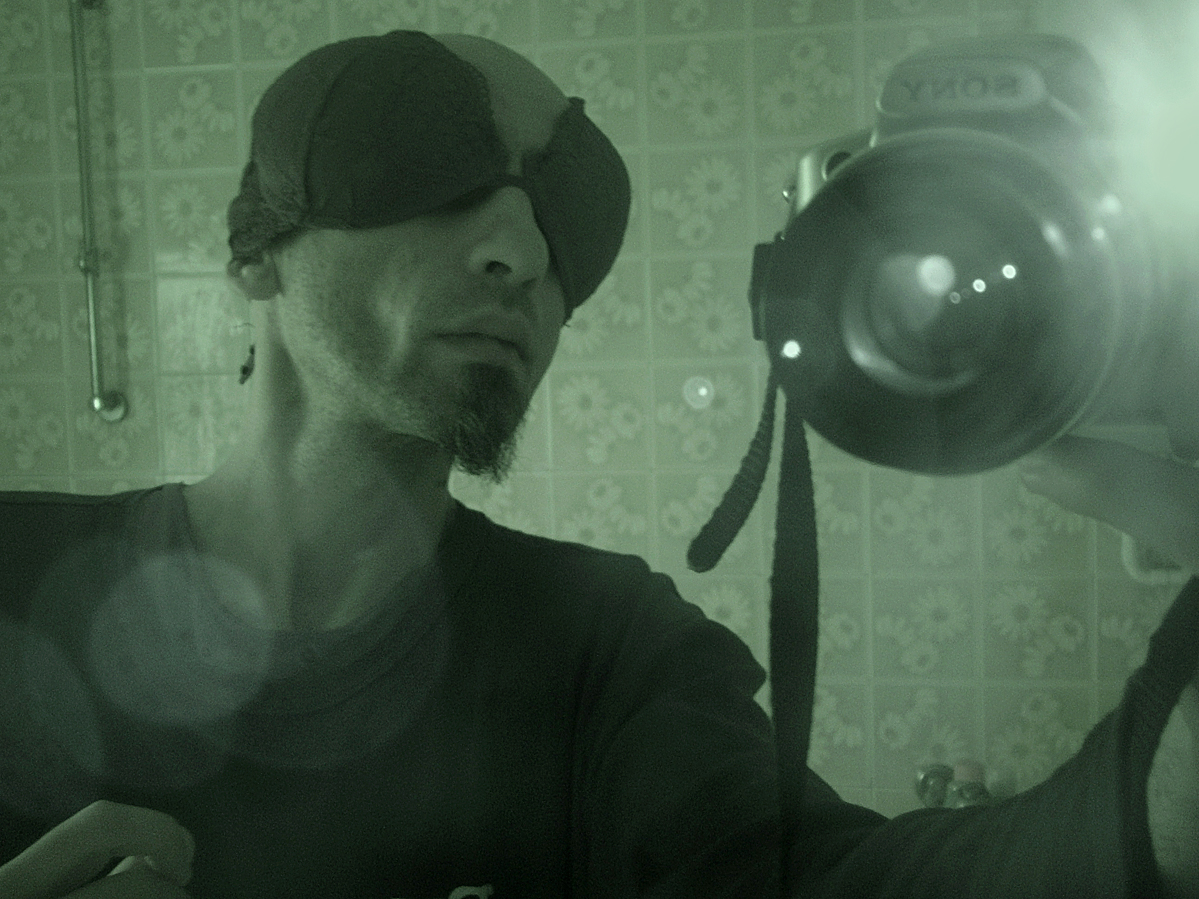 I'm not just a Smurf, of course ... I'm also the super - insectoid mutant with dragonfly eyes ...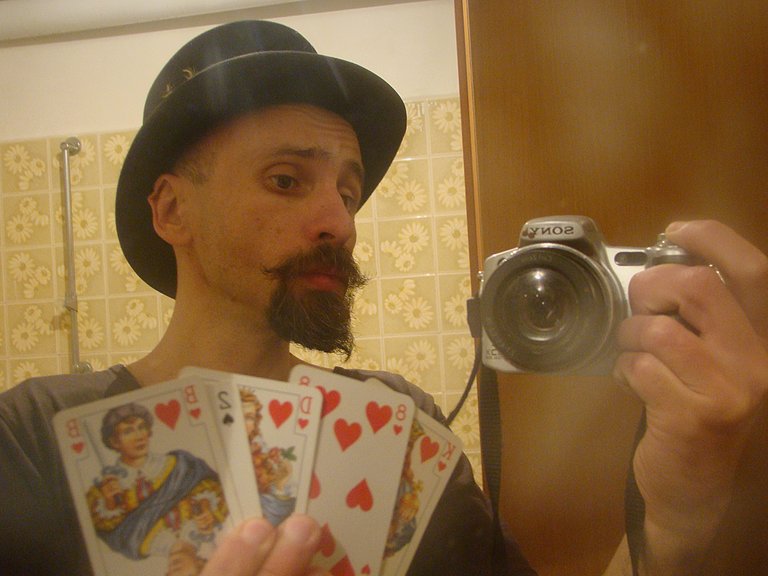 ... the gambling hipster with nothing to lose ...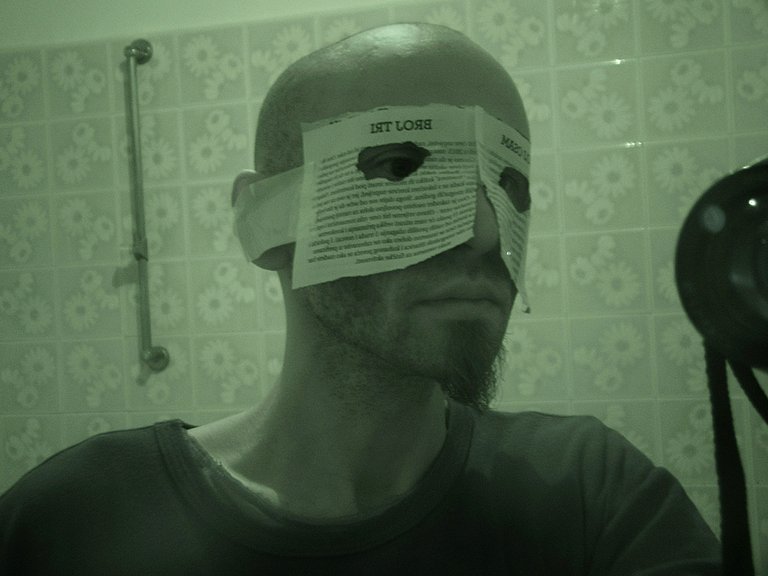 ... enigmatic character hidden behind the words ...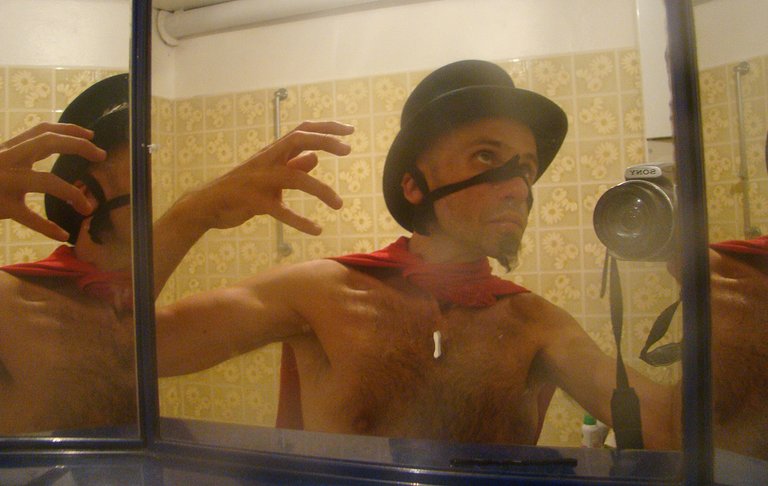 ... powerless super hero with bad luck, red mantle and black hat ...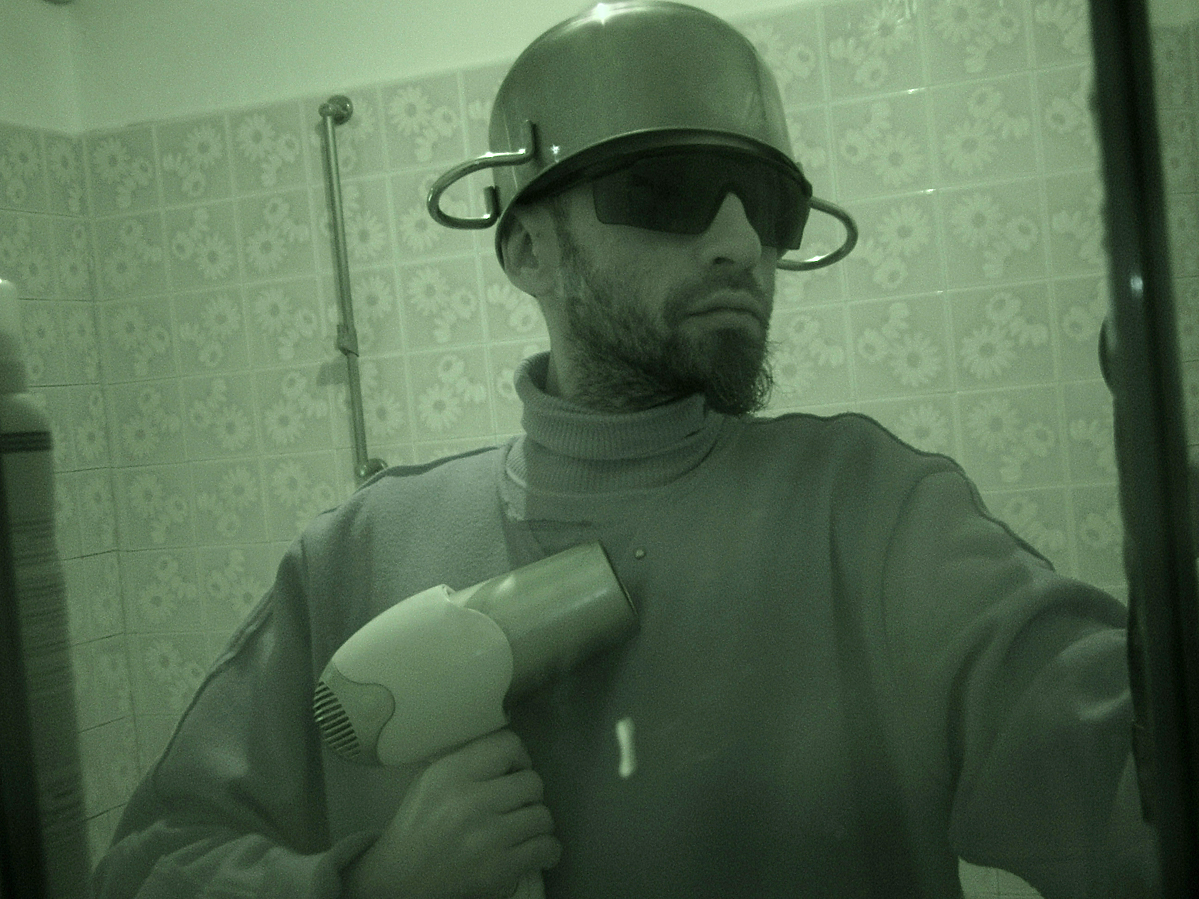 ... intergalactic soldier with the laser gun fetish ...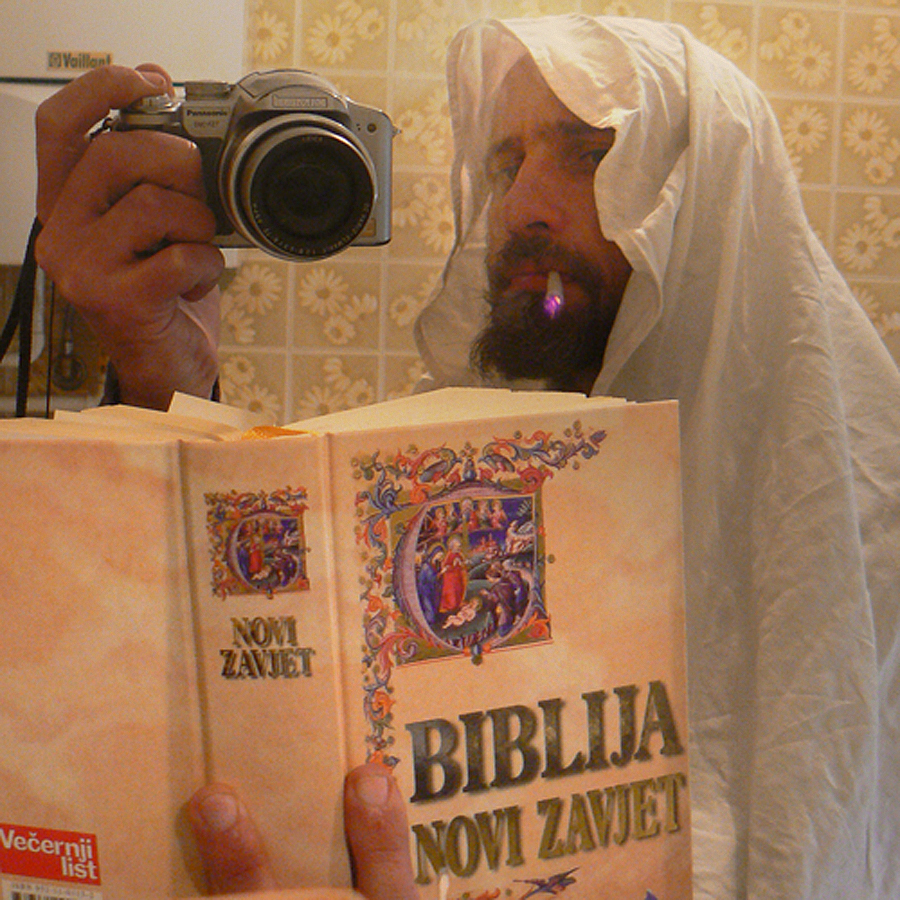 ... vaguely messianic dude with biblical ambitions ...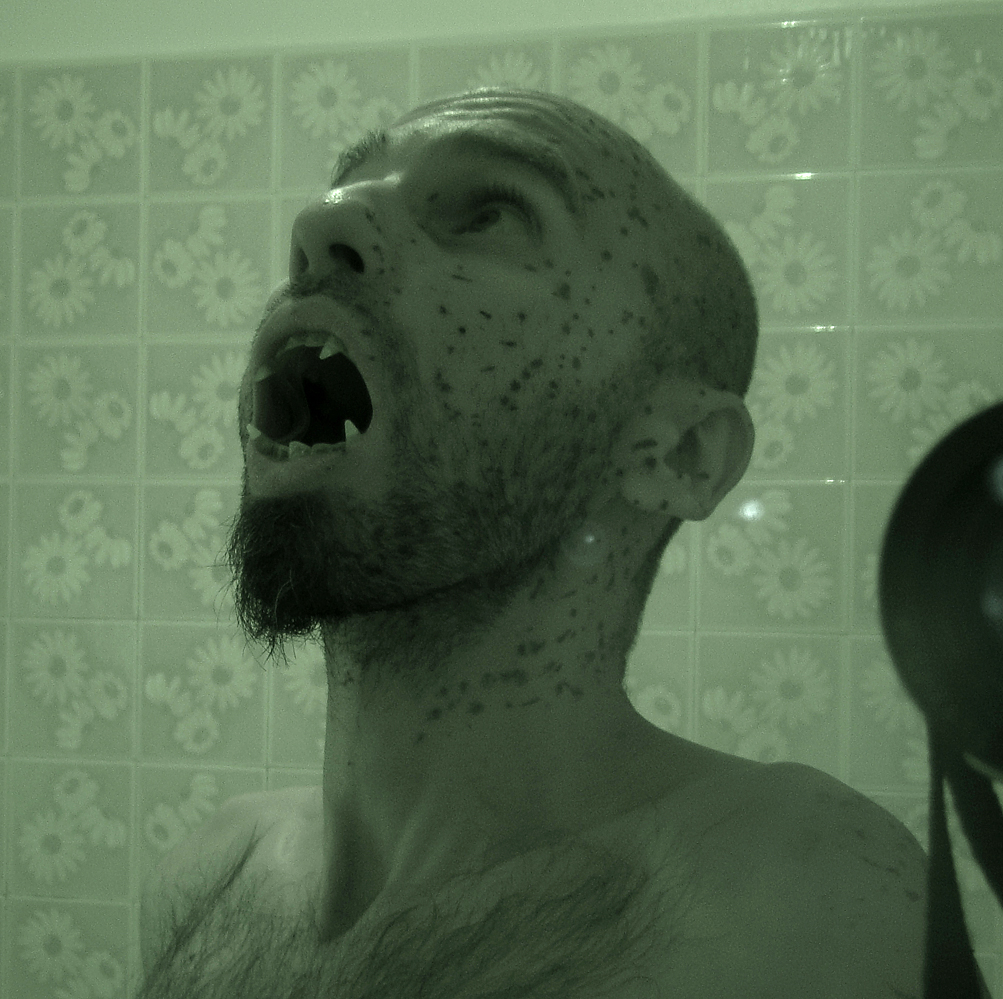 ... primordial beast lost in the new century ... and look ... with all these personalities I embraced along the way, while reading books and watching the TV ... I really don't know who the hell I am ... and that is perfectly normal (or at least sane) in this nicely fragmented post - postmodern times.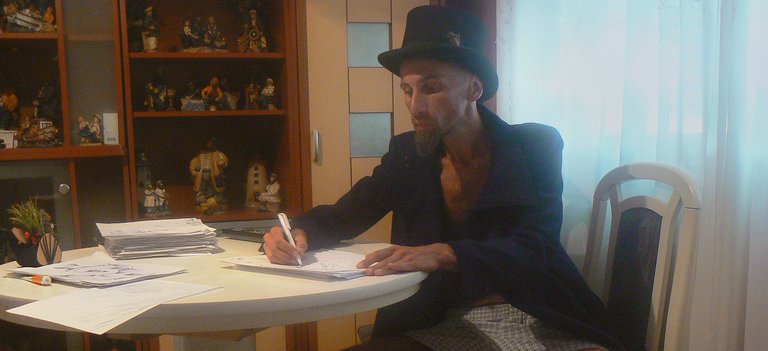 Yes, I don't know who I am ... but ... I know what I like ... I like drawing ...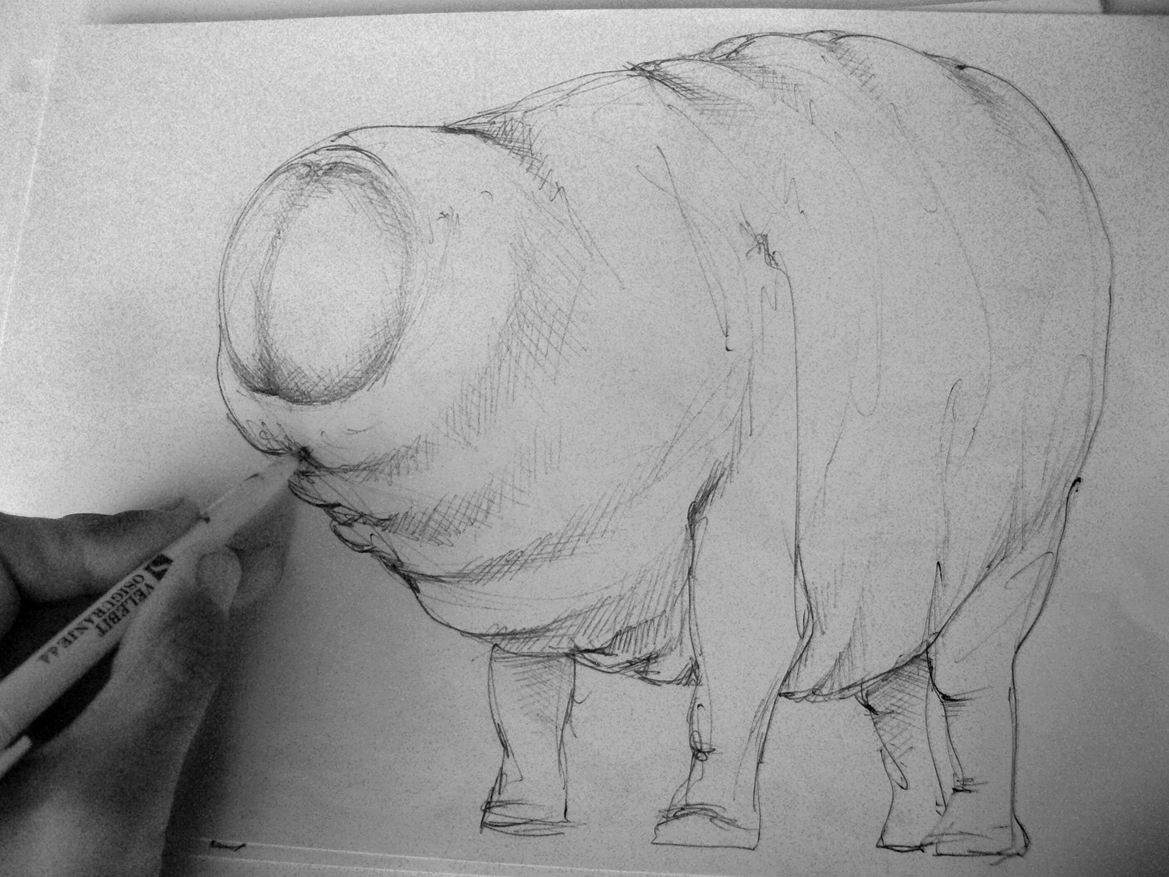 ... inventing strange creatures and places ... like on this simple pen drawing ... or as you saw on the more complex artworks before in the post, when I was pretending to be an alien :D.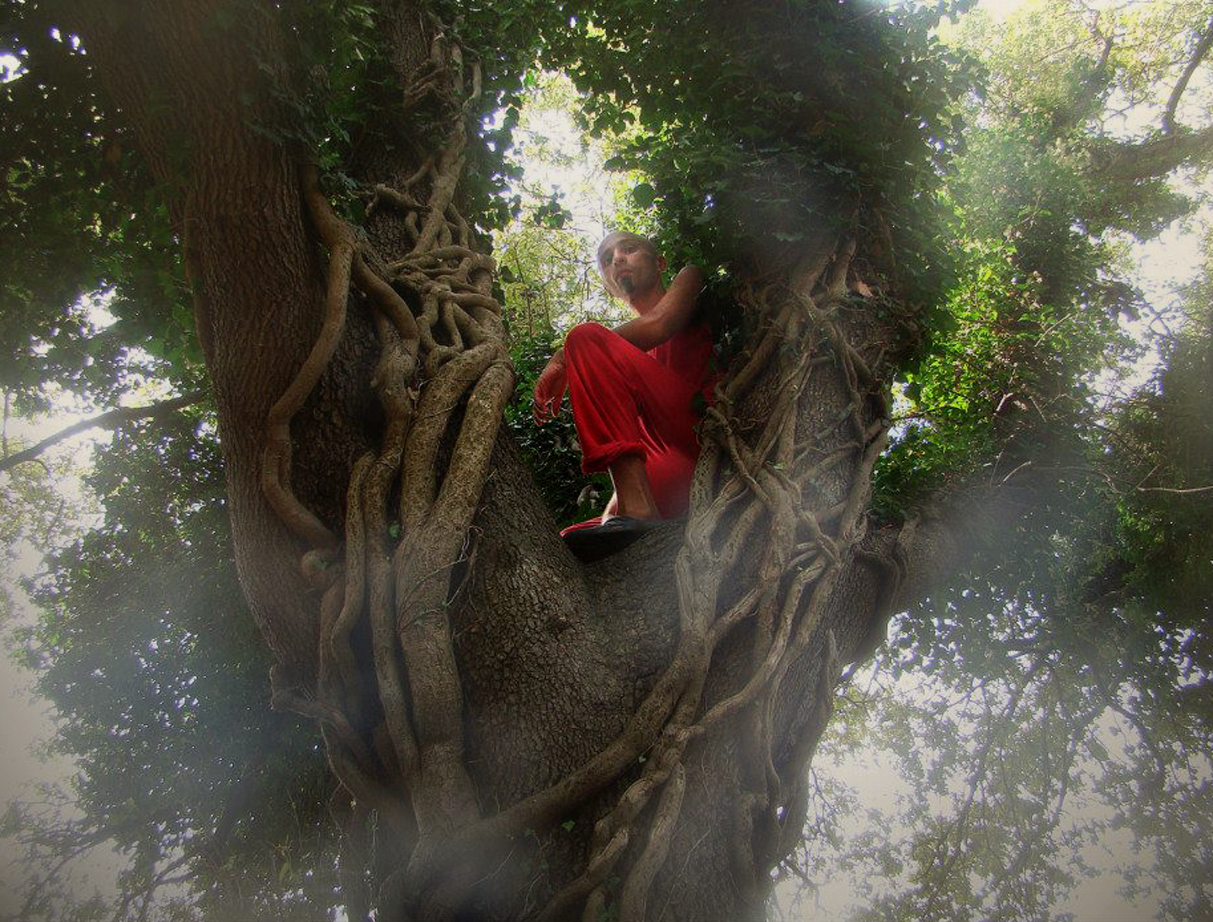 I like to climb trees ...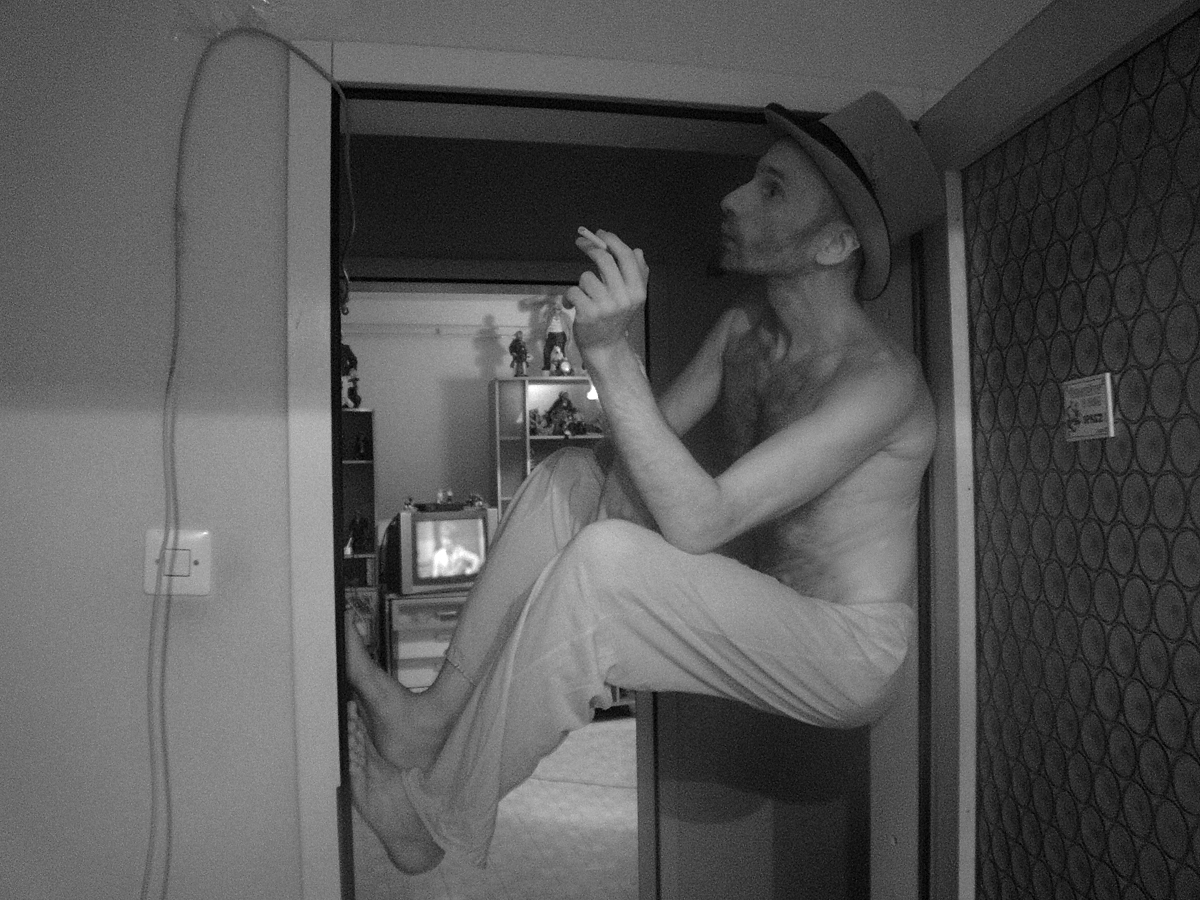 (Warning! This photograph is not made by me, a friend took this shot ... and I'm only pretending to smoke)
... and doorways too.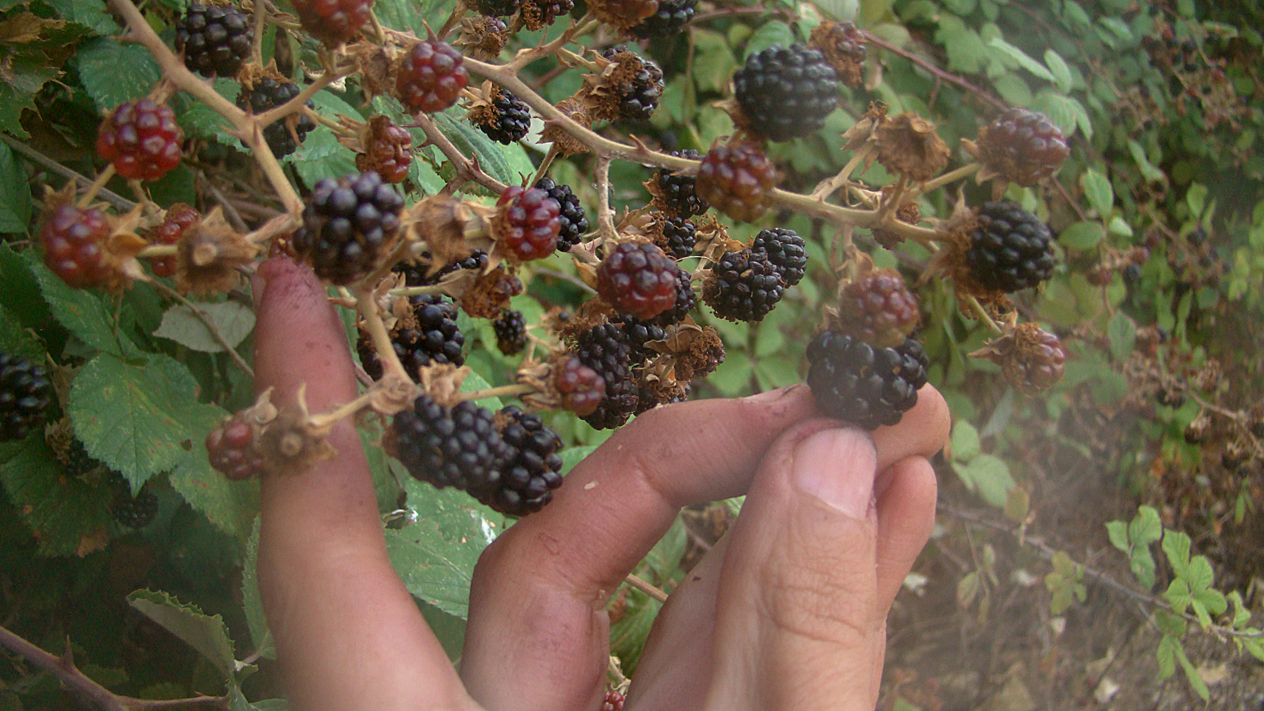 I like to pick blackberries in summer ...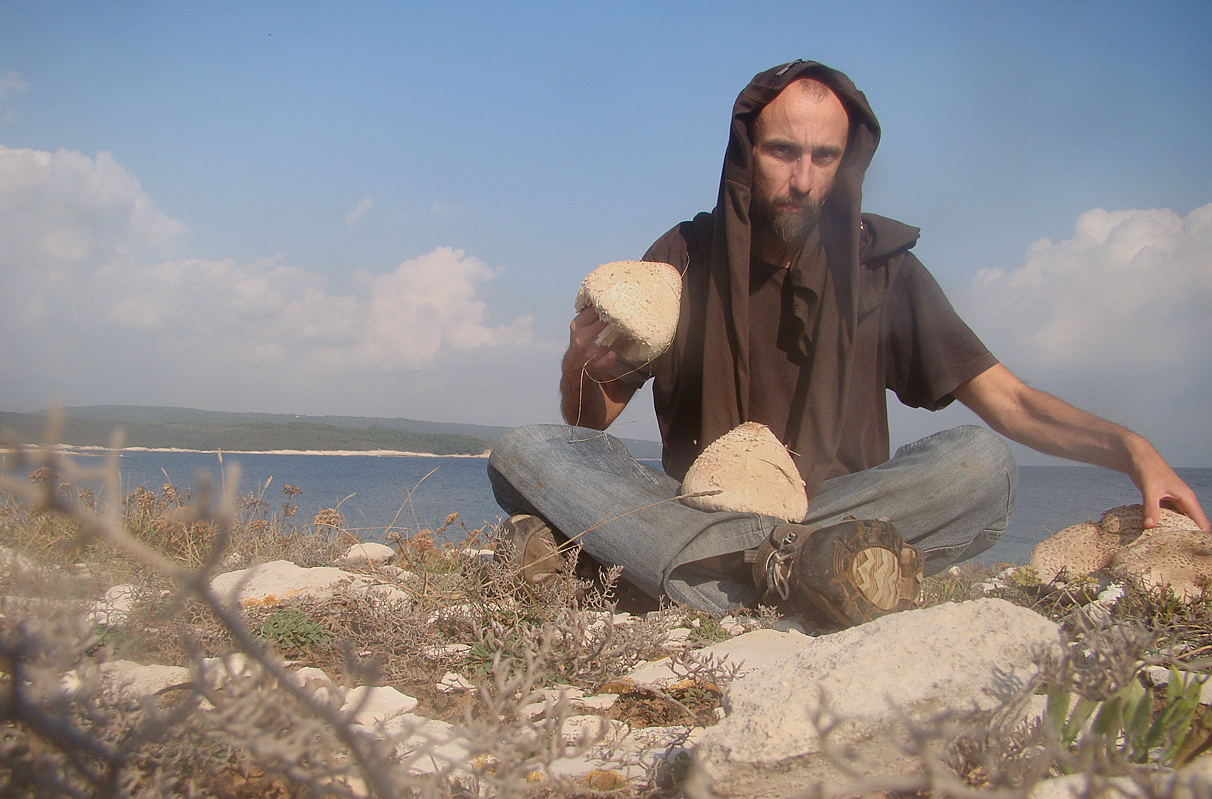 ... and collect mushrooms in autumn.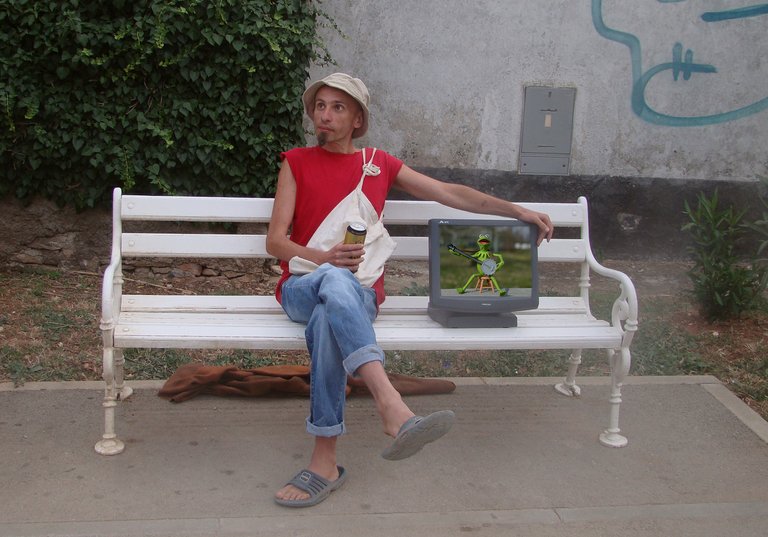 (Enlargeable)
Sometimes I just like to sit on a bench along the way, and drink me a beer in good company ... :) I came across this monitor accidentally, someone left it on the bench ... I put Kermit the Frog in photoshop, he was playing on Pixabay and was willing to become a part of this picture ... that I didn't take myself ... nope ... a friend took it ... and on the following photograph ...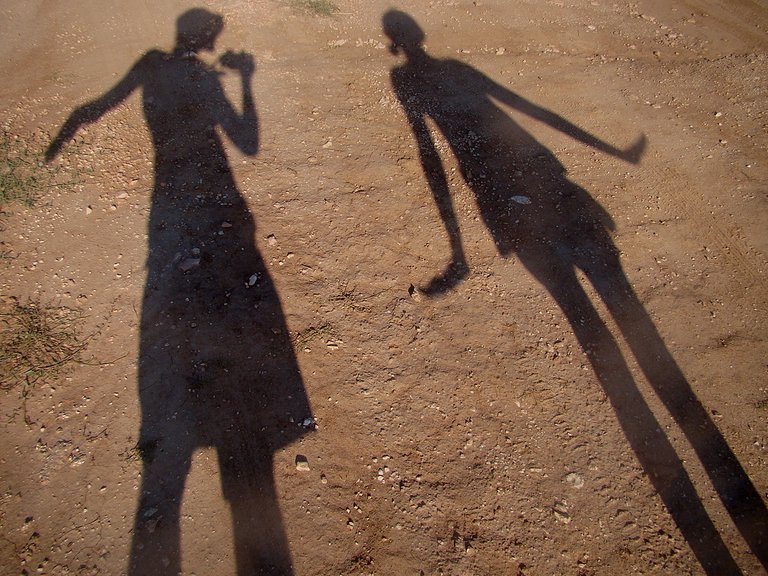 ... you can see her shadow ... on the shot taken by me ... my shadow is there too. And now ...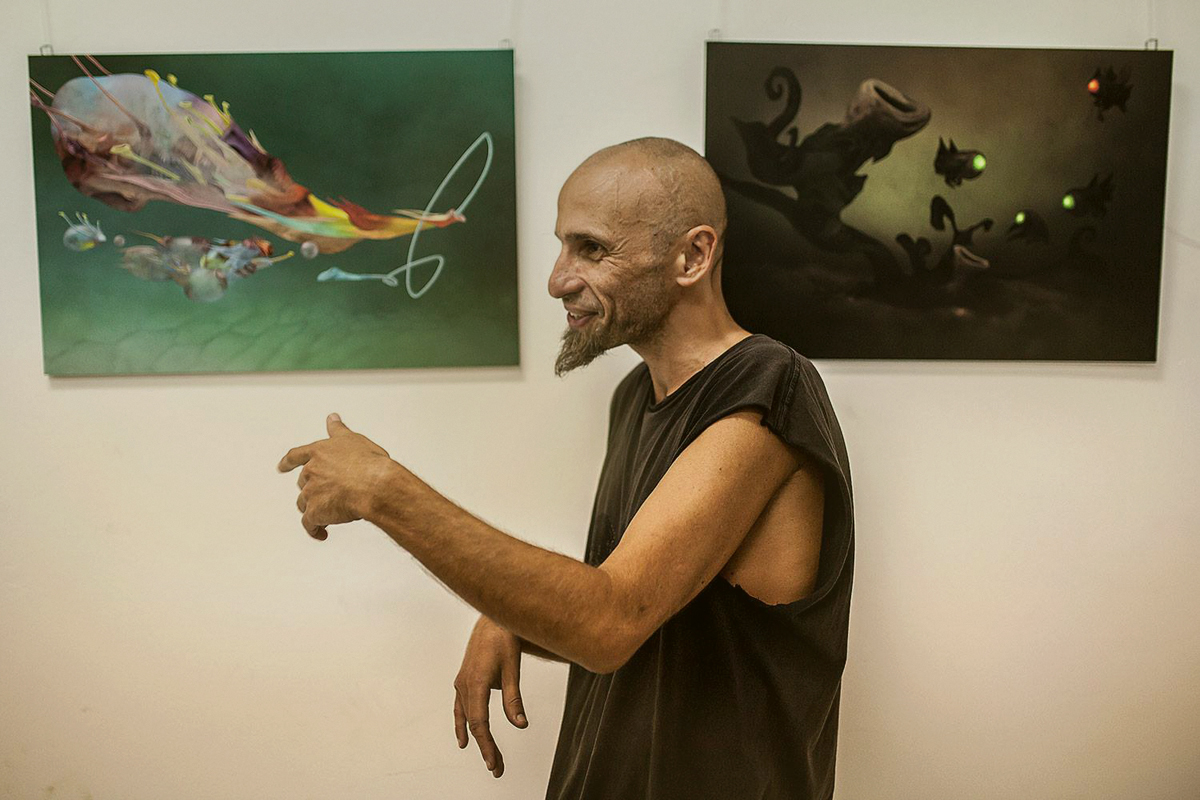 ... is finally time to reveal a few simple facts ... I studied graphic design in high school, in the city of Pula (Croatia) ... I entered then the Academy of Fine Arts in Venice, Italy ... I studied painting almost three years, but then I wanted to go here and there and I quit studying ... so I'm some kind of half - academic visual artist now. I did, and I'm still doing various jobs for money ... including photography ... but the most important and exciting thing for me was always creating stuff that gives form to imaginary or unseen. The photograph above this little piece of factual text was taken during one exhibition in Pula, a few years ago, by a local newspaper photographer. My imaginary creatures are on the wall ... I remember that evening very well, so I can tell you that on this shot I'm pretty drunk and smoked to the bone. And now ...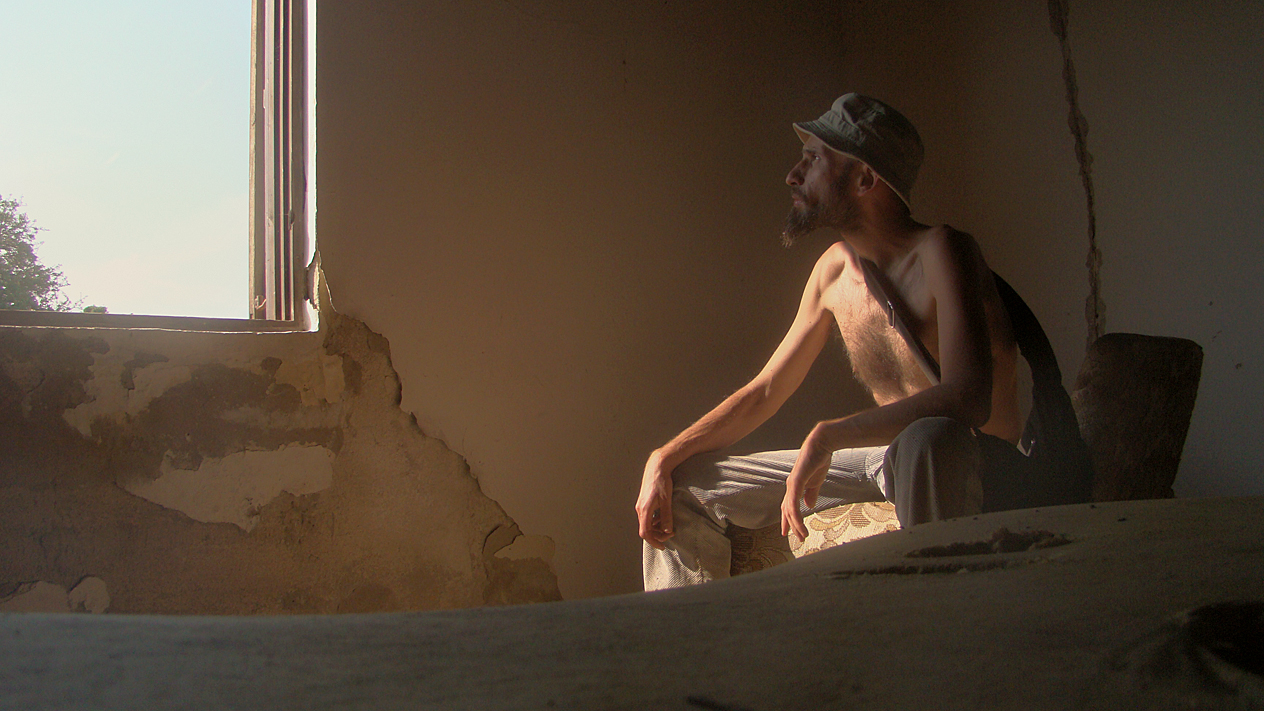 ... I can continue my ramblings about the things I like. I like to spend my free time in various ruins and abandoned places ...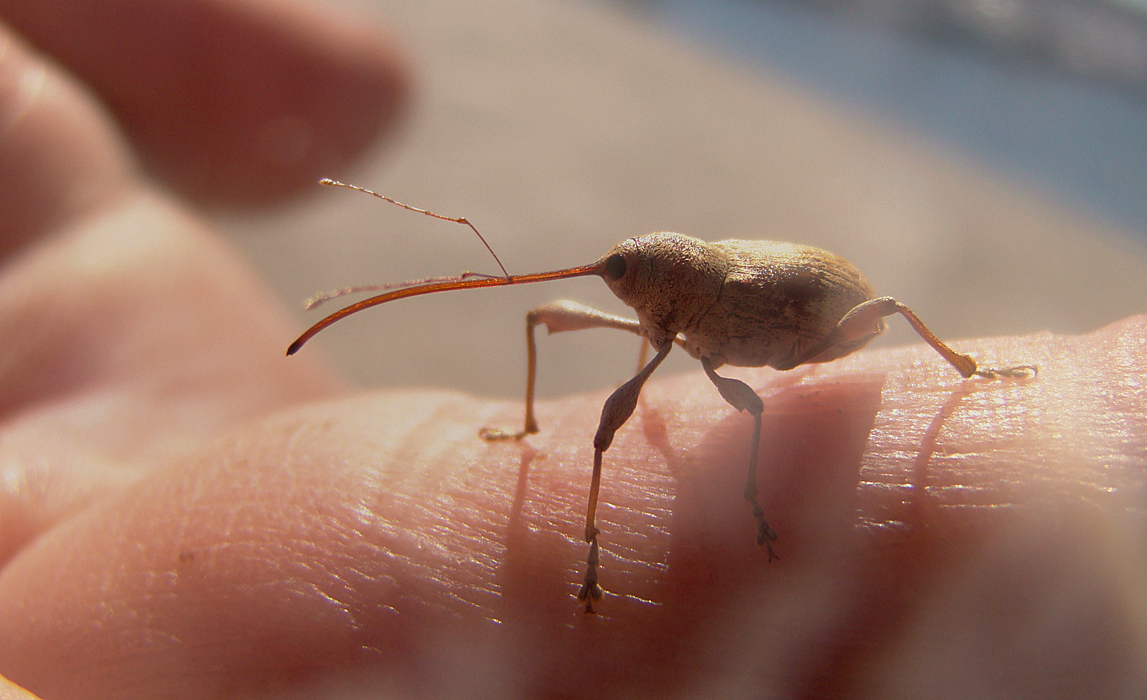 ... or with insects ...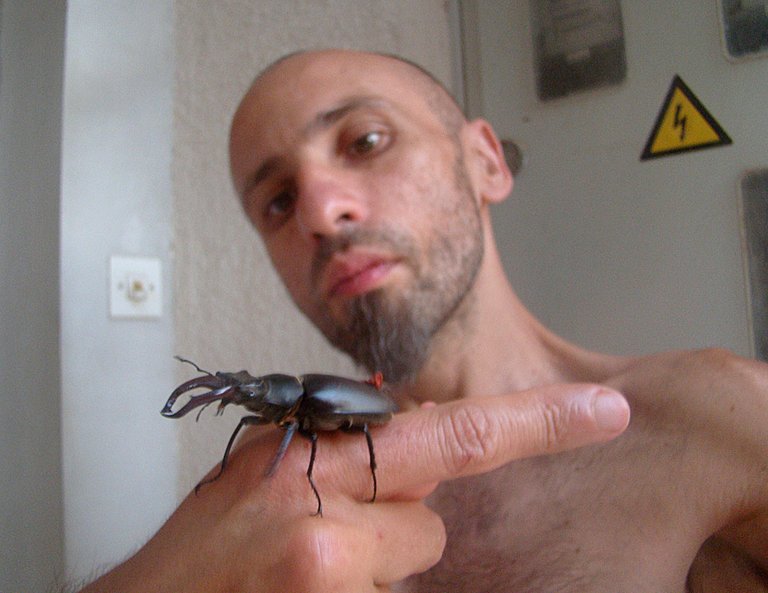 ... these beautiful stag beetles sometimes visit my garden in summer ...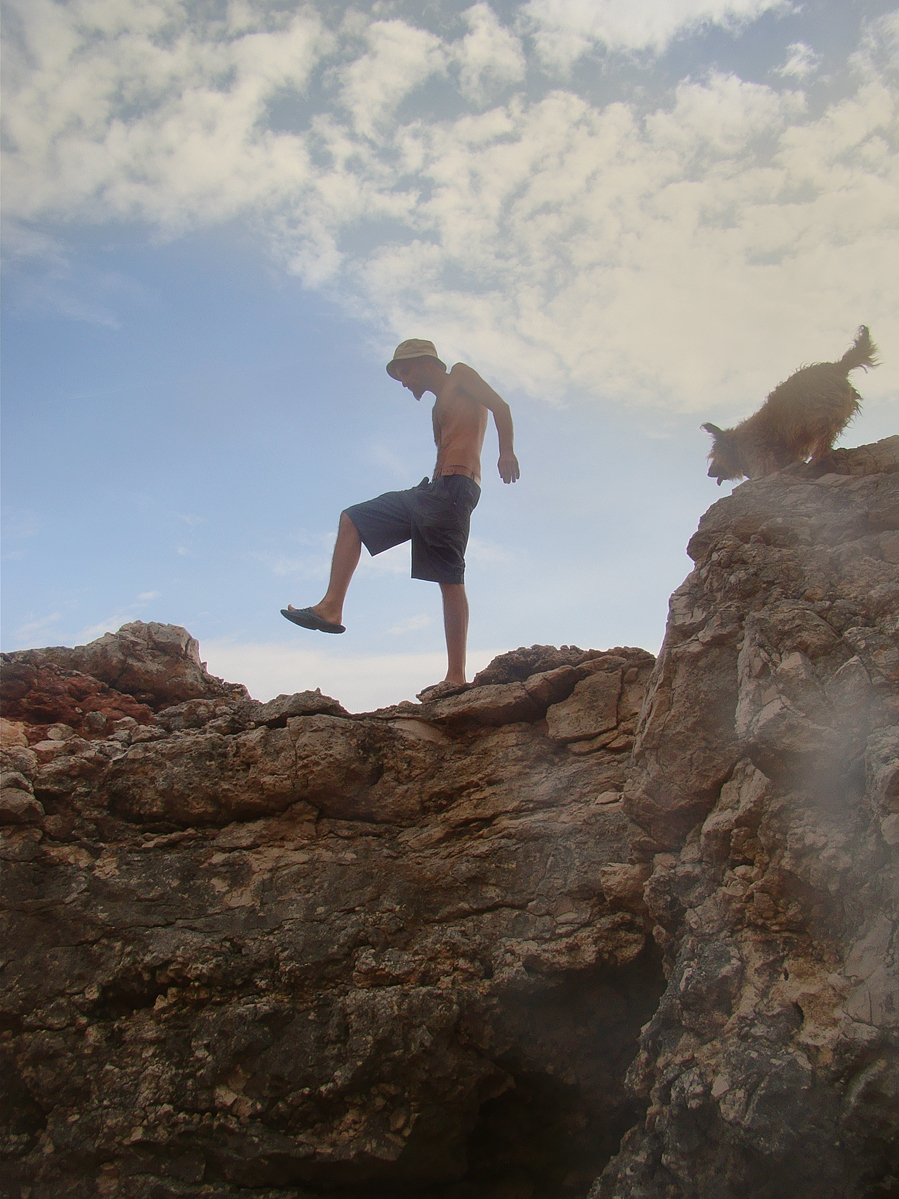 ... I like to walk along the coastline ... on this photograph I'm on high cliffs with my little dog Bepina ... this and the following photograph, were also made by a friend ...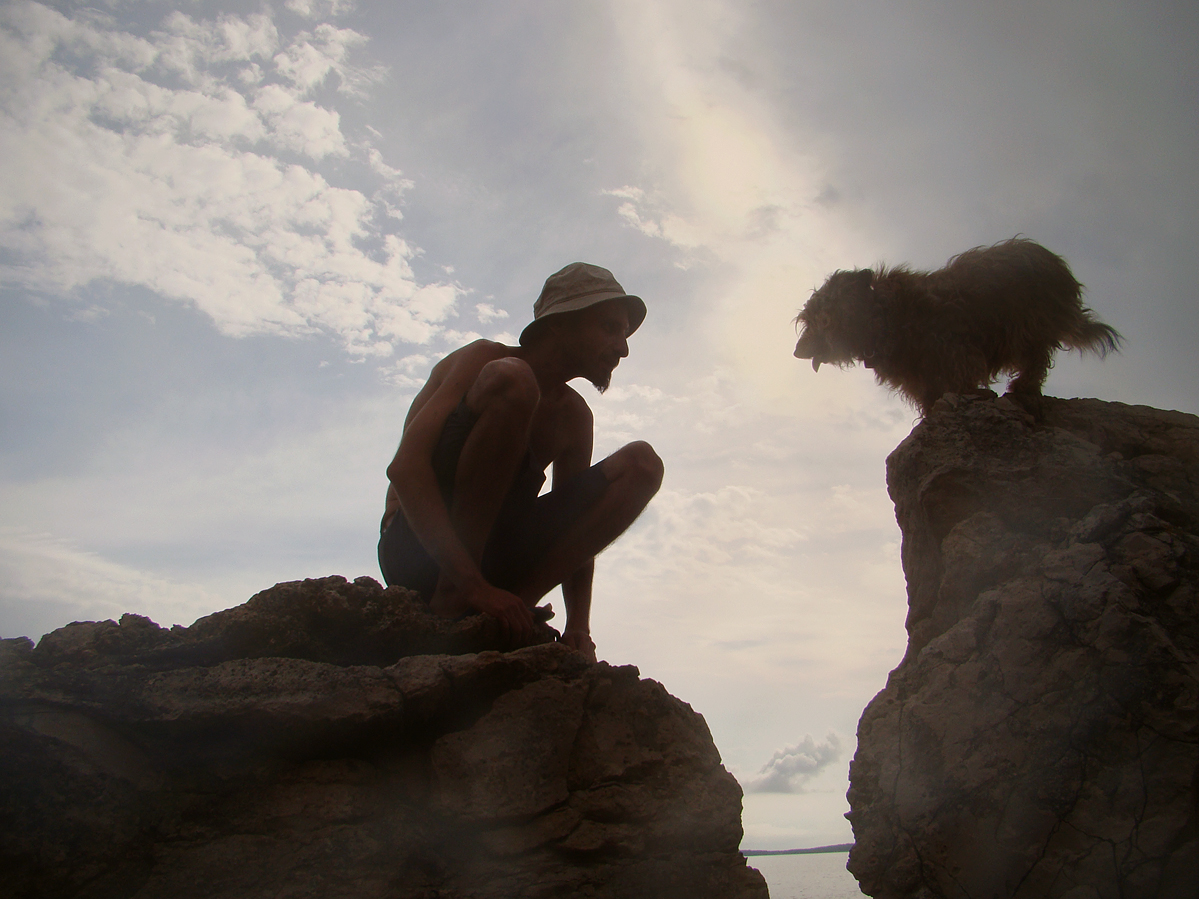 ... here you can see me and Bepina talking about art, politics, philosophy and similar stuff ...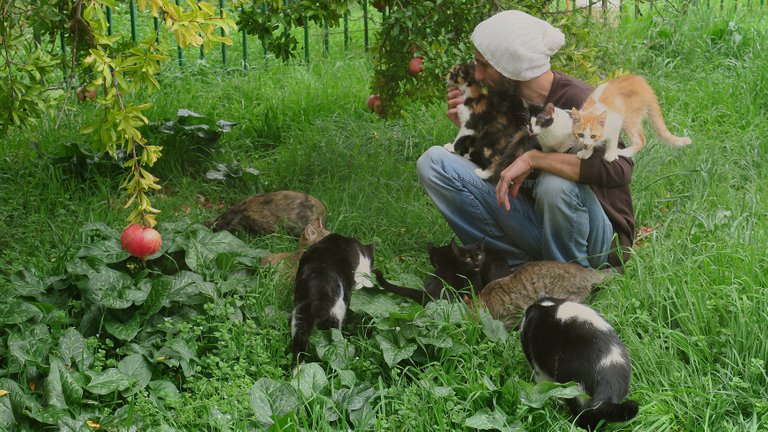 (Enlargeable) (Warning, this photograph wasn't taken by me. A friend did it and gave me the permission to use it however, wherever and whenever I want)
... when at home, I like to spend a lot of time with my colorful cat bunch.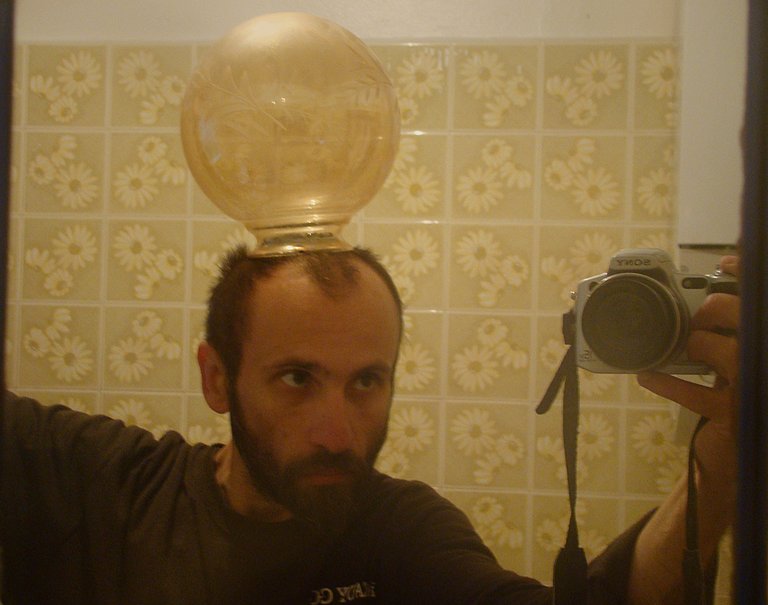 Yes, I like many things ... but above all, I like to put various stuff on my head and then take a selfie in the bathroom mirror.
When online, I spent most of my time on Steemit since April 2019 ... I didn't know this crypto - blockchain stuff existed before that, so I wasn't very active online, just on Facebook occasionally, but was more irritated than pleased with the atmosphere, rules and adverts there ... and now I'm hooked on publishing and interacting ... on HIVE, because Steemit has definitely lost its appeal.
As always in these posts on HIVE, all the artwork and photographs ... except where is written differently ... are entirely, in every segment, my work.
... I almost forgot ... Borjan is my real life name ... I'm Borjan Radolovich - nice to meet you.
And yes ... right now ... 28 minutes after publishing, I realized that I accidentally published it in the Coronavirus Pandemic community - sorry, hope you don't mind the mistake @anomadsoul.