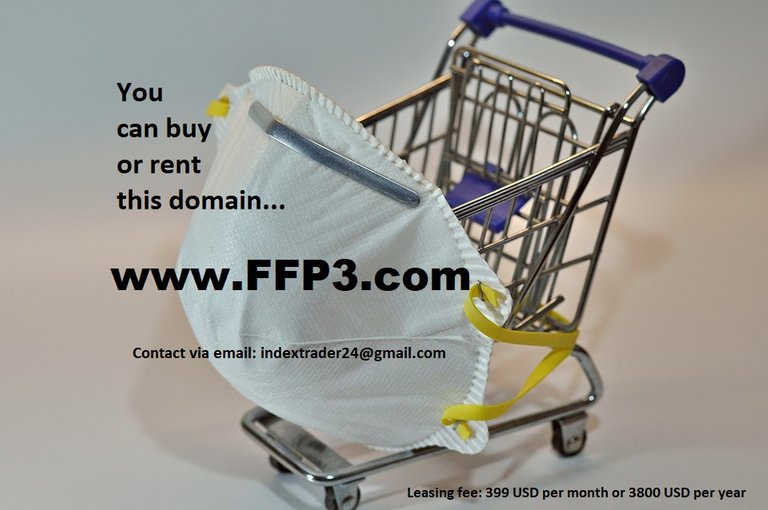 made by @indextrader24
Dear friends of freedom and peace,
my domain www.ffp3.com is for sale or lease in order to distribute your ffp3 products or personalprotection garment.
Maybe you want to improve your marketing or enhance the public relation and visibilty of your company in order to reach better market penetration of your products and to increase the sales.
Maybe you are a government official or a member of the World Health Organisation and want to rent or buy the domain www.ffp3.com in order to better inform your population about questions about infection protection or the use of respiratory masks.
If you want to buy the domain you can make an offer to me.
The same if you want to rent the domain.
Note : Once the domain www.ffp3.com is sold to you, you will be the owner of this domain for an endless time for the rest of your life and even for all the generations of you which will follow. So your buisnuess has unlimited potential in the future.
If you want to lease or to buy the domain www.ffp3.com don´t hesitate to contact me via
email: [email protected]
------------------------------
Die Domain www.ffp3.com kann von Ihnen gekauft oder gemietet werden...
Lieber Besucher,
sie können die domain www.ffp3.com mieten oder kaufen und für ihre Unternehmenspräsentation und den Internetauftritt ihres Unternehmens verwenden. Dabei spielt es keine Rolle, ob sie die domain nur für Marketing Zwecke oder für den Verkauf von Pandemieschutzausrüstungen oder andere Produkte wie Atemschutzmasken Hygieneartikel und vieles mehr verwenden wollen.
Vielleicht sind sie ein Mitarbeiter einer Regierung oder eines Landes, einer Nichtregierungsorganisation, der EU, der WHO oder andere suprastaatlicher Organisationen, welche beispielsweise ihre Bevölkerung besser über die Gesundheitgefahren bei Auftreten einer Pandemie in Gegenwart und auch in Zukunft informieren wollen.
Es gibt viele Möglichkeiten diese domain zu nutzen und zu verwerten - egal ob zu Marketingzwecken, den Direktvertrieb oder für die Aufklärung der Bevölkerung.
In jedem Fall können sie diese Domain mieten oder auch kaufen. Beachten Sie, dass die Domain, wenn sie einmal gekauft wurde, ihnen und allen Generationen, die nach Ihnen kommen werden gehören wird, sofern sie nicht nur mieten, sondern diese Webseite auch kaufen wollen.
Wenn sie also die Webseite mieten oder kaufen wollen, dann können sie mich kontaktieren. Nutzen sie dafür am besten meine
email: [email protected]