Hello! Good evening family of #HIVE and artisan friends of the #HIVEDIY community, once again I am grateful to be able to enjoy this creative space and I hope that all of you are in good health and in good spirits so that you can also enjoy this space with me. Today I continue to give life and color to my walls with this collection of paintings that I set out to recreate with a theme of ancient Egypt and its pharaohs, who since I was a child have always aroused my curiosity and encouraged me to read, so for this creative craft I wanted to recreate the pharaoh Tutankhamun. This particular character is one of the best known and renowned pharaohs of ancient Egypt, the main reason for so much information is because his tomb has been the only one in all of Egypt to be found intact after so many years by the British archaeologist Howard Carter, It contained valuable treasures such as his mummified body, although not in perfect condition, his gold mask, his necklace and many canes that belonged to his royal highness.
¡Hola! Muy buenas noches familia de #HIVE y amigos artesanos de la comunidad de #HIVEDIY, una vez más me siento agradecida de poder disfrutar de este espacio creativo y espero que todos ustedes se encuentren con buena salud y con muchos ánimos para que también puedan disfrutar de este espacio junto conmigo. Hoy continúo dándole vida y color a mis paredes con esta colección de pinturas que me dispuse a recrear con una temática del antigüo Egipto y sus farones, quienes desde niña siempre despertaron mi curiosidad y me incentivaron a la lectura, por lo que para esta manualidad creativa quise recrear al faraón Tutankamón. Este personaje en particular es uno de los faraones más conocidos y renombrados del antigüo Egipto, la principal razón de tanta información se debe a qué su tumba ha sido la única en todo Egipto de encontrarse intacta luego de tantos años por el arqueólogo británico Howard Cárter, en ella se encontraba contenida valiosos tesoros como su cuerpo momificado aunque no en perfecto estado, su máscara de oro, su collar y muchos bastones que pertenecieron a su alteza real.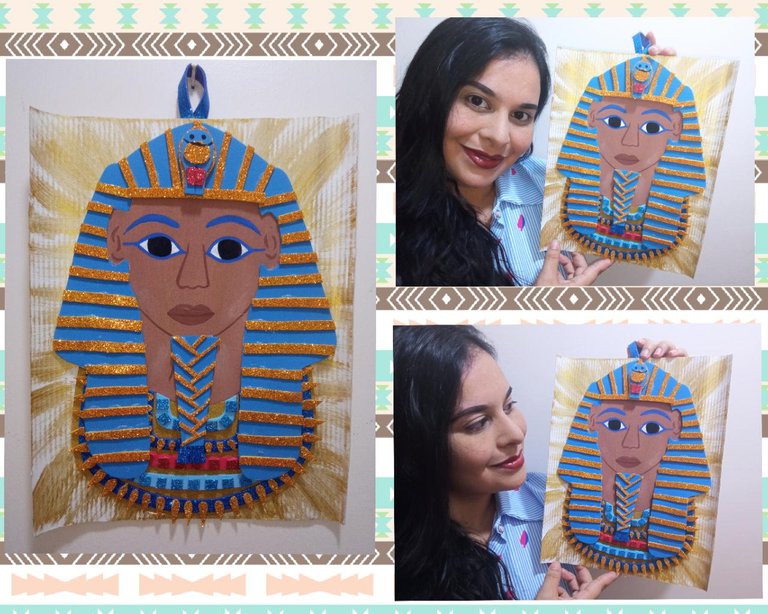 Inspired by his mask that was found in his sarcophagus, I wanted to recreate this vision of a Tutankhamun with tanned skin and quite marked features, so after drawing my sketch I prepared to transfer each piece of the pharaoh in the Eva rubber and little by little I was shaping her necklace (although later it made me sad because it was covered with the crown), her crown, the restotris and other datellas to pay tribute to one of the greatest Egyptian pharaohs who was the last royal monarch of the 18th dynasty and who will rule between 1334 and 1325 bc Join me in this creative craft and I'll show you how to make an EVA foam painting inspired by the pharaoh Tutankhamun.
Inspirada en su máscara que fuera encontrada en su sarcófago, quise recrear esta visión de un Tutankamón de piel bronceada y rasgos bastantes marcados, así que luego de dibujar mi boceto me dispuse a traspasar en la goma Eva cada pieza del faraón y de a poco le fui dando forma a su collar (aunque luego me dió pesar porque quedó cubierto con la corona), su corona, el resotris y demás datellas para redin tributo a uno de los más grandes farones egipcios quién fuera el último monarca real de la dinastía XVIII y quién gobernará entre 1334 y 1325 a.c. acompáñame en esta manualidad creativa y te muestro como elaborar una pintura en goma eva inspirada en el faraón Tutankamón.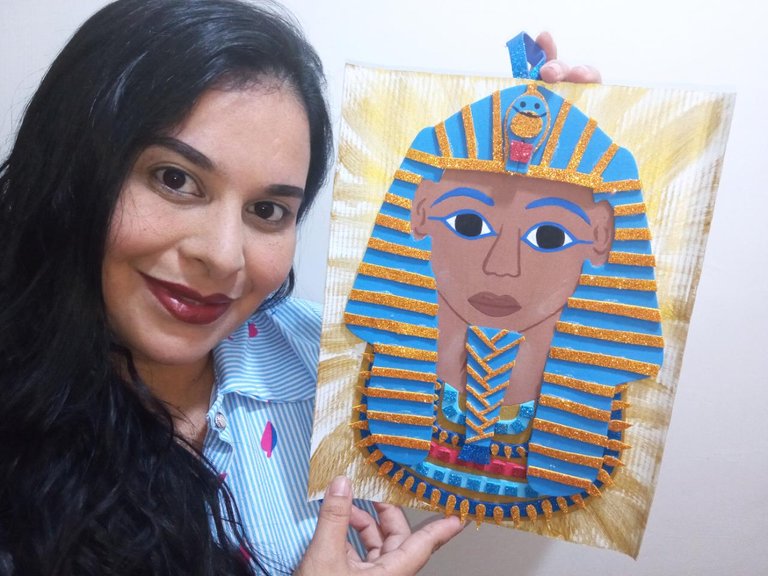 Used materials:
✓ A cardboard rectangle of 30x20 centimeters.
✓ Eva foam colors: King blue, red, gold, skin color, sky blue. Frosted: red, royal blue and sky blue and golden.
✓ Cold paint colors: gold, black, white, royal blue and brown.
✓ Sketch of the painting and patterns of Tutankhamun's serpent and beard.
✓ Cold sylicon.
✓ Ruler.
✓ Pair of scissors.
✓ Pencil.
✓ Brushes.
Materiales utilizados:
✓ Un rectángulo de cartón de 30x20 centímetros.
✓ Goma Eva colores: Azúl rey, rojo, dorado, color piel, azúl cielo. Escarchadas: roja, azúl rey y azúl cieloby dorada.
✓ Pinturas al frío colores: oro, negro, blanco, azúl rey y marrón.
✓ Boceto de la pintura y patrones de la serpiente y de la barba del Tutankamón.
✓ Silicón frío.
✓ Regla.
✓ Tijeras.
✓ Lápiz.
✓ Pinceles.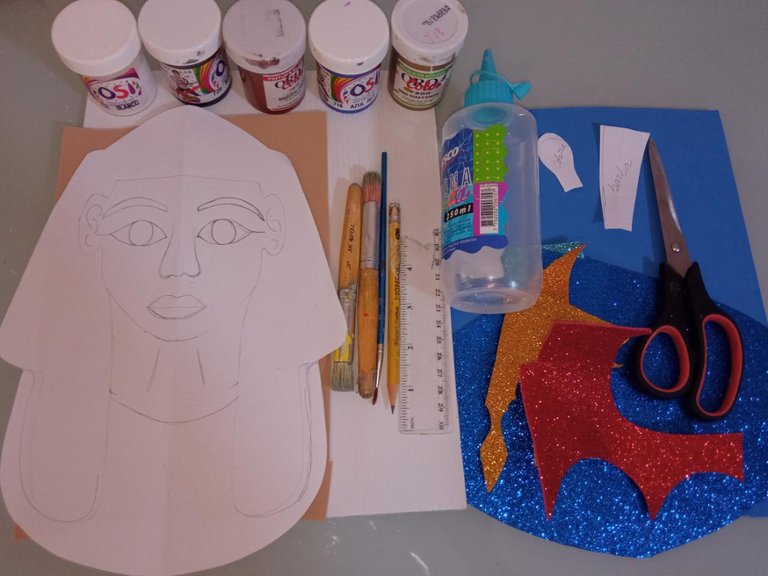 We start our craft:
Take the sketch and divide the drawing into three parts, the crown part, the face part and the necklace part. Now in the skin-colored Eva rubber it goes through the face and the necklace, in the royal blue Eva rubber it goes through the crown, the beard and the royal cobra.
Iniciamos nuestra manualidad:
Toma el boceto y divide el dibujo en tres partes, la parte de la corona, la parte del rostro y la prate del collar. Ahora en la goma Eva color piel traspasa el rostro y el collar, en la goma Eva color azúl rey traspasa la corona, la barba y la cobra real.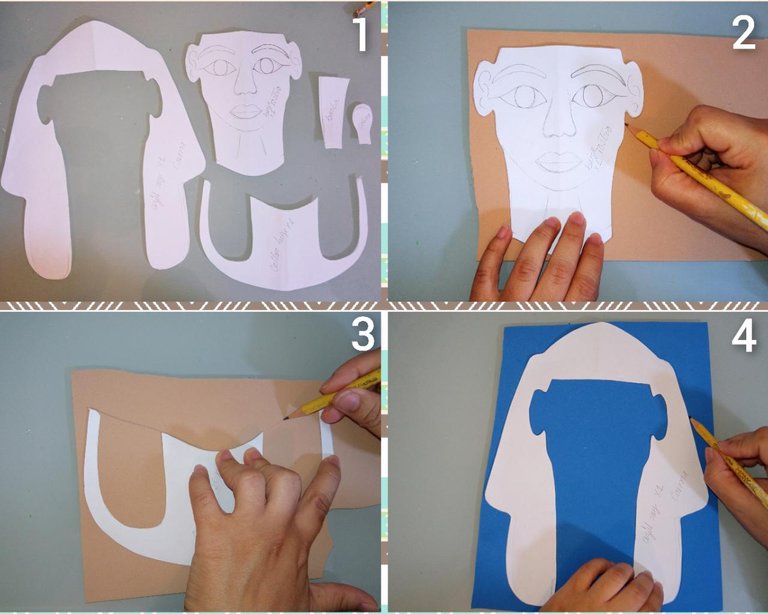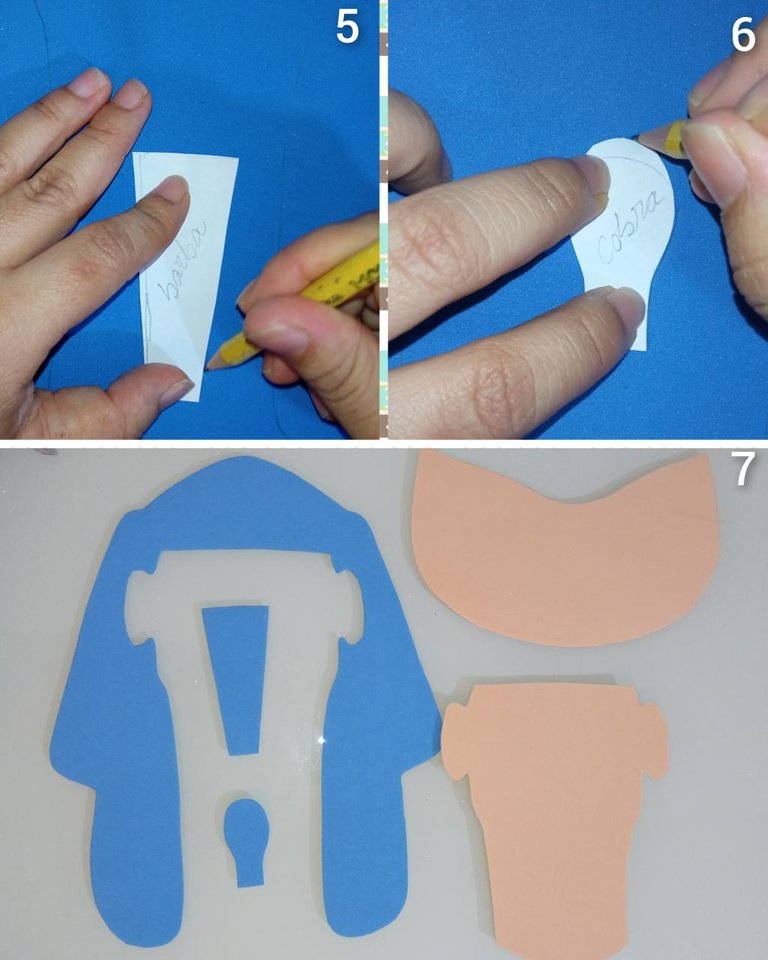 We are going to lock the collar first, to do this take the gold paint and paint the entire collar, mark the collar's internal strips with the collar's reference, interspersing the Eva rubber colors royal blue, sky blue and red in a decreasing manner and glue each piece of the necklace and trim the excess foam with the scissors. Now on the red and light blue frosted Eva rubber, mark and cut a half-centimeter strip and on the gold Eva rubber, cut out small and elongated droplets and glue each piece where it belongs with the silicone as I show you in the images.
Vamos a trabajar primero el collar, para ello toma la pintura color oro y pinta todo el collar, marca con la referencia del collar los listones internos del collar intercalando los colores de goma Eva azúl rey, azúl cielo y rojo de forma decreciente y pega cada pieza del collar y recorta los excesos de goma Eva con las tijeras. Ahora en las goma Eva escarchadas roja y azúl claro marca y corta tira de medio centímetro y en la goma Eva dorada recorta gotitas pequeñas y alargadas y pega con el silicón cada pieza donde corresponde como te muestro en las imágenes.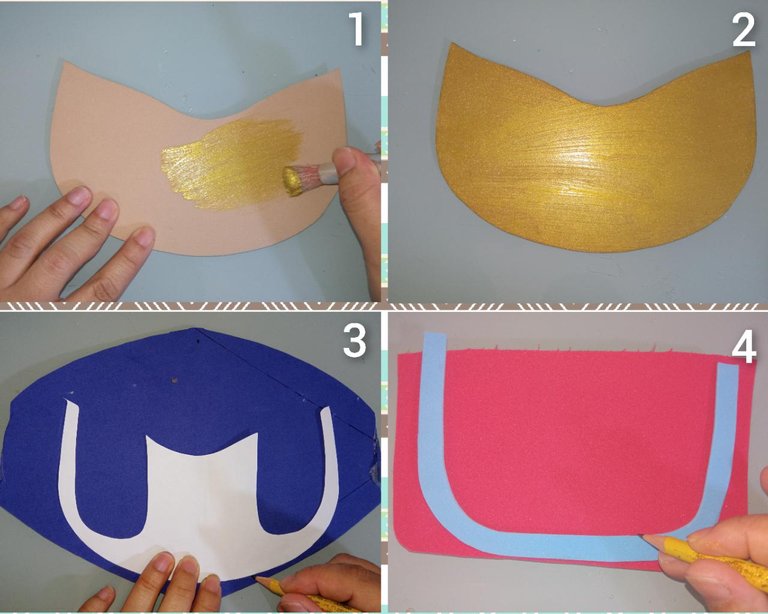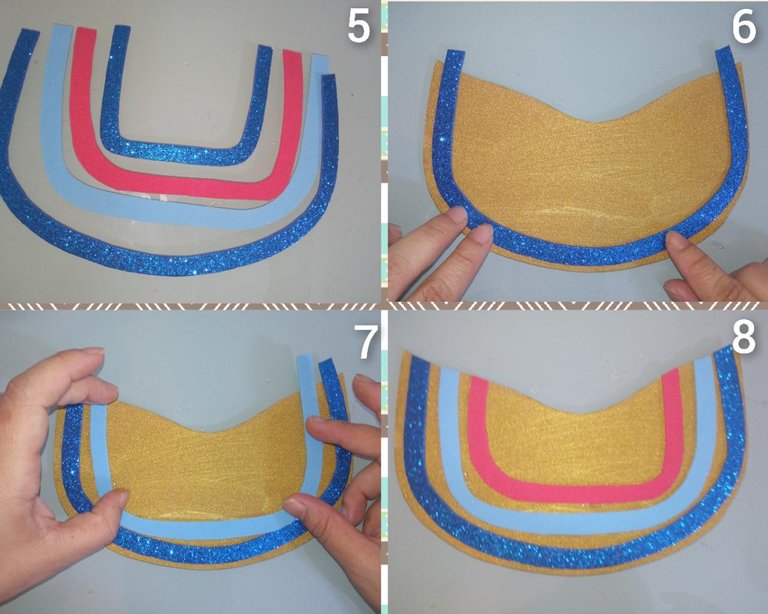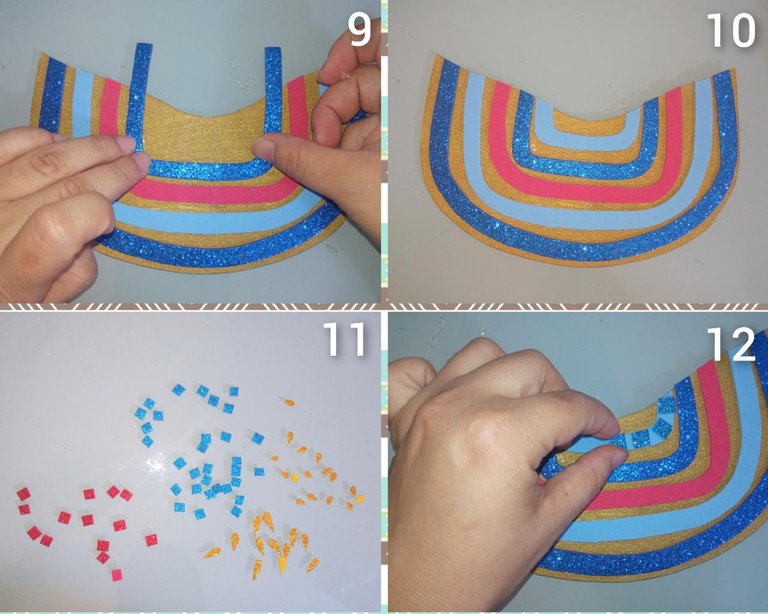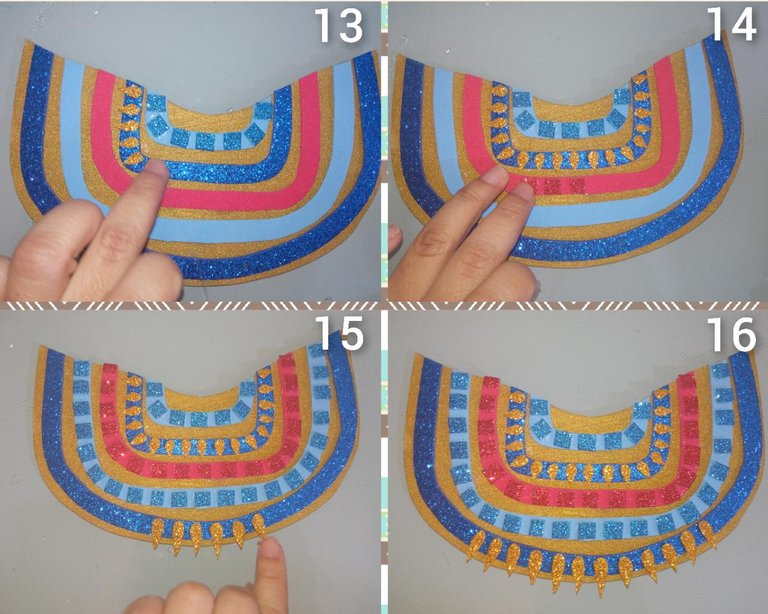 Now we are going to make the crown, the beard and the king cobra. To do this, take the golden Eva rubber and mark 1-centimeter strips on it, cut with scissors and stick with the silicone as I show you in the images of the crown. For the beard, cut a half-centimeter strip and paste the beard in a staggered manner, also cut the lower part with the beard hairs in frosted royal blue Eva rubber and paste with the silicone. For the royal cobra, cut out an oval in gold Eva rubber and a square, paste where it corresponds and with the brush to outline and the black paint paint the eyes of the cobra, add a small edge of Eva rubber to the back of the cobra golden.
Ahora vamos a elaborar la corona, la barba y la cobra real. Para ello toma la goma Eva dorada y marca en ella tiras de 1 centímetro, recorta con las tijeras y ve pegando con el silicón como te muestro en las imágenes de la corona. Para la barba recorta tira de medio centímetro y pega de la barba en forma escalonada, también corta en goma Eva azúl rey escarchada la parte inferior con vellos de la barba y pega con el silicón. Para la cobra real recota un óvalo en goma Eva dorada y un cuadrado, pega donde corresponde y con el pincel para delinear y la pintura negra negra pinta los ojos de la cobra, agrega a la parte trasera de la cobra un pequeño borde de goma Eva dorada.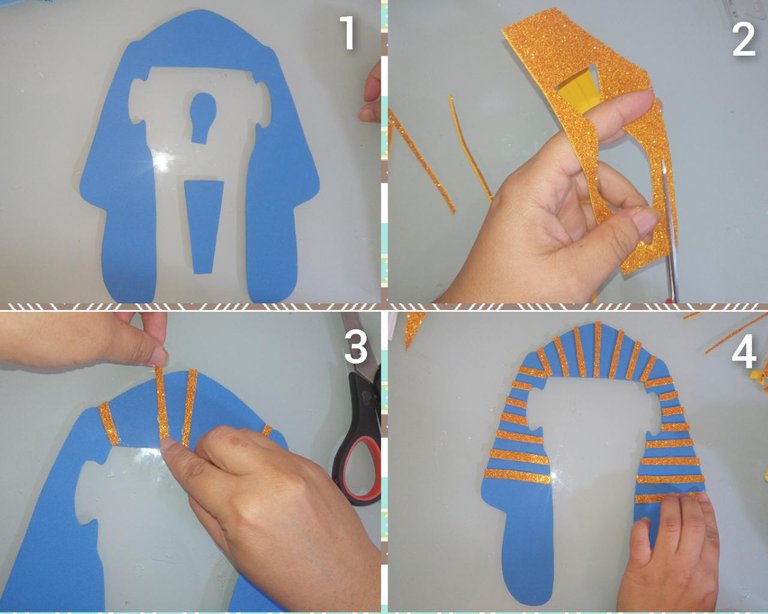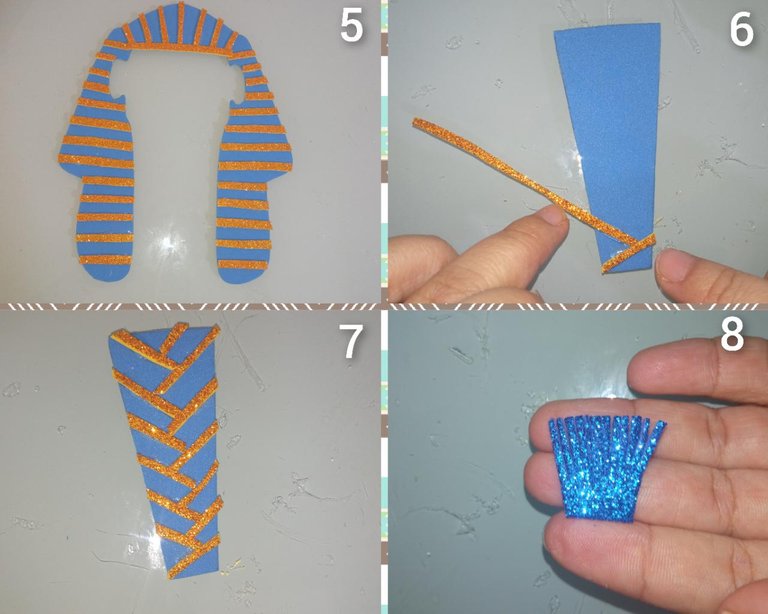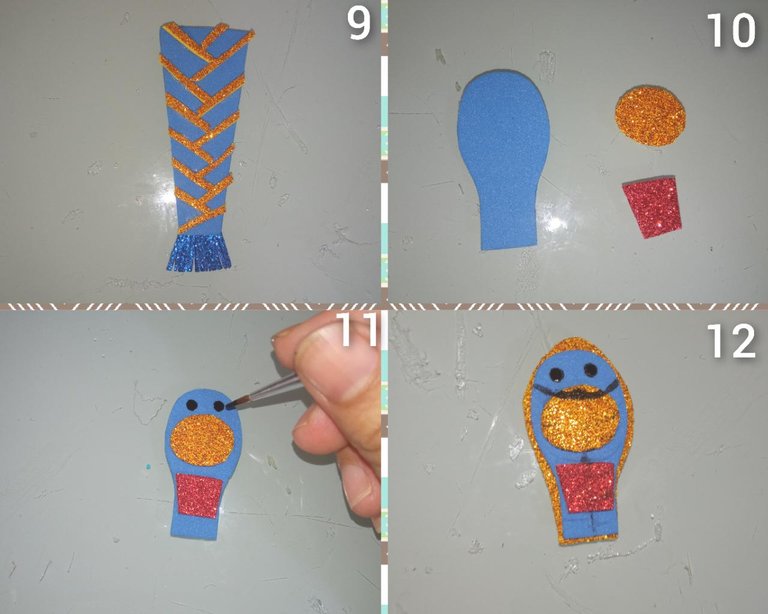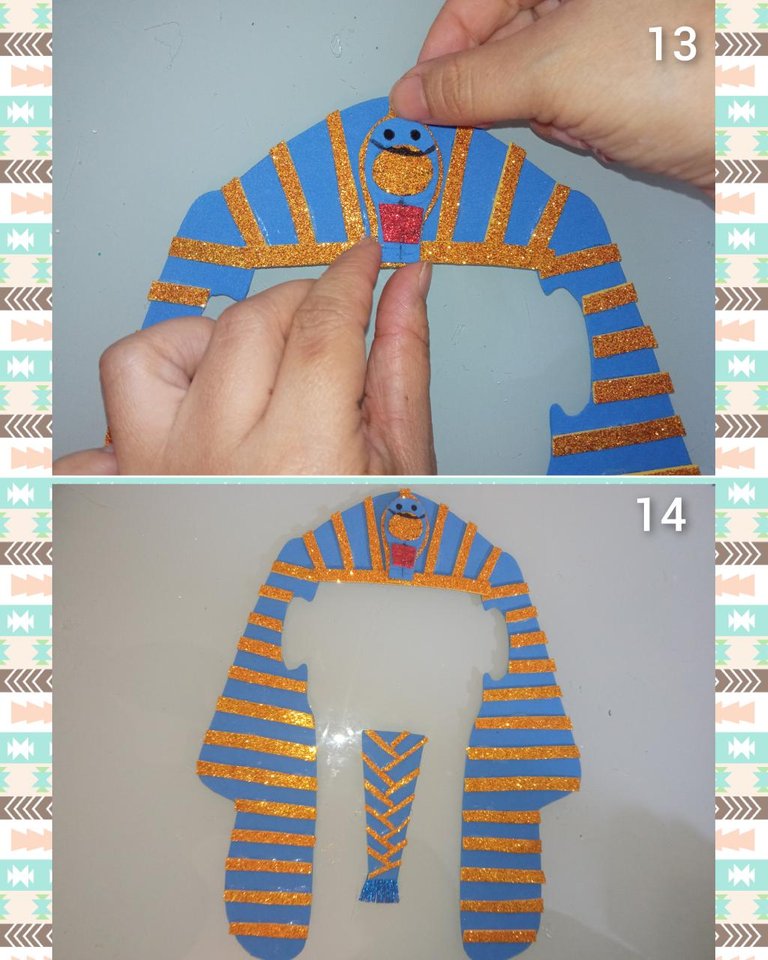 For the face, paint with the pencil the features of Tutankhamun, then with the brown and white paints mix and achieve a tan hue and add this paint to the face, also add some gold color. With the black and white paints he paints the eyes of the pharaoh, and with the royal blue paint he paints the eyebrows and outlines the eyes, with the brown paint he paints the other features of the ears, nose, mouth, bozo and neck.
Para el rostro, pinta con el lápiz las facciones de Tutankamón, luego con las pinturas marrón y blanco mezcla y logra una tonalidad bronceada y agrega esta pintura al rostro, también agrega algo de color dorado. Con las pinturas blanco y negro pinta los ojos del faraón, y con la pintura azúl rey pinta las cejas y delinea los ojos, con la pintura marrón pinta las demás facciones de las orejas, la nariz, la boca, el bozo y el cuello.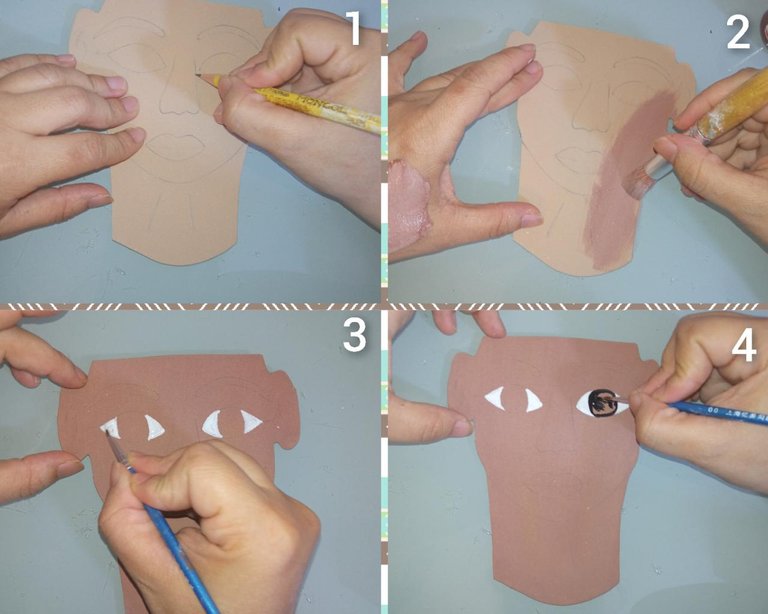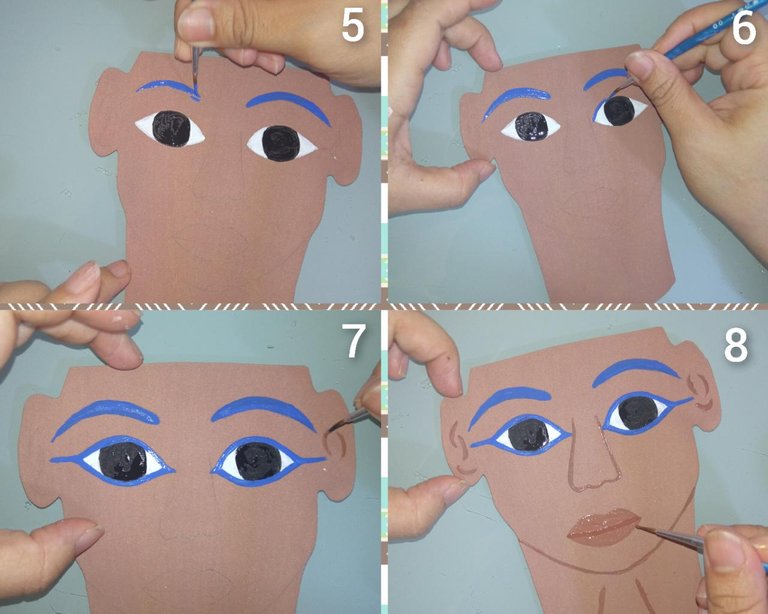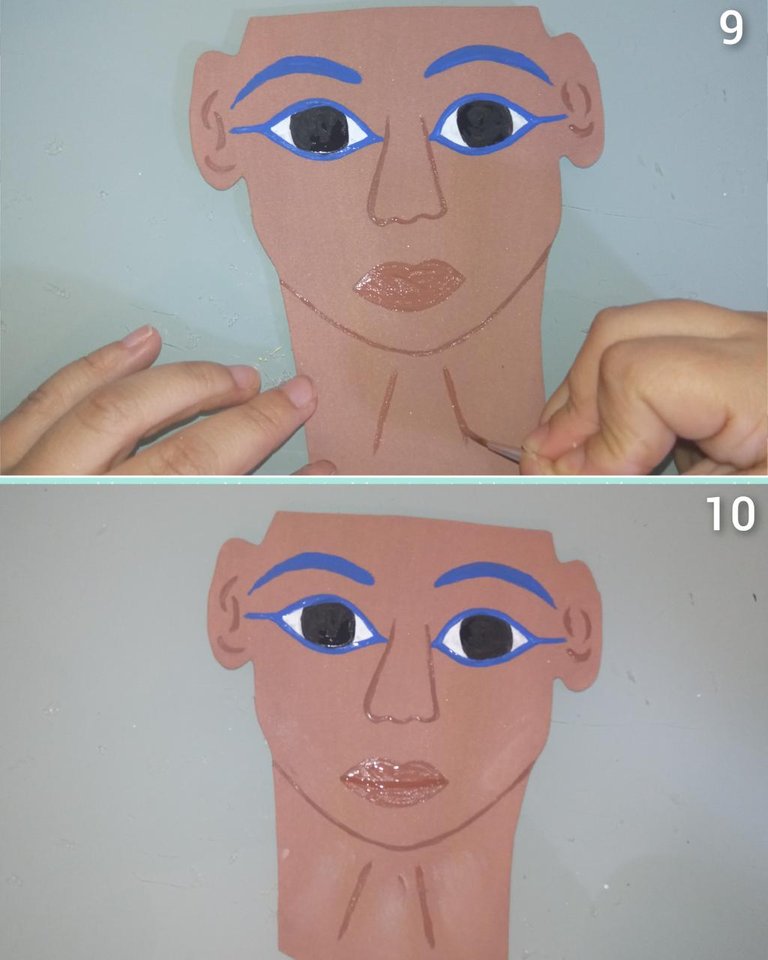 Now he takes the cardboard rectangle and paints its edges gold and lets it dry. Having all our pieces of the painting ready, stick each one of them with the liquid silicone as I show you below and stick a strip on the back to hang the painting.
Ahora toma el rectángulo de cartón y pinta sus bordes de color oro y deja secar. Ya teniendo todas nuestras piezas del cuadro listas, pega cada una de ellas con el silicón líquido como te muestro a continuación y pega en la parte de atrás una tira para guindar el cuadro.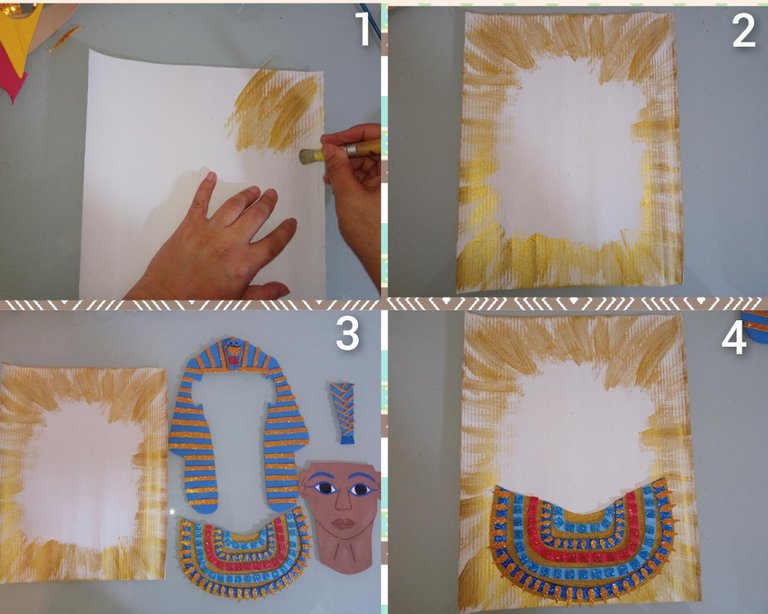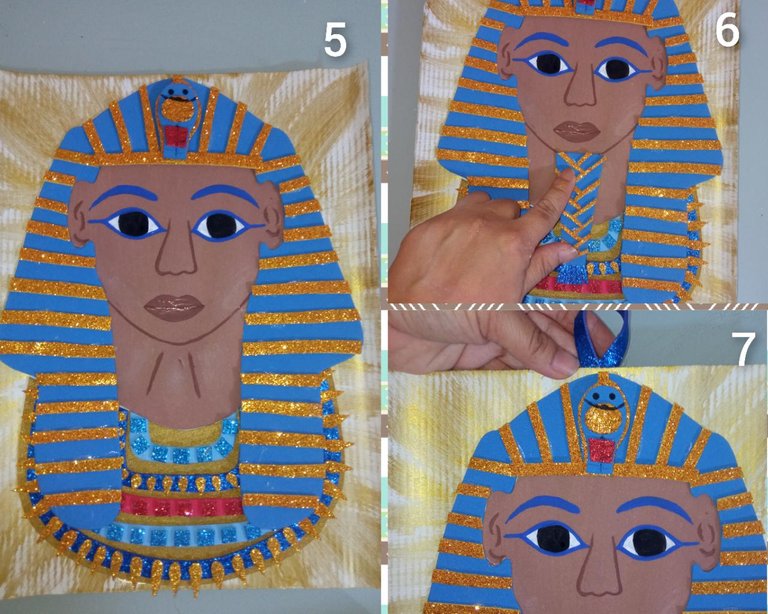 This has been the final result of my creative craft, I hope that I have done justice to the Egyptian pharaoh Tutankhamun and I hope that you have also liked it, if so, I appreciate his comments. God bless you and below I leave you my little Faronic collection of the ancient Egyptian.
Este ha sido el resultado final de mi manualidad creativa, espero que le haya hecho justicia al faraón egipcio Tutankamón y espero que a ustedes también les haya gustado, de ser así agradezco sus comentarios. Dios los bendiga y más abajo les dejo mi pequeña colección faronica del antiguo egipcio.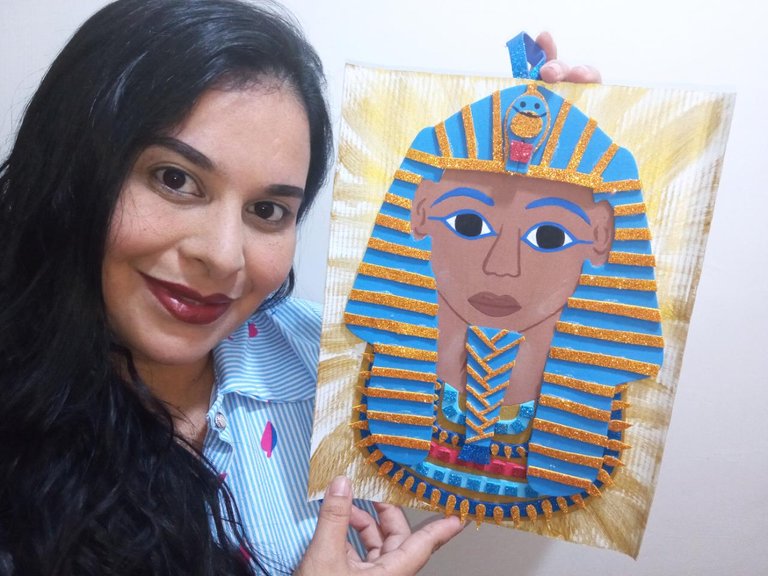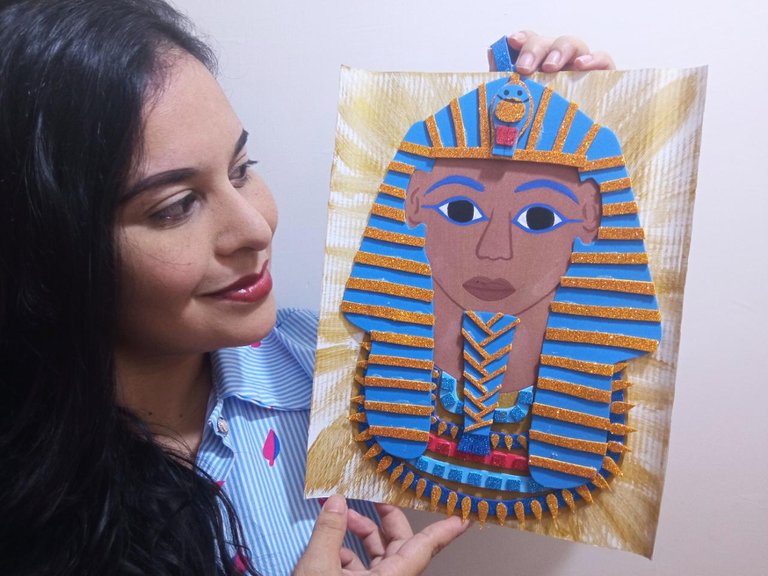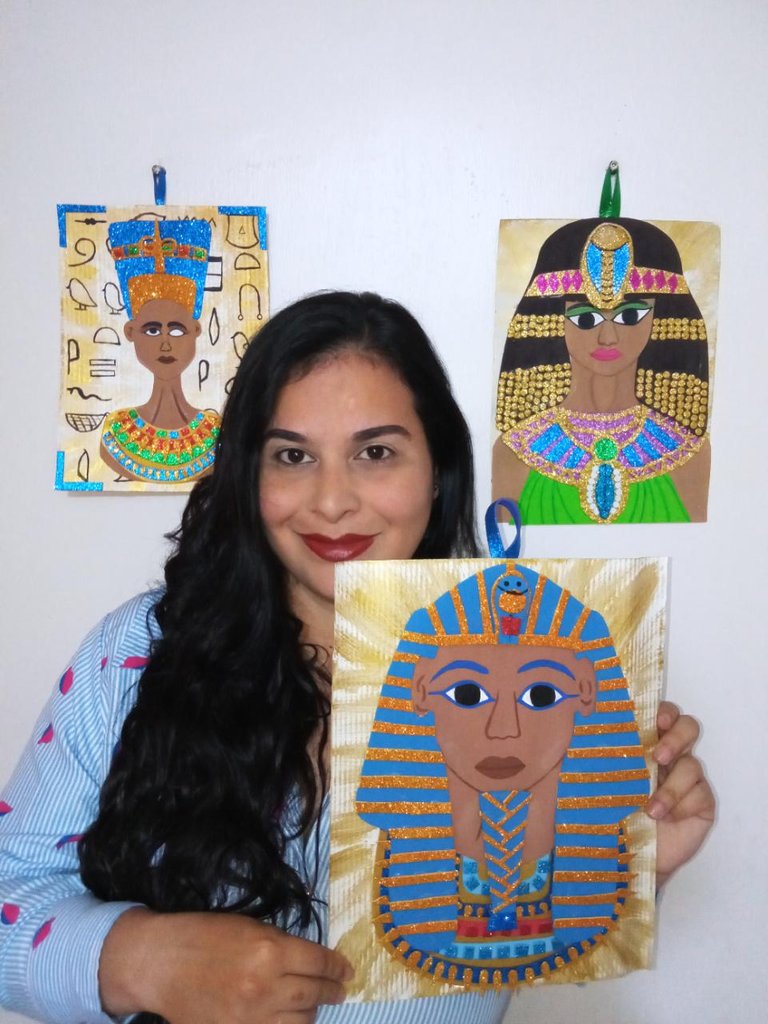 Referential image. // Imagen Refencial..
THANKS FOR READING ME // GRACIAS POR LEERME.
Translated by: google translator // Traducido por: google traductor.
Camera 13 MP Xiaomi Redmi 9. // Camara 13 MP Xiaomi Redmi 9.
All photos are my property // Todas las fotos son de mi propiedad.
The collage were made with the collage maker android app // Los collage fueron realizado con la app para android collage maker.