It's nice to have a pet of our choice at home, and if we don't have it, in fact we can make it, whether it's little birds, bunnies, among others. In this when I was studying I once made a dog with a bottle and toilet paper, well that has been many years since. Today I wanted to remember that day by making a new one, but this time I will change the toilet paper for crepe paper, in order to use these 2 colors.

Es lindo tener en casa alguna mascota de nuestra preferencia, y si no la tenemos, de hecho la podemos hacer, ya sea pajaritos, conejitos, entre otros. En este cuando estudiaba hice alguna vez un perro con una botella y papel higiénico, bueno eso tiene muchos años de haber pasado. Hoy quise recordar ese día haciendo uno nuevo, pero esta vez cambiaré el papel higiénico por papel crepe, para así darle uso a estos 2 colores.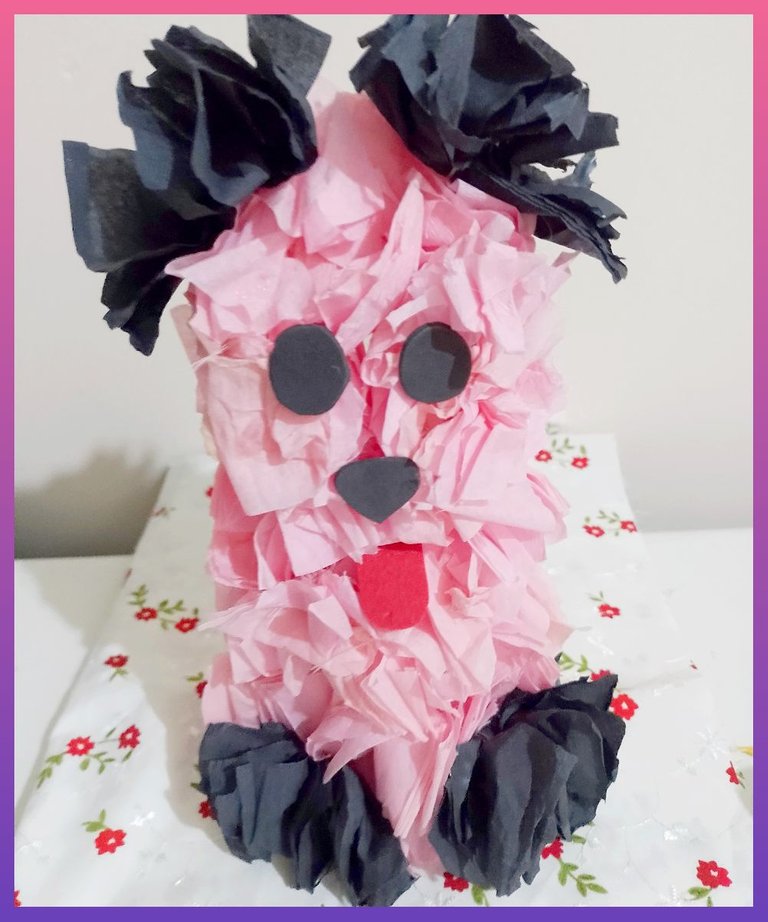 Materials:
√ Pink, black crepe paper.
√ Pieces of Eva rubber red, black.
√ Glass bottle.
√ Pink thread.
√ Scissors.
√ Hot silicone.

Materiales:
√ Papel crepe rosado, negro.
√ Retazos de Goma Eva rojo, negro.
√ Botella de vidrio.
√ Hilo rosado.
√ Tijera.
√ Silicona caliente.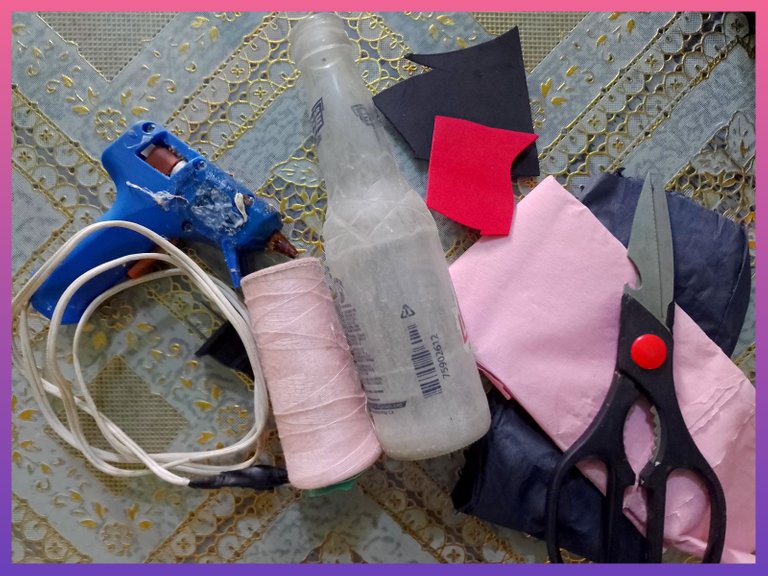 Step 1:
Cut the paper into several rectangles, then open and cut in half, in order to divide them and double them for more. From the black paper I did the same procedure, except that I cut only 2, divided them in half and took out 4 equal parts.

Paso 1:
Corte el papel en varios rectángulos, luego abrí y corte por la mitad, para así dividirlas y que se duplicaran por más cantidad. Del papel negro hice el mismo procedimiento a diferencia que corte solo 2, los dividí a la mitad y saque 4 partes iguales.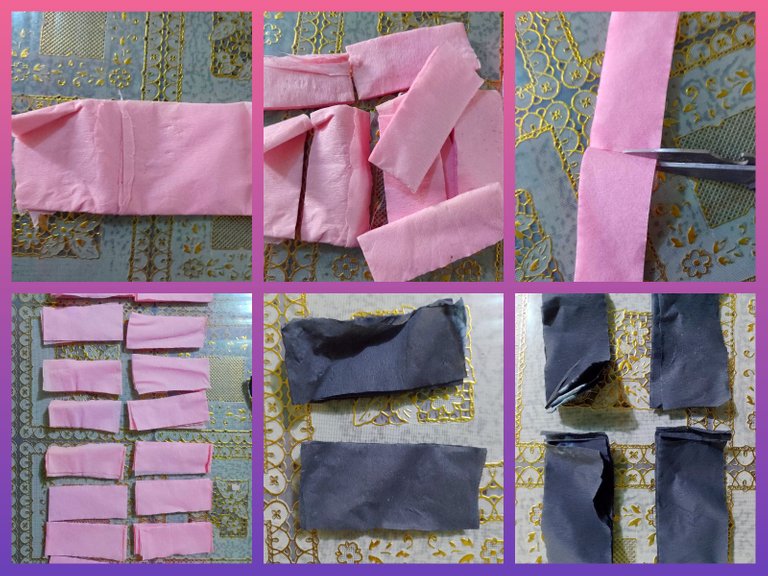 Step 2:
Fold the paper rectangles, as if to make a bow and with the thread I tied it in the middle, I proceeded to open them, until it was like this, just like with the black ones. Finally cut the red and black Eva rubber, the eyes, nose and tongue.

Paso 2:
Doble los rectángulos de papel, como si fuera a hacer un lazo y con el hilo lo amarre en el medio, procedí a abrirlos, hasta quedar así, al igual con los negros. Por último corte de la Goma Eva rojo, negro, los ojos, nariz y lengua.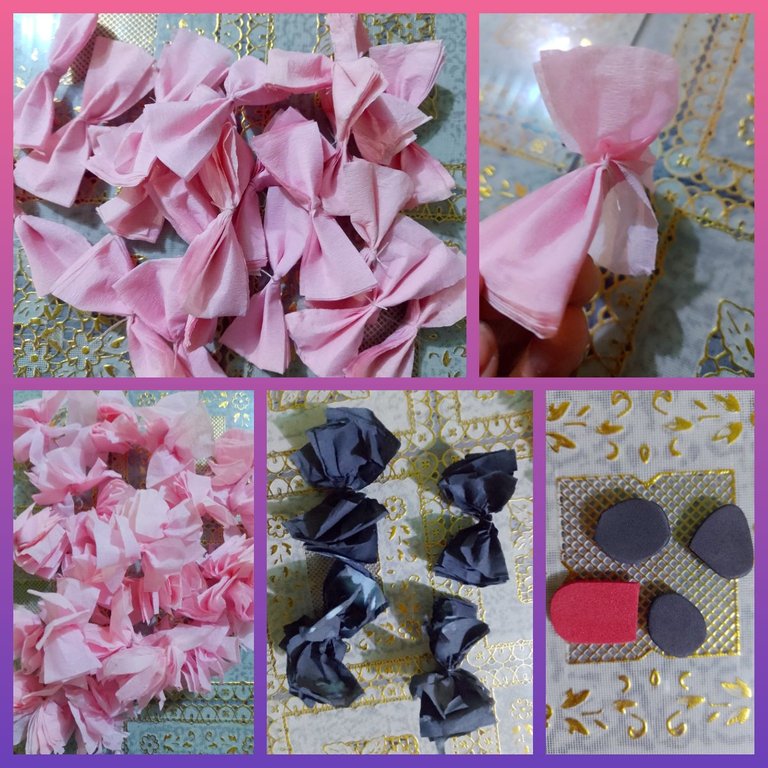 Step 3:
I started lining the bottle from the bottom up, until I lined it all. Then I proceeded to glue his eyes, nose, tongue. Now the ears, the legs, the tail and so I end this beautiful pet, I hope you have been able to enjoy this creation, so that you can create many. Regards.

Paso 3:
Comencé a forrar la botella desde abajo hacia arriba, hasta forrarla toda. Luego procedí a pegarle sus ojos, nariz, lengua. Ahora Las orejas, las patas, cola y así doy por terminada esta linda mascota, espero que hayan podido disfrutar de esta creación, para que así puedan crear muchas. Saludos.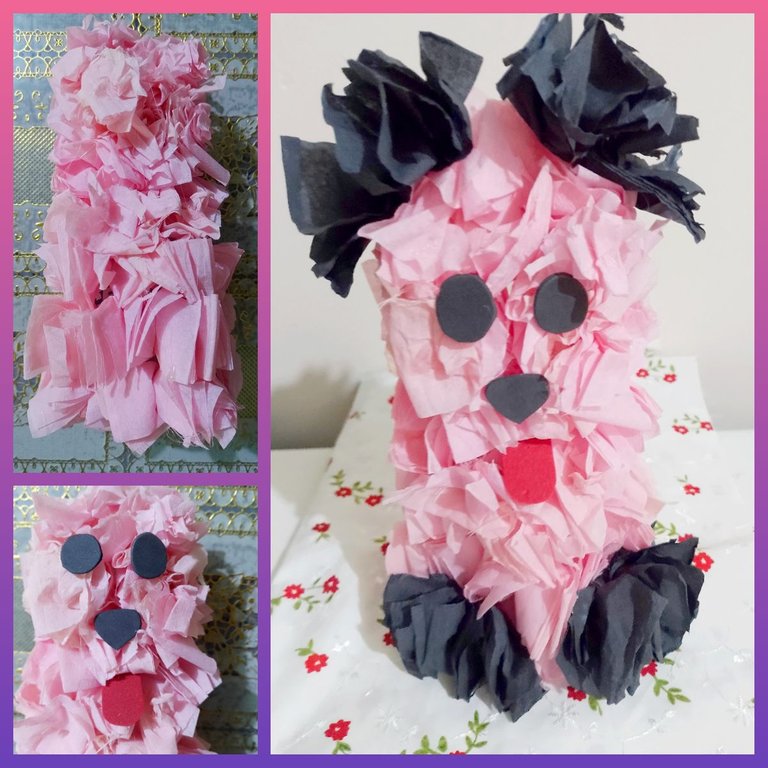 The photos were taken from a Xiaomi Mi A2.

Collage making program: Fotojet Link
Translated from google translator Link
Photo editing program: PhotoFiltre 7

Las fotos fueron tomadas desde un Xiaomi Mi A2.
Programa para hacer el collage: Fotojet Enlace
Traducido del traductor de Google Enlace
Programa para editar fotos: PhotoFiltre 7

I say goodbye until another opportunity.
Thanks for your support.

Me despido hasta otra oportunidad.
Gracias por su apoyo.

Copyright @imargasa. All rights reserved.