Hola amigos Artistas! | Hello artist friends! ツ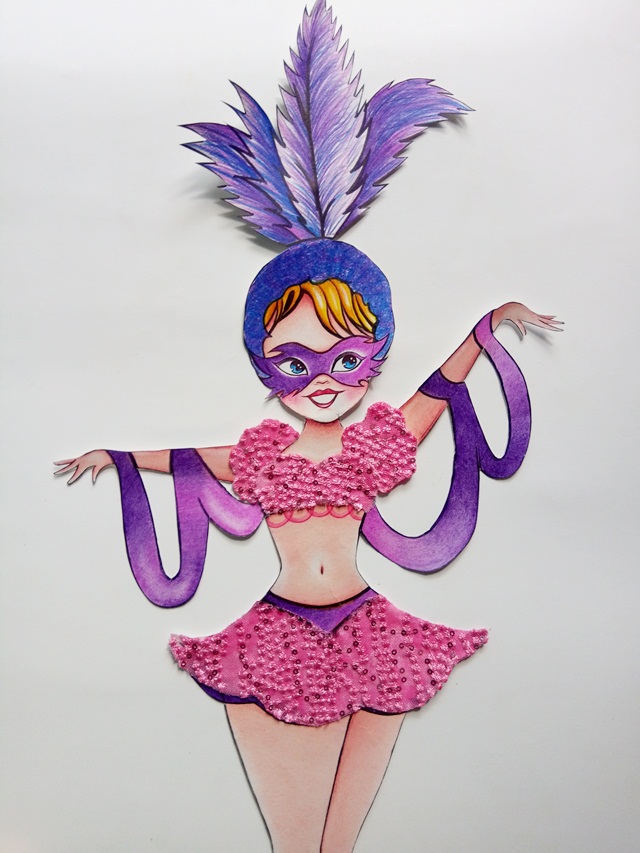 ---
Bienvenidos nuevamente!, estoy súper feliz por traerles un nuevo post, mientras tanto... ¡Se acerca Carnaval! ;p, una de las celebraciones más coloridas y divertidas de esta parte del mundo XD. Es por es que el día de hoy les traigo una súper bailarina de Carnaval que podemos hacerla para adornar nuestro espacio, para recordar esta época o simplemente para pasar un rato divertido creando arte. ¡Continuemos!
Welcome back! I'm super happy to bring you a new post, meanwhile... Carnival is coming! ;p, one of the most colorful and fun celebrations in this part of the world XD. That is why today I bring you a super Carnival dancer that we can make to decorate our space, to remember this time or simply to have a fun time creating art. Let's continue!
---
---
---
✄Materiales | ✄
Cartulina blanca
Colores
Retazo de tela
Pega blanca
Creatividad ✨
White Cardstock

Colors

Fabric scrap

White paste

Creativity ✨
---
---
---
✩⋆Proceso de Creación | Creation Process⋆✩
Paso 1. Lo primero que hice como de costumbre fue tomar mi lápiz de grafito y empezar a hacer el boceto de la bailarina, el diseño surgió de manera natural, quise hacerlo simple pero extravagante, como muchos sabrán en Carnaval la bailarinas suelen vestirse con trajes súper originales y llamativos la mejor parte es que pueden colocarse cualquier accesorio que llame la atención como plumas y cosas por el estilo, yo le agregué a esta chica los detalles que más me gustaron.
Step 1. The first thing I did as usual was take my graphite pencil and start sketching the ballerina, the design came naturally, I wanted to make it simple but extravagant, as many of you will know on Carnival dancers usually dress in super original and striking costumes, the best part is that they can wear any accessory that attracts attention such as feathers and things like that, I added to this girl the details that I liked the most.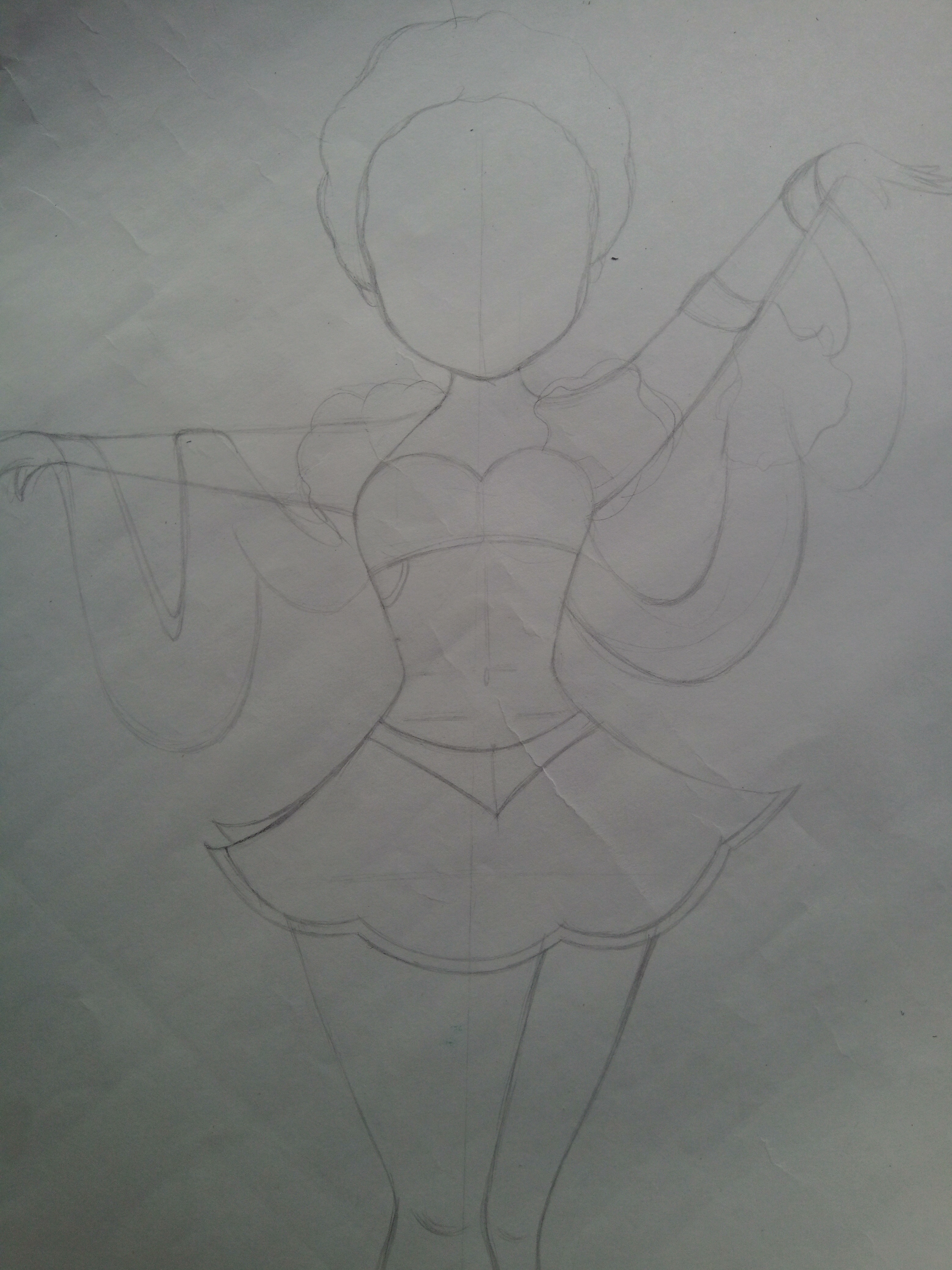 ---
Paso 2. Después de definir el diseño comencé a colorear a la chica, (mm vamos a llamarla Kely :v) primero comencé a pintar a piel de Kelly por completo luego le agregue pequeños acentos de sombra marrón para darle un toquecito de volumen, si solo agregamos un solo tono de color el dibujo se va a ver plano, es por ello que me gusta jugar con dos o más tonos al colorear la piel. Seguidamente seleccione un color morado y pinte el antifaz de mi bailarina, sin duda resalta y hace contrate con su clara piel.
Step 2. After defining the design I started to color the girl, (mm let's call her Kely :v) first I started to paint Kelly's skin completely then I added small accents of brown shadow to give it a touch of volume, if we only add a single color tone the drawing will look flat, that is why I like to play with two or more tones when coloring the skin. Then select a purple color and paint my dancer's mask, without a doubt it stands out and contrasts with her fair skin.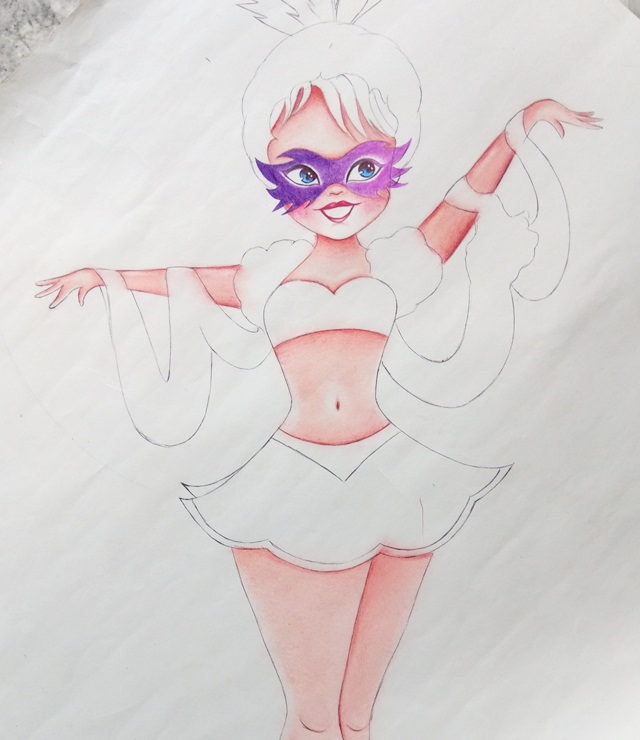 ---
Paso 3. Seguido, termine de colorear los demás detalles del traje, utilice una combinación de morado, magenta y azul. Por último solo me faltaba terminar el traje, quería que fuese rosado pero ya no me quedaba nada de este color, asique tome un trozo de tela rosa brillante y la recorte con la forma del traje de mi bailarina y para finalizar se lo fije con pegamento.
Step 3. Next, finish coloring the other details of the suit, using a combination of purple, magenta and blue. Finally I just needed to finish the costume, I wanted it to be pink but I didn't have anything of this color left, so I took a piece of bright pink fabric and cut it out in the shape of my dancer's costume and finally I fixed it with glue.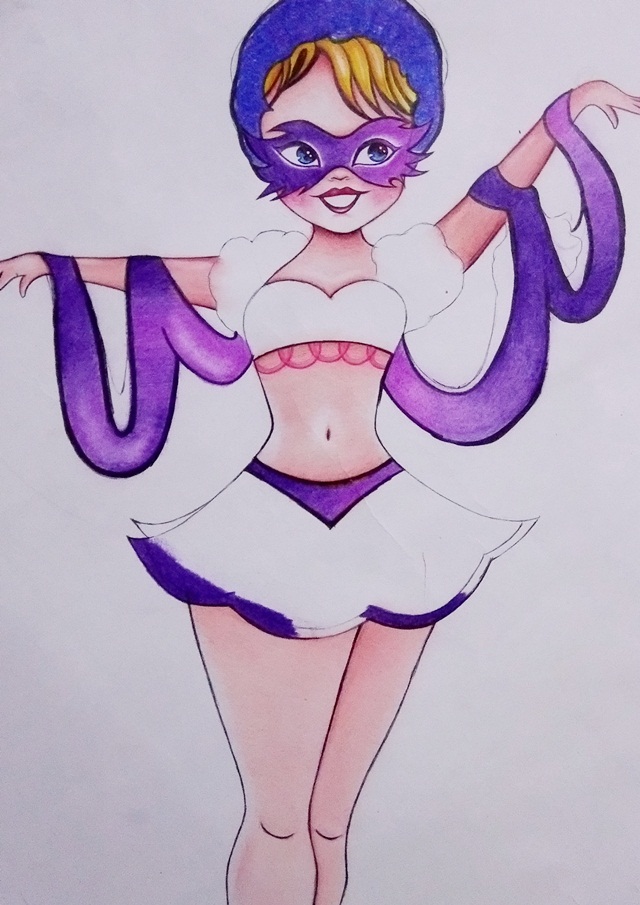 ---
⋆✩⋆Resultado final | Final result⋆✩⋆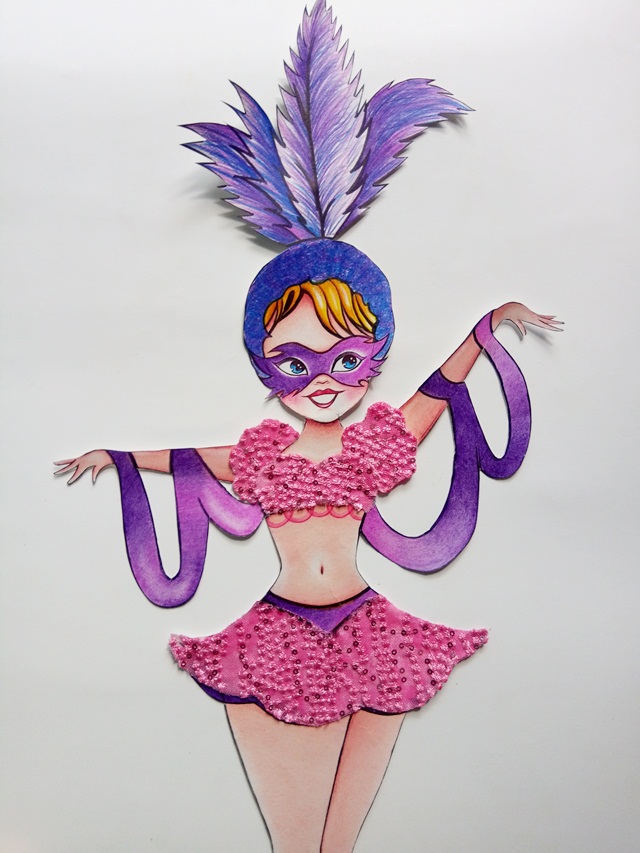 ---
---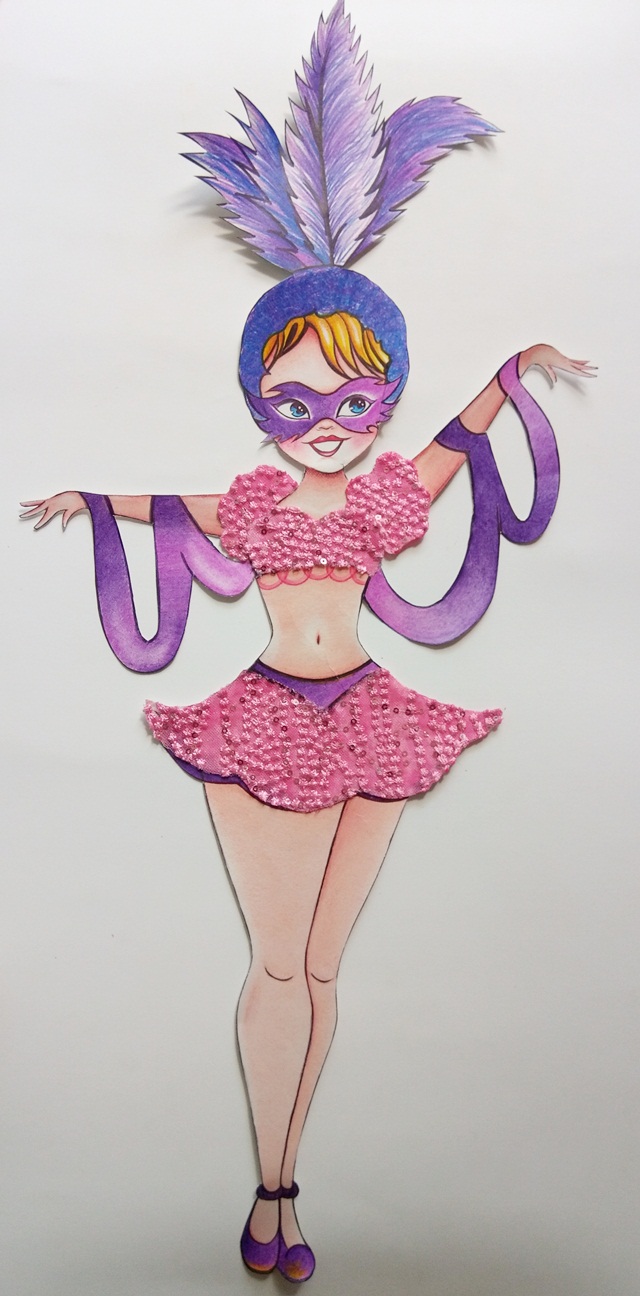 ---
---
---
Gracias por tu visita. Nos vemos en la proxima!😉💕
Thank you for your visit. See you next time!😉💕
(づ ̄ ³ ̄)づ