¡Hola amigos!
Hello friends!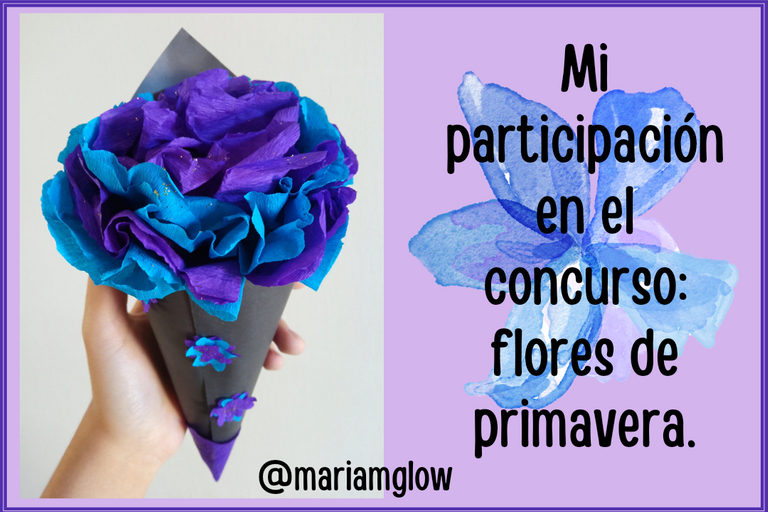 Holaaa chicosss!! Espero que estén pasando un lindo jueves, tenía tiempo sin publicar en esta comunidad, la última vez que compartí un post con ustedes fue un capítulo de mi serie navideña. He decidido publicar constantemente en mi blog, y esta es una de las comunidades que más me gusta, me di cuenta de que hay un concurso y pues la idea de participar no se me quitó de la cabeza porque el tema me encanta, se trata de crear flores con el material que tengas disponible en casa. Yo tenía papel crepé que me sobró el año pasado cuando lo adquirí para realizar varios regalos, entonces me puse manos a la obra y elaboré esta linda flor usando dos colores y la adherí a un cono de cartulina que también realicé yo. Espero que les guste mucho este post chicosss, a continuación les indicaré los materiales y cómo la hice:
Hi guys! I hope you are having a nice Thursday, I had some time without posting in this community, the last time I shared a post with you was a chapter of my Christmas series. I have decided to post constantly on my blog, and this is one of the communities that I like the most, I noticed that there is a contest and well the idea of participating did not get out of my head because I love the theme, it's about creating flowers with the material you have available at home. I had some crepe paper left over from last year when I bought it to make several gifts, so I got down to work and made this pretty flower using two colors and attached it to a cardboard cone that I also made myself. I hope you like this post a lot guysss, below I will tell you the materials and how I made it:
---
---
📌 Materiales:
Papel crepé, colores: morado y azul.
Cartulina negra.
Silicón.
Tijera.
Lápiz o bolígrafo.
Regla.
Compás.
Cartón.
Hilo chino o macramé.
Escarcha.
Pega blanca.
Pincel.
📌 Materials:
Crepe paper, colors: purple and blue.
Black cardboard.
Silicone.
Scissors.
Pencil or pen.
Ruler.
Compass.
Cardboard.
Chinese thread or macramé.
Frosting.
White glue.
Paintbrush.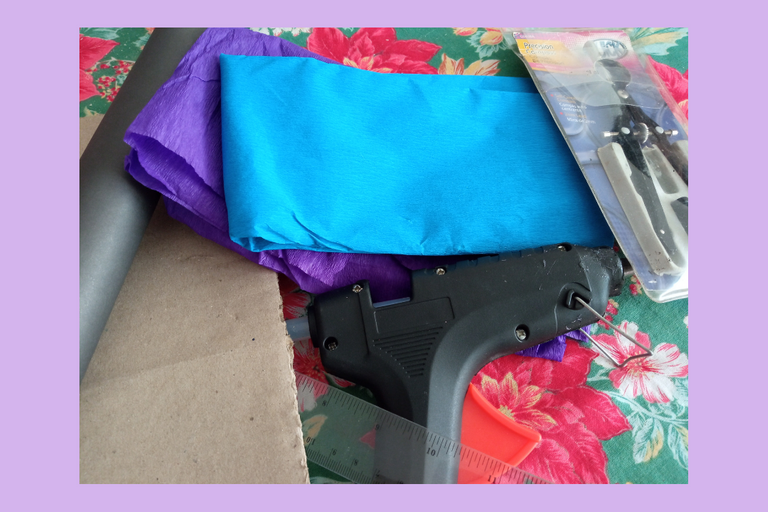 ---
Primero, cortamos un cuadrado de cartulina negra con las medidas de 18 centímetros en cada lado.
First, we cut a square of black cardboard with the measures of 18 centimeters on each side.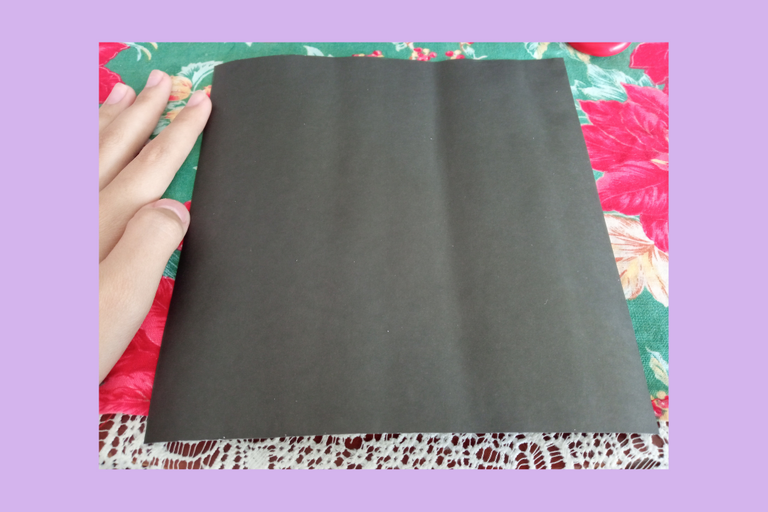 ---
Tomamos dos esquinas del cuadrado y las juntamos para darle forma de cono, con el silicón caliente pegamos.
We take two corners of the square and join them together to give it a cone shape, with the hot silicone we glue.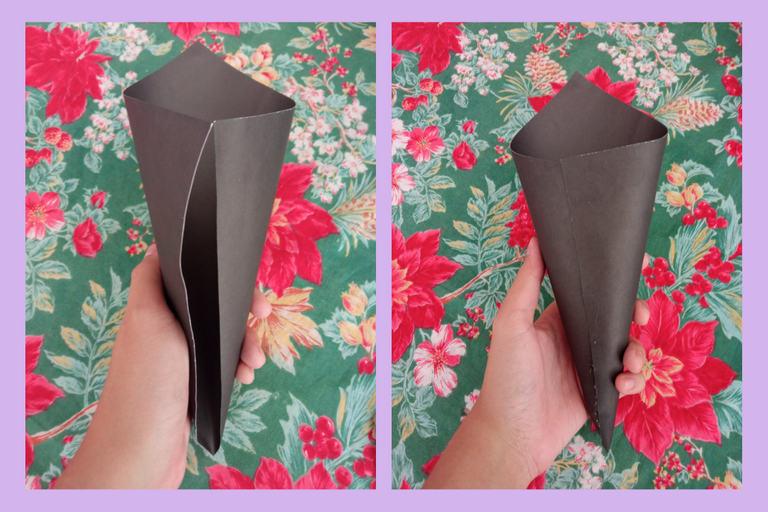 ---
Luego marcamos un círculo en el cartón con ayuda del compás y lo introducimos en el cono, en esta superficie pegaremos la flor.
Then we mark a circle on the cardboard with the help of the compass and we introduce it into the cone, on this surface we will glue the flower.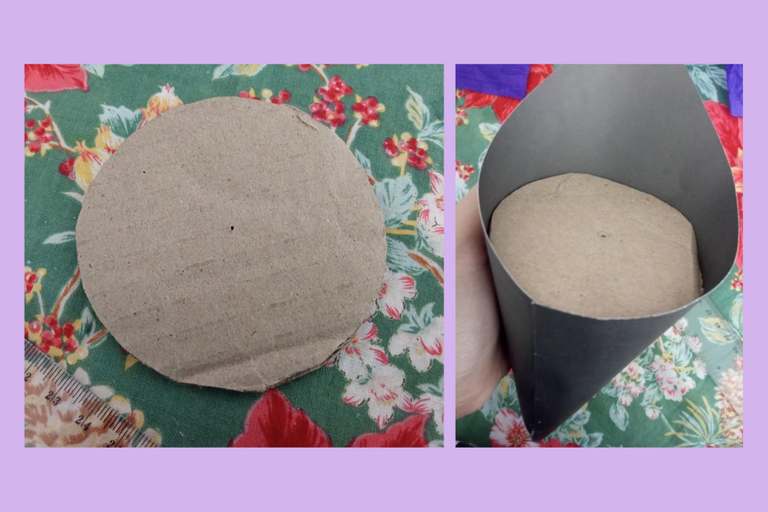 ---
Doblamos dos o tres veces el papel crepé, medimos y luego cortamos cuatro piezas de 14 centímetros de largo.
Fold the crepe paper two or three times, measure and then cut four pieces of 14 centimeters long.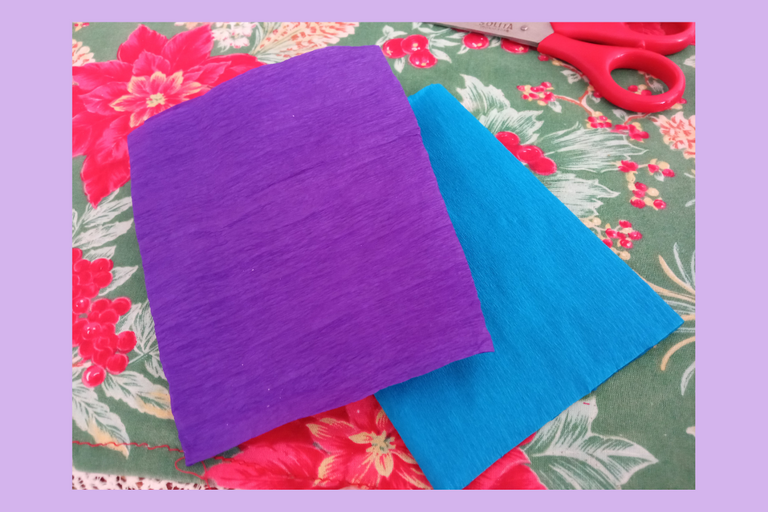 ---
Luego doblamos a la mitad cada pieza de papel crepé y las colocamos a lo largo en una mesa, primero la pieza de color azul, después encima posicionamos la de color morado, luego la azul y por último la otra pieza morada.
Then we fold in half each piece of crepe paper and place them lengthwise on a table, first the blue piece, then on top we place the purple one, then the blue one and finally the other purple piece.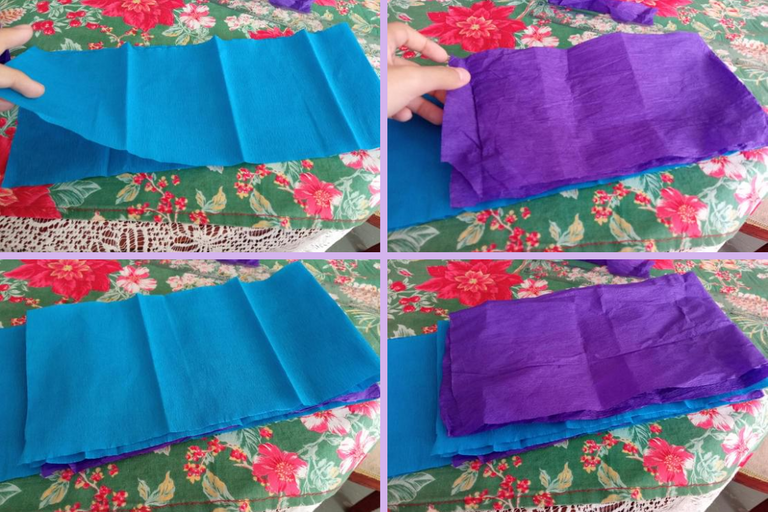 ---
Procedemos a darle forma de acordeón con nuestras manos, doblando para un lado luego hacia el otro.
We proceed to give it an accordion shape with our hands, folding it to one side and then to the other.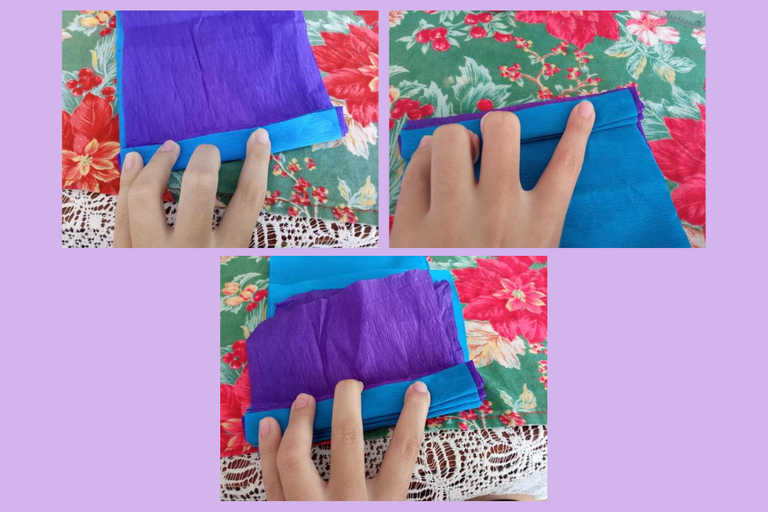 ---
Después, realizamos un nudo en el centro de nuestro papel ya doblado ayudándonos con el hilo que usamos para tejer pulseras o también podemos utilizar hilo pabilo. Y con la tijera le damos forma a la pieza en las puntas.
Then, we make a knot in the center of our folded paper using the thread we use to weave bracelets or we can also use wicker thread. And with the scissors we shape the ends.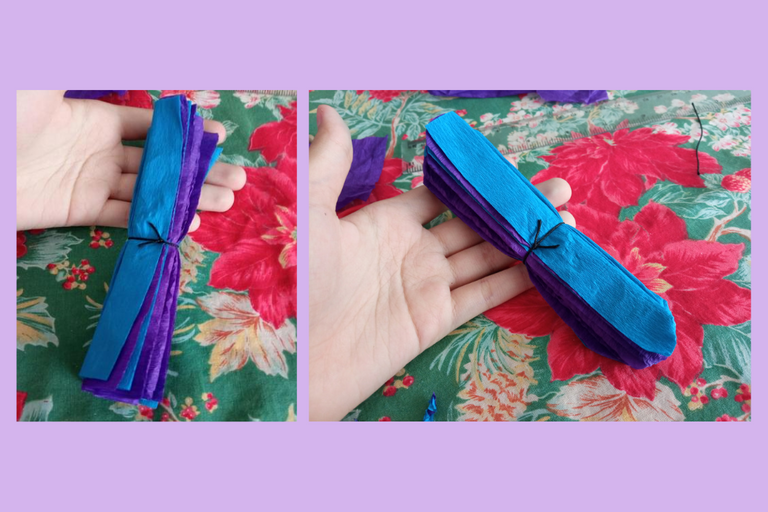 ---
Volteamos y desplegamos nuestra pieza.
We flip and unfold our piece.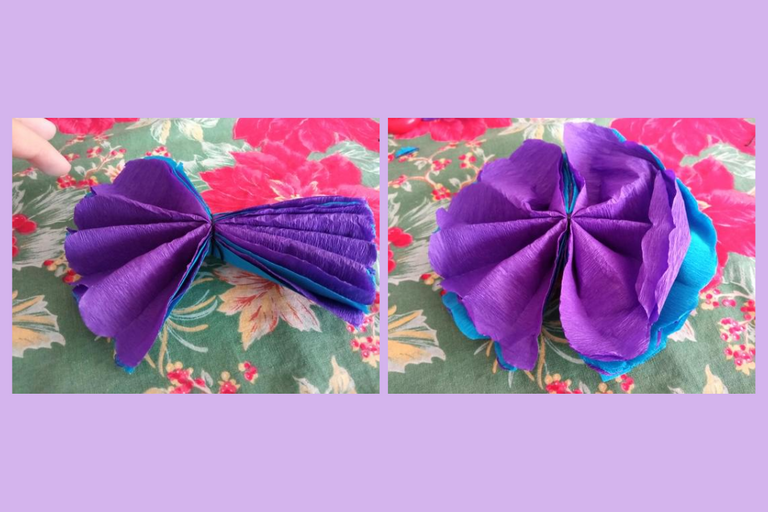 ---
Empezamos a separar capa por capa de papel y arrugamos delicadamente dándole forma. Como se observa en la imagen.
We begin to separate layer by layer of paper and crumple it delicately giving it shape. As shown in the image.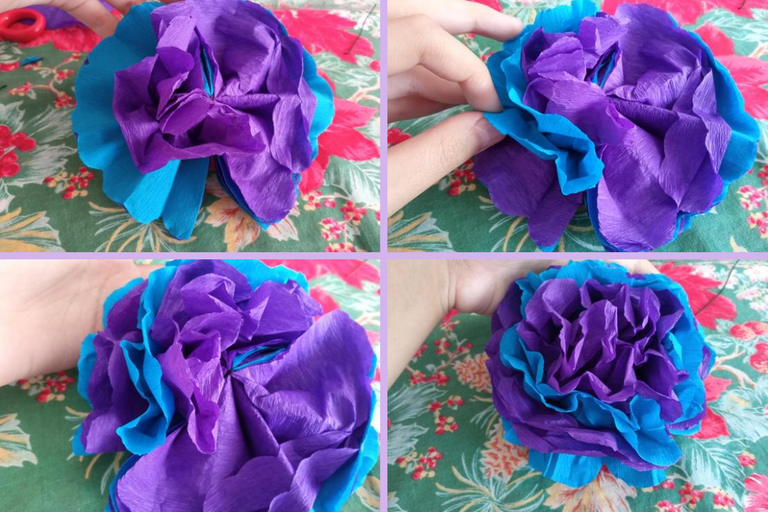 ---
El próximo paso es pegar la flor al cartón que adherimos a nuestro cono. Yo como paso opcional pegué un trozo de papel crepé morado en la parte inferior del cono. Lo podemos dejar así también, pero yo le quise insertar unas florecitas que realicé con papel crepé.
The next step is to glue the flower to the cardboard that we adhere to our cone. As an optional step I glued a piece of purple crepe paper on the bottom of the cone. You can leave it like that too, but I wanted to insert some small flowers that I made with crepe paper.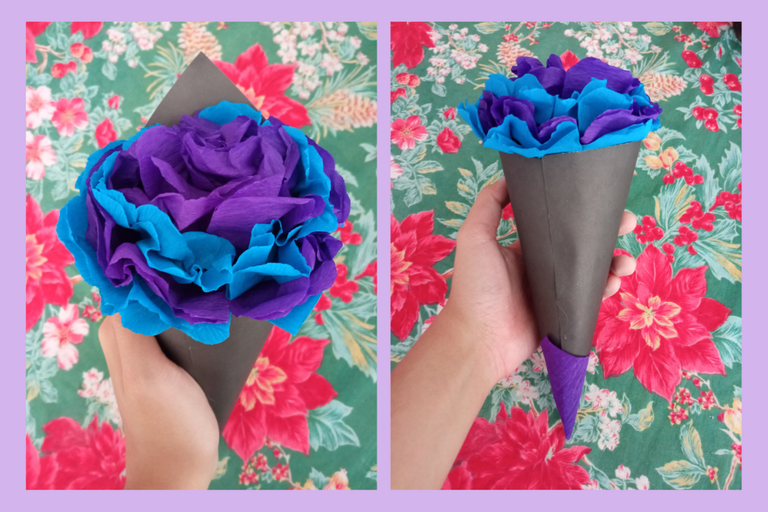 ---
Pegamos las pequeñas flores en el cono, para finalizar yo mezclé un poquito de pega blanca con escarcha y con ayuda de un pincel agregué brillantina en la flores.
We glued the small flowers on the cone, to finish I mixed a little white glue with frosting and with the help of a brush I added glitter on the flowers.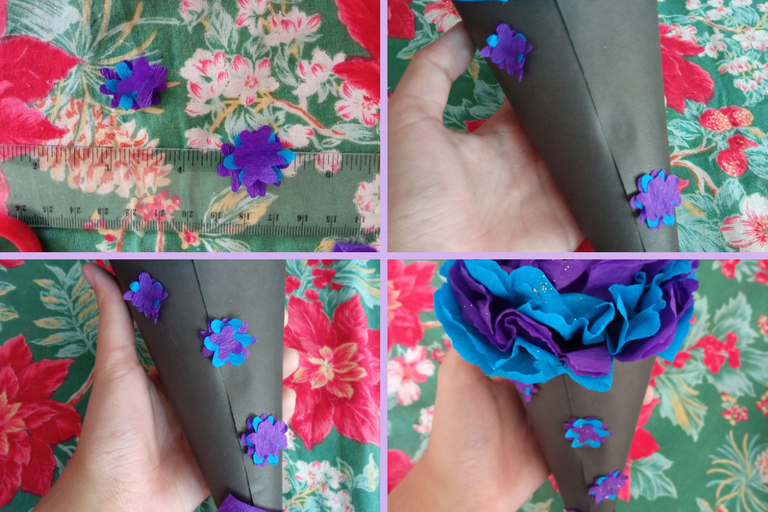 ---
Y así nos queda nuestra bonita flor!! También la podemos realizar con un solo color de papel y de diferentes tamaños, nos serían muy útiles para la decoración de fiestas. Quiero invitar a dos personas súper creativas que seguro elaborarán una espectacular entrada al concurso @mariajcastro28 @janettbrito76. Espero que les haya gustado mucho este post chicosss, gracias por leer. Hasta una próxima oportunidad!!💜💙💜💙
And that's how our beautiful flower looks like! We can also make it with a single color of paper and different sizes, they would be very useful for party decorations. I want to invite two super creative people who will surely make a spectacular entry to the contest @mariajcastro28 @janettbrito76. I hope you guys really liked this post, thanks for reading. See you next time!!!💜💙💜💙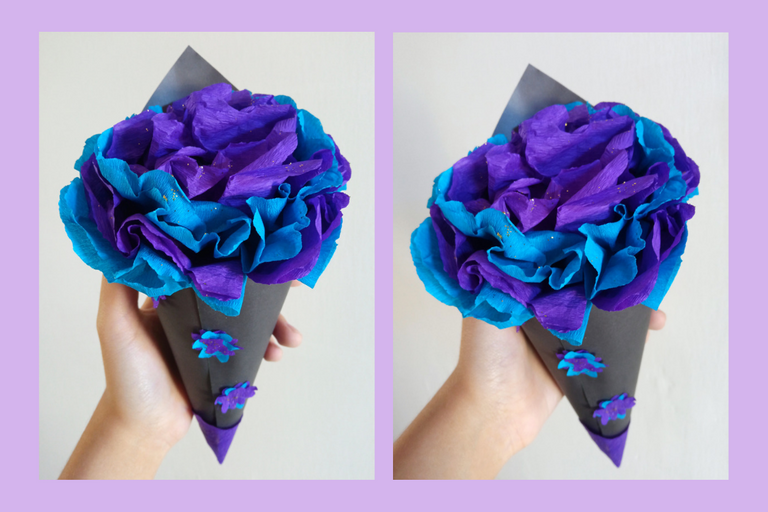 ---
Todas las imágenes son de mi autoría @mariamglow, tomadas con mi teléfono Redmi 9, editadas en Canva, texto traducido en DeepL.
All images authored by me @mariamglow, taken with my Redmi 9 phone, edited in Canva, text translated at DeepL.