Un gran saludo para esta linda comunidad 😘
A big hello to this nice community 😘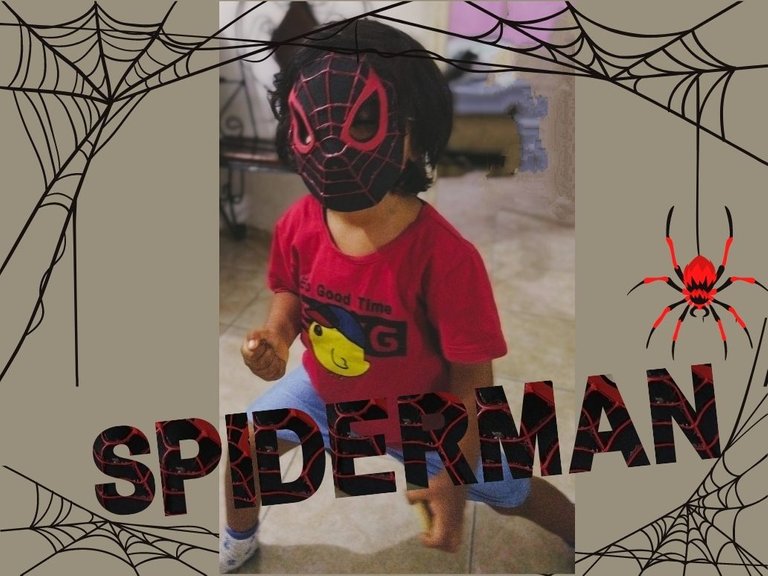 Para todos aquellos que me siguen saben que mi lindo amiguito Mathias es full fanático seguidor de Spiderman, cada vez que termina de ver sus caricaturas tenemos que lidiar con este mini hombre araña ☝, y es que no para de decir "yo soy el hombre araña".
Aprovechando los días festivos de carnavales, decidí hacerle la mascara de su caricatura favorita, para estrenarla nos fuimos de paseo a un parque de la zona, y no se la quitó hasta que retornamos a la casa, se podrán imaginar lo contento que puede andar un niño de 3 años luciendo su personaje favorito, es lo máximo para ellos en ese instante.
En este post les muestro como hice la pequeña mascara con pocos recursos 👇
For all those who follow me know that my cute little friend Mathias is a full Spiderman fan, every time he finishes watching his cartoons we have to deal with this mini spiderman ☝, and he keeps saying "I am the spiderman".

Taking advantage of the carnival holidays, I decided to make him the mask of his favorite cartoon, to premiere it we went for a walk to a park in the area, and he did not take it off until we returned home, you can imagine how happy a 3 year old can be wearing his favorite character, it is the best for them at that moment.

In this post I show you how I made the little mask with few resources 👇

✔ Fomi de color Rojo y Negro // Red and Black Fomi
✔ Silicon caliente y frio // Hot and cold silicon
✔ Tira roja // Red strip
✔ Tira Elástica // Elastic Strap
✔ Tijera // Scissors
✔ Hoja blanca // White sheet
✔ Pincel y pintura de color negro // Brush and black paint
✔ Aguja y hilo de coser negro // Needle and black sewing thread

A través de la web, me ayudé para conseguir el molde y adaptarlo a la medida de la cara del niño, buscando como molde hombre araña en el apartado de imágenes de google.
Through the web, I helped myself to get the mold and adapt it to the size of the child's face, looking for spider man mold in the google images section.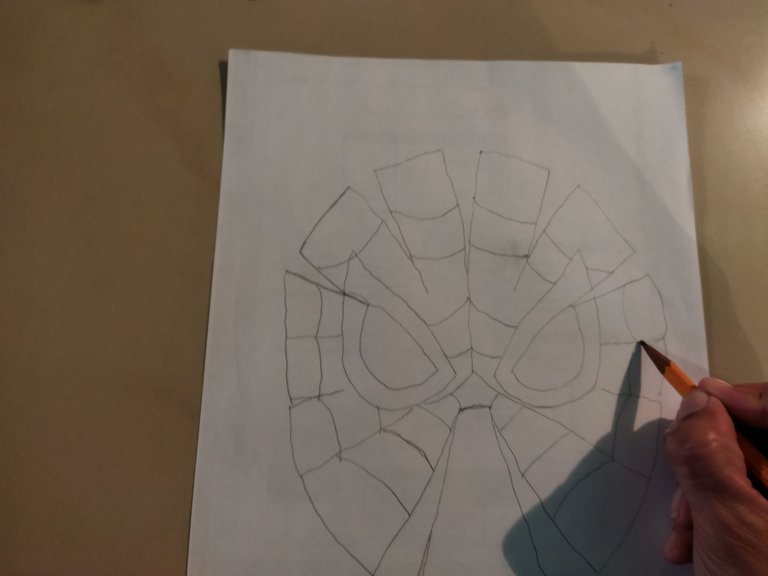 Ya con el molde refinado y a la medida deseada procedemos a remarcarlo en el foami, se pueden ayudar de alfileres para que no se mueva el molde, nos asesoramos que quede bien remarcado para luego proceder a recortarlo.
Once the mold is refined and at the desired size, we proceed to mark it on the foami, you can use pins so that the mold does not move, we make sure that it is well marked and then proceed to cut it out.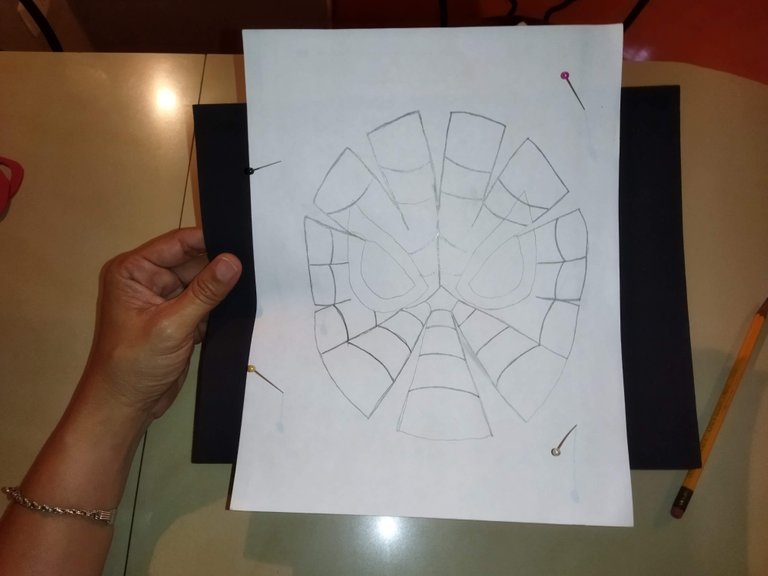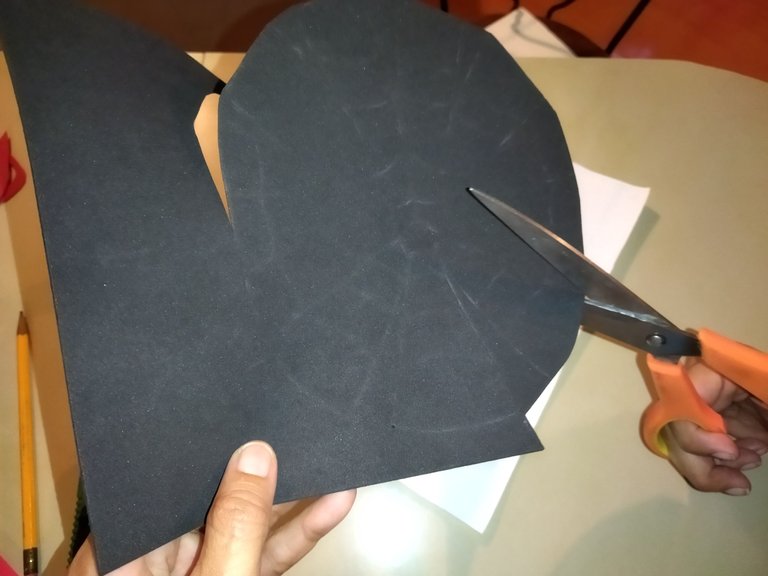 Luego procedemos a unir cada franja, pegando con silicón caliente, veraz que cada vez que unes dos franjas le dará una forma cóncava dando ese efecto de mascara.
Then we proceed to join each stripe, gluing with hot silicone, you will see that each time you join two strips it will give a concave shape giving that mask effect.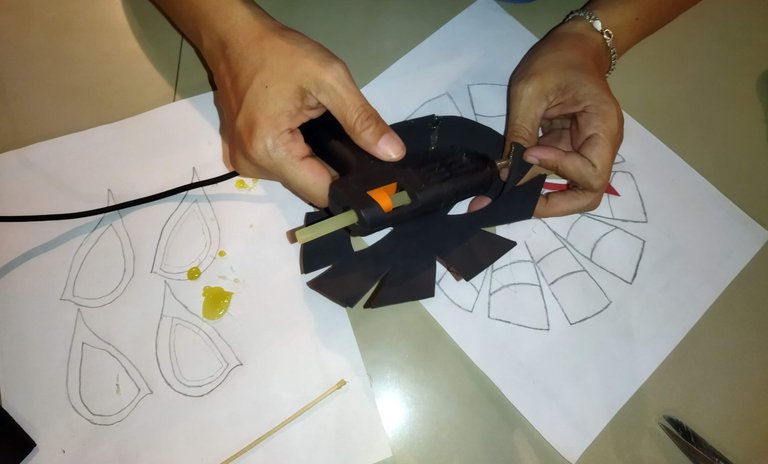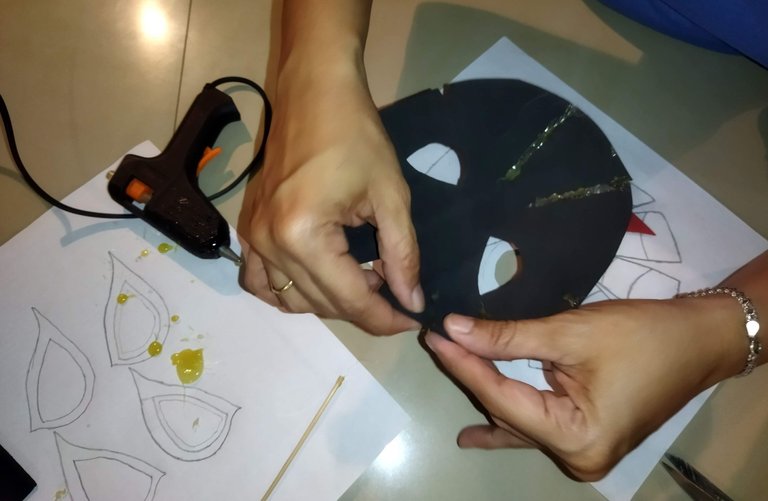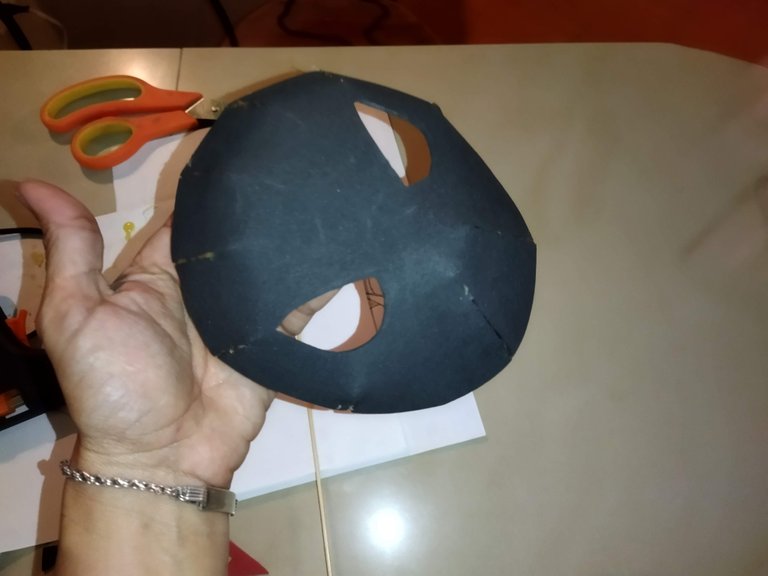 Si deseas con la ayuda de un cautín caliente puedes remarcar la forma de la telaraña, pero con sumo cuidado medio tocar el foami para que no se derrita con lo caliente.
If you wish, with the help of a hot soldering iron you can mark the shape of the spider's web, but be very careful not to touch the foami so that it does not melt under the heat.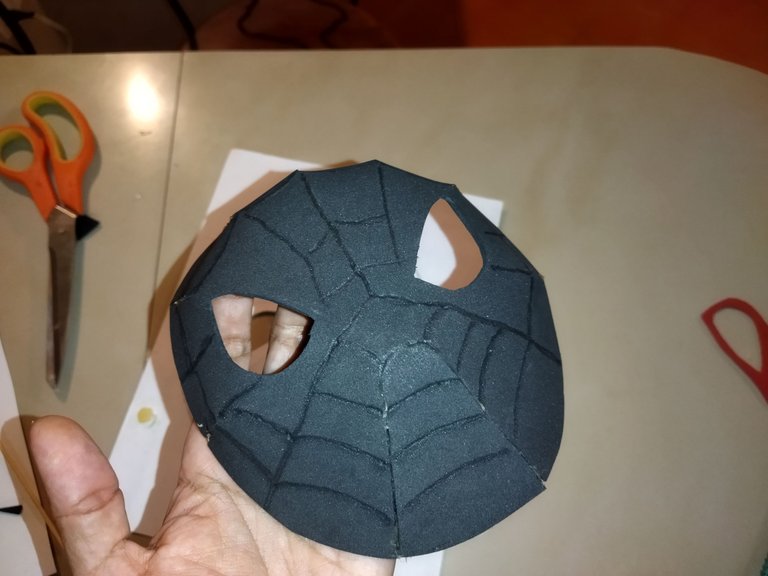 Con la pintura negra pintar la parte interna donde se ve el silicón, esto es por tema de estética.
With the black paint, paint the internal part where the silicone can be seen, this is for aesthetic reasons.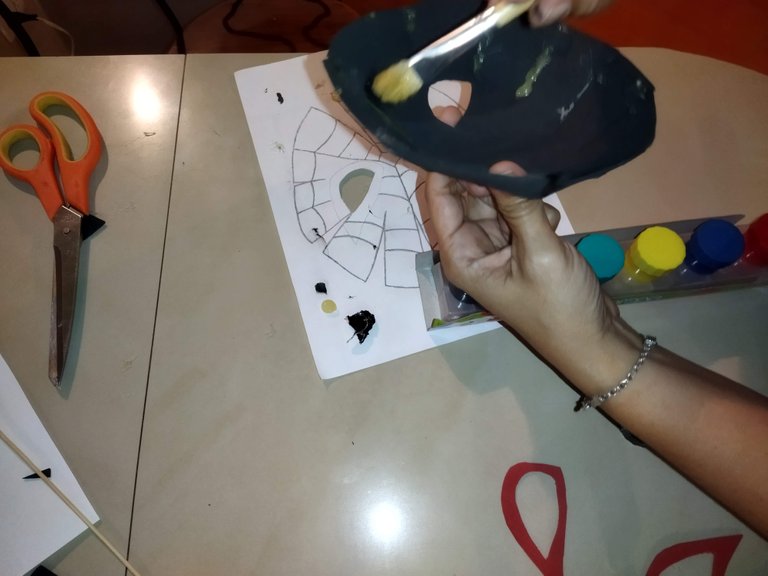 Pegar la figura de los ojos, y con el silicón frio pegar la tira roja para formar la telaraña.
Glue the figure of the eyes, and with the cold silicone glue the red strip to form the spider's web.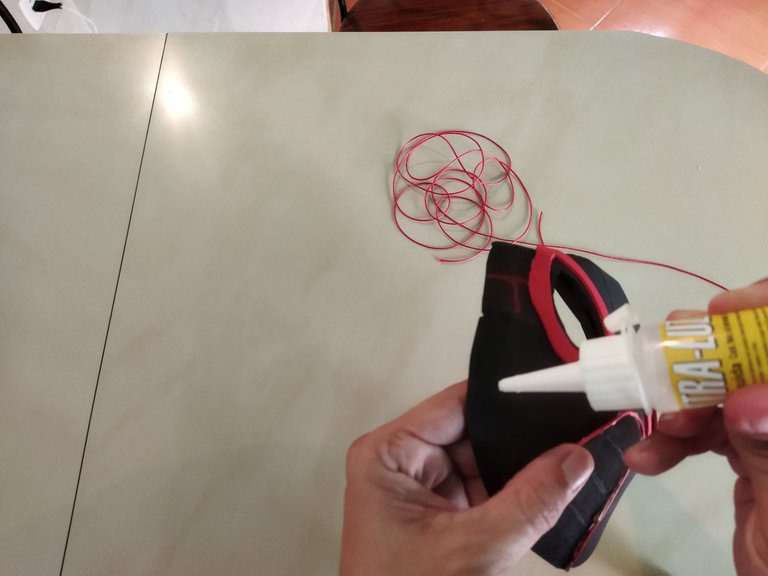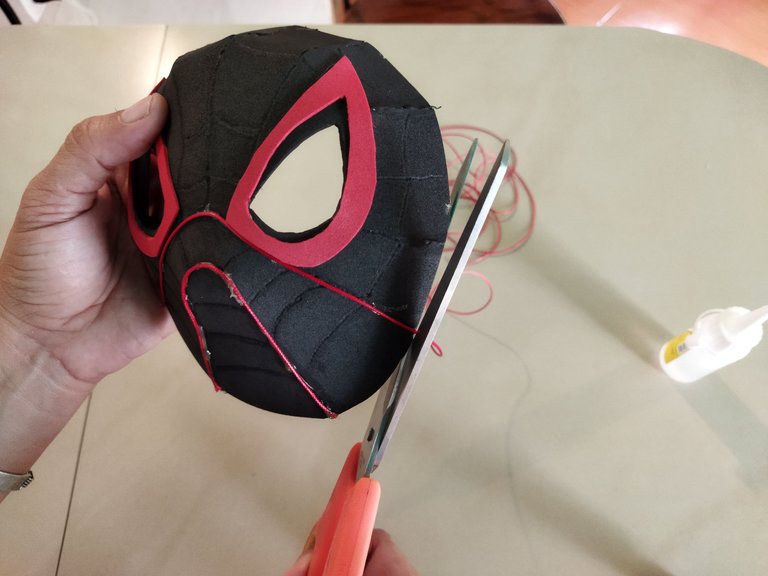 Con la ayuda de la aguja con hilo pegar la tira elástica, a la altura del centro de los ojos.
With the help of the needle and thread, glue the elastic strip at the height of the center of the eyes.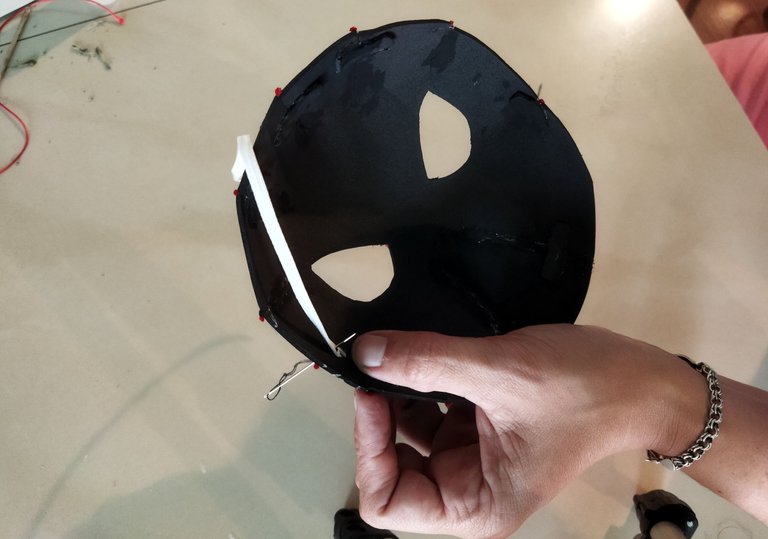 Hasta una nueva publicación, éxitos y bendiciones ✨
Until a new publication, success and blessings ✨