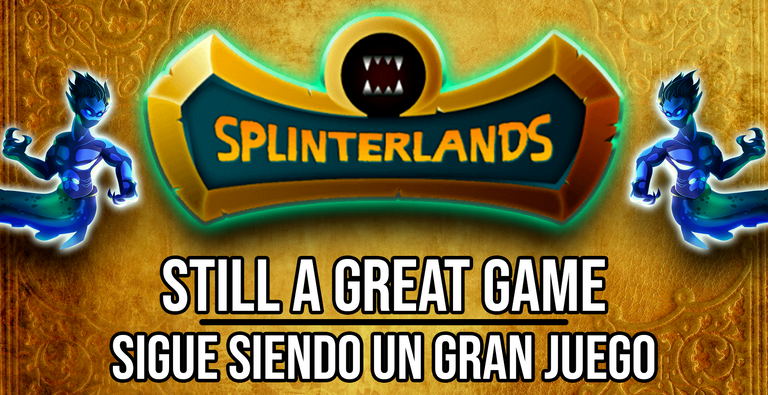 ---
[ENGLISH]
---
A lot happened yesterday with our flagship Splinterlands. Due to an unexpected exploit in the reward system, the staff was forced to remove the daily quest potion. Apparently, many of the spellbooks purchased were just for potion and automated reward farming.
---
First, something for new players to know, and maybe for old users as well. This is a community, there is no developer in the dark rubbing his hands in ecstasy at people's suffering.
---
Splinterlands gave up on making money in the short term, thousands of accounts buying potions every day. That's thousands of dollars less they make, also this will slow down the creation of new accounts. They, with this measure, gain NOTHING. Not that I say they are heroes, but there were reasons to do what was done.
It was not a random whim.

It is not the first time it has happened, nor is splinterlands the first to implement unexpected measures to keep the economy stable. There was simply a problem that could have negatively impacted the game and they took the measure that seemed most effective.
Let's look at it from another perspective, let's imagine that the system continued on its course without alterations. Thousands of players flooding the market with cards and selling DECs massively. Your NFTs would lose value, your DECs would lose value, your income per game would be diluted because the economy would be destroyed.
---
Basically, you would have nothing.
---
Newcomers might say that they currently have nothing. This is not true, in low leagues you get 1 DEC per game won, 15 DEC x day is 15cents USD.
In one month you paid 50% of what the spellbook cost you, that's not counting what you already got during the time of quest potions, SPS drop, normal daily missions and end of season rewards.
I understand the feeling of bitterness very well, I feel it firsthand. But big games are big investments. Let's keep in mind that elitist games like axis, with 10 dollars we can't even look through the keyhole.

The honest players, unfortunately we were affected by the improper behaviors of speculators. They are always waiting to test the system's defenses. While the community's reaction is understandable, everything we see is from our perspective as users.
Instead of focusing on what you don't have, expand your minds for a minute and realize that you have just entered a unique ecosystem where gaming is not the only way to generate. As you can see, right here, giving my point of view I can earn what I would earn in 5 daily quests with potions.
Simply by writing.
Not to mention that the Hive ecosystem is huge, you can try some of the other games, some free and some cheaper. But don't leave Splinterlands, don't make that mistake. A few months ago I sold about 200 usd in cards that today would be 2 or 3 thousand dollars.
The future is uncertain but patience is the key.
Don't abandon splinterlands, but don't stay only with splinterlands, encourage to write, to make a video or just to read post and interact with the community. Do you feel sad about what happens? Write a post! Do a video!
Welcome to Hive, where good users are rewarded and even a good comment can suddenly collect a few bucks. I started almost two years ago, from scratch (I had emptied the account, im an old user) and in this time, writing and playing I was able to build myself in several games and earn money for real life; from changing the computer and the phone, to go to the supermarket to buy ham to make me a sandwich.
Welcome Hive
---
Contact me on discord to know more Cre47iv3#2483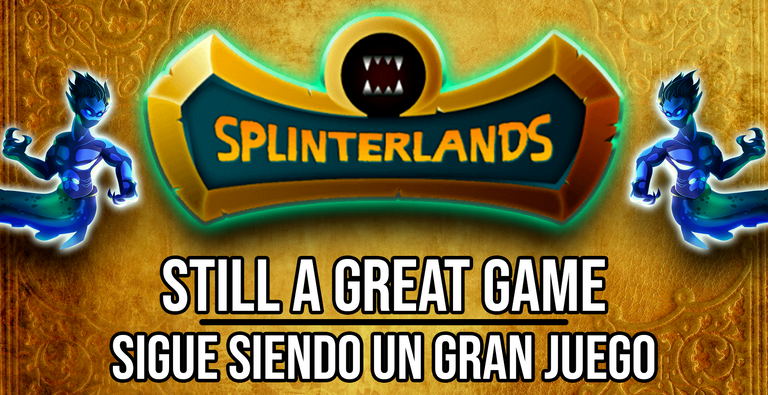 ---
[ESPAÑOL]
---
Mucho pasó ayer con nuestra nave insignia Splinterlands. Debido a una explotación no esperada en el sistema de recompensas, el staff se vió obligado a eliminar la poción de quest diaria. Aparentemente, muchos de los spellbooks comprados eran solo para la poción y farmear recompensas de manera automatizada.
---
Primero algo para que sepan los jugadores nuevos, y quizás también para los usuarios viejos. Esto es una comunidad, no hay ningún desarrollador en la oscuridad frotando sus manos extasiado ante el sufrimiento de la gente.
---
plinterlands renunció a ganar dinero en el corto plazo, miles de cuentas comprando pociones todos los días. Son miles de dolares menos que ganan, tambien esto va a frenar la creación de nuevas cuentas. Ellos, con esta medida, NO GANAN NADA. No es que diga que son heroes, pero hubo razones para hacer lo que se hizo.
NO FUE UN CAPRICHO.

No es la primera vez que sucede, ni es splinterlands el primero en aplicar medidas inesperadas para mantener la economía estable. Simplemente hubo un problema que pudo haber impactado negativamente al juego y tomaron la medida que les pareció más efectiva.
Miremoslo desde otra perspectiva, imaginemos que el sistema proseguía su rumbo sin alteraciones. Miles de jugadores inundando el mercado con cartas y vendiendo DEC masivamente. Tus NFT perderían valor, tus DEC perderían valor, tus ingresos por partida se irian diluyendo porque la economía se destruiría.
---
Basicamente, no tendrías nada.
---
Los nuevos podrían decir que actualmente no tienen nada. Ésto no es cierto, en ligas bajas te llevas 1 DEC por partida ganada, 15 DEC x dia son 15cvos USD.
En un mes pagaste el 50% de lo que te costó el spellbook, eso sin contar lo que ya hayas conseguido durante la época de las pociones de quests, el drop de SPS, las misiones diarias normales y las recompensas de fin de temporada.
Entiendo muy bien la sensación de amargura, la siento en carne propia. Pero los juegos grandes son inversiones grandes. Tengamos en mente que juegos elitistas como el axis, con 10 dolares no podemos mirar ni por el agujero de la cerradura.

Los jugadores honestos, desgraciadamente nos vimos afectados por las conductas impropias de los especuladores. Siempre estan esperando para poner a prueba las defensas del sistema. Aunque la reacción de la comunidad es entendible, todo lo que vemos es desde nuestra perspectiva como usuarios.
En vez de enfocarse en lo que no tienen, expandan sus mentes por un minuto y dense cuenta que acaban de entrar en un ecosistema único donde jugar no es la única manera de generar. Como pueden ver, aca mismo, dando mi punto de vista puedo ganar lo que ganaría en 5 quest diarias con pociones.
Simplemente por escribir.


Ni hablar que el ecosistema de Hive es enorme, pueden probar algunos de los otros juegos, algunos gratis y otros mas económicos. Pero no se vayan de Splinterlands, no cometan ese error. Hace unos meses vendí aproximadamente unos 200 usd en cartas que hoy serian 2 o 3 mil dolares.
El futuro es incierto pero la paciencia es la clave.
No abandonen splinterlands, pero no se queden solo con splinterlands, animense a escribir, a hacer un video o simplemente a leer post e interactuar con la comunidad.
Bienvenidos a Hive, donde los buenos usuarios son recompensados y hasta en un buen comentario puede de repente recolectar unos dolares. Yo empecé hace casi dos años, desde cero (había vaciado la cuenta) y en éste tiempo escribiendo y jugando pude armarme en varios juegos y sacar ganancias para la vida real; desde cambiar la computadora y el teléfono, hasta ir al supermercado a comprar jamón para hacerme un sandwich.
Welcome Hive
Para conocer otros juegos de Hive pasen por mi perfil, o contactenme por discord Cre47iv3#2483