---
ENGLISH
---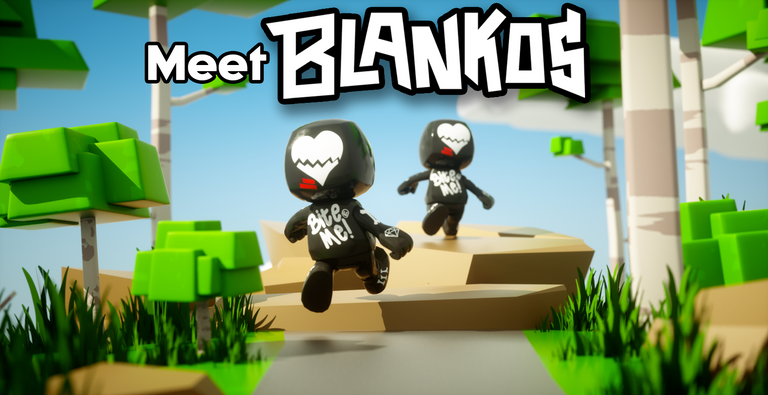 Source Of image But edited by me
Howdy hivers! Those who have been following me know that I started covering games outside of Hive as well. Although I only play Hive stuff, I also give a chance to other entertaining games with potential, in blockchain, of course.
Today I'm going to write about Blankos, a game of dreams. Immersing yourself in its graphics is addictive and entertaining. In third person, with a customizable avatar that can be earned, built, modified, sold and bought through its marketplace.
There are also some avatars that come unopened, as if they were a collectible action figure, or something from real life. Pristine and never used, therefore valuable.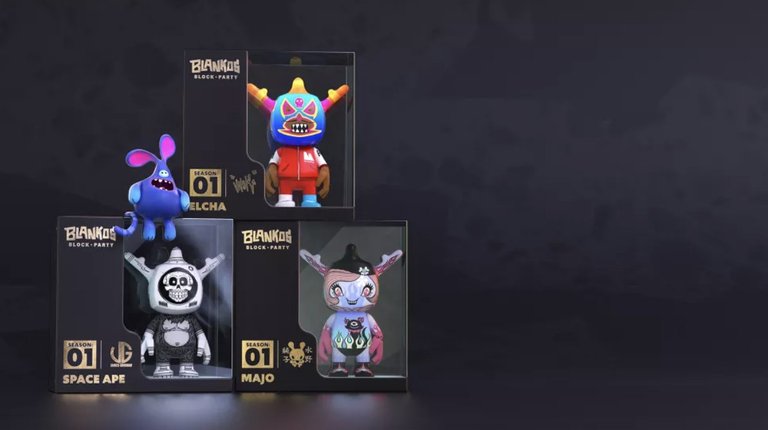 It's such a varied multiverse that it's hard to define. Multiverse? shooter? racing game? NFT? map builder? It's all that, Blankos is an ambitious and big project. I think I know all 3D games, Blankos is superior to everything known.
The scenarios are as varied as the imagination, each user can build his own map and propose it for everyone to play and score. The builder is quite complete and totally free.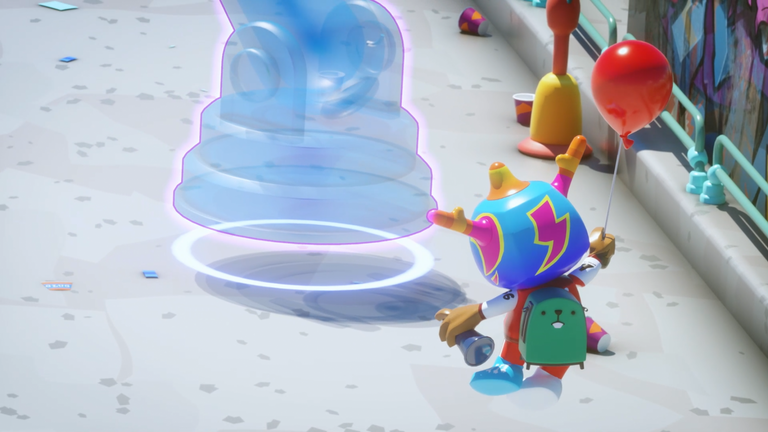 Source Of image Map builder screenshot
There are daily missions, weekly missions and seasonal missions. There is also an account level system and rewards as you progress or collect tokens. The farming seems fair, and possibly the items after the seasons remain unique, so it is in theory profitable to spend an hour or two a day playing this. At the moment the market is limited, but in the future it might be more accessible.
Challenges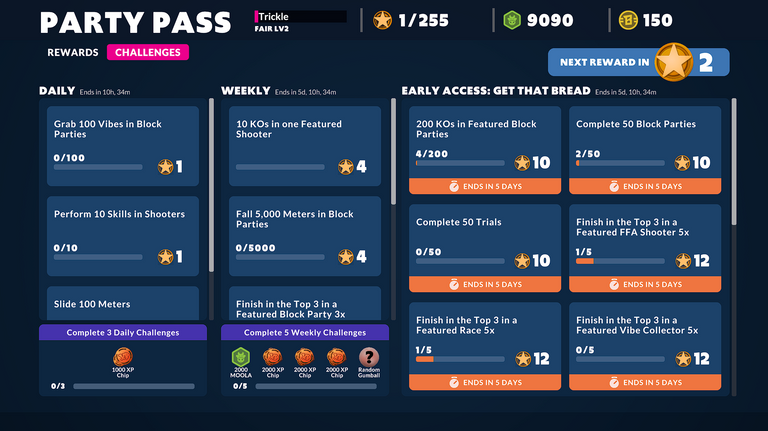 Screenshot from my account in game. They just reset all the rewards because a new season.
Rewards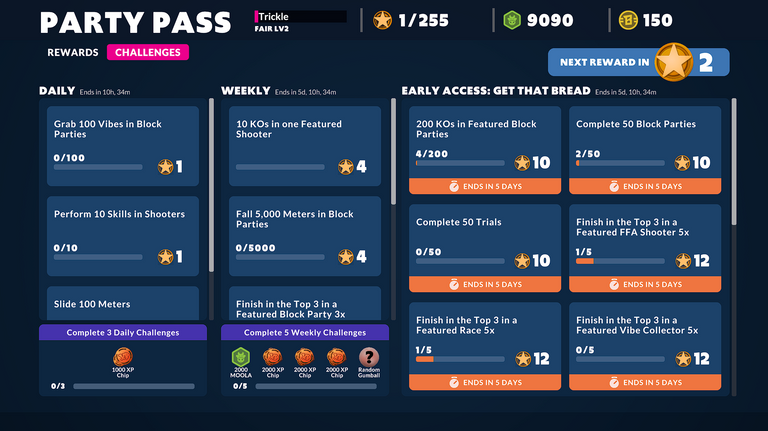 Screenshot from my account in game.

I am not writing about Blankos just because it is in an advanced stage of development, but also because it has a great press and design department. Despite being a new game, it is decently populated unlike many other projects in development.
Without going any further, a month or two ago, in collaboration with the famous DJ Deadmau5 they released some original limited edition skins.
Blankos is designed to make marketing one of its pillars, but nevertheless, the game itself is so entertaining that it makes it secondary. The market is already running with restrictions, because it is in development.
Which is a rarity, most games are focused on the economic aspect, however blankos, is a very balanced game in gameplay, construction, graphics and economy.
At the moment its public market has been released, through Mythical Market, where its skins and NFT's can already be commercialized.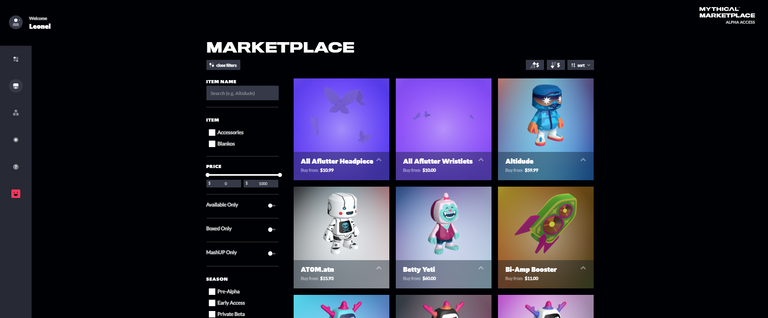 Screenshot from my web browser

This game has the most potential today, not only because of the quality of the product, but also because of the Territory Studios team that collaborates with Mythical. Territory has an impressive portfolio, they built the UI of Forza Motorsport 6 (Microsoft) they are the creative mind behind the logo of Cyberpunk 2077, Need For Speed Ghost (EA Games - Ghost) and also the graphics for a Spiderman game (Marvel, Sony Interactive Entertainment) The more I investigate the more reasons I find to believe that Blankos has the guaranteed success.
You can download it from here, it's completely free although it requires a relatively powerful PC to play it properly. Also connectivity is a problem for me because I live in South America, but possibly in the future they will create regional servers.
If you play it let me know and we can make some games together! Talk to me on discord Cre47iv3#2483




---

SPANISH
---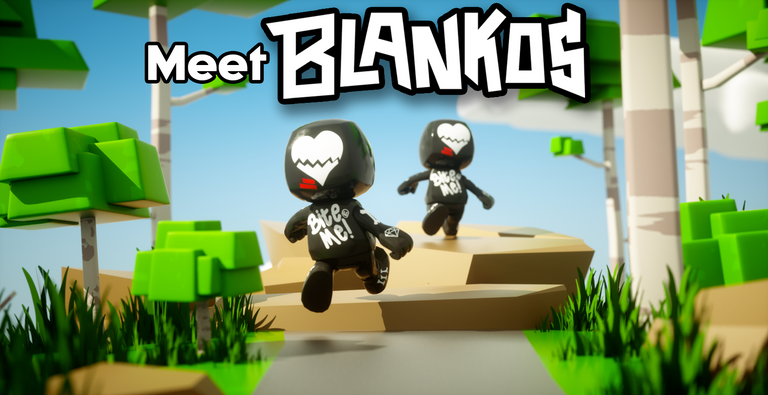 Source Of image But edited by me
ue tal hivers! Los que me vienen siguiendo saben que empecé a cubrir juegos fuera de Hive tambien. Si bien solo juego cosas de Hive, tambien le doy chance a otros juegos entretenidos y con potencial, en blockchain, eso si.
Hoy les voy a escribir sobre el Blankos, un juego de ensueño. Sumergirse en sus graficos es adictivo y entretenido. En tercera persona, con un avatar personalizable y que puede ganarse, construirse, modificarse, se puede vender y comprar a través de su mercado.
También hay algunos avatares que vienen cerrados, como si fueran una figura de acción coleccionable, o algo de la vida real. Prístino y jamás usado, por ende, valioso.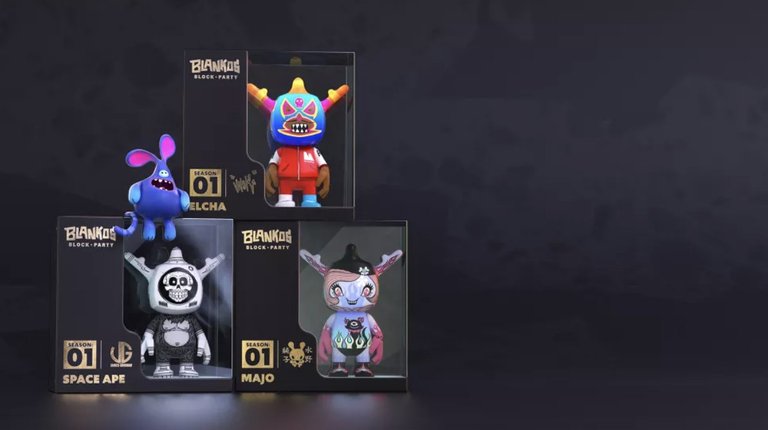 Es un multiverso tan variado que cuesta definirlo. ¿Multiverso? ¿Shooter? ¿Juego de carreras? ¿NFT? ¿Constructor de mapa? Es todo eso, blankos es un proyecto ambicioso y grande. Creo conocer todos los juegos 3D, Blankos es superior a todo lo conocido.
Los escenarios son tan variados como la imaginación, cada usuario puede construir su propio mapa y proponerlo para que todos lo jueguen y puntúen. El constructor es bastante completo y completamente gratuito.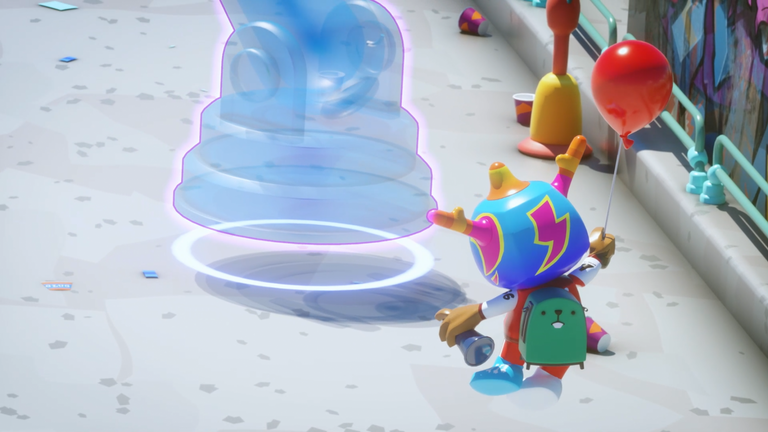 Source Of image Map builder screenshot
Hay misiones diarias, misiones semanales y misiones de temporada. También hay un sistema de nivel de la cuenta y recompensas a medida que se avanza o recolectan tokens. El farmeo parece justo, y posiblemente los items pasados las temporadas permanezcan únicos, así que es en teoría redituable pasar una o dos horas al día jugando ésto. De momento el mercado esta limitado, pero en un futuro posiblemente sea mas accesible.
Challenges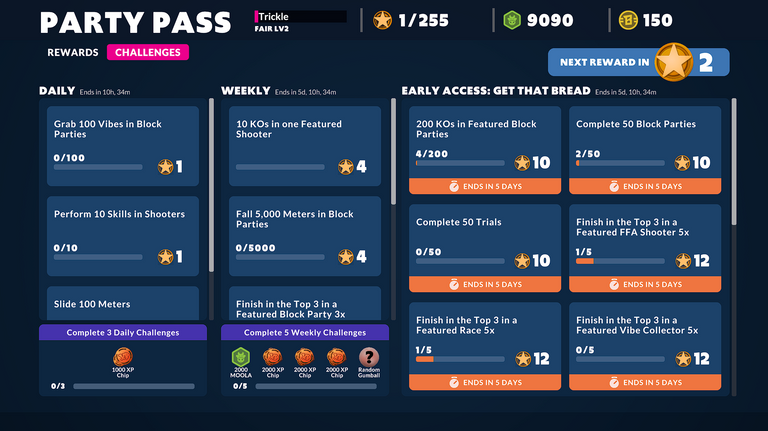 Captura de pantalla desde mi propia PC, las recompensas se reiniciaron hace uno o dos días.
Rewards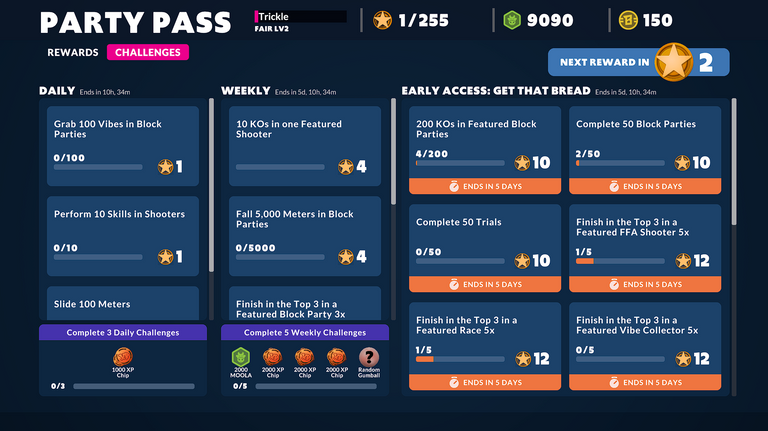 Screenshot from my account in game.

No escribo sobre Blankos solo porque está en un avanzado estadío de desarrollo, sino que también tiene un departamento de prensa y diseño estupendo. A pesar de ser un juego nuevo, está decentemente poblado a diferencia de muchos otros proyectos en desarrollo.
Sin ir más lejos, hace uno o dos meses, en colaboración con el famoso DJ Deadmau5 sacaron unos aspectos originales de edición limitada.
Blankos esta diseñado para que la comercialización sea uno de sus pilares, pero sin embargo, el juego en sí es tan entretenido que lo hace secundario. Ya esta funcionando el mercado con restricciones, porque esta en desarrollo
Lo que es una rareza, la mayoria de los juegos estan centrados en el aspecto economico, sin embargo blankos,es un juego muy balanceado en jugabilidad, construcción, graficas y economía.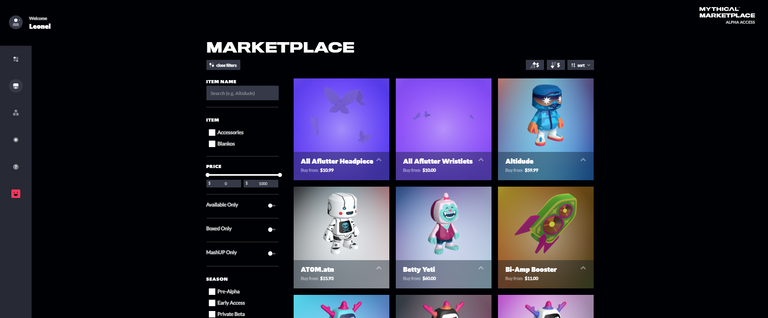 Screenshot from my web browser

Este juego hoy dia es el que mas potencial tiene, no solo por la calidad del producto, sino también por el equipo de Territory Studios team que colabora con Mythical. Territory tiene un portafolio impresionante, armó la UI del Forza Motorsport 6 (Microsoft) son la mente creativa detrás del logo de Cyberpunk 2077, Need For Speed Ghost (EA Games - Ghost) y tambien las gráficas para un juego de Spiderman (Marvel, Sony Interactive Entertainment) Mientras mas me pongo a investigar más razones encuentro para creer que Blankos tiene el éxito asegurado.
Pueden descargarlo desde Aqui, es completamente gratuito aunque requiere una PC relativamente potente para poder jugarlo apropiadamente. También la conectividad es un problema para mí porque vivo en sudamérica, pero posiblemente en un futuro vayan a crear servidores regionales.
Si lo juegan avisenme y podemos hacer algunas partidas juntos! Hablenme por discord Cre47iv3#2483