Have a nice day!
This is the 5th day of playing RisingStar Game.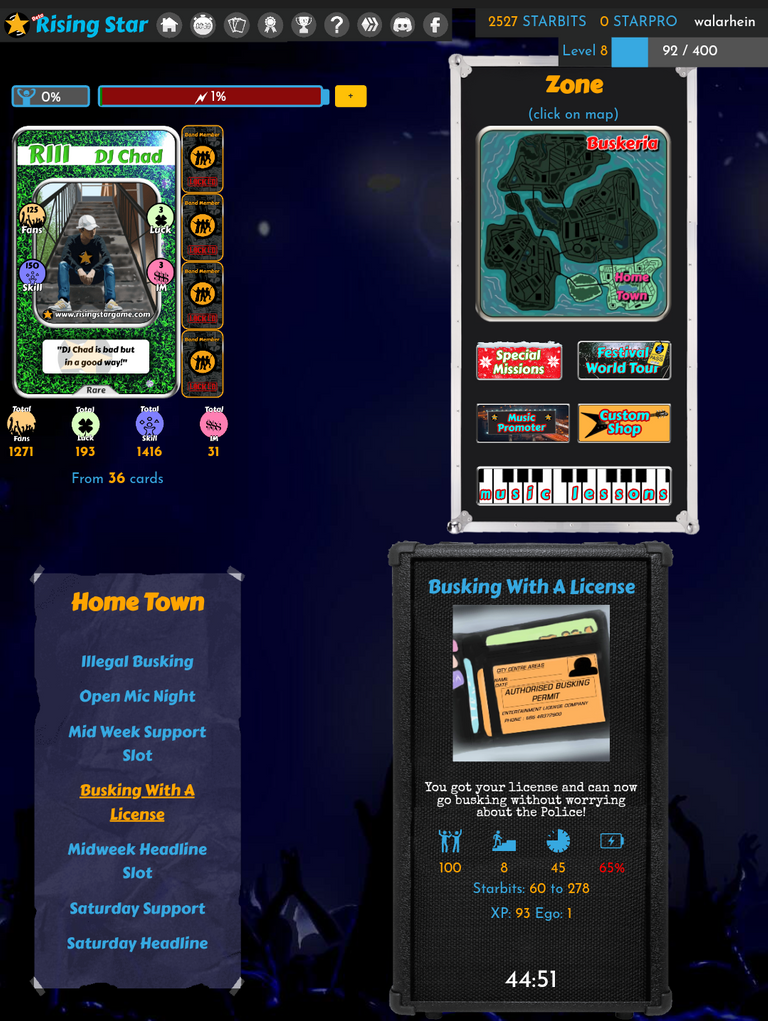 Today I started a new mission.
This is the Busking With A License mission.
This Mission can only be performed with 100 Fans, Level 8, Time duration 45 minutes and 65% Energy.
Mission Achievement Reward is available for 60 - 278 Starbits.
Game Level XP 93 and Ego 1 will be upgraded.
Total Mission Achievements 59 includes Illegal Busking 20, Open Mic Night 21, Mid Week Support 17 and Licensed Busking 1.
I have Received over 2500 Total Starbits Rewards.
Energy is needed to accelerate missions.
So I have to save Starbits to buy Energy Booster Cards.
You can critique and guide the requirements about Rising Star.
If you want to start playing Rising Star Game, you can access it from the following link.
https://www.risingstargame.com?referrer=walarhein
မင်္ဂလာပါ။
RisingStar Game ကစားခဲ့တာ ၅ ရက်မြောက်နေ့သို့ ရောက်ခဲ့ပါပြီ။
ဒီနေ့ Mission အသစ်တစ်ခုကို စတင်ပြုလုပ်နိုင်ခဲ့ပါတယ်။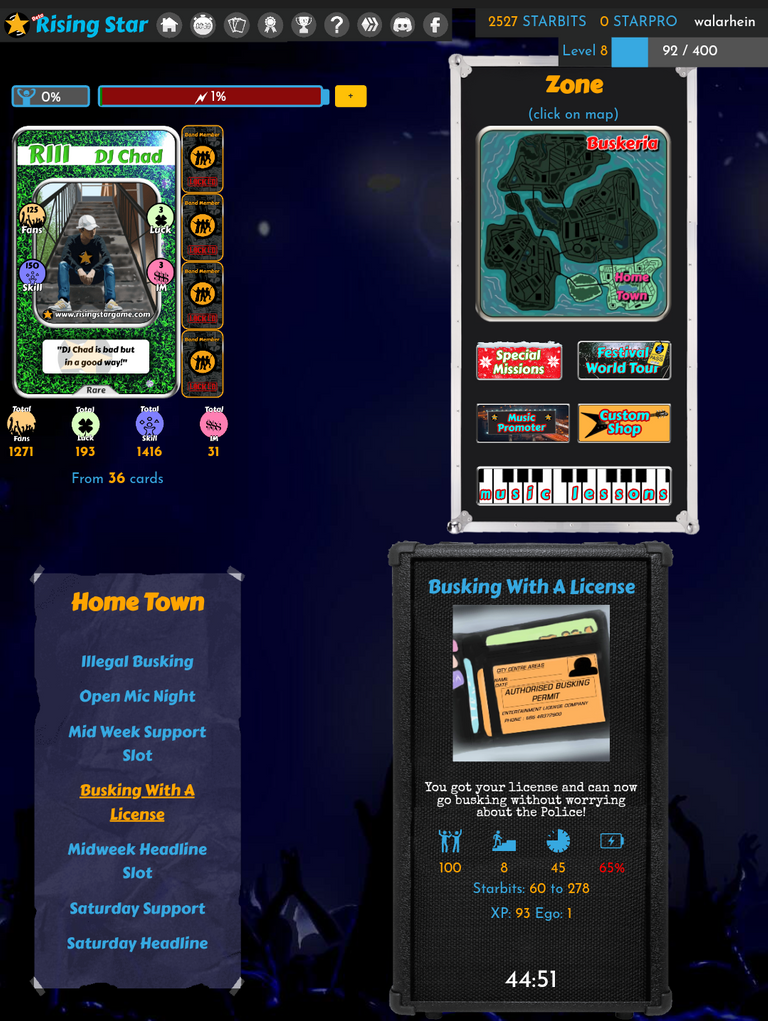 ၎င်းမှာ Busking With A License mission ဖြစ်ပါသည်။
၎င်း Mission သည် Fans 100, Level 8, Time duration 45 minutes and Energy 65% ရှိမှသာ ပြုလုပ်ရပါသည်။
Mission Achievement Reward ကတော့ Starbits 60 - 278 ရရှိနိုင်ပါတယ်။
Game Level XP 93 နှင့် Ego 1 တက်လာပါမည်။
Total Mission Achievements 59 ၌ Illegal Busking 20, Open Mic Night 21, Mid Week Support 17 and Licensed Busking 1 တို့ကို ပြုလုပ်ပြီးခဲ့ပါပြီ။
Total Starbits Rewards 2500 ကျော် ရရှိခဲ့ပါပြီ။
Missions ကို အရှိန်မြှင့် လုပ်ဆောင်ရန်မှာ Energy လိုအပ်နေပါသည်။
သို့ဖြစ်၍ Energy Booster Cards ဝယ်ယူရန် Starbits စုဆောင်းရပါဦးမည်။
Rising Star အကြောင်း လိုအပ်ချက်များကို ဝေဖန် လမ်းညွှန်ပေးနိုင်ပါတယ်။
Rising Star Game ကို စတင် ကစားမည် ဆိုလျှင် အောက်ပါ Link မှ ဝင်ရောက် ကစားနိုင်ပါသည်။
https://www.risingstargame.com?referrer=walarhein
ဝဠာဟိန်း