Having large and open spaces in our homes is something that can be quite rewarding... In my case, despite living in the town centre, I have two small gardens and three courtyards shared by my mother's and my own houses.
Tener espacios grandes y abiertos dentro de nuestros hogares es algo que puede resultar bastante gratificante... En mi caso, a pesar de vivir en el casco urbano del pueblo, puedo disponer de dos pequeños jardines y tres patios compartidos por las casas de mi madre y la mía misma.
---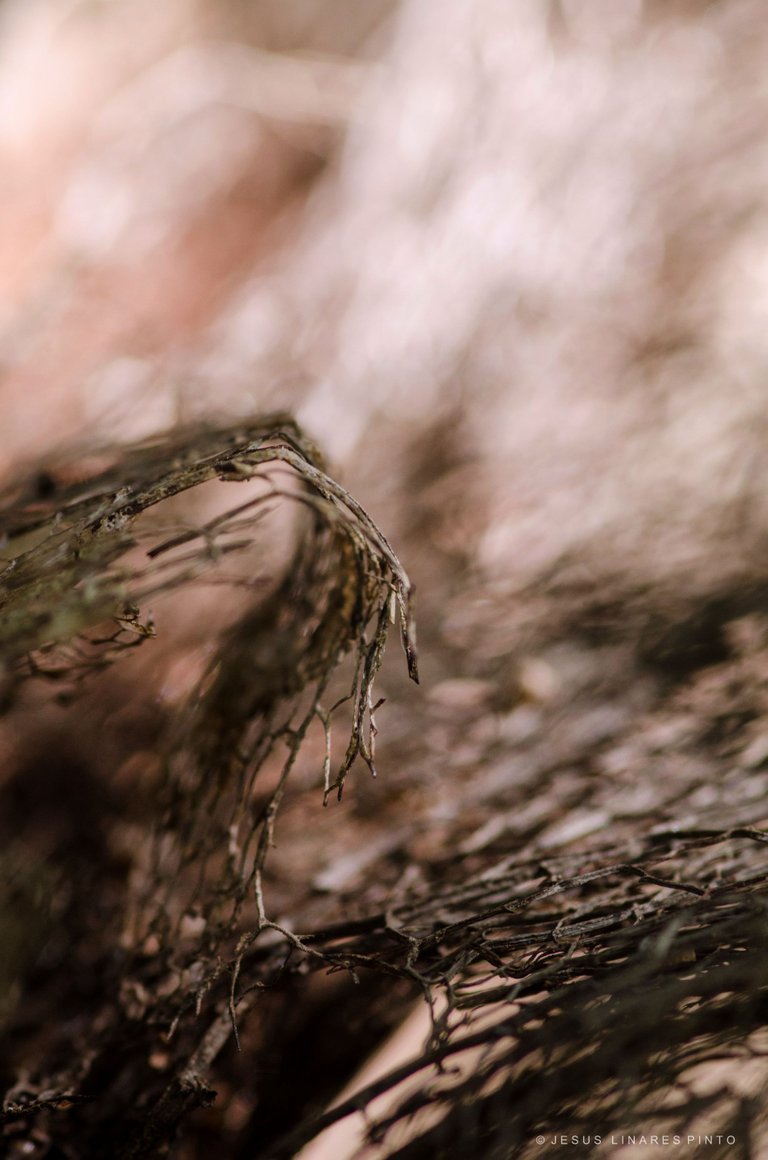 1. Dead fern skeleton (I) || 1. Esqueleto de helecho muerto (I)
---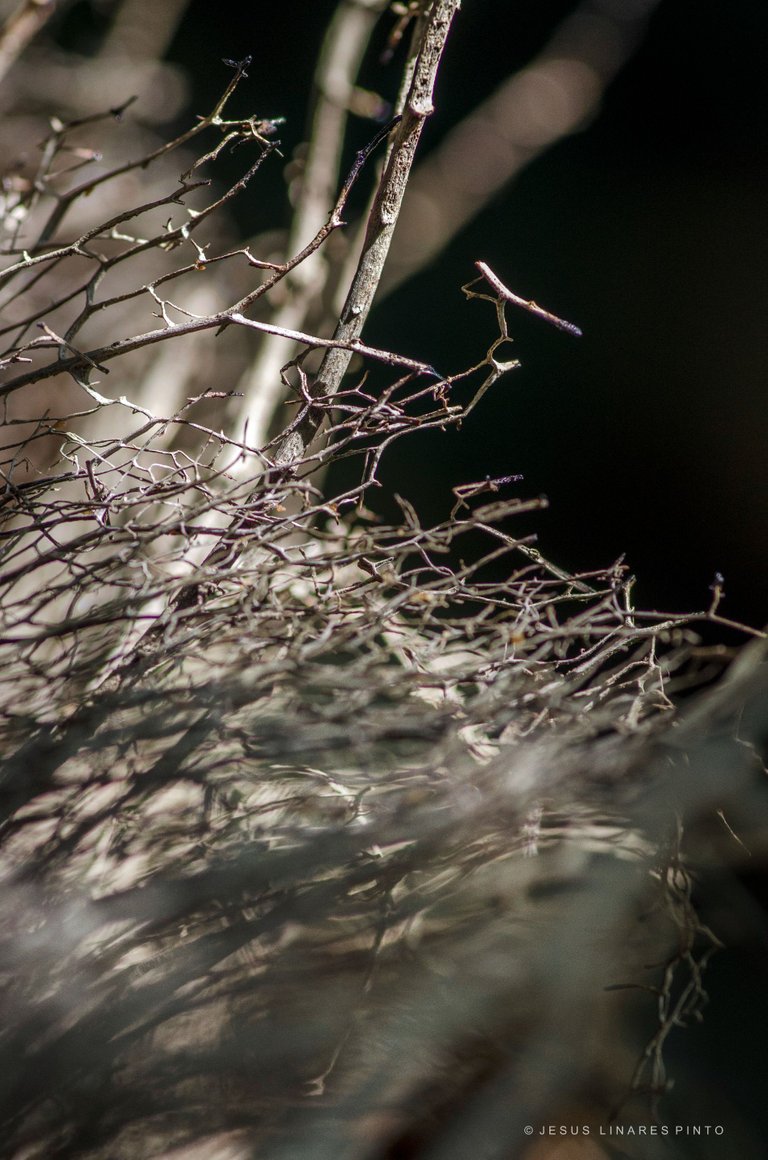 2. Dead fern skeleton (II) || 2. Esqueleto de helecho muerto (II)
---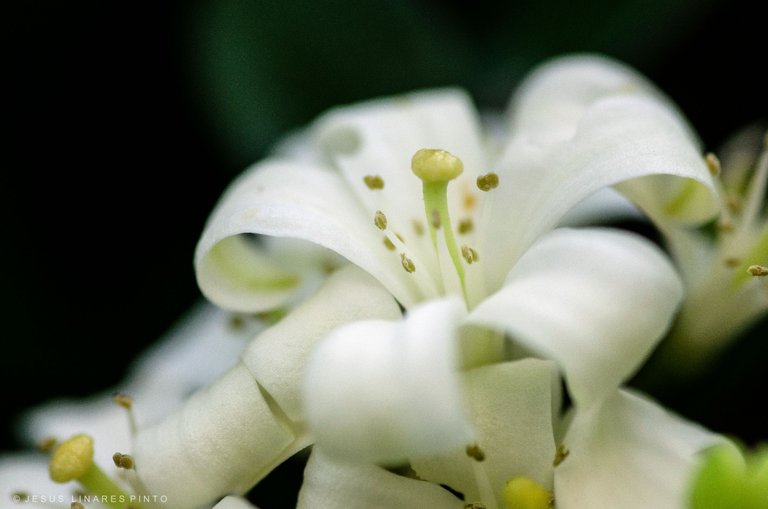 3. Azahar flower (II) || 3. Flor de Azahar(II)
---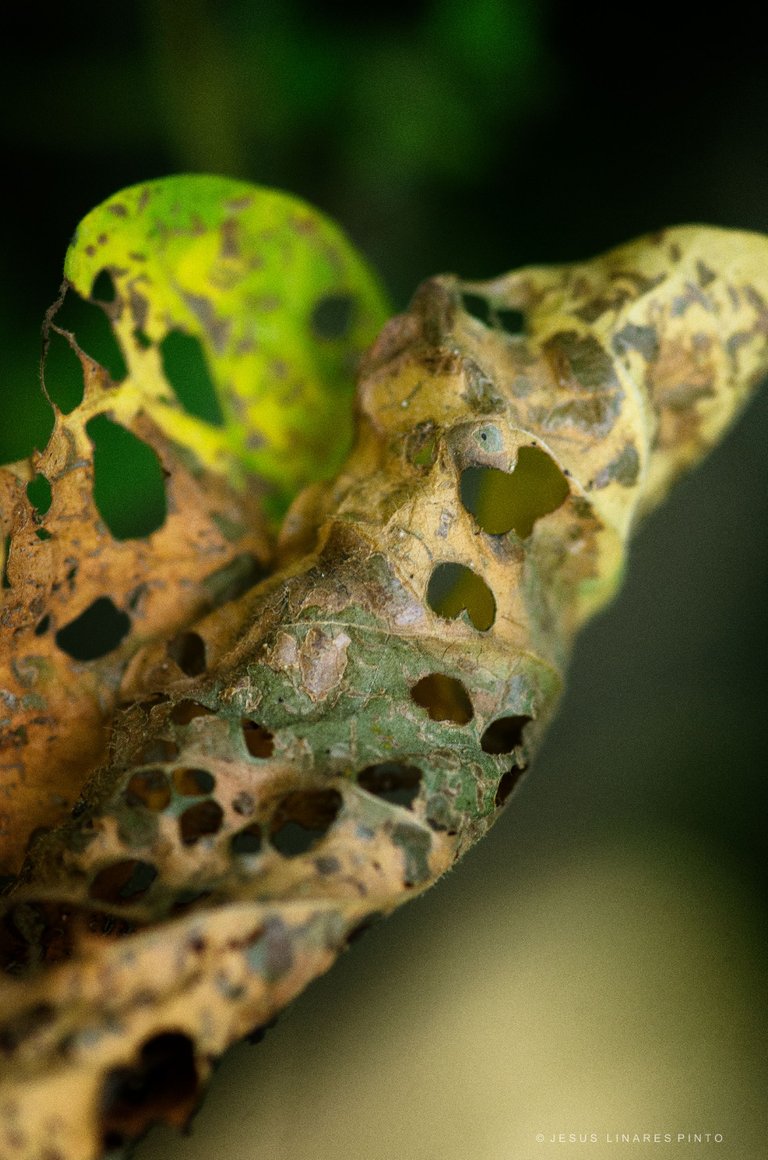 4. A dying leaf || 4. Una hoja que muere
---
This is a space that has been in our hands for several generations, so we have plenty of plants and many of them were even planted by my grandparents who passed away more than 40 years ago.
Este es un espacio que ha estado en nuestras manos durante varias generaciones, así que tenemos plantas a por montón y muchas de ellas fueron sembradas inclusive por mis abuelos fallecidos hace ya más de 40 años atrás.
---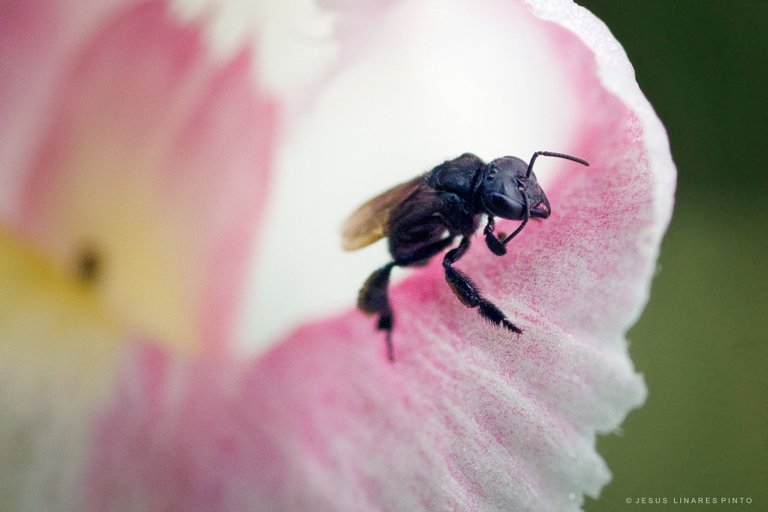 5. Black bee in flower || 5. Abeja negra en la flor
---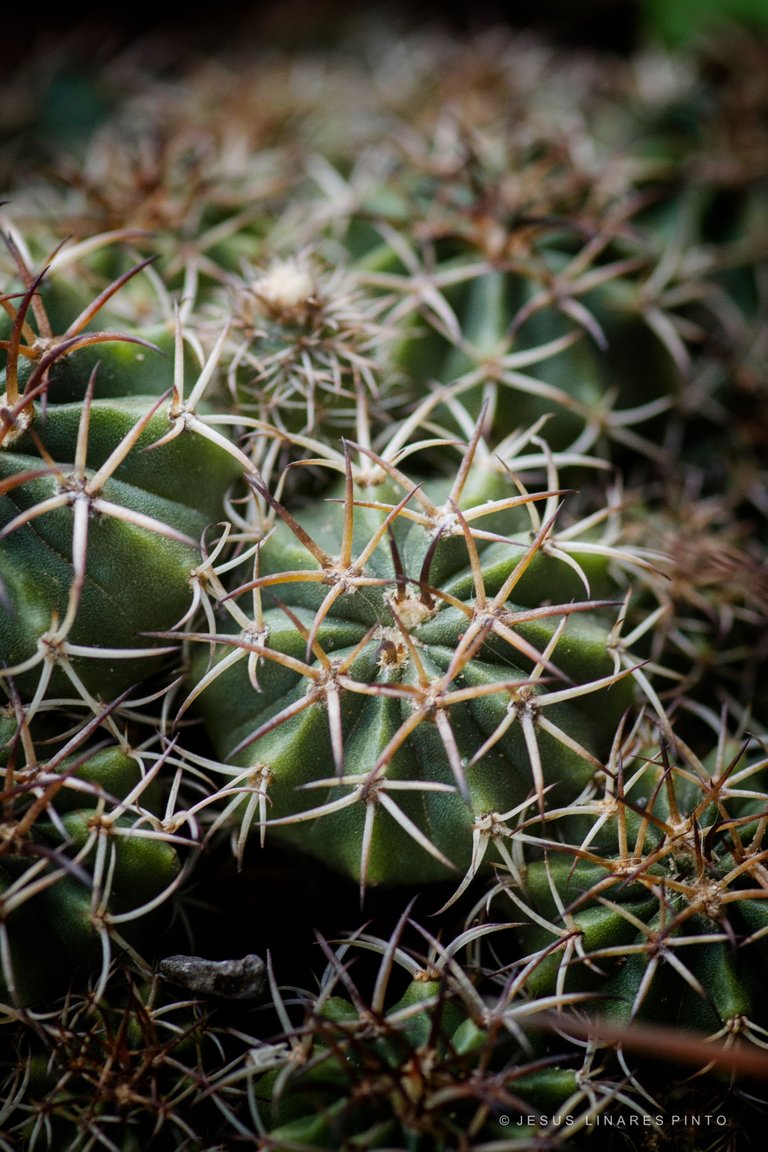 6. Catus nursery || 6. Guardería de Cactus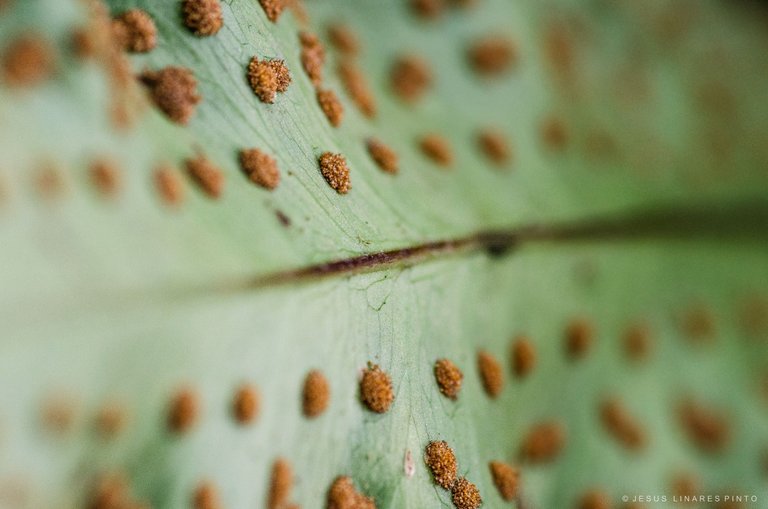 7. Fern leaf spores || 7. Esporas en hoja de helechos
---
So it's relatively easy for me to get a few macro shots and close-ups of natural motifs, just by walking a little bit into these spaces of ours... In a way, I relive my childhood when I do this, because as a child I loved to wander around the courtyards with a magnifying glass, looking closely at the plants and insects... So now the difference is that I do it with a camera, but the pleasure is still the same and even greater if you like.
Así que para mí es relativamente fácil hacerme con unas cuantas fotos de macros y close-ups de motivos naturales, apenas caminando un poco dentro de estos espacios nuestros... De cierta manera, revivo mi niñez cuando hago esto, porque siendo un infante me encantaba vagar por los patios con una lupa, mirando de cerca las plantas y los insectos... Así que ahora la diferencia es que lo hago con una cámara, pero el placer sigue siendo el mismo y aún mayos si se quiere.
---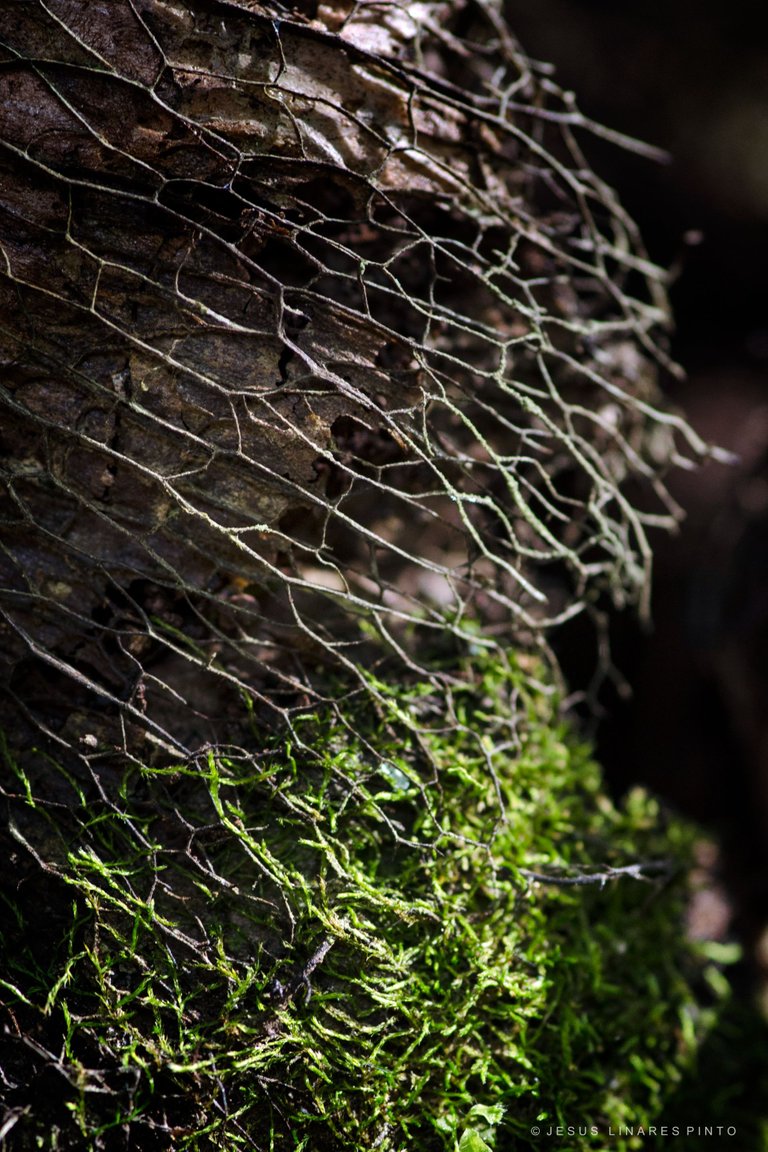 8. Moss on dead ferns || 8. Musgo en helechos muertos
---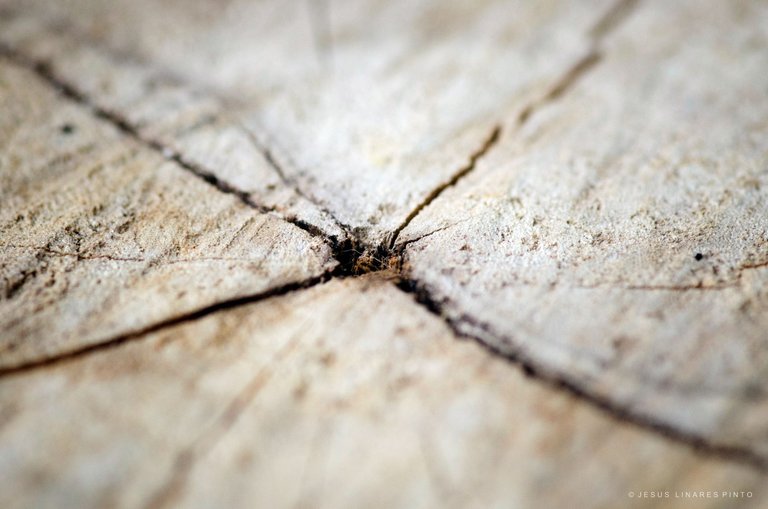 9. Cut Trunk || 9. Leño cortado
---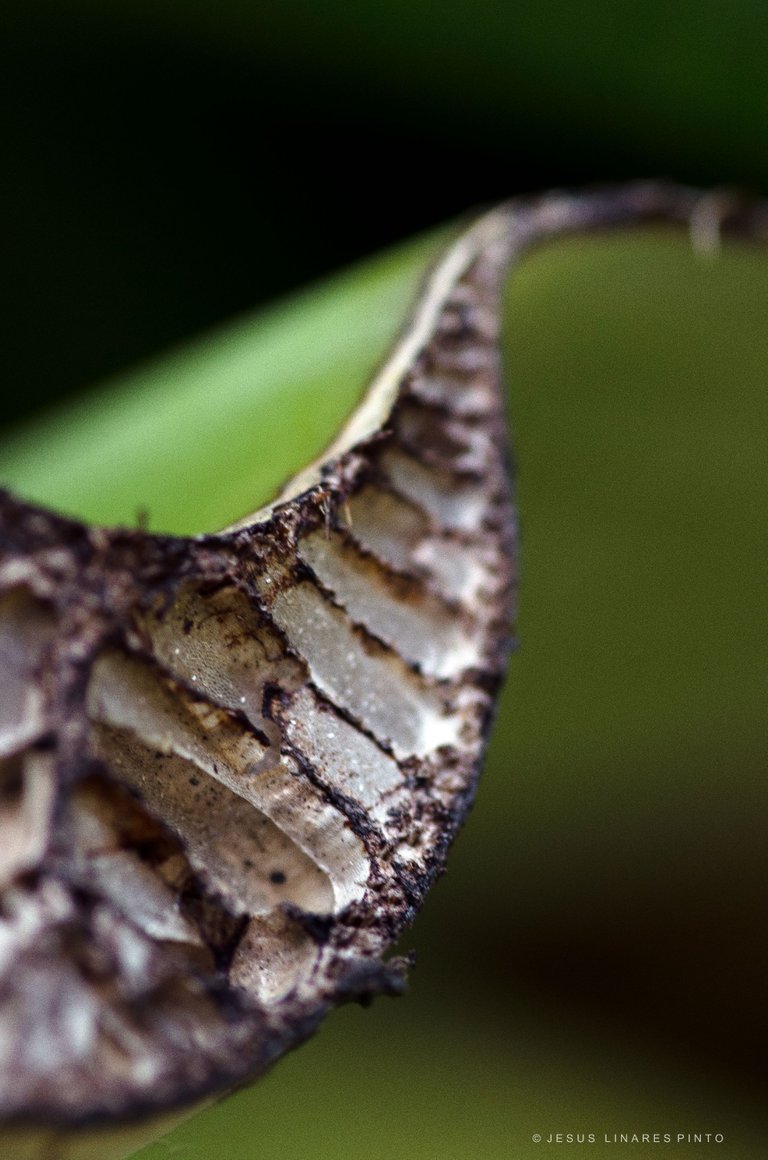 10. Palm leaf cutting || 10. Corte en hoja de palma
---
These pictures are from yesterday (27-Sep-22) taken at almost noon, with a strong and radiant sun... That allowed me to avoid in all cases the use of flash... So these photos are taken in full sunlight and with low ISO's between 200 and 320.
Estas fotografías son de ayer (27-Sep-22) capturadas en horas casi de mediodía, con un sol fuerte y radiante... Eso me permitió evitar en todos los casos el uso del flash... Entonces estas fotos están hechas a plena luz solar y con ISO's Bajos de entre 200 y 320.
---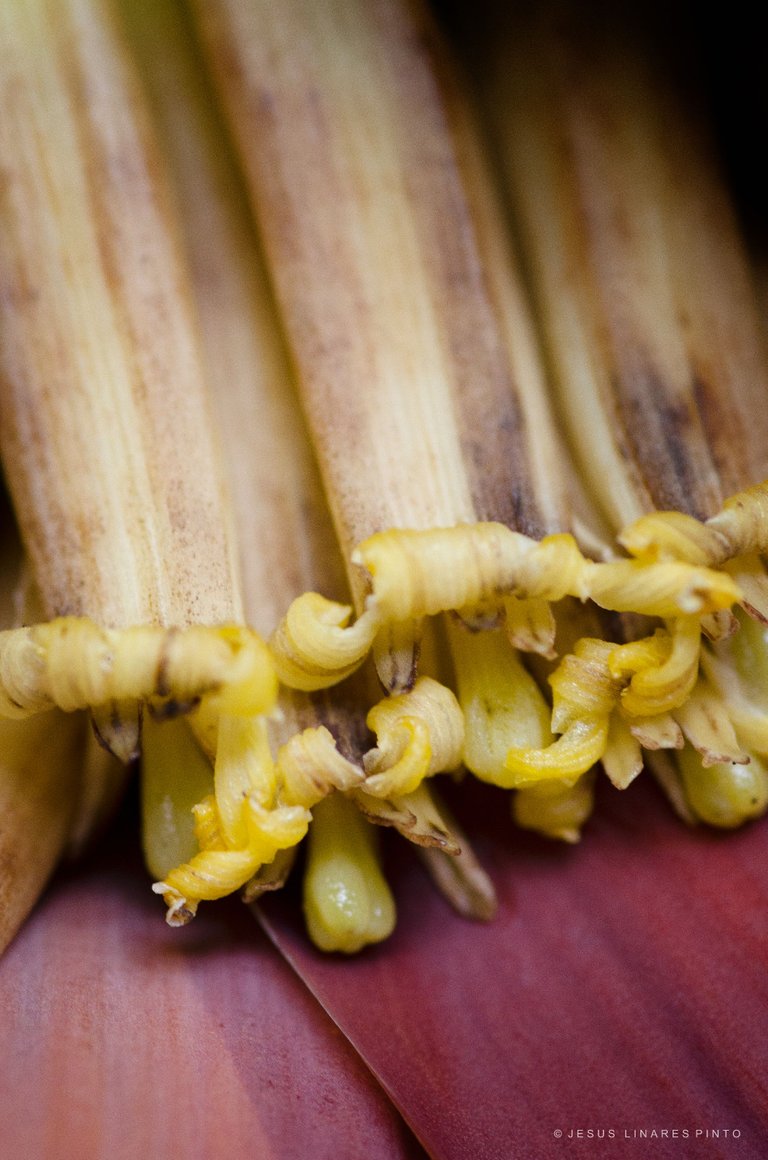 11. Banana flowers (I) || 11. Flores de banano (I)
---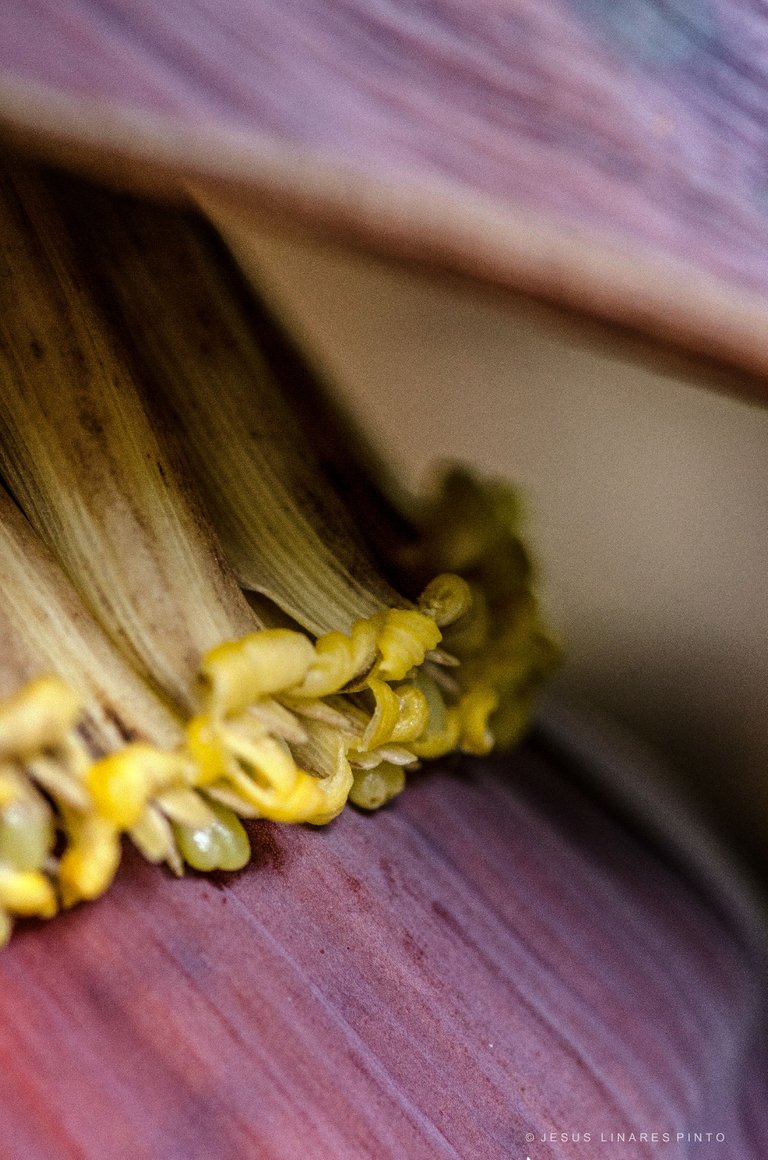 12. Banana flowers (II) || 12. Flores de banano (II)
---
I've used as usual my old Nikon D7000 but this time I took all the pictures in RAW format... The chosen lens was my Tokina ATX-PRO 100mm f/2.8 d MACRO... It's an old glass monster with more than 500 grams of weight and some fungus, but it's still doing well after many years with me... ;-)
Usé como siempre mi vieja Nikon D7000 pero esta vez hice todas las fotos en formato RAW... El lente escogido fue mi Tokina ATX-PRO 100mm f/2.8 d MACRO... Es un viejo monstruo de vidrio con más 500 gramos de peso y algunos hongos, pero sigue haciendo las cosas bien después de muchos años junto a mi... ;-)
---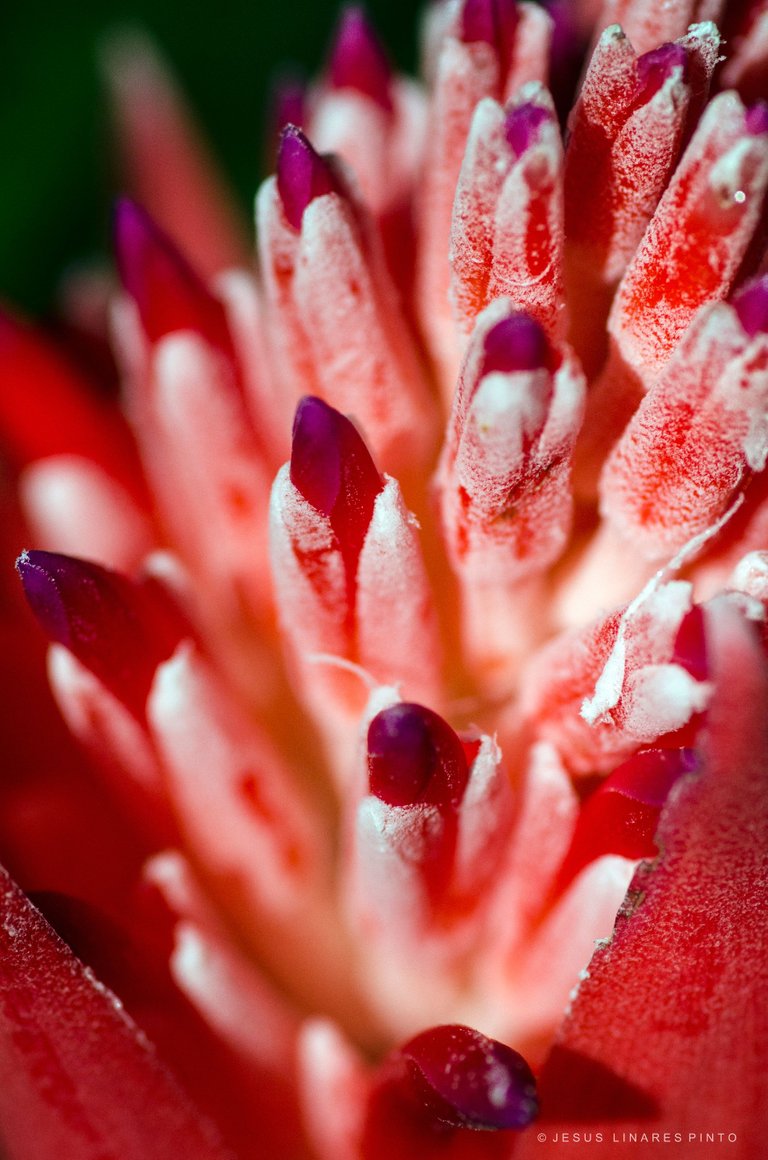 13. Bromeliaceae flower || 13. Flor de Bromelia
---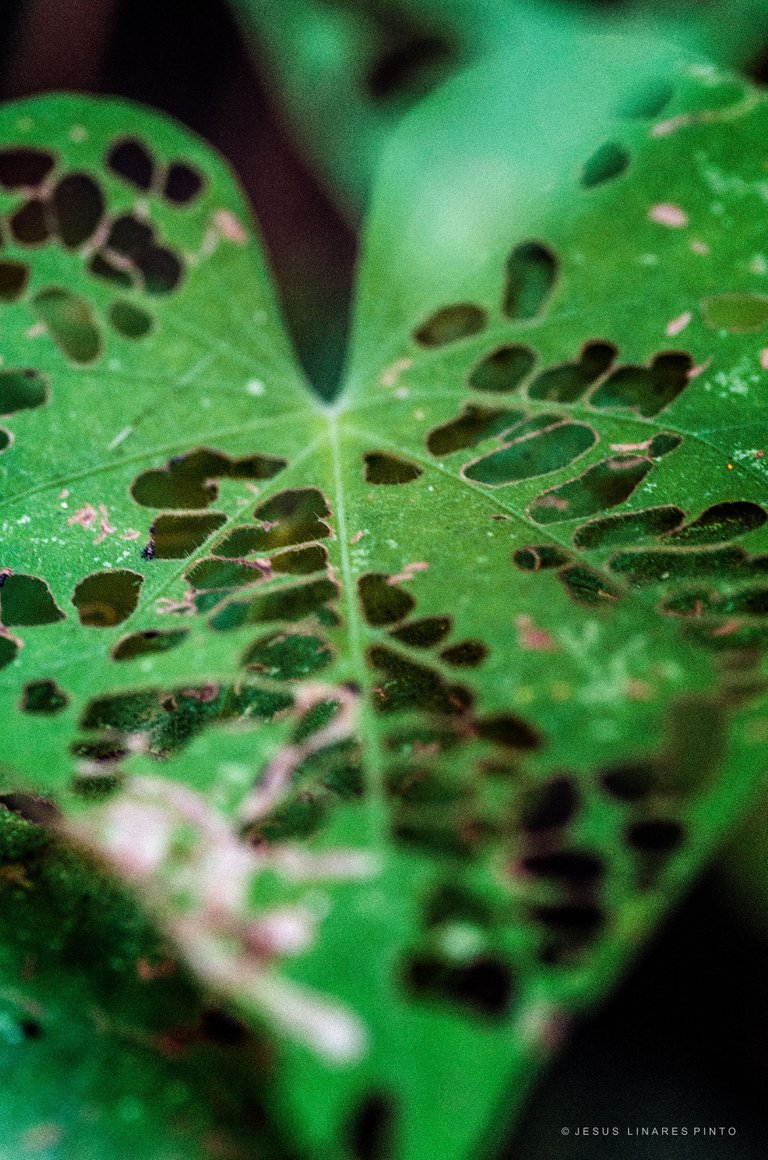 14. The injured leaf || 14. La hoja herida
---
The processing of the RAWS was completely managed in Adobe Camera RAW, from where the vast majority of the adjustments of light, clarity, sharpening, depth, white temperatures and the like were done... That is to say, the resulting JPGs didn't have to be altered at all, except for some vignetting (I love to put vignettes in almost all the photos I take) and obviously the cropping, horizon levelling and watermarks... I did that quickly and easily with PhotoScape 3.6.1
El procesamiento de los RAWS fue completamente gestionado en Adobe Camera RAW, desde donde se realizaron la gran mayoría de os ajustes de luz, claridad, afilado, profundidad, temperaturas de blanco y similares... Es decir, a los JPG resultantes no hubo que alterarlos en casi nada, salvo por alguna viñeta (amo poner viñetas en casi todas las fotos que hago) y obviamente el recorte, nivelaciones de horizonte y marcas de agua... Eso lo hice rápida y fácilmente con PhotoScape 3.6.1
---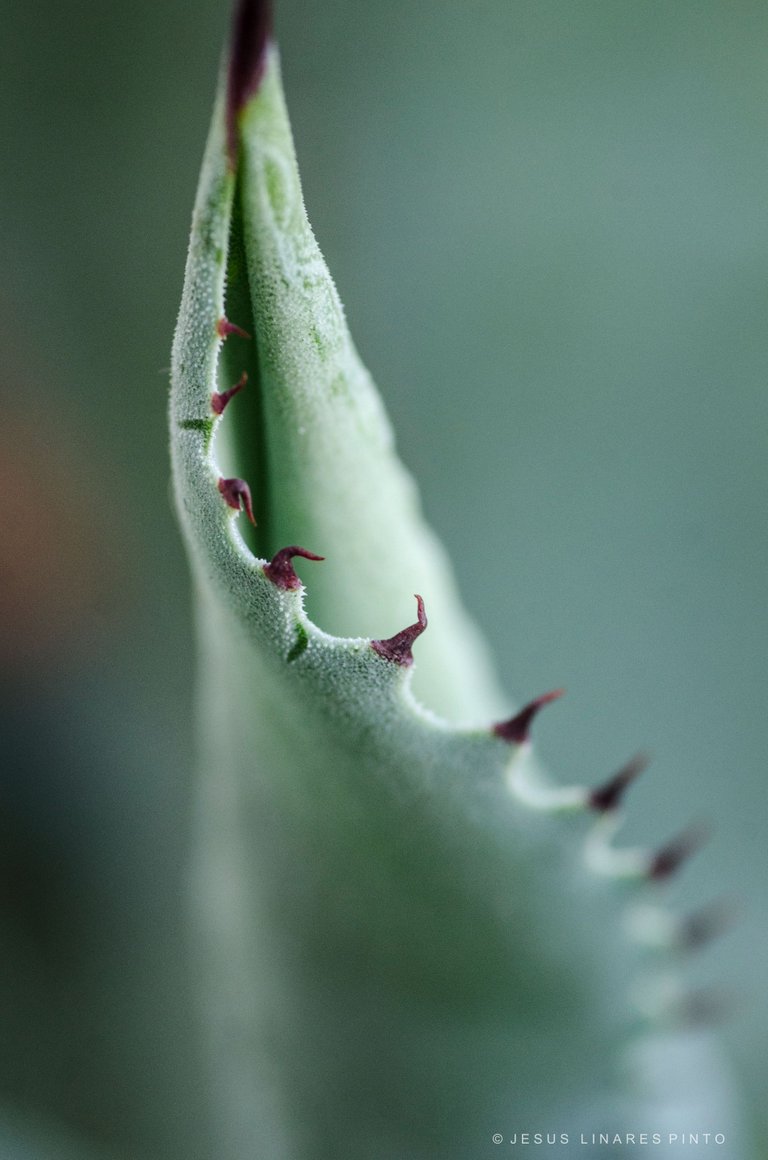 15. Agave leaf || 15. Hoja de agave
---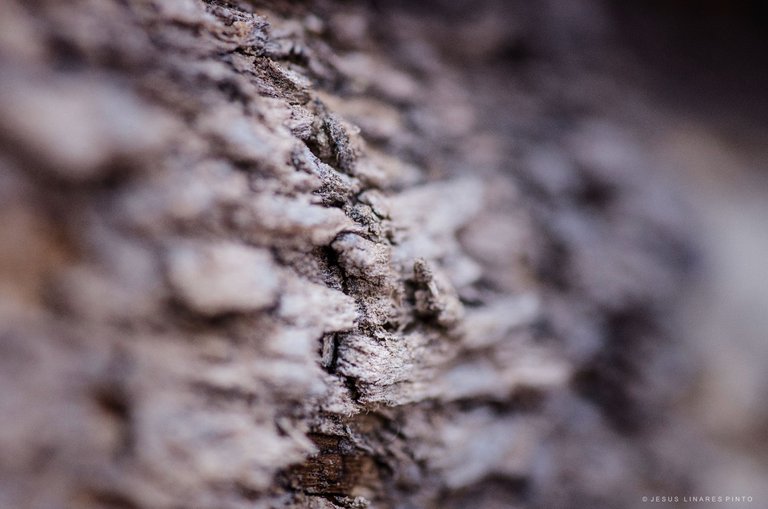 16. Dead trunk bark || 16. Corteza de tronco muerto
---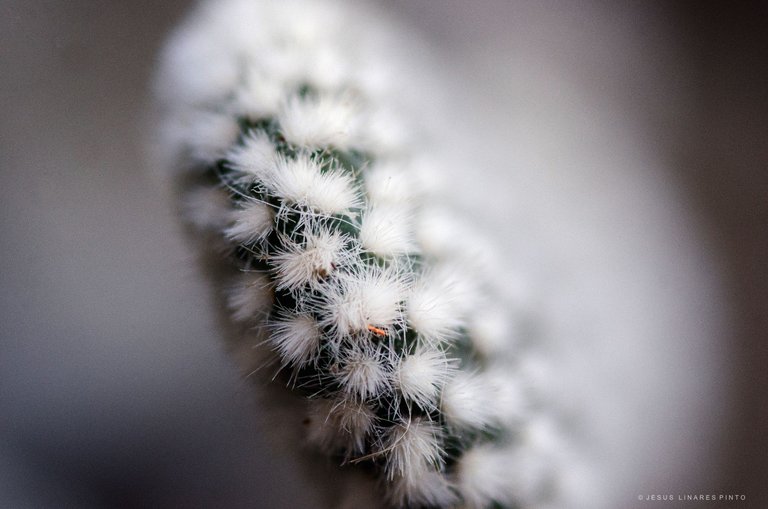 17. Opuntia cacti || 17. Cactus opuntia
---
I wanted to add a touch of drama to all these photos (not so much as to make them in my "obsessive" black and white) but enough to blur the backgrounds and make things a little more "ethereal, abstract and curious"... So despite the 100mm focal length of this lens, I opted to use apertures of F/7.1 and F/8, so focusing was a challenge due to the very short depth of field... But as I said, the sil was strong and I was able to show off my pulse (the little that is left in my 50 years, ha ha ha) not using tripods, just camera in hand... I managed shutter speeds always above 1/1000s, which was enough for that.
Quise poner un toque de drama a todas estas fotos (no tanto como para hacerlas en mi "obsesivo" blanco y negro) pero sí el suficiente para difuminar los fondos y hacer las cosas un poco más "etéreas, abstractas y curiosas"... Así que a pesar de los 100mm de focal de este lente, opté por usar aperturas de F/7.1 y F/8, entonces el enfoque fue todo un desafío debido a la profundidad de campo tan corta... Pero como dije, el sil era fuerte y pude hacer gala de mi pulso (del poco que queda amis 50 años, ha ha ha) no usar trípodes, solo cámara en mano... Logré velocidades de obturación siempre por encima del 1/1000s, lo cual fue suficiente para eso.
---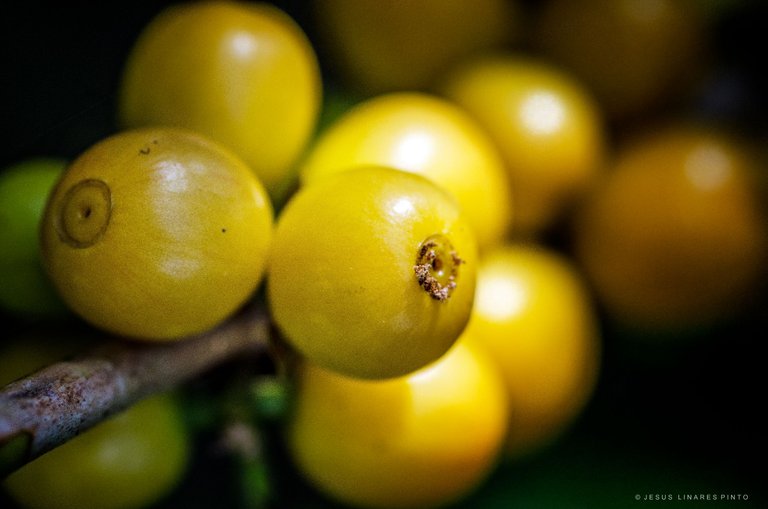 18. Coffe || 18. Café
---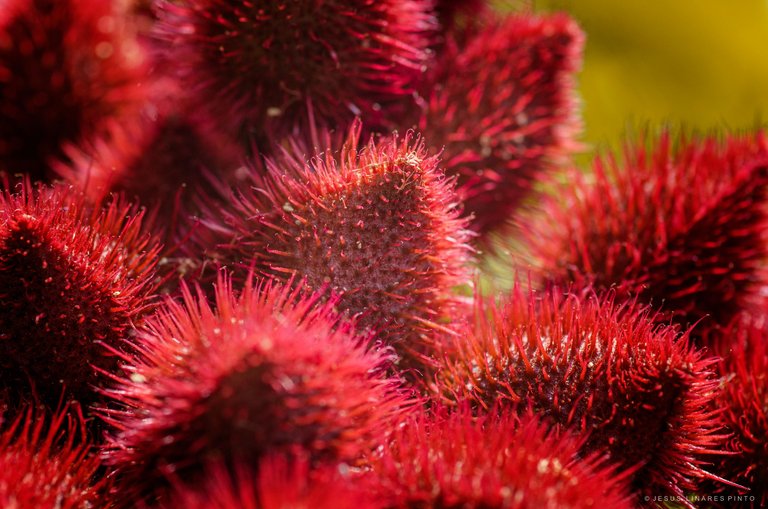 19. "Onoto" Fruits || 19. Frutos de Onoto
---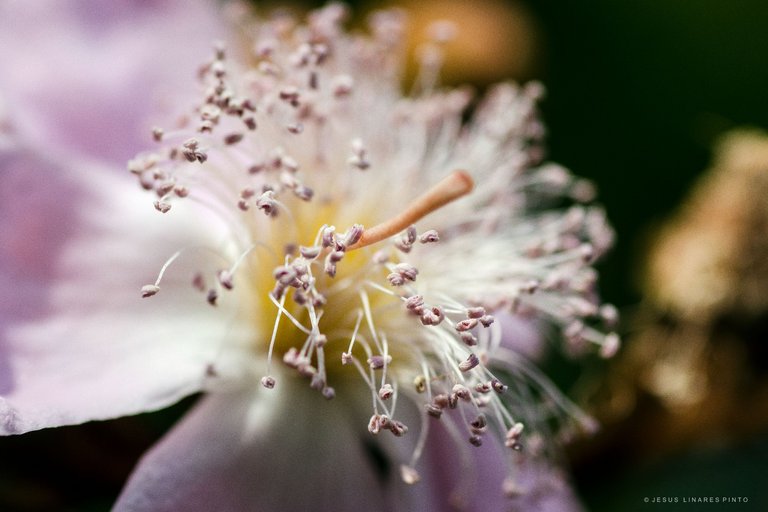 20. "Onoto" Flowers || 20. Flores de Onoto
---
I thank you all for stopping by and appreciating, see you soon again with more pictures from around here.... A hug from me to all of you.
Agradezco a todos por pasar por aquí y apreciar, nos veremos pronto de nuevo con más fotografías de por medio.... Un abrazo de mi parte para todos.
---
END / FIN
---
"We make photographs to understand what our lives mean to ourselves." - Ralph Hattersley.
"Hacemos fotografías para comprender lo que nuestras vidas significan para nosotros mismos." - Ralph Hattersley.
---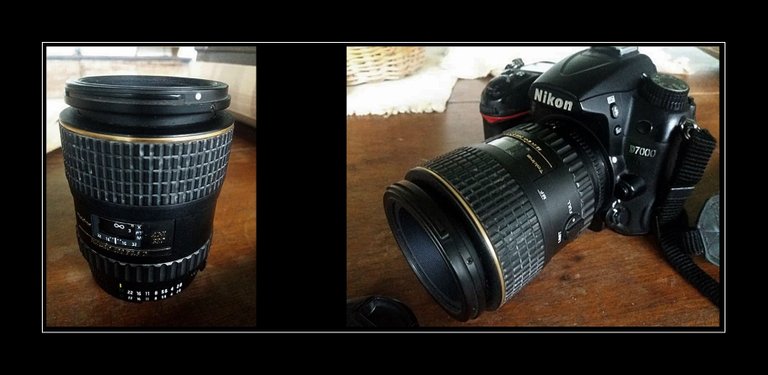 This is my trusty old Nikon D7000 with her "occasional boyfriend" Tokina 100mm.... We've been together for over a decade now and it looks like we can go on for quite a while longer.
Esta es mi vieja y fiel Nikon D7000 con su "novio ocasional" Tokina 100mm... Hemos estado juntos por más de una década y parece que podremos seguir bastante tiempo más.
---

Camera: Nikon D7000 | Lens: Tokina ATX-PRO 100mm f/2.8 d MACRO
Cámara: Nikon D7000 | Objetivo: Tokina ATX-PRO 100mm f/2.8 d MACRO
Montalbán, Carabobo, Venezuela.
---