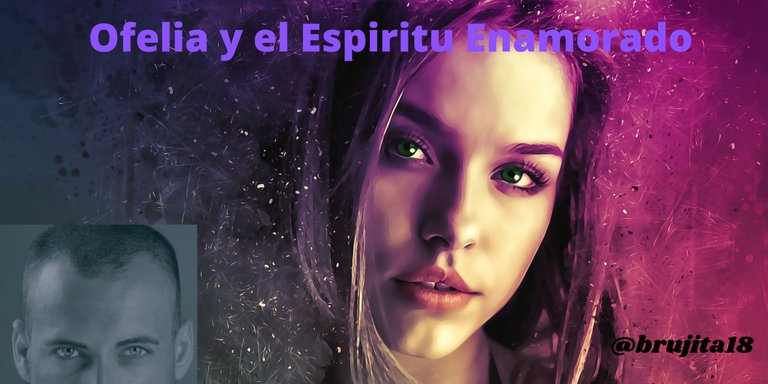 Español

Ofelia estaba tan asustada con el destino que le esperaba... iba en camino a lo que sería su nuevo hogar, mientras eso ocurría, iba viendo por la ventanilla del carruaje, perdida en sus tristes pensamientos, pero prefería eso a tener que casarse con aquel asqueroso conde, que desde que la vio se obsesionó con ella cuando la vio paseando por el parque con su vieja nana. De una vez buscó la manera de averiguar quien era ella, quienes eran sus padres, su posición social... eso fue fácil en su pequeño pueblo.
Ofelia provenía de una familia que, a pesar de tener un apellido reconocido dentro de la aristocracia, pertenecían al lado, que se había venido a menos, económicamente, por haber caído en desgracia en los malos negocios hechos por su padre, que les obligaron a vivir modestamente, sin muchos lujos y para rematar eran 4 hermanas, las cuales sus padres debían casar lo más apropiadamente que pudieran, si no querían mantenerlas de por vida y sin mucha dote, era misión casi imposible, de paso que no eran muy agraciadas físicamente a excepción de Ofelia.
Quien era de una belleza algo exótica, dueña de una boca de labios en forma de corazón, carnosos y con un color rojo natural muy llamativo, con una figura delgada, pero con unos senos redondos ni muy grandes ni tan pequeños, eran perfectos; con una cintura de avispa acompañada de unas caderas bien moldeadas que dibujaban un perfecto trasero, que por mucha tela que sus vestidos poseían, se podía evitar imaginar todo lo demás. Siempre era el blanco de las miradas varoniles desde que entró en la adolescencia, sus padres veían en ella la esperanza de la familia...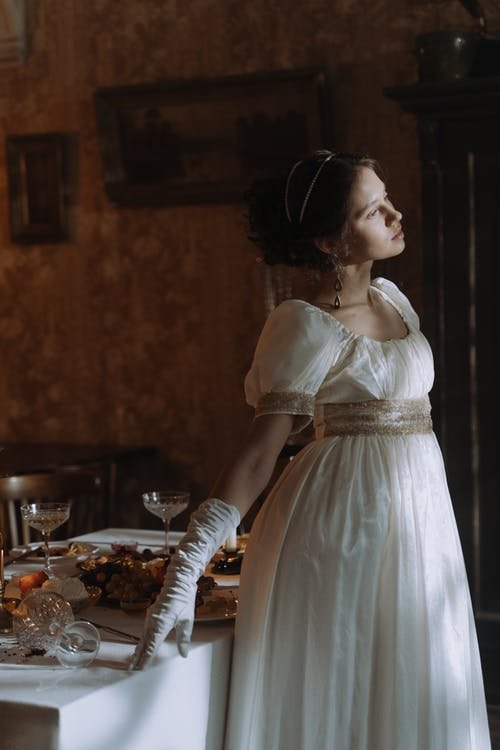 Fuente/ Source
Así que cuando aquel hombre cincuentón, llegó a las puertas de su humilde hogar, no pudieron menos que recibirle y ver que proponía, al ver que este era dueño de un título nobiliario y que poseía un viejo castillo en las afueras del pueblo, acompañada de varios acres de tierra y animales, pensaron que tendrían asegurado su sustento. Ofelia, al enterarse de esto, no pudo menos que sentirse como un animal acorralado, pero no podía oponerse a los designios de sus padres, no quería causarles una vergüenza social y así impedir los futuros matrimonios de sus hermanas, si es que lograban que alguien pidiera sus manos…
Sus padres aceptaron, que este Conde empezara a visitarla y a pesar de sus protestas, tenía que atenderle, lo más amablemente, claro, siempre presencia de cualquiera de sus hermanas, siempre vigilada, no podía darse el lujo de obtener una mala reputación, si llegara a quedarse sola con este asqueroso hombre, que siempre parecía como si no se bañara diariamente, sus olores corporales pretendía disfrazarlos, con lociones que lo que hacían era, enrarecer más el ambiente, cada vez que se sentaba en su lado, su cuerpo se erizaba por la repulsión...
Ofelia no creía soportarlo. Así que ideo un plan, decidió en confesión hablarle al cura del pueblo de su terrible situación; que la conocía desde que era una bebé y llorando le confesó, que prefería morir antes que casarse con aquel apestoso hombre, diciéndole que de no conseguir una salida, eso era lo que haría exactamente, entonces el viejo párroco, le dijo que había una manera de eludir ese cruel destino, sin que sus padres pudieran intervenir y que este hombre tendría que aceptar, incluso la sociedad, nada podrían decir y era que sirviera a Dios en un convento...
Ofelia aceptó esta propuesta, prefería encerrarse de por vida en un convento, antes que tener soportar que aquel horrible hombre la tocara, el solo tenerlo cerca le provocaba náuseas, así que junto al párroco, idearon la manera en que abordarían a sus padres y que no pudieran rehusarse. Ese domingo, como siempre después de misa, el cura llamó a la familia de Ofelia, mamá y papá a la casa parroquial con la excusa de tomar un té. Las chicas se fueron con la nana, incluyendo a la misma Ofelia, quien iba temblando como una hoja a casa, solo esperando la respuesta definitiva de su destino..., Continuara...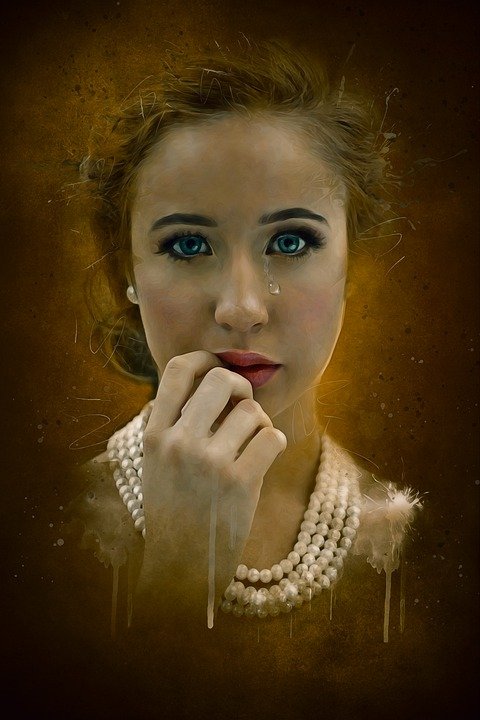 Fuente/ Source

English

Ofelia was so scared of the destiny that awaited her... she was on her way to what would be her new home, while that was happening, she was looking out the carriage window, lost in her sad thoughts, but she preferred that to having to marry that disgusting count, who since he saw her became obsessed with her when he saw her walking in the park with her old nanny. All at once she looked for a way to find out who she was, who her parents were, her social position... that was easy in her small town.
Ofelia came from a family that, in spite of having a recognized surname within the aristocracy, they belonged to the side, that had come to less, economically, for having fallen in disgrace in the bad businesses made by their father, that forced them to live modestly, without many luxuries and to top it off they were 4 sisters, which their parents had to marry as appropriately as they could, if they did not want to maintain them for life and without much dowry, it was almost impossible mission, incidentally they were not very graceful physically with the exception of Ofelia.
Who was of a somewhat exotic beauty, owner of a mouth with heart-shaped lips, fleshy and with a very striking natural red color, with a slender figure, but with round breasts neither too big nor too small, they were perfect; with a wasp waist accompanied by a well molded hips that drew a perfect ass, that for much fabric that her dresses possessed, one could avoid imagining everything else. She was always the target of manly looks since she entered adolescence, her parents saw in her the hope of the family....
So when that man in his fifties arrived at the doors of their humble home, they could not help but welcome him and see what he proposed, seeing that he was the owner of a noble title and that he owned an old castle on the outskirts of town, accompanied by several acres of land and animals, they thought they would be assured of their livelihood. Ofelia, on learning of this, could not but feel like a cornered animal, but she could not oppose the designs of her parents, she did not want to cause them a social embarrassment and thus prevent the future marriages of her sisters, if they managed to get someone to ask for their hands....
Her parents accepted, that this Count began to visit her and in spite of her protests, she had to attend to him, as kindly as possible, of course, always in the presence of any of her sisters, always watched, she could not afford the luxury of getting a bad reputation, If she were to be left alone with this disgusting man, who always seemed as if he did not bathe daily, his body odors pretended to disguise them with lotions that only made the atmosphere worse, every time she sat down next to him, her body bristled with repulsion. ..
Ofelia did not think she could stand it. So she devised a plan, she decided in confession to talk to the village priest about her terrible situation; he knew her since she was a baby and crying she confessed that she would rather die than marry that stinking man, telling him that if she could not find a way out, that was exactly what she would do, then the old parish priest told her that there was a way to avoid that cruel fate, without her parents being able to intervene and that this man would have to accept, even society could say nothing, and that was to serve God in a convent ...
Ofelia accepted this proposal, she preferred to be locked up for life in a convent, rather than having to endure that horrible man touching her, just having him near made her nauseous, so together with the parish priest, they devised the way in which they would approach her parents and that they would not be able to refuse. That Sunday, as usual after mass, the priest called Ofelia's family, mom and dad, to the parish house with the excuse of having tea. The girls left with the nanny, including Ofelia herself, who went home trembling like a leaf, just waiting for the definitive answer of her destiny..., To be continued....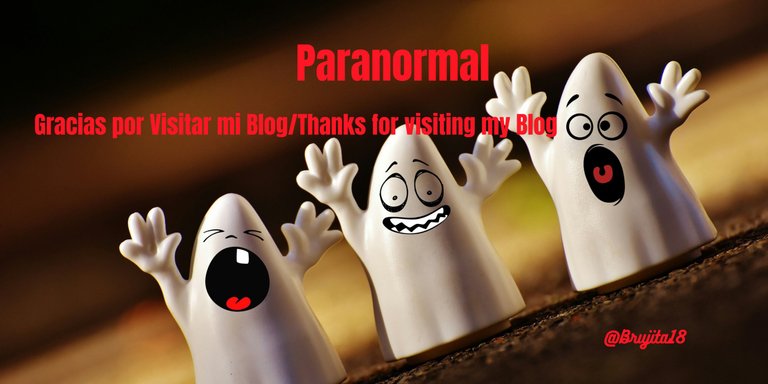 Translated with www.DeepL.com/Translator (free version)
Separadores/ Separators @eve66
Banner @brujita18
Historia de mi autoria/ story of my authorship