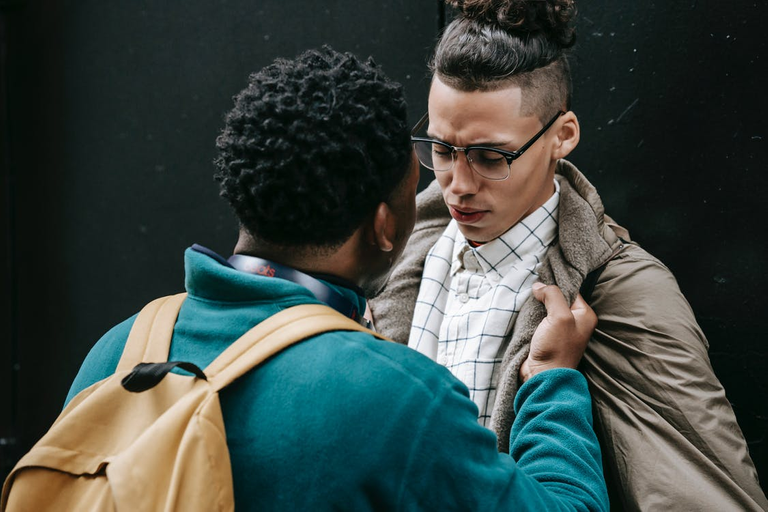 Fuente
—No te preocupes Will, todo volverá a su cause en menos de lo que esperas, ya después, verás como las cosas podrán fluir por sí solas y sin apuros, solo debes ser paciente y esperar —
—¿Cómo se supone que debo ser paciente, si puedo sentir su respiración en mi nuca? ¿Cómo puedo mantener en calma si él ya conoce todos mis movimientos Bruce? Ya sabes que todo esto es culpa de Reynolds por dejar cabos sueltos, cabos que ahora están deseosos de ver todo este programa caer —
—Entiendo perfectamente la situación amigo. Tal como tú, en algún momento tendré que vender las cosas que tengo… —
—¡¿Qué demonios dices? ¿Cómo es que tendrás que vender tus cosas?! —
—Shh, no te apresures a sacar conclusiones. Solo te digo que, si el caso es… ¿Entiendes? Tú más que nadie sabes cuanto me ha costado intentar ponerme en esta situación, y obviamente lucharé con todas mis fuerzas para mantenerla. Will amigo, me conoces, sabes que soy un depredador y no una presa. Todo este rollo solo dará como resultado beneficios para nosotros, así que, relájate —
La llamada que había causado el encuentro de aquellos hombres entró al teléfono público al que los habían dirigido.
—Buenas tardes Will, ¿Frank está contigo? —
—Claro que está conmigo. ¿Dónde rayos están ustedes? —
—Tranquilo hombre. Hasta ahora estamos seguros, así como todo el dinero del grupo. Solo quiero asegurarme de que ustedes están bien. ¿Se fijaron en si alguien los siguió? —
Frank miraba por los alrededores de su ubicación, con su mano derecha entre su chaqueta, listo para cualquier eventualidad que se presentara.
—No, hemos llegado con un auto rentado hasta aquí, pero si te sigues tardando en decirnos donde rayos están, estoy seguro que no tardarán en dar con nosotros. Así que no seas torpe, dime donde estás Steven —
—Will, ¿Frank aún no te ha dicho nada? —
—¿Nada sobre qué Frank? —
Antes de que Will pudiera voltear a mirar a Frank, este sacaba un pañuelo envuelto en formol y lo llevaba a la cara de Will, que caía al suelo desmayado, y sin saber que sería de sí.
—¡Rayos Steven! Ahora este estúpido cuando despierte, no hará nada sino desconfiar de todos nosotros. Pudiste haberle dicho otra cosa. —
—Ya todo está listo Frank, sea como sea, ya no importa lo que él sienta o piensa, sus sentidos se perderán solo al observar lo que está a punto de suceder, mientras, intenta no dar un movimiento en falso, ya sabes cual es el resultado de dejar estos cabos sueltos… —
La llamada finalizó después de aquella expresión.
Frank entendía que incluso él, que por tanto tiempo había estado trabajando de la mano con aquellos, no le perdonarían ningún error, por lo que debía actuar con mucha prudencia a partir de entonces.
Frank intentó levantar del suelo a Will y así llevarlo al lugar al que le habían ordenado, y entonces seguir con el plan de hacerse con todo el dinero de algunos, y así masificar su poder.
—Franki, Frank amigo, ¿Qué has hecho? — Dijo con los ojos entreabiertos Will, a quien la formula no le había afectado tanto, por lo que estaba parcialmente consciente de lo que estaba pasando.
—Revisa mi cartera Frank, nos han estado mintiendo a todos, esto es culpa de Bruce — Will cerraba sus ojos para entonces si caer al suelo.
Rápidamente, Frank llevó su mano hacia el bolsillo trasero de Will, y allí se encontró con la libreta azul que le asignaban a cada miembro del partido, y cuyas misiones había cumplido.
En la lista de Will, apenas había una sola cumplida, mientras que el resto estaba incompleto. La única razón por la que éste permanecía vivo, era por mantener los lazos entre algunos lideres políticos y el grupo, además de que su aporte de dinero era mayor que el de todos.
Entre la lista estaba el acabar con Frank Moriar. Aquel mismo hombre que ahora lo estaba encaminado al sitio para acabar con su vida.
Además, una nota donde Will desconfiaba de algunos que eran parte del grupo, auto denominado los Sedentarios, donde decía que comenzaba a sospechar de un vínculo con Bruce Leucón, quién había cometidos grandes genocidios, pero por su gran influencia en el poder, heredado de su padre, era imposible ponerle la mano encima.
El deseo de Will, como el de Frank, era hacerse con el poder, y así comenzar a poner orden sobre todos aquellos que había cometidos crímenes horrendos.
Frank detuvo el auto debajo del tren para intentar reanimar a Will, y que este le explicara todas las cosas que habían sucedido, así como el saber porqué le había perdonado la vida, sabiendo que estos no dejaban ningún cabo suelto.
—Vamos Will, despierta amigo. Lamento todo esto, en verdad lo siento —
Antes de poder decirle algo más, su teléfono sonó:
—Soy yo Steven. ¿Por qué rayos has tardado tanto Frank? —
—Se me ha explotado una llanta Steven. Me he salido de la ruta para repararlo lo más pronto —
—Tan solo dime donde estás, enviaremos a alguien para buscarlos. Frank, el tiempo es oro, y el oro vale mucho, cada segundo perdido acá, es uno en lo que se nos van cientos y miles de dólares —
—Tranquilo Steven. De no haber llamado, ya habría terminado —
—Oye Frank, recuerda, sin cabos sueltos —
—Entiendo, ya iré hasta allá —
Will apenas podía abrir los ojos. Frank no solo debía saber que era Lo que había sucedido con algunos archivos, sino también el porqué Will no lo había eliminado, y cuál era la razón.
—Frank, amigo. ¿Qué es lo que ha sucedido? — Will aún estaba aturdido por el efecto.
—Lo siento Will, lo siento mucho amigo. – dijo entre lágrimas- Ellos dijeron que no debía dejar cabos sueltos, que no habías cumplido tu parte conmigo, y que ya era hora que estuvieras fuera del proyecto, prometieron que estaría siempre atado, incluso me dieron la libreta negra —
Continuará...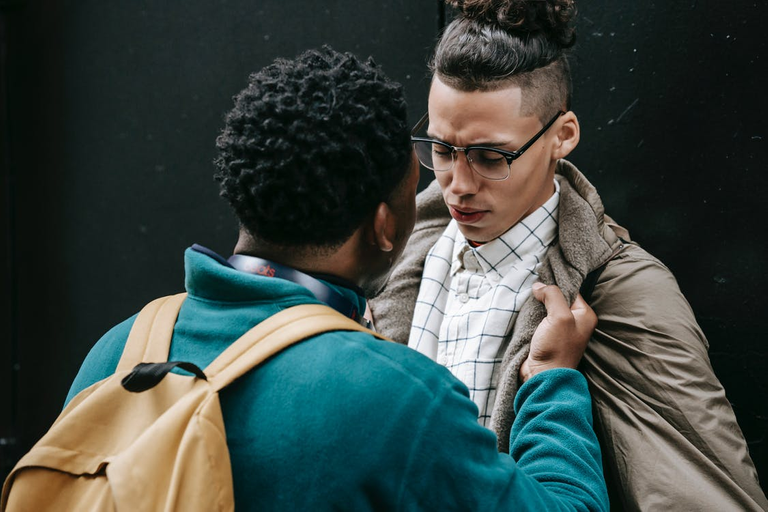 Fuente
-Don't worry Will, everything will be back on track in less time than you expect, after that, you'll see how things will flow by themselves without any rush, you just have to be patient and wait.
-How am I supposed to be patient, if I can feel his breath on the back of my neck? How can I stay calm if he already knows my every move Bruce? You know this is all Reynolds' fault for leaving loose ends, ends that are now eager to see this whole program go down - - I totally understand the situation my friend.
-I totally understand the situation my friend. Just like you, at some point I'm going to have to sell the stuff I own... - - What the hell are you saying?
-What the hell are you talking about? How come you'll have to sell your stuff?! -
-Shh, don't jump to conclusions. I'm just telling you, if the case is... Do you understand? You of all people know how much it has cost me to try to put myself in this situation, and obviously I will fight with all my might to keep it. Will friend, you know me, you know I'm a predator and not prey. All of this messing around will only result in benefits for us, so relax -
The caller who had caused the men to meet entered the pay phone they had been directed to.
-Good afternoon Will, is Frank with you? -
-Of course he's with me. -Where the hell are you guys? -
-Easy, man. We're safe so far, and so is all the money in the group. I just want to make sure you guys are okay. Did you check to see if anyone followed you? -
Frank looked around their location, with his right hand in his jacket, ready for any eventuality that might arise.
-No, we've rented a car all the way here, but if you keep delaying in telling us where the hell they are, I'm sure it won't take them long to find us. So don't be clumsy, tell me where you are, Steven.
-Will, Frank still hasn't told you anything? -Will, Frank still hasn't told you anything? -
-Nothing about what Frank? -
Before Will could turn to look at Frank, he pulled out a handkerchief wrapped in formaldehyde and held it to Will's face, who fell to the floor fainting, and not knowing what would become of him.
-Damn it, Steven! Now when this stupid guy wakes up, he will do nothing but distrust all of us. You could have told him something else. -
-Everything is ready now Frank, whatever it is, it doesn't matter what he feels or thinks, his senses will be lost just watching what is about to happen, meanwhile, try not to make a false move, you know what is the result of leaving these loose ends...".
The call ended after that expression.
Frank understood that even he, who for so long had been working hand in hand with those, would not forgive him any mistake, so he had to act very cautiously from then on.
Frank tried to lift Will off the ground and so carry him to the place to which he had been ordered, and then go on with the plan to get hold of all the money of some, and thus massify his power.
-Frankie, Frank my friend, what have you done? - Said a half-open-eyed Will, who had not been so affected by the formula, so he was partially aware of what was going on.
-Check my wallet Frank, they've been lying to all of us, this is Bruce's fault," Will closed his eyes and then fell to the ground.
Quickly, Frank brought his hand to Will's back pocket, and there he found the blue notebook that was assigned to each member of the party, and whose missions he had completed.
On Will's list, there was barely a single one completed, while the rest were incomplete. The only reason why he remained alive was to maintain the ties between some political leaders and the group, besides the fact that his contribution of money was greater than that of all.
Among the list was to take down Frank Moriar. That same man who was now leading him to the site to end his life.
In addition, a note where Will was suspicious of some who were part of the group, self called the Sedentary, where he said he began to suspect a link with Bruce Leucon, who had committed great genocides, but because of his great influence in power, inherited from his father, it was impossible to lay a hand on him.
Will's desire, like Frank's, was to seize power, and thus begin to bring order to all those who had committed horrendous crimes.
Frank stopped the car under the train to try to revive Will, and get him to explain all the things that had happened, as well as why he had spared Will's life, knowing that they left no stone unturned.
-Come on Will, wake up my friend. I'm sorry about this, I'm really sorry.
Before I could say anything else to him, his phone rang:
-It's me Steven, what the hell took you so long Frank? -
-I blew a tire Steven. I went off the road to get it repaired as soon as possible.
-Just tell me where you are, we'll send someone to look for them. Frank, time is money, and money is worth a lot, every second lost here is a second in which we lose hundreds and thousands of dollars.
-Easy, Steven. If I hadn't called, it would have been over by now.
-Hey Frank, remember, no loose ends- -I understand.
-I understand, I'll be right there.
Will could barely open his eyes. Frank not only had to know what had happened to some files, but also why Will hadn't deleted it, and what the reason was.
-Frank, buddy, what's happened? - Will was still stunned by the effect.
-I'm sorry Will, I'm so sorry buddy. - He said through tears- They said I shouldn't leave loose ends, that you hadn't kept your part with me, and it was time you were out of the project, they promised it would always be tied up, they even gave me the black book -
To be continued...
Ismael D. Rodríguez
Discord ismaelrd04#9345