Brawl Battle Analysis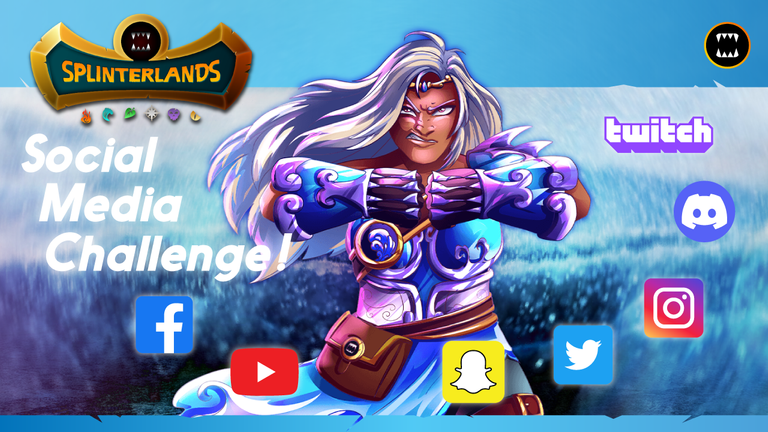 This blog focuses on how we could win more brawl matches in splinterlands. It is however important to remember that gladiators can only be obtained from gladius packs and can only be used during guild battles. This is also my post for this weeks social media challenge.
Start your play to earn journey now. Buy your spellbook here: If you're interested in earning crypto while playing a competitive game, sign up for splinterlands and use my code: https://splinterlands.com?ref=beerbod

Brawl 1 Water vs Fire
The full battle can be viewed here: https://splinterlands.com?p=battle&id=sm_WRvAee6RfBeQflX7wKYQ&ref=beerbod
This is a 21 mana cap battle, with spreading fury and keep your distance rulesets.
I used Kelya Frendul for my summoner with albatross to serve as damage absorber, Djinn Oshannus for my main magic damage dealer and tank from magic damage, and Edith Emberstar for my ranged gladiator.
The opponent went for Tarsa as his summoner and a high hp lineup. He has Gargoya Devil, Molten Ash Golem and Scavo Firebolt.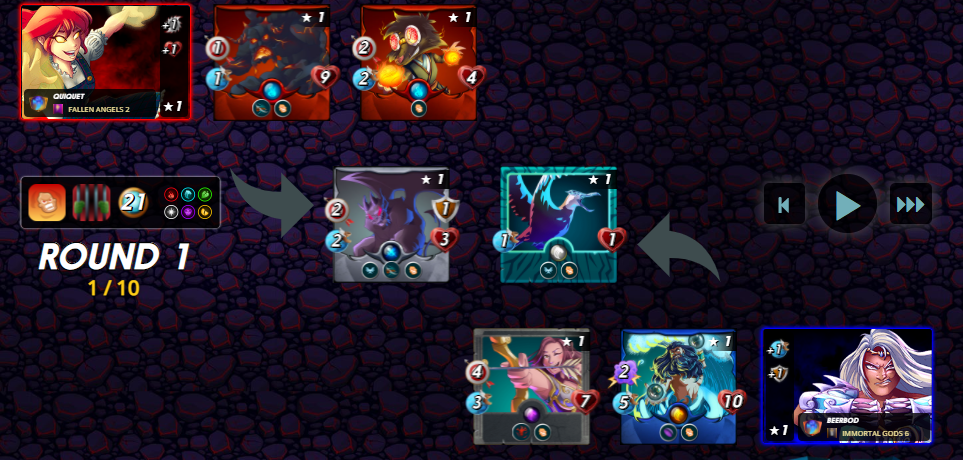 Brawl 1 Round 1
My albatross went down the first round but it has done its job of absorbing a couple of attacks while my cores remain healthy. The gargoya devil is down to 2hp. I have an advantage here given that I have a gladiator and higher speed monsters.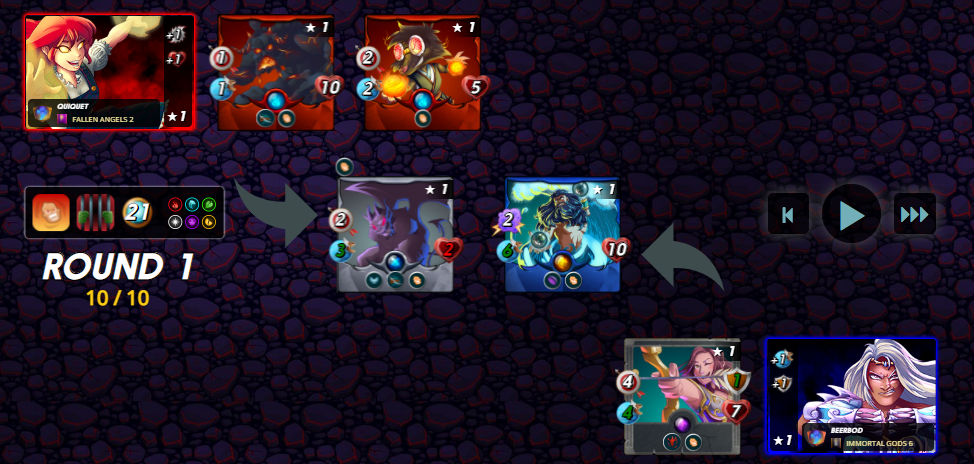 Brawl 1 Round 2
I was able to quickly eliminate the gargoya devil. One attack from the enemy has connected increasing Djinn Oshannus speed to 9. The molten ash golem is down to 6 hp.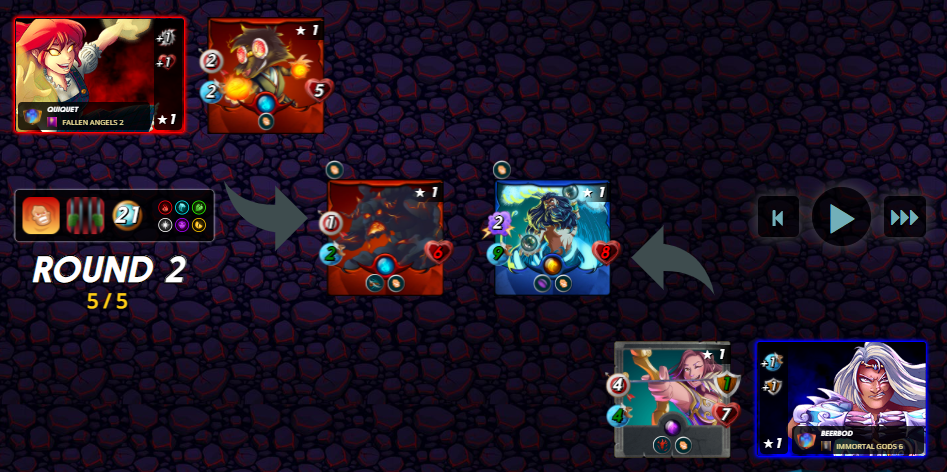 Brawl 1 Round 3
By the end of this round, only the scavo firebolt remains in play. My edith emberstar has gained a bloodlust buff from eliminating the molten ash golem. At this point i will end the match in the fourth round as the remaining enemy card has no means to attack and win.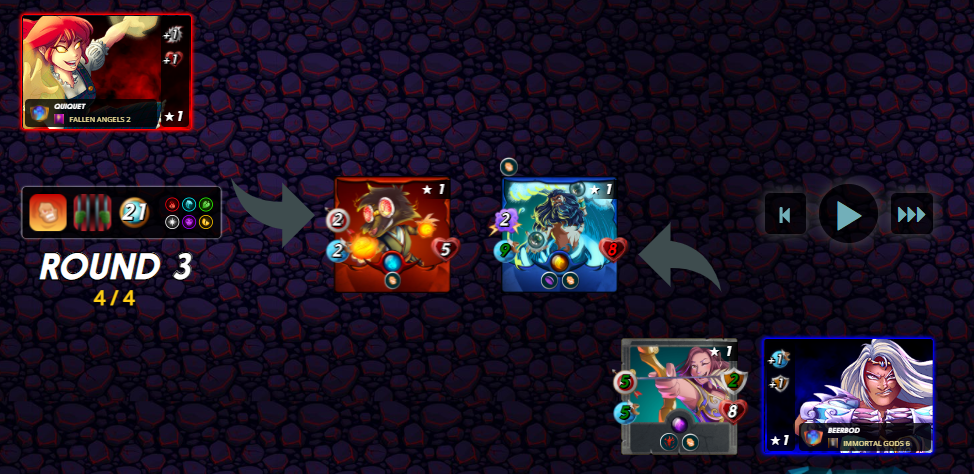 Brawl 2 Death VS Earth
the rulesets for this match are unprotected which means no armor is given in this battle. And equalizer where all monsters have equal health to the highest hp monster. This match can be viewed here: https://splinterlands.com?p=battle&id=sm_6FuWtaka0csFIV512Sqf&ref=beerbod
I selected Thaddius Brood for my summoner, with cursed windeku for my frontlines. Shadowy Presence for my off tank, death elemental to provide snipe magic damage, Life Sapper so that i could have a tertiary tank overtime, Soul Strangler for my low cast range damage which gives me enough space to summon Liza Fox.
The opponent on the other hand went for Obsidian and magic lineup. He has failed summoner to reflect magic damage, Regal Peryton and Khmer Princess and Venari Spellsmith, composes his main magic damage, complemented with 2 magic damagers and healers Goblin Psychic and Wood Nymph.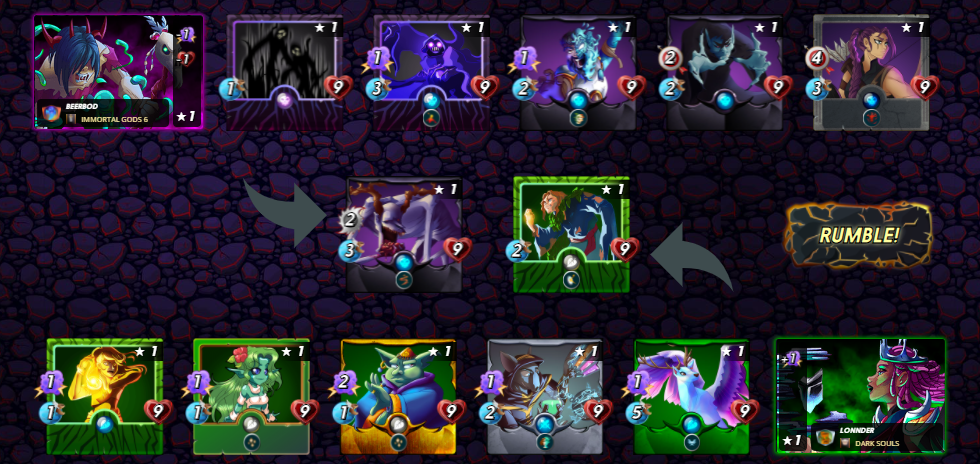 Brawl 2 Round 1
My advantage in this match is because of my choice of summoner, i was able to reduce enemy magic damage as well as all their hp by 1. I managed to take out the failed summoner in the first round and my cursed windeku still has 3 hp left and should be able to absorb up to 3 more attacks.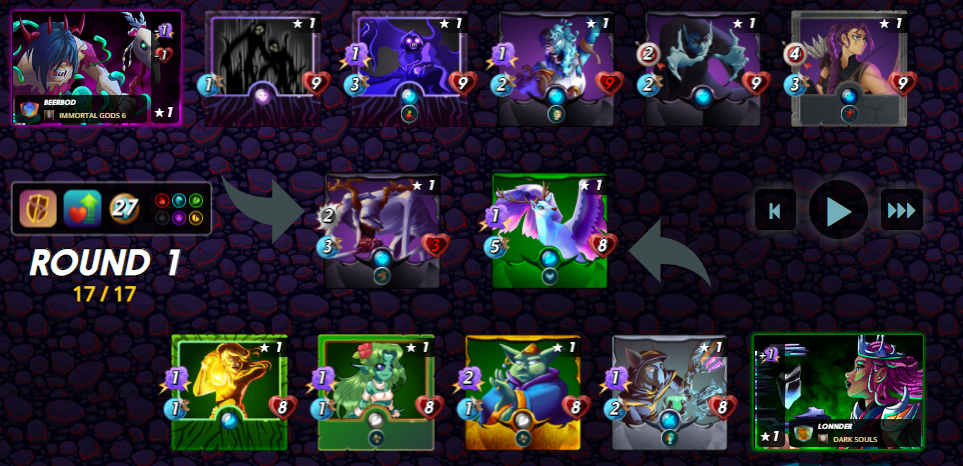 Brawl 2 Round 2
While i was able to deal a lot of damage to his regal peryton, it was sustained by the healing of wood nymph and goblin psych. My cursed windeku was also removed from play and shadowy presence enters the third round with 6 hp left. I still have the advantage given that my life sapper has already gained 1 more hp increasing its survavibility even further.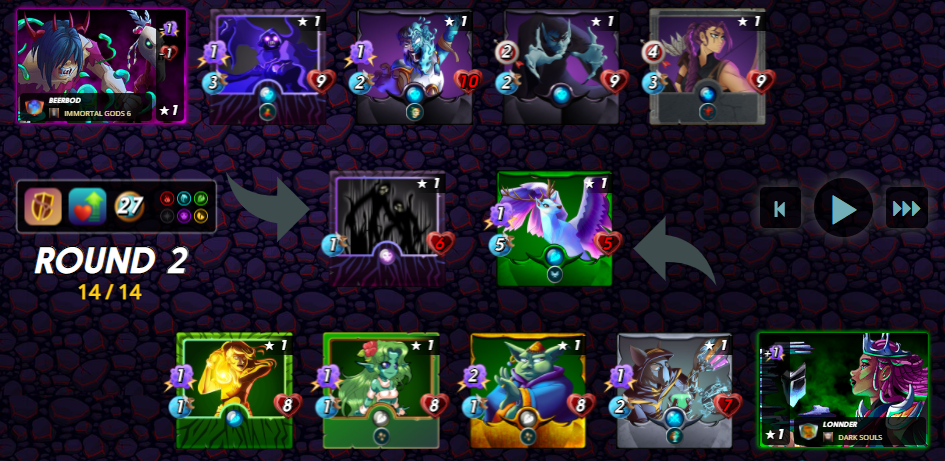 Brawl 2 Round 3
Both the shadowy presence and regal perryton was removed from play this round. My death elemental moves to first position as well as his venari spellsmith. I would say that i have a slight advantage given that i have higher speed overall and higher damage output. However his double tank heal lineup keeps a lot of his monsters sustained.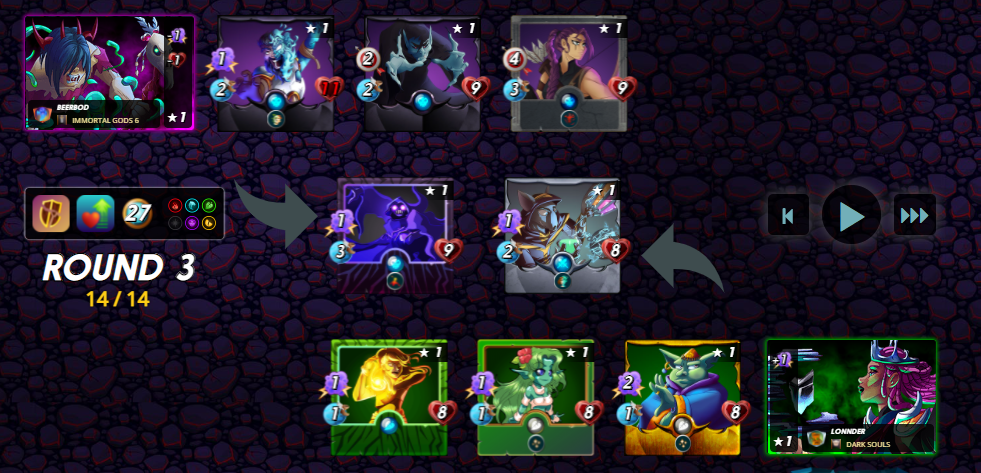 Brawl 2 Round 4
My Death Elemental managed to survive this round versus his venari spellsmith which i sent to the graveyard. Due to my higher speed i was attacking first and prevents his lineup from healing. My life sapper is now up to 12 hp and will give me an advantage in the later rounds.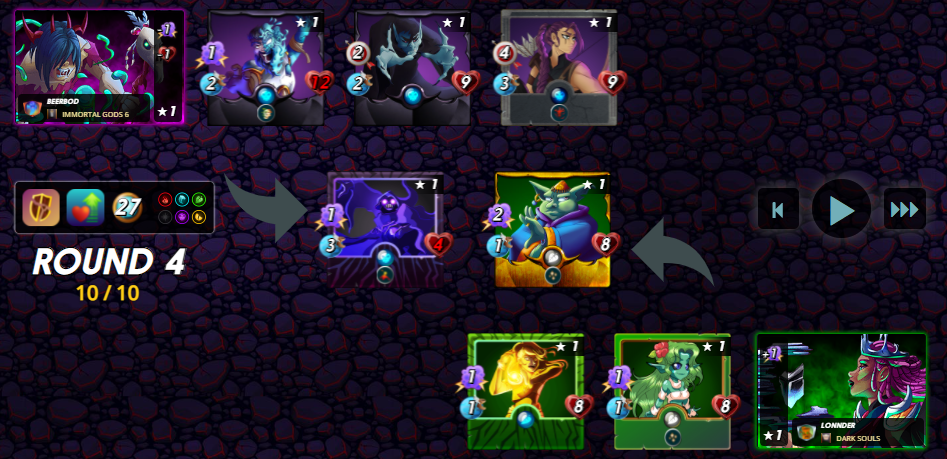 Brawl 2 Round 5
Speed kills as proven in this round. The goblin psychic did not manage to deal or heal. Only the Wood Nymph and Khmer Princess remains for his lineup while i still have 4 summons left. With the still at full health.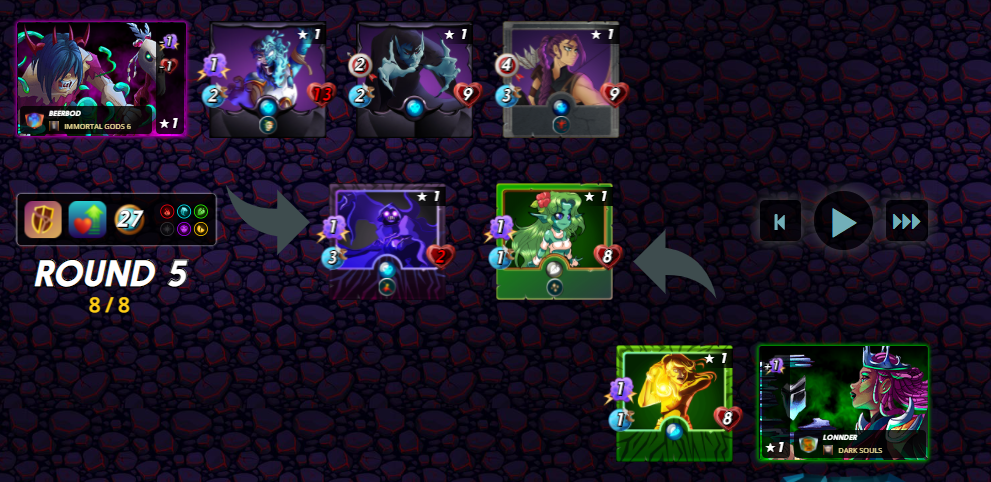 Brawl 2 Round 6
This round is like a replay of the previous round. The wood nymph already got taken out due to my high damage output before it could attack and heal itself. At this point he no longer has any chances of winning and I will proceed to winning this match up.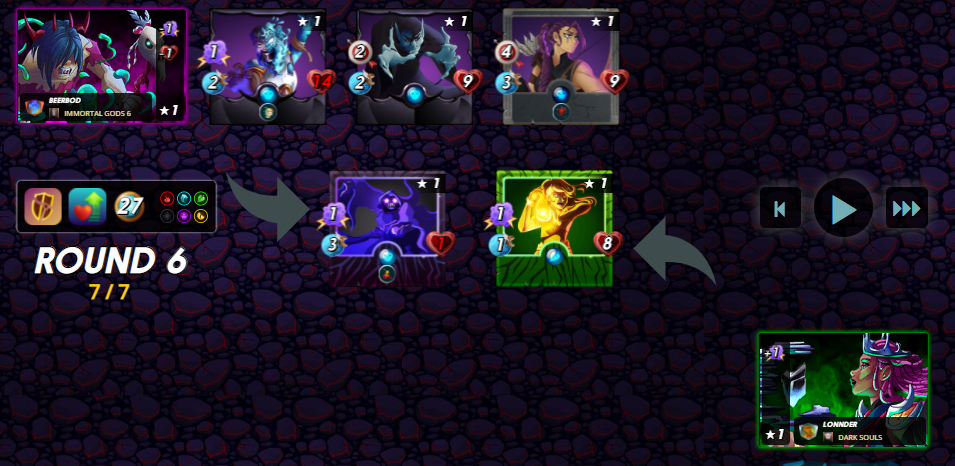 Brawl 3 Dragon vs Dragon
Full battle can be viewed here: https://splinterlands.com?p=battle&id=sm_CcVHWcr33dp4Z34yVV2W&ref=beerbod
The ruleset for this match is healead out meaning no monsters can be healed, and keep your distance which prevents the use of any melee attacks. Both summoners are Drake of Arnhak. And both of us selected to use death splinter as the dragon's pair. This is a 48 mana cap which allows a lot of choices in card selection.
I went with Shadowy Presence for my main tank, Riftwing for my secondary tank, and Dhampir Stalker for my tertiary damage absorber. Magi Necrosi for my snipe damage as well as Venari bonesmith gives me insurance for the later rounds. And Liza Fox for my gladiator to deal massive range damage.
The opponent went for Riftwing, Gargoya Devil, Mantoid to snipe my ranged monsters, Suppply Runner, Dhampir Stalker and Goblin Chariot completes his ranged lineup.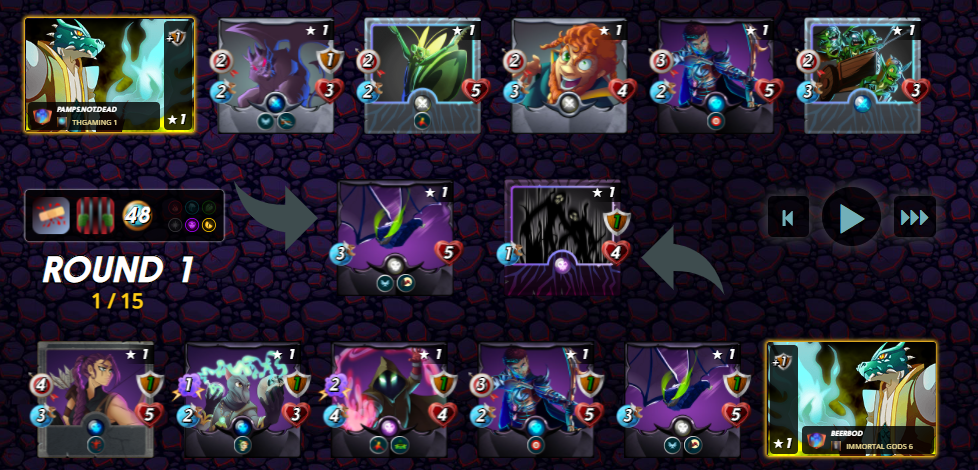 Brawl 3 Round 1
The first round ended with my riftwing going down first, I enter the second round slightly behind as my opponents stank is still alive and can soak up more damage.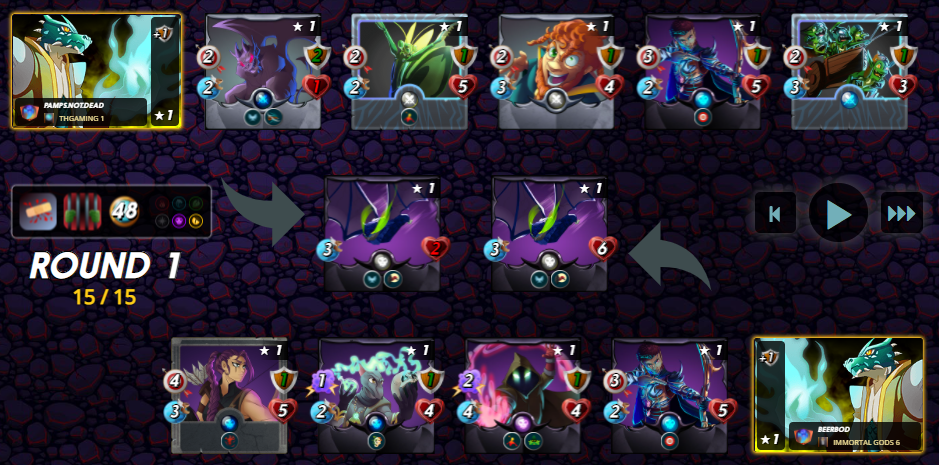 Brawl 3 Round 2
This round i managed to gain the upper hand. My Magi Necrosi took out the gargoya devil because of its snipe ability. I also managed to take out the enemy rift wing. Due to this deaths, my riftwing gained some hp and was able to survice this round. My life sapper now has 5 hp and my liza fox also gained one bloodlust buff. His mantoid is now exposed in the first position and its a 4 versus 5 match with me having a good enough advantage.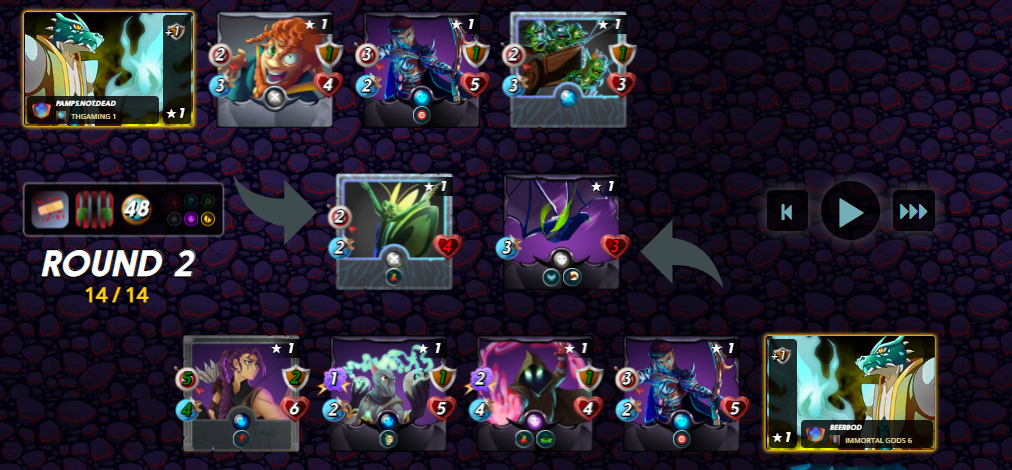 Brawl 3 Round 3
The mantoid of the opponent got easily taken out in the early stages of the round 3. Liza fox now deals 6 damage as it has taken out the Mantoid. Life sappers up to 6 hp and surprisingly the rift wing is still alive. I have a comfortable lead at this point as the supply runner could no longer attack and is down to 1 hp exposed with no armor.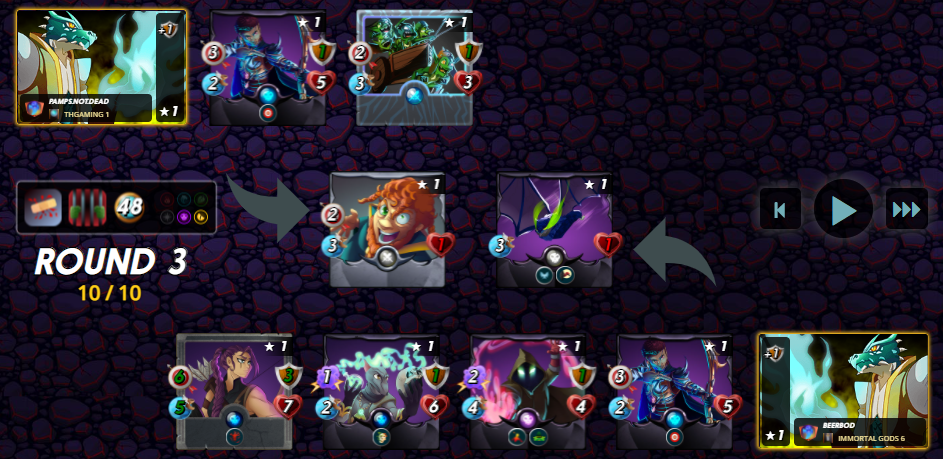 Brawl 3 Round 4
Liza fox again took out the supply runner, It now deals 7 damage with 6 speed and 8 hp plus 4 armor. Completely almost unstoppable. Life sapper now has 7 hp. My riftwing finally ended its run in this match and dhampir stalker moves to first position.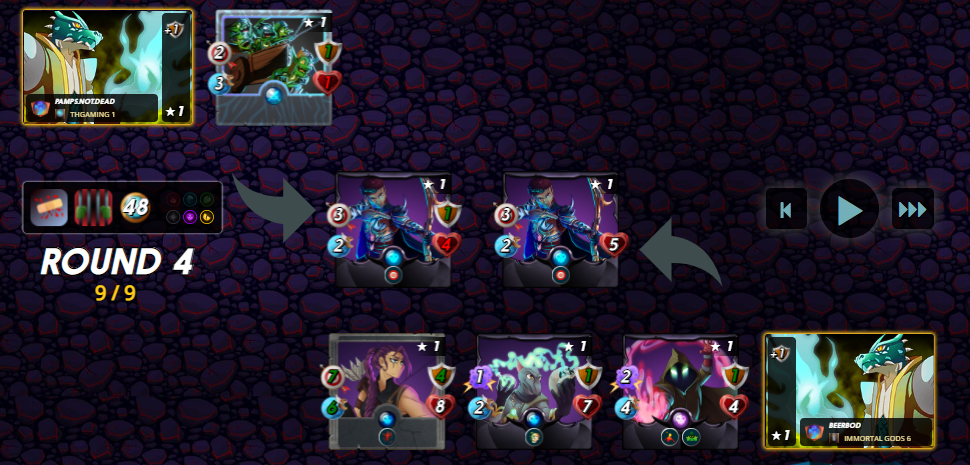 Brawl 3 Round 5 and 6
At this point it was a simple cleanup job. The Necrosi Mage will take out the goblin chariot and only his Dhampir Stalker will remain but could no longer do anything.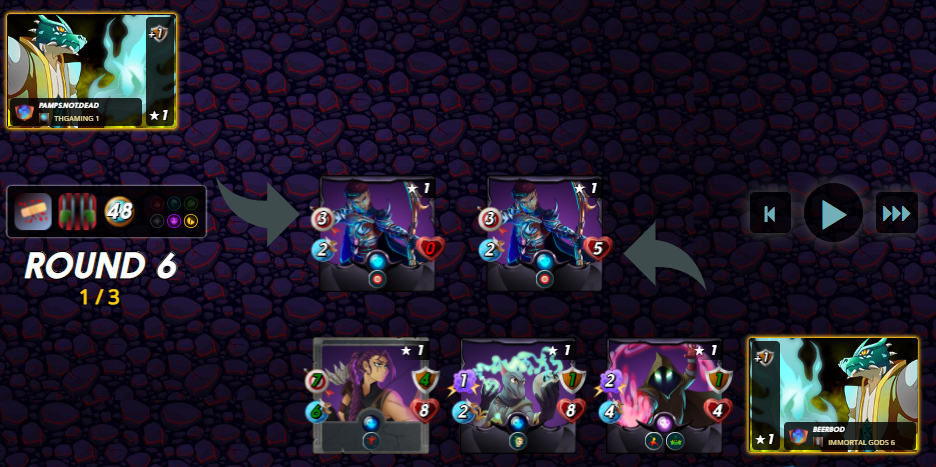 And there you have it. Thanks for making it up to this point. Follow me for more splinterlands guides and topics and as well as artwork.
If you have any questions about the gladius decks or splinterlands in general then leave a comment below. I will be sure to get back to you.
If you find this guide helpful, help me back by giving this post a thumbs up.