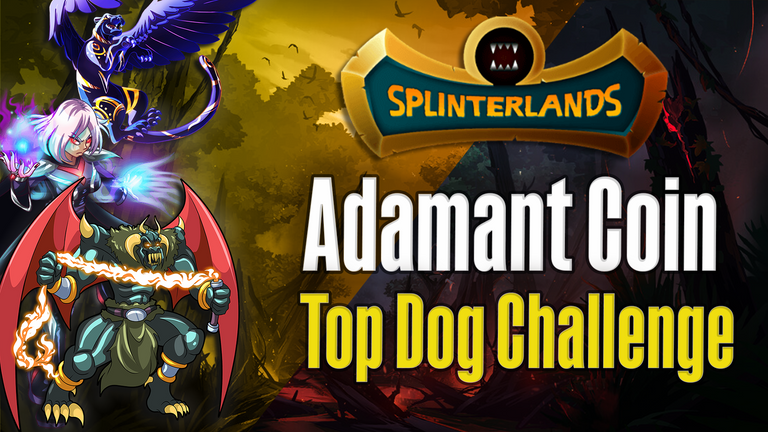 Adamant Coin is sponsoring the first ever single elimination Top Dog ChallengeTop Dog Challenge! They are providing over $1500 worth of prizes and giveaways for the event. There will be 2 qualifying silver events (8/29 and 9/5), with the top 16 finishers in each event advancing to the final silver event on 9/12. The overall winner will take home approximately $400 worth of BNB and $ADMC. Another approximately $900 worth of BNB and $ADMC will be given out as tournament prizes to the top 8 finishers in each qualifier and the top 16 finishers in the finals.
The tournament will be hosted by myself on Youtube beginning 30 minutes prior to the start of the tournament. 30 million $ADMC (≈ $100) will be given away to viewers live during the 3 streams. Also stop by the Discord Server to hang out and discuss all things Splinterlands or to claim your prizes!
Adamant Coin is the first ever income generating De-Fi token that also helps the community through charities. Adamant coin will be earned by playing the 2D platformer "Adamant Mine", a play-to-earn defi game which enables users to "mine" Adamant blocks. For every block mined, the user will earn 2,000 ADMC tokens, donate 2,000 ADMC tokens to the charity wallet, and burn 8,000 ADMC tokens. This leads to the game's tag line of "Play to Earn, Donate, and Burn".
Adamant coin will be released for public sale later next month. Players who win 1 million or more $ADMC from the tournament or giveaways will be able to participate in the beta testing of Adamant Mine starting August 31st. For more information on Adamant Coin, visit their website or Discord Server.

Join Splinterlands | Youtube | Discord Server | Twitter