Full details on my Darth Squirrel NFTS are finally here! The version of Darth Squirrel currently available to my financial supporters is the common earth Darth Squirrel. There will be 50 total minted at each level. Here you can see him at level 1 and level 10.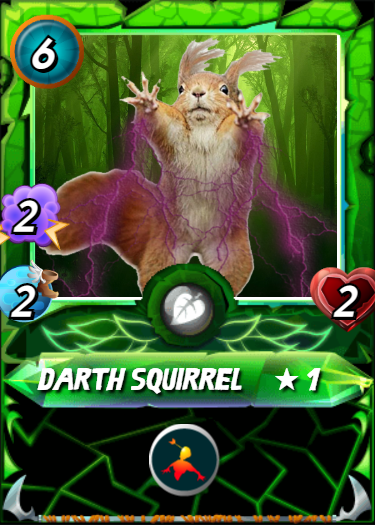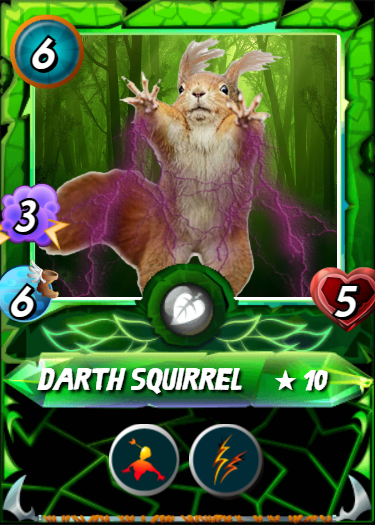 What is a Darth Squirrel NFT?
Darth Squirrel NFTs are basically my version of a thank you card that I send out to those who support my Youtube channel financially. They are wax NFTs that are NOT playable in Splinterlands. They are intended to purely be for fun. I've created them so they do have the potential to grow in value some day, but that is not a primary intention of the project. Darth Squirrel is simply a fun way for me to say "Thanks".
How much does an NFT cost?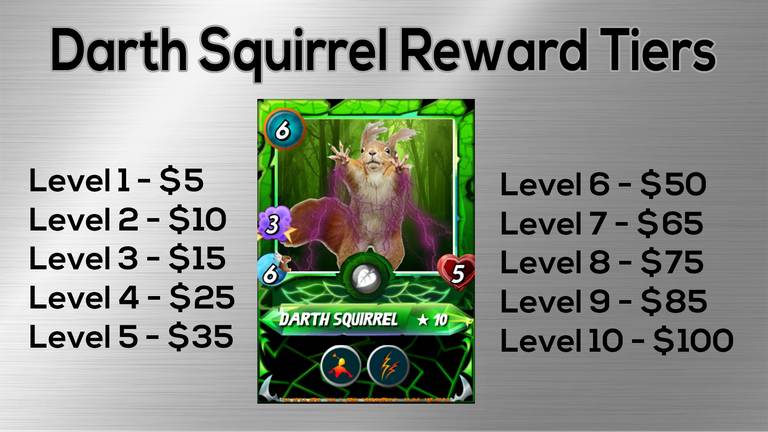 Darth Squirrels are given out once you reach the CUMULATIVE donation totals listed above. Once you hit $100, the chart repeats in gold! Any donation with resalable value counts, including Splinterlands cards. As an example, if you are a Patreon member at the $10 level, you will receive a level 1 and level 2 Darth Squirrel for your first month. If you remain a member for 10 months, you will have received all 10 levels of the regular foil common Darth Squirrel. Once you receive your level 1 NFT, the remaining 19 of your mint number (9 regular foil, 10 gold) are reserved for you, and will not be given to anyone else.
How limited will each version be?
The original Darth Squirrel NFT had a mint number of 10, and has sold out. The current Earth version has a mint number of 50. There will always be only 1 active version of a level 1 Darth Squirrel, and the mint numbers will be determined by how fast the previous version sells. There will never be reprints of Darth Squirrels, but there will always be some version of Darth Squirrel available for my supporters.
How can I donate?
You can send in game cards/DEC/SPS to bulldog1205. You can send wax to 3mfbs.wam. You can join my Patreon (contains other benefits, such as early notification of what cards will be featured in videos). You can donate via Paypal.
How can I check my cumulative donation total?
I expect you to track this yourself, and I will operate on the honor system. I will track major donations, but I simply can't keep track of all the common SL donated to me on stream, for example. Donations are valued at their worth at the time of the donation.
How do I claim my Darth Squirrel NFT?
Contact me directly and send me your Wax address. The easiest way is via my discord (Bulldog1205#3050).
Do I have to finish one version of Darth Squirrel before moving to the next?
No. Your cumulative donation totals only apply once though. So if you've already donated $5 and received a level 1 earth Darth Squirrel, and then want to donate $5 again to receive the next version when it is out, you can do that. But you stay at level 1, and would not receive the level 2 Darth Squirrel for donating $10 until you donate another $5. Then you could choose which version you want at level 2.
What if I have other questions?
Just ask me here! Or Discord/Twitter/Youtube/etc. I may update this post and add your question to the list!
Thank you once again to all of my supporters, both financial and otherwise. Without you I wouldn't be able to be living this dream!

Join Splinterlands | Youtube | Discord Server | Twitter